15 Water Balloon Games to Get Kids Pumped for Summer
Nothing says summer like a big bucket full of water balloons. And what better way to get your kids pumped up for summer than with some awesome water balloon games.
Who doesn't love a good water balloon fight? But if you're looking for ways to up the ante for your kids summer fun and your friends and family this summer, you have to check out these 15 fun water balloon games! They'll get you and your kids pumped for the start of summer, guaranteed!
Just a safety reminder: be sure to clean up any broken balloon pieces right away to prevent any of your littles from choking.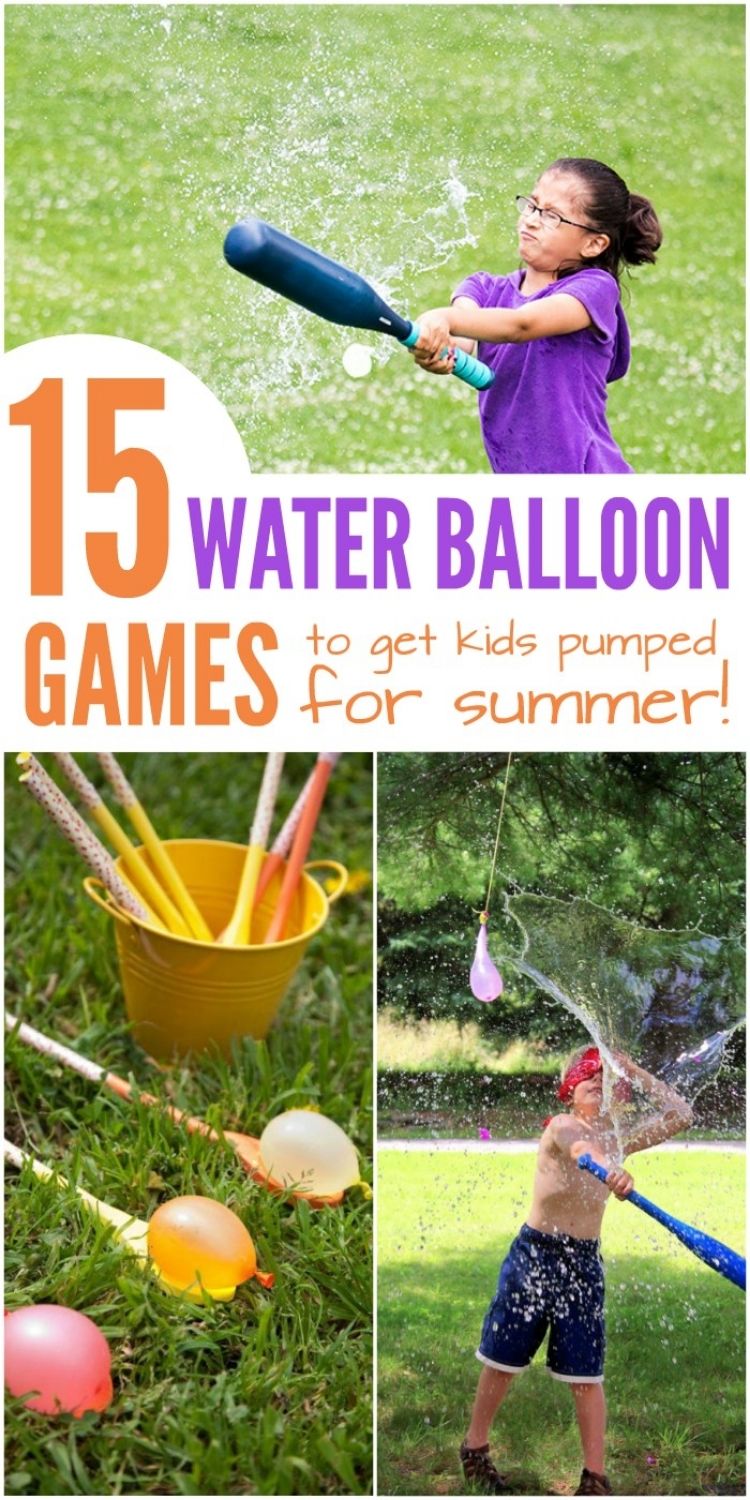 Using self-sealing water balloons is key
Before we get any further into the fun water balloon games, let me offer you a tip. You see, I used to hate filling up water balloons. It was so time-consuming for such a short burst of fun. Until I found these self-sealing water balloons. It's so great when you find the solution to the stress and mess of filling balloons! Now, I can fill a few hundred balloons in no time flat. Get them… you won't regret it!
Now let's get to the games!
Fun Water Balloon Games for Kids
Have a summer birthday party to plan? You know those summer days with sweltering temperatures. The kids just wants to stay inside the air-conditioned house, but you want to have an outdoor party.  Water balloon games are the answer!
Everyone loves to get wet and in the midst of summer heat, you can dry off so quick, so it's the perfect solution. Soon all the neighborhood kids are going to wish they were invited to the part and will want to join in the fun!
1. Water Balloon Pinatas
Forget candy pinatas, water balloon pinatas are where it's at! Hang the string, attach the water balloon, get the blindfold on the kids and bam! Imagine the giggles and laughter of all the kiddos as they anticipate the breaking of the water balloon.
2.Colander Balloon Toss Game
Next, head to the kitchen and grab the colander for this super fun colander balloon toss game. Assign one child to be the 'target' holding the colander above his/her head while the others line up to each take a turn to throw a water balloon into the 'basket'. I bet you can already hear the squeals of delight as the balloon splashes over the recipient's head.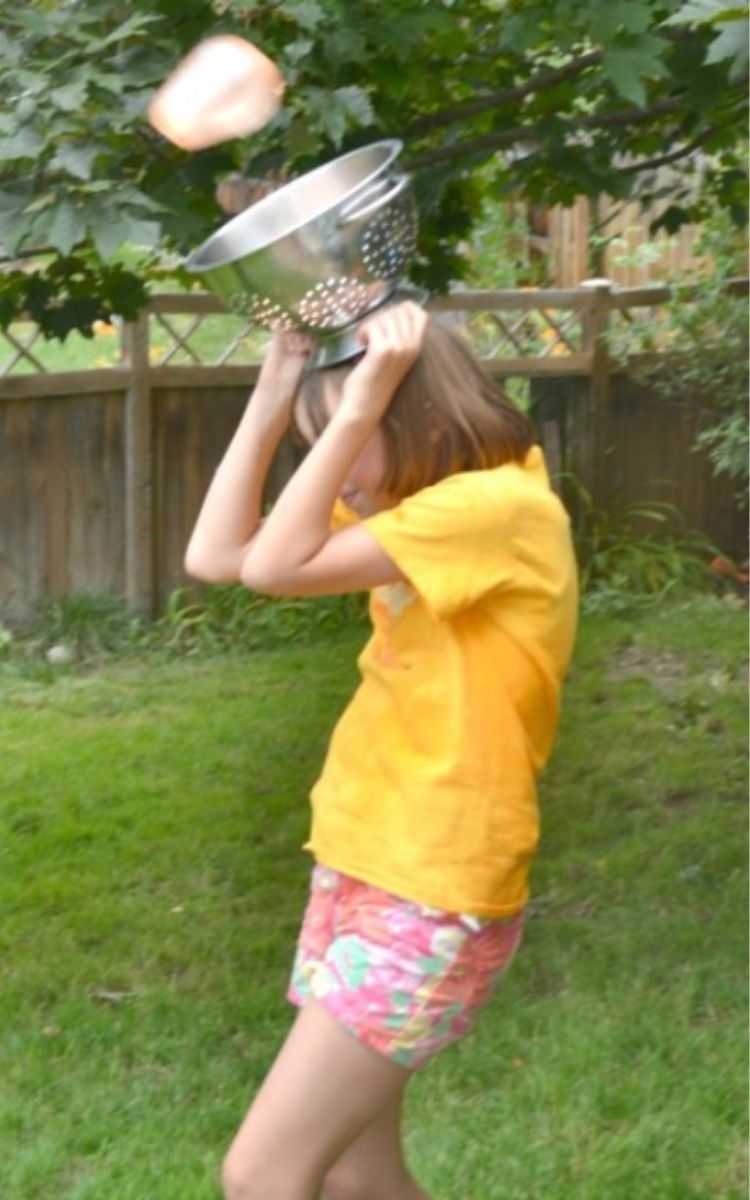 3. Milk Jug Toss Game
Or for a fun variation of this, try the milk jug toss game. Rinse a few milk jugs, cut off the bottoms and use them as catchers during your water balloon fight. Try to keep count of who caught the most water balloons that didn't break! Here's a twist – keep the lids on to hold the water to throw it right back at your opponent!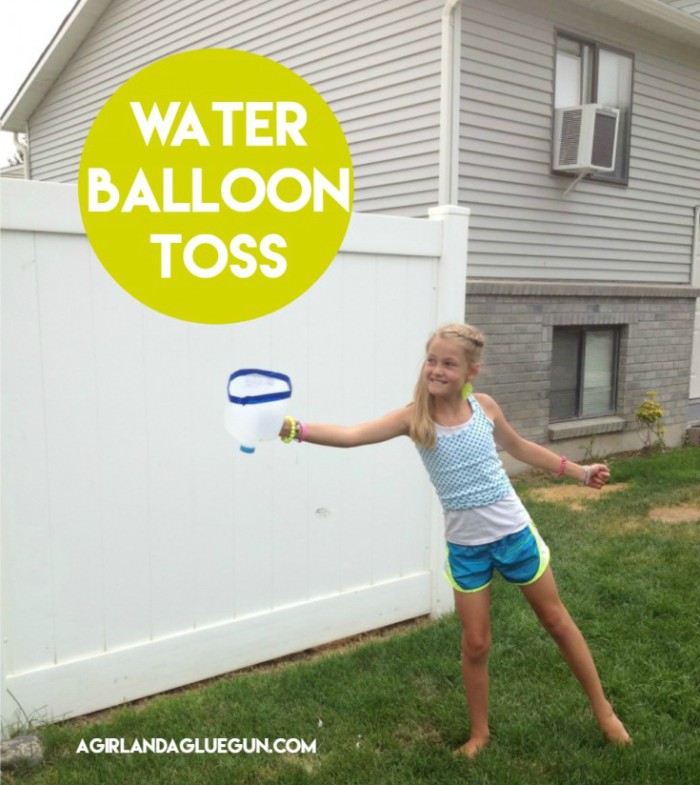 4.Balloon and Spoon Relay Race
The balloon and spoon race is a fun take on the traditional egg and spoon race that kids play at camp, reunions, etc. We all know how water balloons tend to break apart the minute they hit the grass.So the challenge is to walk or run  quickly and yet, carefully as they hand  over the spoon to their opponent. The team that finishes first is the winner!
Relay races are the best!
Relay races are great fun and also offer great exercise for kids. They require cooperation and coordination and of course, the ability to follow instructions. Add water balloons and voila you have a great pumped up adventure.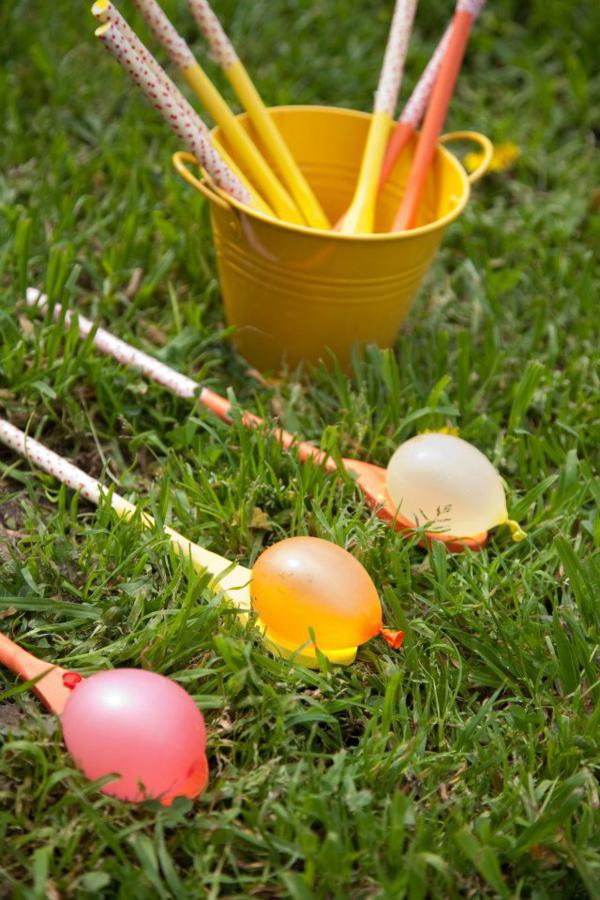 5.Hula Hoop Target Toss
Set up a hula hoop to use as the target and play water balloon target toss with the kids. Put out two hula hoops and divided your party guests into two teams. Which team can get the most water balloons into the hula hoop in the shortest amount of time? For added fun, you could make it a little more fun by making someone hold the hula hoop. After all, the point of water balloons is to get wet!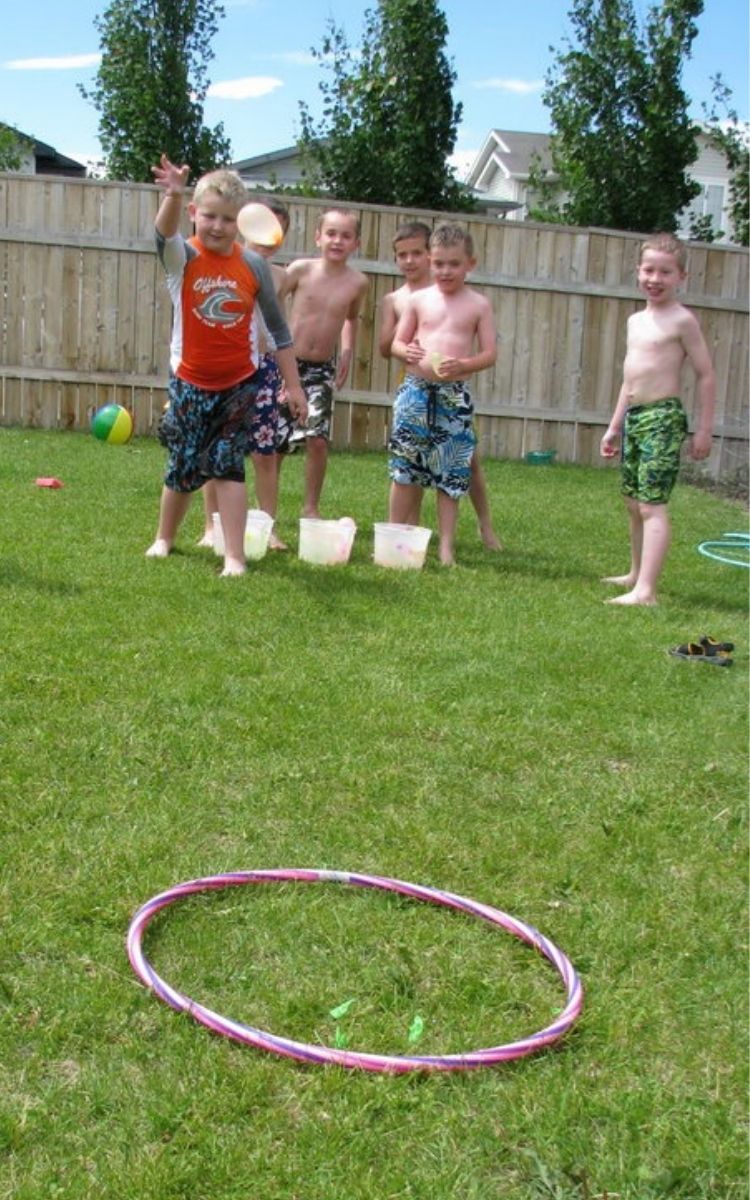 6.Towel Toss Game with Water Balloons
Group the kids into teams, giving each team a towel. The partners on the team work together to snap the towel to pass the water balloon back and forth in this towel toss game. Don't forget to the keep track of the team that can keeps the water balloon alive the longest!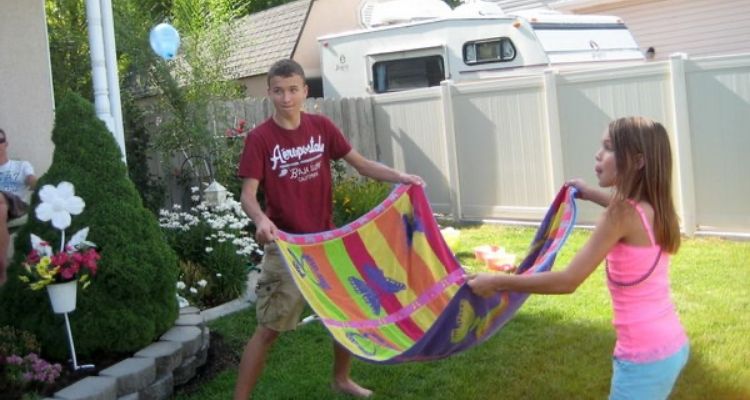 7. Water Balloon Jousting Game
Water balloons and pool noodles just scream summer, don't they? Your kids will be rolling with laughter with this water balloon jousting game. Attach a plastic fork to the end of the pool noodle to use as the jousting implement. Secure a bunch of water balloons up high and let the jousting begin!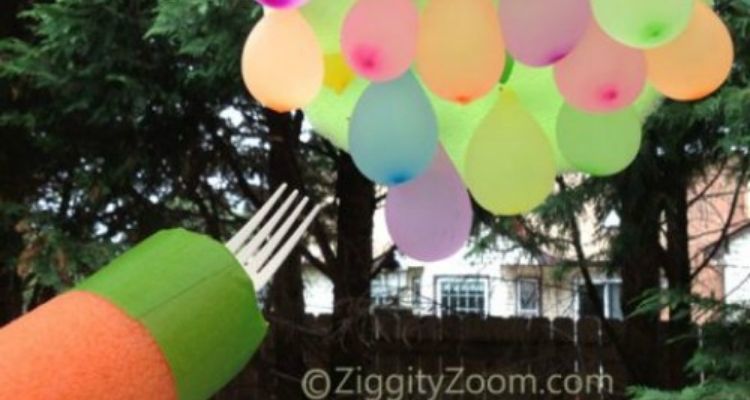 8.  Water Balloon Tennis
Grab your rackets and play some water balloon tennis. The kids will learn quickly that the balloons are no match for the racket, so they'll be sure to get soaked with every swing! And that's the point of these water balloon games, isn't it?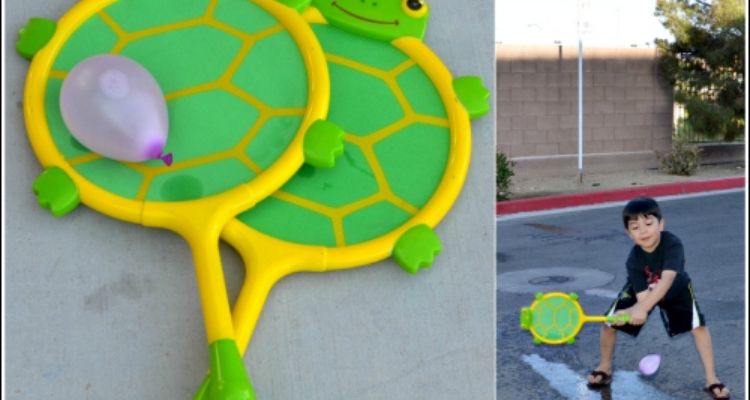 9. Water Balloon Basket Ball Game
Water balloon basketball is a fun game for kids of all ages. They can stand as close to the goal as they want… shoot from far away to test your skills, or go for the slam dunk for a big splash. Why not make it a competition to see who can get the most slam dunks!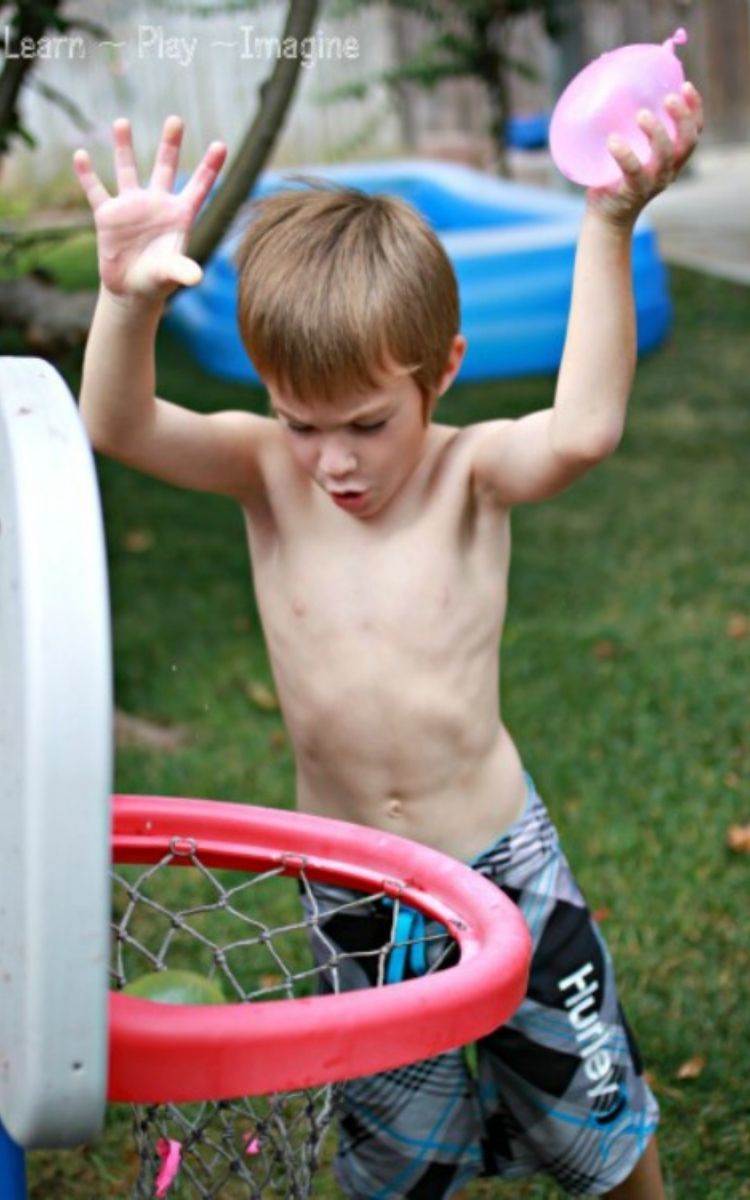 10. Water Balloon Baseball
Divide into teams and play a game of water balloon baseball. Assign a pitcher to toss the ball carefully towards the batter. Three strikes and you're out! Of course, it only takes one good swing. Not all balloons burst on impact, so the "home runs" could be the balloons that burst right away if you're keeping score.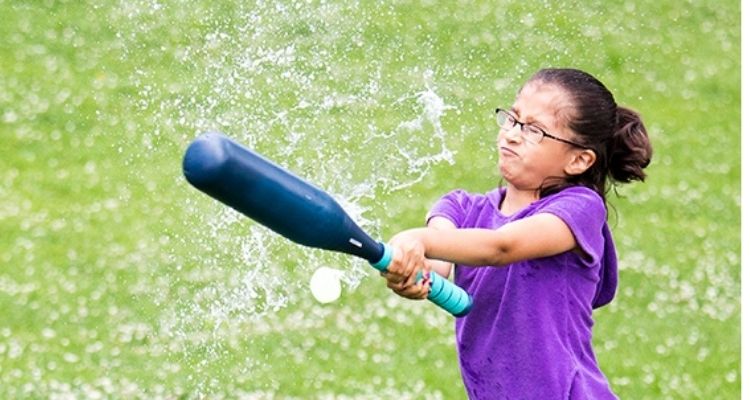 Learning Games with Water Balloons
Talk about getting kids pumped for summer, why not help them pump up their academic skills while having fun with water balloons? It's a well known fact that kids lose some of what they've learned in school, over the summer. So why not avoid the summer slide with fun games that keep kids engaged while practicing their academic skills?
11. Balloon Sight Words Game
This balloon sight words game is the perfect example! Kids can read the word on each balloon before they throw them at the target. Add some more challenge by colour coding the balloons – the blue balloons are nouns, the green balloons are action words, the purple balloons are joining words, etc. To make it even more fun, see how many funny sentences they can make and then throw the water balloons as they read each word.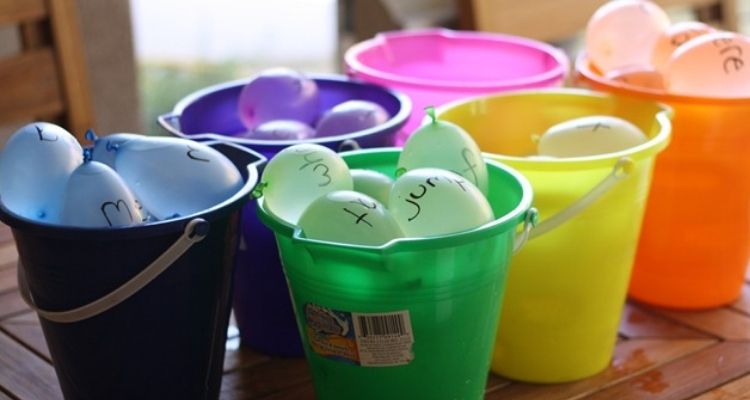 12. Water Balloon Math
Or how about a game of water balloon math to keep up with their acquired math skills?
Put a number or a math fact inside a hula hoop and when they tell you the correct answer they can throw the water balloon into the hula hoop. Don't forget to change up the math question each time!
For some added fun, make some big dice and let them throw the die, add up the dots and then throw the water balloon into the hula hoop that has the correct answer!
Yup, that's one way to connect fun and learning…and cool down at the same time!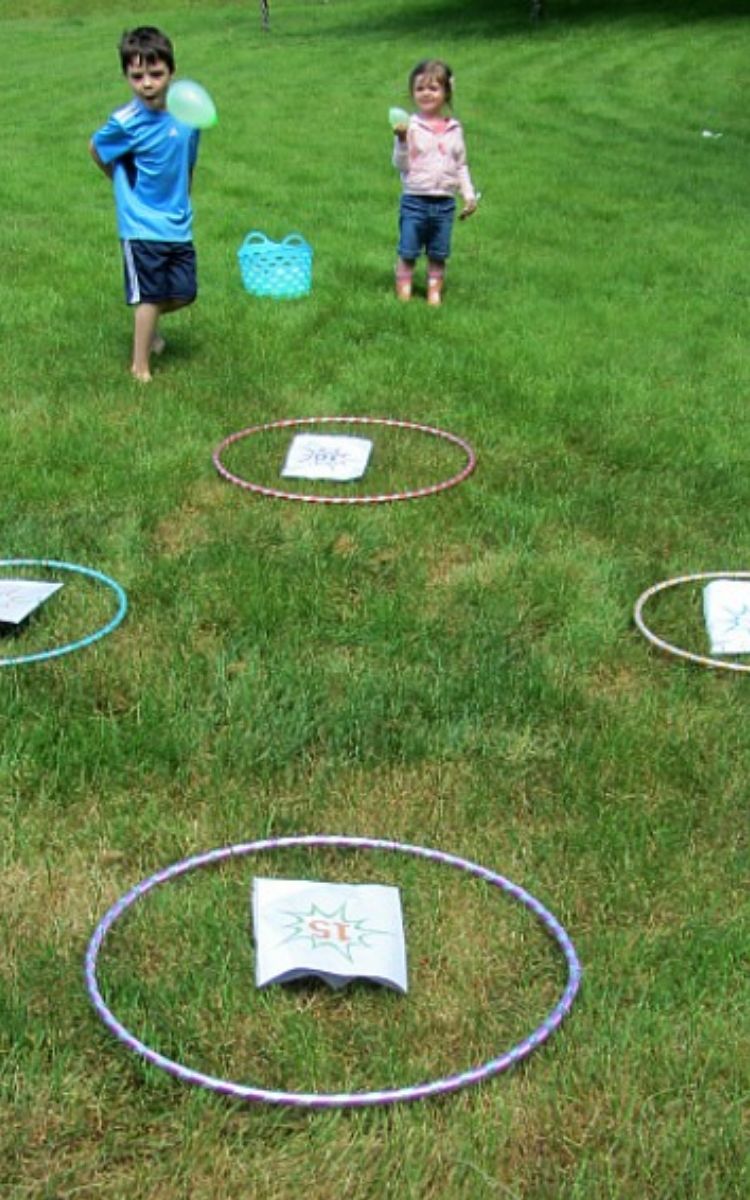 13. Pool Noodle Target Practice
Got any broken pool noodles? Create a target practice game using broken pool noodle rings, making each one a little bigger than the one before it. Write numbers on the noodles. Line up the kids behind the line and let them gently throw the water balloon into the ring. Whichever ring it lands in, is the amount of points they get for that turn. Don't forget to add up the points as you go. Water balloons and math and fun all at once!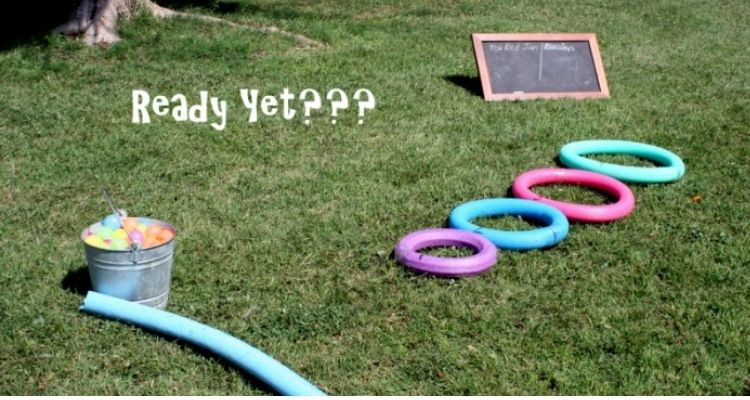 14. Water balloons make great yo-yo's
Tie a rubber band or two to a balloon and watch the fun as your kids swing the water balloon yo-yo's . Encourage them to use their imaginations as they dance and play with this 'dangerous weapon' which is about to burst at any moment.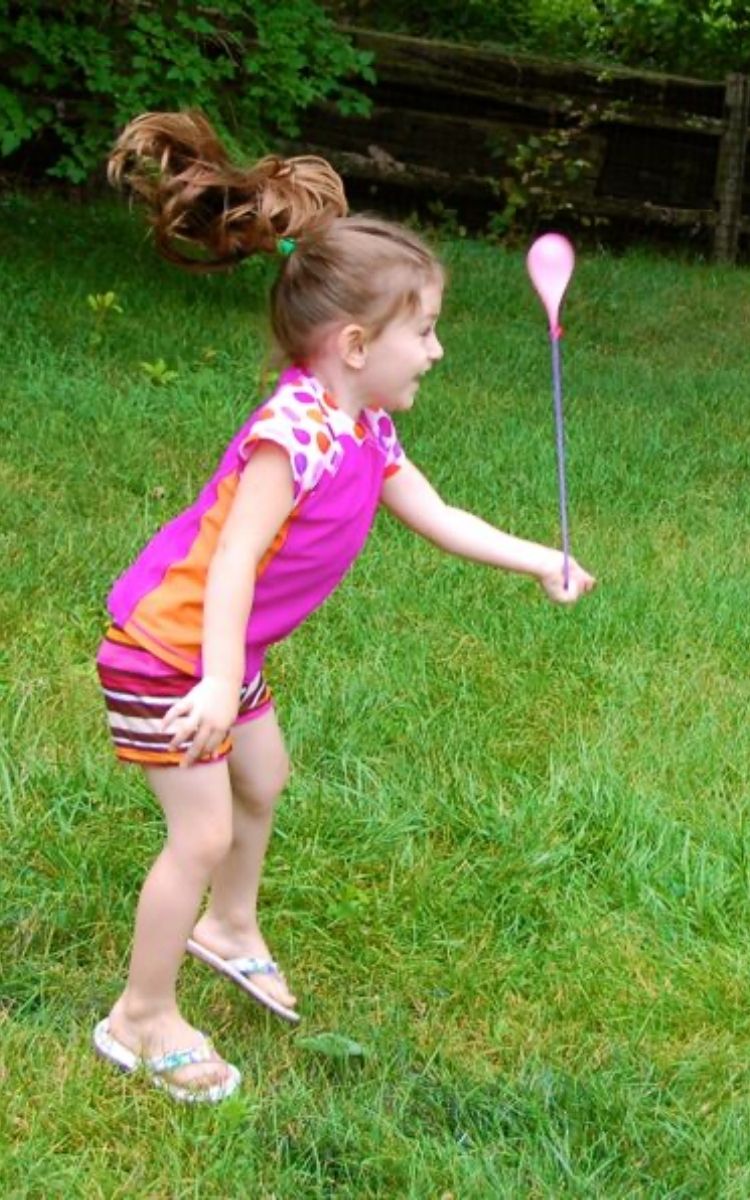 And the coolest parent award goes to….
15. Water Balloon Slip and Slide
Of course, you'll be cool yourself just because you know you're gonna get wet, but I'm thinking you'll also become the coolest parent on the block with this water balloon slip-and-slide , guaranteed! Just be warned that it requires a LOT of balloons (about 200) and will pretty much be demolished after a few slides. You could adapt this water balloon game and have them roll carefully across the balloons to see if they can NOT break the balloons. That's a different take on water balloon fun.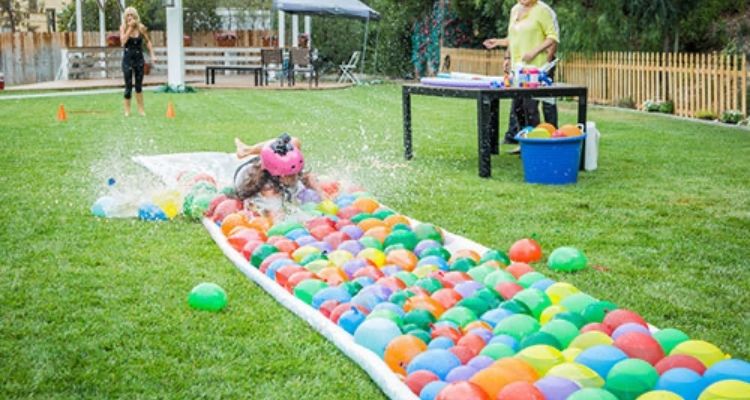 These summer fun balloon games will help pump up your kids for more summer adventures. There is never an end to water balloon fun! These water balloon games are just the start of pumping our kids up for summer fun!
There are so many great ways to keeping our kiddos entertained and stimulated through the summer months. If you liked this list of water balloon games, you'll also enjoy:
The post 15 Water Balloon Games to Get Kids Pumped for Summer appeared first on DIY House Hacks - One Crazy House.