6 types of puzzles every kid should own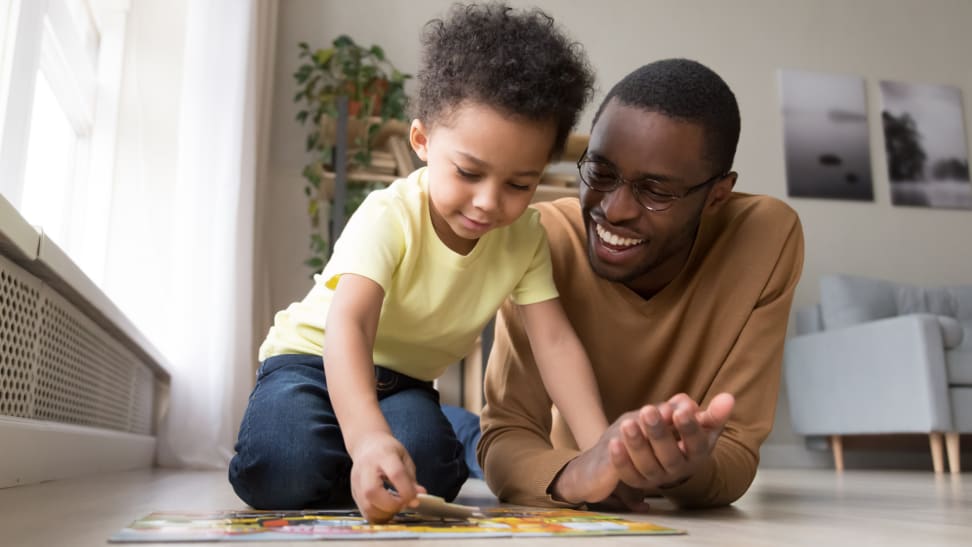 — Recommendations are independently chosen by Reviewed's editors. Purchases you make through our links may earn us a commission.
Providing your children with toys that will grow their minds is essential to their development. Puzzles are a great option because they present challenges that improve fine motor skills and problem-solving abilities. They also enhance spatial awareness, shape recognition, and hand-eye coordination. If you have kids working on puzzles together, it will also force them to improve their social skills.
Here are six types of puzzles to add to your child's toy shelf.
1. Foam puzzles for little ones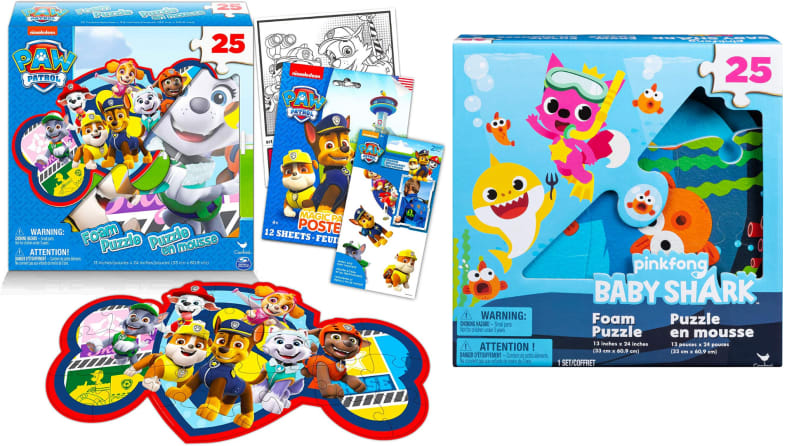 Best for ages: 12 months and up
These are a great way to introduce your baby to the wonderful world of puzzles. The pieces are soft, can be chewed on, and don't hurt when dropped on a tiny toe. While they do have 25 pieces, they are great to do together with your baby. These puzzles are fun, colorful, and an excellent option for starting to learn about puzzles.
2. Wooden peg puzzles for toddlers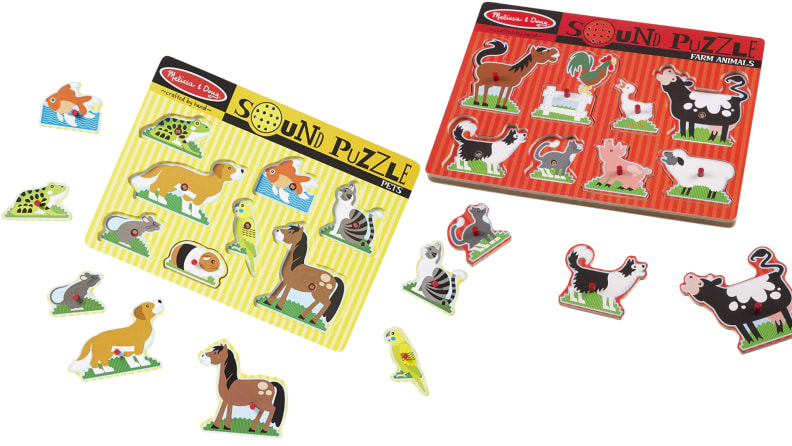 Best for ages: 2 and up
Wooden peg puzzles are simple and easy for a young child to grab. While these are listed for kids ages 2 and older, most children can manipulate them at a much younger age. With colorful pictures and cut-outs that match the shapes, children learn beginning concepts of spatial perception.
Parents can choose to add batteries to these puzzles so that children can hear the animal sounds as they complete the puzzle. Be warned, however, that the puzzles tend to make noises at unexpected times—specifically the middle of the night—so you may want to opt for leaving the batteries out.
3. Large floor puzzles for toddlers and preschoolers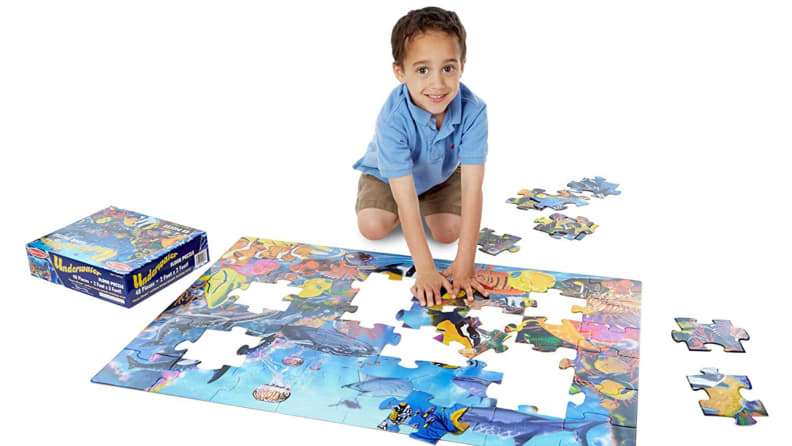 Best for ages: 3 to 6
Floor puzzles are great for kids as they gain experience. The pieces are large, making it easier for young kids to spot the subtle differences to put them together effectively. These puzzles feature different nature scenes and creatures which offers a great opportunity for kids to learn about the different animals while they're playing.
4. Multipack puzzles for preschoolers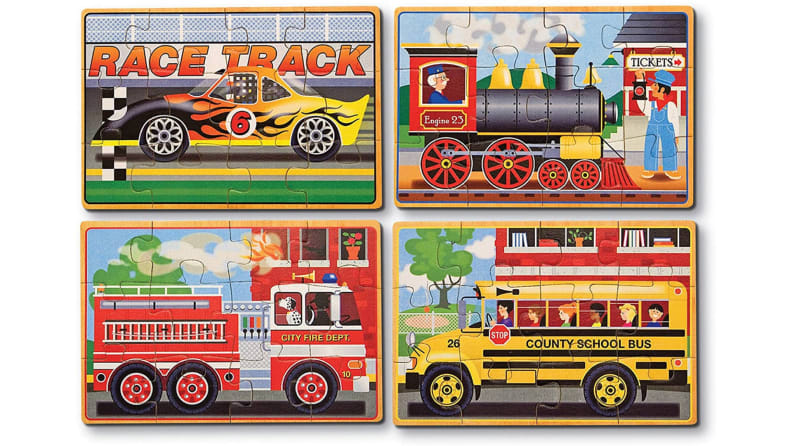 Best for ages: 3 to 6
These multipack puzzles, also from Melissa and Doug, feature four different puzzles tucked inside an easy-to-store box. Crafted entirely of wood, these 12-piece puzzles are a great option for kids who are a bit too advanced for the wooden peg puzzles, but not quite ready to tackle something more challenging.
5. 100-piece puzzles for kindergarteners
Best for ages: 4 to 8
Once kids are older and have more developed fine motor and spatial perception skills, 100-piece puzzles offer just the right amount of challenge. These are fun for parents and kids to do together, and are a good introduction to the world of more complex puzzles.
6. Puzzles for early learners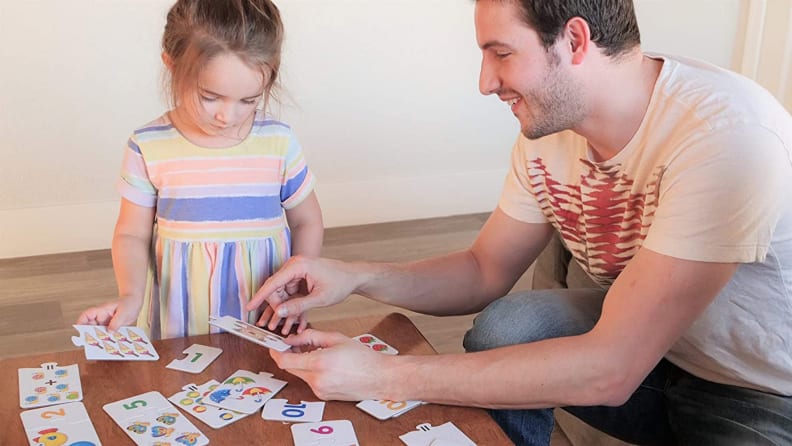 Best for ages: 4 and up
These puzzles are a great addition as your child is beginning to learn math and reading concepts. While they are only between two and four pieces per puzzle, your child must first solve the problem to figure out which piece will fit.
The math puzzle features 30 pieces that fit together to create 15 pairs to solve your math problem. There are counting puzzles, addition, and subtraction. This puzzle is a great way to introduce your child to math and help them begin to understand mathematical concepts.
In a similar concept, there is a 20-piece puzzle set that will help children learn how to spell. This set features both three and four letter words for your child to practice. Kids can complete both types independently as the puzzles are self-correcting and only fit together in specific ways.
The product experts at Reviewed have all your shopping needs covered. Follow Reviewed on Facebook, Twitter, and Instagram for the latest deals, product reviews, and more.
Prices were accurate at the time this article was published but may change over time.