Actual Agency's Kate Corcoran Adorno on loving Slack, going remote, and pushing forward
The agency leader shares with PR Daily life lessons from her dad, how she navigates her busy schedule and her podcast recommendations for colleagues.
What's the best piece of career advice you have ever received?
For some people, that advice came early in life, long before their professional career started. For Kate Corcoran Adorno, president of Actual Agency (a Millwright Agency), the best lesson came from her father, a CFO who would take time to help her with math homework.
The advice? Well, read on to hear how Adorno uses her dad's wisdom in her communications career, along with takeaways for managing a busy schedule and maintaining balance as a agency leader.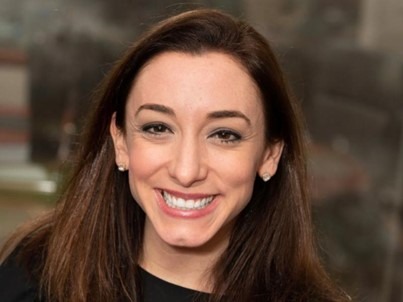 Here's what she had to say for our latest in the "Day in the Life" series:
1. What's your favorite part of your morning routine?
Adorno: The best part of my morning routine is when I make the choice to get up early and spend time at the gym. It's the one hour a day that is truly just for me. It makes me better mentally and stronger physically.
My phone stays in the car and my mind stays focused on what I'm there to do—and not what comes after I step out of the gym. I spent several months last year studying to become an accredited Certified Personal Trainer by the National Academy of Sports Medicine. (It was incredibly interesting, but also a stark reminder of how little I knew about exercise science.)
So, my time at the gym is more than a hobby for me. It's a passion and so much so that I coach early morning group fitness classes at an amazing local gym.
2. Who's the most important person you talk to every day?
Adorno: My three men (husband and two sons) are the most important people that I speak with each day. They are my "why" and I never want to lose sight of that.
My conversations with them always ground me and give me perspective on what's important in my life. I have the added benefit of having an extremely compassionate and intelligent husband who also works in public relations. When I do need a sounding board, he's an incredible resource.
3. What's the biggest challenge you've faced in your career?
Adorno: The biggest challenge I've faced in my career is finding a balance between a career I love and a personal life I love. For years, I'd swing too much in one direction or the other and couldn't quite find the right balance.
It took me a while to learn the art of setting boundaries and determining who I wanted to be professionally and personally. It was only then, that I was able to find the right balance. Setting boundaries is an incredibly important skill set that often isn't taught, especially in the client services business. I believe it's on leaders to help show their team how to set boundaries and to support them when they do it.
4. What's your best book or podcast recommendation for PR colleagues?
Adorno: My favorite podcast for quite a while has been "This American Life." The team has mastered the art of storytelling in such an incredible way. I try to find time on Monday evenings to listen to the most recent episode.
As communications professionals, there's so much we can learn about effective storytelling from [This American Life host] Ira Glass.
5. What's your favorite tool you use regularly for your work?
Adorno: Is it silly to say that I love Slack? It greatly reduces the amount of emails I receive and helps me prioritize and more effectively manage communications with our team.
I also love the ability to turn off the notifications (see my earlier statement around creating boundaries for myself.)
6. Are you in an office/remote or both? What do you like (or dislike) about your current setup?
Adorno: Actual Agency is fully remote and we've been fully remote since our inception more than five years ago. We've never believed that sitting under the same roof is the only way to effectively work together or create a meaningful culture.
I commuted into New York City for a long time, and it was stressful and time consuming. It's been wonderful working from home the past few years and enjoying a commute-less life.
7. What's one trick you use to promote well-being, make yourself feel good at work?
Adorno: I think it's extremely important to create pockets of space to be creative and feel purposeful. One of the challenges with the agency model is that it doesn't always create a lot of room for this type of time. We try hard to foster this at Actual by minimizing the amount of accounts our teammates work on.
We'll never be the agency where people are working across 8 accounts and spending their time only being able to put out fires. Time and space for higher-level thinking needs to be a priority for everyone on the team.
8. What's the best advice any one has ever given you in your career?
Adorno: When I was in middle school, I struggled with math and my dad (a former CFO who has always been great at math) would come home from work and spend time helping me understand it.
Most nights I would be tired and would want to rush through it just to get it done. I can distinctly remember my father asking me why I'd want to put my name on something that was sloppy and rushed. That's stuck with me for years. It taught me to be intentional with the tasks that I've decided to take on and commitments I've made.
The post Actual Agency's Kate Corcoran Adorno on loving Slack, going remote, and pushing forward appeared first on PR Daily.