C2C Crochet Africa Map Blanket – Free Pattern by PukaPuka
This corner to corner crochet map blanket showing the continent of Africa is perfect for geography-lovers, teachers or children. Get the free pattern and even learn how to design your own map-inspired crochet project below.
This c2c crochet blanket pattern is part of a collaboration with Lion Brand Yarns. This post contains affiliate links.
Welcome back to the Make & Do Crew guest designer series where talented designers from across the internet share their free patterns with you, right here on Make & Do Crew.
Today Maria from PukaPuka is here with her free c2c crochet Africa map blanket pattern! You can see lots of of Maria's crochet patterns her blog, PukaPuka, and on Etsy. And be sure to check her out on social media too: Instagram, Pinterest, and Facebook. Maria, take it away!
Why I Chose to Make a C2C Africa Map Blanket
When I studied geography long time ago, I learned to crochet. At that time they had nothing to do one with another, except for that I loved both.
Until one day a friend who was on mission in Africa, asked me for a gift: a crocheted pillow. Beige. And I had this thought: Africa! I will crochet the map of Africa for her! That's how it started.
Crocheting maps is my passion and it's so versatile. People like having things that remind them of their homeland/places they've been to or dream to visit.
As the years went by, I had a growing family, growing love for crochet and for the world. As as you know, that nature can be the best designer! So when people ask what my inspiration is, I say "the world atlas!"
For this guest post (thank you Jess!!!) I thought again of Africa. It is a great land to crochet an in addition, its shoreline is not complicated, thus there are very few color changes! So even if you're new to the c2c crochet technique it won't overwhelm you!
What Kind of Yarn Will Work Well?
For this pattern I chose Lion Brand Heartland. The main reasons were its amazing softness and wonderful colors! I wanted the final blanket to look like a real map, so Glacier Bay for the background seemed perfect and Yellowstone, so sunny, warm and rich made the mainland. Acadia for the border adds the spirit of frames on wall maps, don't you think?
Altogether the blanket is cozy (!) and looks really great. Also I am used to thinner yarns, so working with this one was really fast. And – easy care is important, if you want to use it as a baby blanket…
click to pin this pattern for later ⇨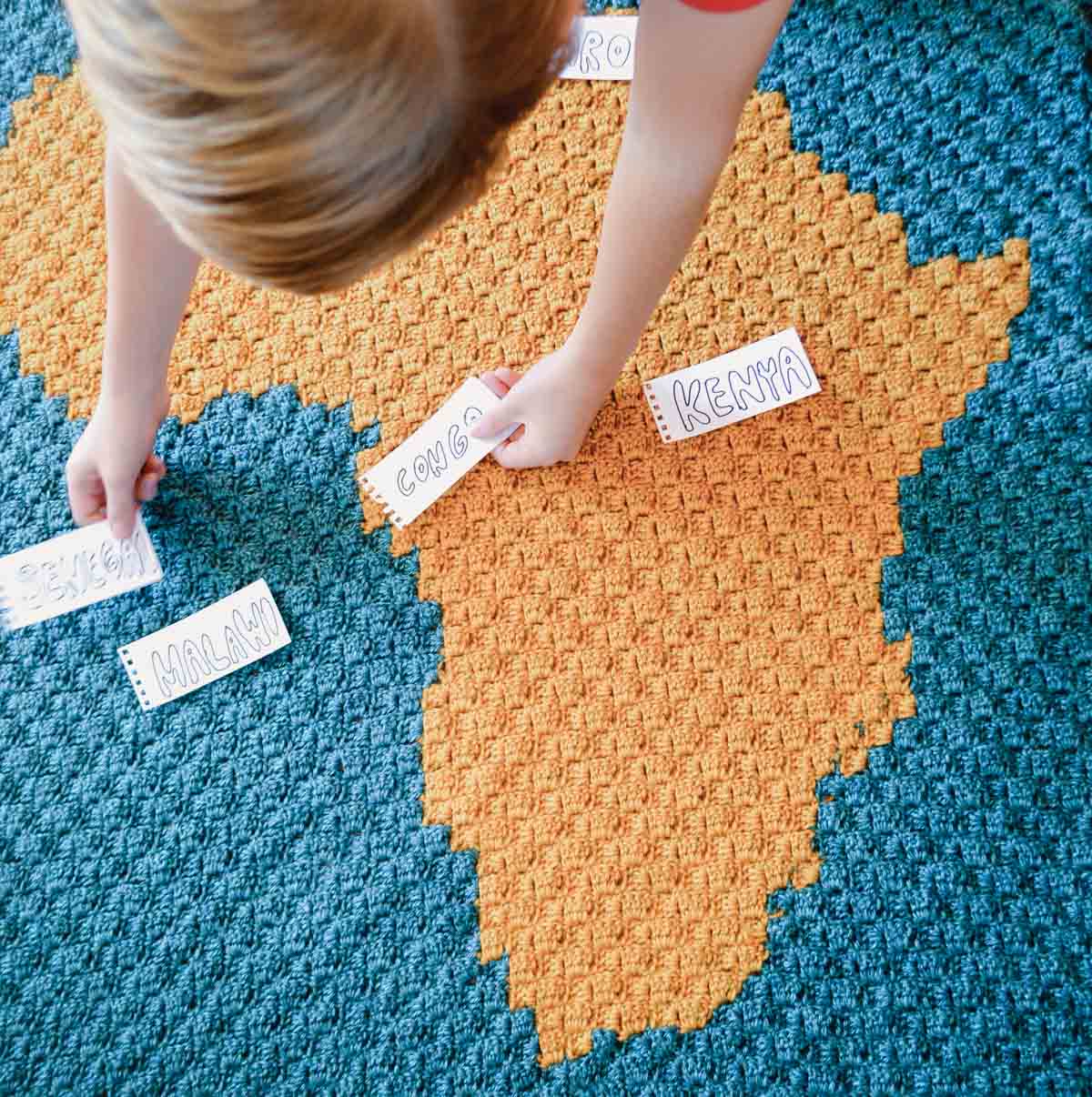 Beginner C2C Skills Are All You Need
This pattern uses c2c technique. If you're new to it, Jess has some great tutorials how to begin. It's not difficult and it's worth learning, because it opens the whole new world of possibilities of crocheting (not only maps!) If you're afraid of the color changes – don't worry! Thanks to Africa's simple shoreline there are very few!
You Can Easily Design Your Own Map!
Nature is the greatest designer of all and physical maps are a definite proof of it. All you have to do is use nature's designs! Africa is a beautiful continent and whether you've already been there or dream to go one day, you can have access to it now at home. You can wrap your new baby nice map blanket right from the beginning. And when he, or she, is older, use it to learn geography!
If you like the idea of crocheting maps and want to design one of your own, I have some tips for you. All you'll need is use Google and Stitchfiddle.com (not difficult, huh?).
When you decide which land you want to crochet, search a silhouette of the country or state. For example, I searched for "Africa map silhouette" from Google. Download the one that looks like a solid map, not a sketch.
Then on stitchfiddle.com (what an AMAZING tool!) use this picture as a base of your c2c crochet pattern. You will have to adjust the dimensions depending on your gauge, number of yarn colors etc. Remember: the thinner your yarn is, you can have "higher resolution" of your pattern and thus make it more detailed!
You can also try crocheting with colors. I've already crocheted plenty of maps and I generally use c2c for blankets and throws, because there is almost no "wrong side" in c2c. Both sides look great. (See more of my crochet map projects here!)
I use tapestry crochet for pillows because you can "hide" the wrong side inside the pillow. You can have a look on maps in both techniques on my Instagram or Pinterest profiles (and also on my blog – just use Google translate, 'cause that's in Polish!) You can even have your own New Zealand or Greenland this way! Tempting…
And so the adventure begins!
More C2C Crochet Patterns
Looking for more corner to corner crochet patterns? You can find all our Make & Do Crew free c2c patterns and tutorials here.
---
Vintage Corner to Corner Crochet Africa Blanket Free Graph Pattern
Explanation: Add a spirit of adventure to your space with this vintage-map-style blanket! Big enough not only for a baby, it's great for kids of all ages to play and learn with it. If you know how to c2c crochet, this pattern will be easy for you to make: Africa is a solid block of land, so there are at the most only two color changes and (hooray) just a few ends to weave in! Amazing softness and wonderful colors of yarn make it both cozy and beautiful!
Supplies:
• Lion Brand Heartland (Weight: 4/medium – 251 yds, 5 oz)
For the main blanket, according to the graph:
– Light: Yellowstone (#136-158) – 3 balls (not all)
– Dark: Glacier Bay (#136-105) – 3 balls
Additional yarn just for the border:
– Acadia (#136-098) – 1 ball (just a few yds of it)
• Size H (5.00 mm) crochet hook
• Free Vintage Africa Map Blanket graph pattern (download HERE)
Sizes/Measurements:
• 40.5" x 43.5"
Gauge:
• 5 dc tiles = 4"
Abbreviations and Glossary (US Terms):
ch – chain
dc – double crochet
RS – right side
sc – single crochet
sk – skip
sl st – slip stitch
WS – wrong side
Overall Pattern Notes:
• Main blanket pattern is worked using this free graph and the diagonal box stitch (c2c) in double crochet stitches. The borders are added once the blanket is complete.
• How to read written pattern:
→ Row 34 [WS]: D14, L11, D10
– Arrow indicates direction of row.
– Letter indicates which color of yarn to use.
– Number indicates how many tiles of each color to work. Therefore, for this example, you'll work 14 tiles in Dark color, 11 tiles in Light color and 10 tiles in Dark color. Then turn your work and proceed with Row 35.
MAIN BLANKET
Begin in lower right hand corner and work diagonally through Vintage Africa Map Blanket graph using the double crochet C2C stitch (tutorial HERE).
Next: Fasten off. Weave in all ends. (There are NOT MANY! Hooray!)
BORDER
Notes:
• Borders are worked in the round with RS of blanket facing throughout.
• See photo below for close-up of borders.
Attach Dark color yarn in any place on the outside edge of blanket.
NOTICE: There are 3 skeins of Dark color (Heartland Glacier Bay) needed to complete the main blanket. You likely have very little left, just enough to complete this first round of border. If for some reason you don't have enough of it, use Heartland Acadia color to make border 1.
Border 1: Ch1 (counts as sc), 3 sc in each tile. Place 3 sc in each corner. Sl st to first ch from beginning of round to join. Fasten off.
Border 2: Attach Acadia yarn, ch1 (counts as sc), sc in each sc of previous row. Place 3 sc in each corner. Sl st to first ch from beginning of round to join.
Border 3: Continue with Acadia yarn, repeat previous row. Fasten off.
Border 4: Attach Light color yarn, ch1 (counts as sc), ch3, *sk 2 sc, sc*, repeat to complete round. Sl st to first ch from beginning of round to join.
Border 5: Continue with Light color yarn. Ch1, sc in ch3sp, *6dc in next ch3 space, sc in next ch3 space*, repeat to complete round. (Don't worry about exact math of 6dc fans placement at corners. Only be careful not to make it too tight, so the corners don't curl up.)
To finish border: Sl st to first ch of round to join. Fasten off and weave in end.
Thanks again to Maria of PukaPuka for sharing this free c2c crochet Africa map blanket pattern! Be sure to check out Maria's blog for lots more free modern crochet patterns (and use Google translate if you don't speak Polish

!
More Free Crochet Blanket Patterns
We have so many more blanket patterns for you and many are beginner-friendly! You can find all our free crochet blanket and afghan patterns here.
The post C2C Crochet Africa Map Blanket – Free Pattern by PukaPuka appeared first on Make & Do Crew.