CSUN Grads Ready for What the Future Brings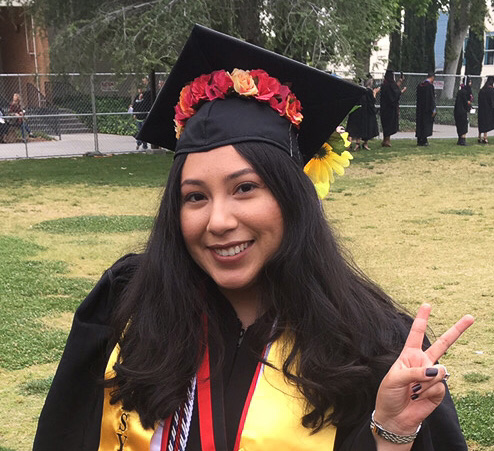 ---
May traditionally serves as a special time at California State University, Northridge, as the campus celebrates the graduation of its seniors. Concerns about the spread of COVID-19 have forced the postponement of this year's commencement celebrations, but have not dampened the dreams of CSUN's graduating class.
More than 11,700 students were eligible to walk across the stage this month to celebrate the completion of a major milestone in their educational journeys. Each student's experience is unique. Below are just some of their stories:
Parker Caston, Jr., B.A. in Cinema and Television Arts, Film Production, Mike Curb College of Arts, Media, and Communication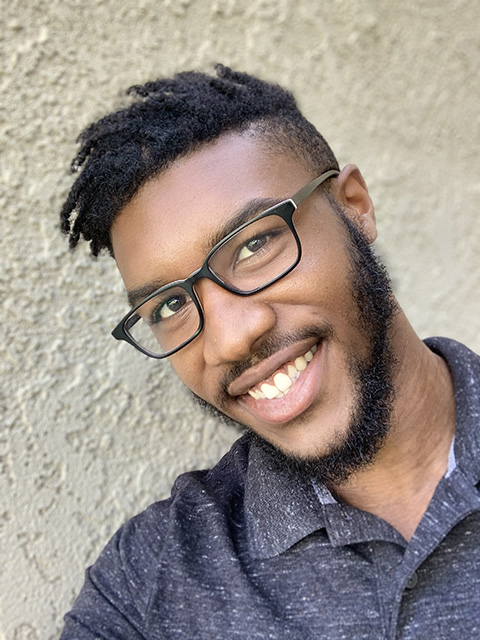 Parker Caston, Jr.
Parker Caston, Jr., 22, was in the fifth grade when his mother handed him a video camera. He used that camera to document his life growing up in rural Manteca, outside Stockton.
"My mom pretty much told me 'one day you can get paid for that,' and I was like, alright, I'm going to try and go in that direction," Caston said. "Pretty much everything from that point forward — fifth grade through high school — was done with the general goal of pursuing film or some sort of media."
When it came to choosing a college in 2016, Caston looked for some place that was "comfortable," had a good track and field program because he ran track in high school, and a good film program. He chose CSUN.
"It was such a huge campus, I wasn't sure about the comfortable part," he said. "But once I got here, I realized that it is super comfortable — it's just a huge family."
By his sophomore year, Caston knew that filmmaking was what he wanted to do with the rest of his life. He applied for the film production option in his major of cinema and television arts. Students applying to major in film production must submit a film portfolio for independent review. Caston's application was rejected. He had played it safe with his portfolio — presenting images and stories he thought others wanted to see.
Film professor Karen Carpenter took him aside and offered him a second chance. She introduced him to Nate Thomas, head of the film production option, and the two offered him some advice.
"This was the first time that I realized that Nate Thomas was black," Caston said. "He told me that my portfolio was great, but it didn't stand out, 'and we're looking for people who stand out.' He said it was up to me to decide how I stand out because attention is already on me as one of the few black males in the class."
It was the first time anyone, particularly a black male role model, told Caston to see being a black man as an advantage.
Caston redid his portfolio application to include a photo essay based on his experience of being pulled over by police because he failed to use his blinker while driving. He resubmitted the application, and was admitted into the program.
He threw himself into his classes, and his hard work paid off. Last summer, he and two other CSUN students were accepted into the Academy of Motion Picture Arts and Sciences' prestigious Academy Gold internship program. Students in the program are assigned mentors. Caston was given two — acclaimed film editor Nick Moore, who worked on "Love Actually," "About a Boy," "Notting Hill," and "Burnt"; and Emmy Award- and Golden Globe-winning actor Sterling K. Brown, star of the acclaimed television show "This is Us," as well as "The People v. O.J. Simpson: American Crime Story," "Black Panther" and "Waves."
Caston still keeps in touch with both men. Moore has offered post-production advice on Caston's senior film project, "Cuffed," based on the photo essay from his application portfolio. Brown lent his voice to and visited the set of the film. "Cuffed" was one of five projects selected to be part of CSUN's annual senior film showcase, which marks the culmination of the film students' academic journey at the university. The showcase was postponed because of concerns regarding the spread of COVID-19.
Orders to shelter in place have hampered Caston's ability to put the final touches on his senior film, and left him pondering the future he and his fellow 2020 graduates face when the orders are lifted.
"Considering all that has happened — not just now, but all the time I've been at CSUN, all the good stuff and the blessings — there's sort of a yin and yang about it all," he said. "You build yourself up on this tower and you're just about to finish the tower and dive into the real world, but somebody presses pause on the whole world.
"I do see myself on the other side — when we can go about our lives again — completely different," he said. "How? I'm not sure yet, but I know I will be different. We all will. I've been talking to my peers. We're scared, you know. But I think we're going to be okay. The stories I wanted to tell before this pandemic have changed. I want to be able to tell these new stories."
Diana Vicente, B.S. in Marketing, David Nazarian College of Business and Economics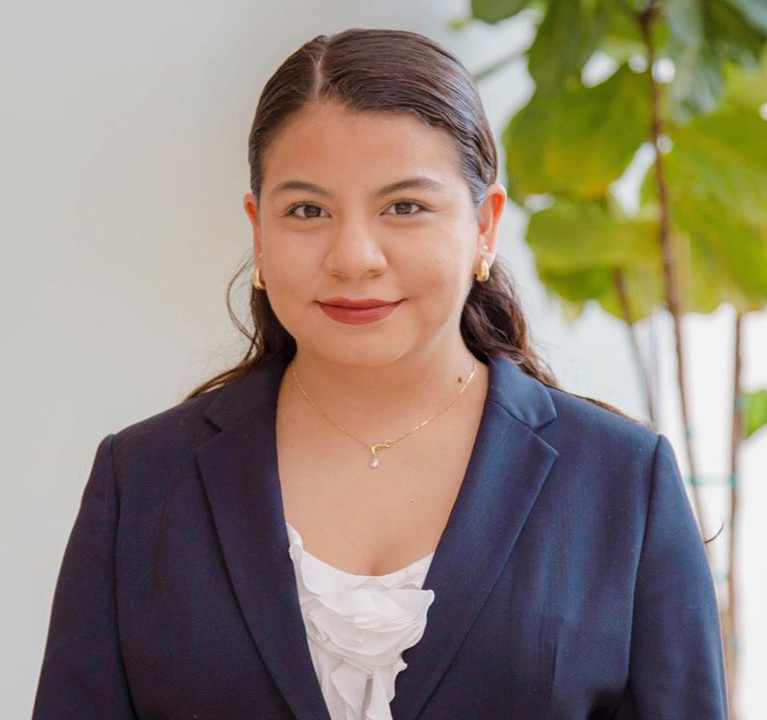 Diana Vicente
Diana Vicente, 21, of Inglewood, knew the instant she visited CSUN on a college tour — one of more than 20 she took while in high school — that she had found where she belonged.
"I knew I was going to college. It was just a matter of where," she said. "Once I was accepted, I visited CSUN again, and I could imagine myself being part of the campus community and really fitting in. I felt so comfortable. I felt included and welcome."
Vicente enrolled at CSUN four years ago with the intent of studying biology and going on to veterinary school. Those dreams changed as she got more and more involved on campus and discovered a new field of study — business and, in particular, marketing.
"I discovered what the business world was like, and I fell in love with it," she said. "I realized I loved working in an office, as weird as that sounds, so I switched majors."
Determined to get the most out of her college experience, Vicente, who immigrated to the United States from Mexico with her parents a decade ago, joined several campus student organizations, from marketing and business clubs and networking groups to the student government, Associated Students (AS).
"My freshman year, I walked into the AS office, introduced myself to the president at the time, Sevag Alexanian, and said, 'I want to be you in a couple years. How do I do that?' He got me involved, and I never looked back," said Vicente, who served as the 2019-20 AS president.
"Get involved" is advice Vicente gives all students, particularly incoming freshmen.
"College is the time where you really get to find yourself, where you get to experiment and start over," she said. "This is your opportunity to get out there and create a new image for yourself, and it's time to get out of your comfort zone and try something new.
"I discovered there was a whole community of individuals who were like me, some were even on the same career path as me," she said. "Getting involved also taught me to be open-minded to different ideas because you will run into people who are very different than you are, who have different ideals and very different beliefs, and to be patient."
When the orders came down to shelter at home and CSUN moved its classes online, Vicente said, she learned how to adapt to the unexpected.
"You can be doing everything completely right, and life can throw something at you and you have to adapt," she said.
Vicente and her colleagues in student government quickly moved their operations online. She set up weekly, live Instagram chats where she could share information and answer student questions. She is convinced that she and her classmates will emerge from the pandemic stronger than when it started.
"I have no doubt that our students are going to be the ones who are going to rebuild the economy, rewrite policies, change procedures and take us into a new world, because we are never going back to what existed before all this," she said. "It's not going to be an easy transition, but our students are tough and determined, and they are going to be the ones who are going to build that future for our nation. I am very excited that I get to be part of that."
Keiri Ramirez, B.S. in Mathematics from the College of Science and Mathematics and a Single-Subject Preliminary Credential in Mathematics from the Michael D. Eisner College of Education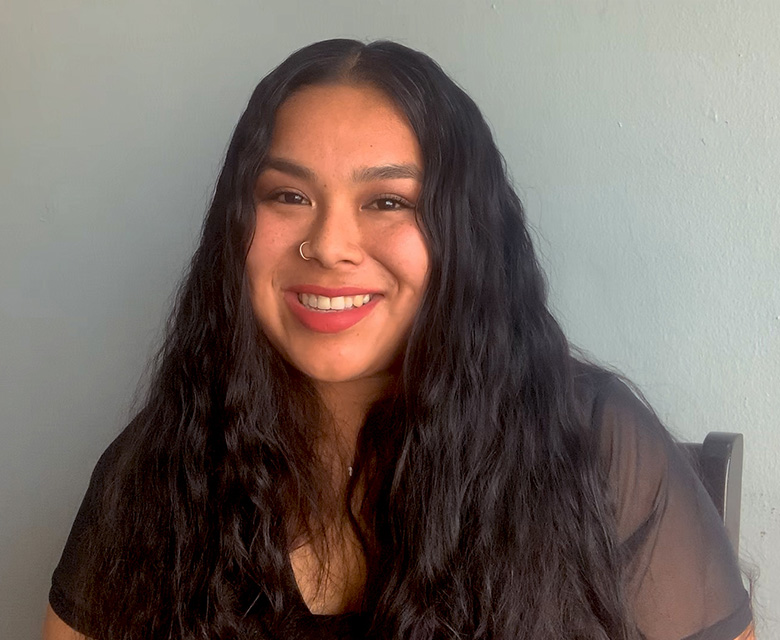 Keiri Ramirez
When she was in first grade growing up in South Gate, Keiri Ramirez, now 23, insisted her parents buy her a white board so she could use it to teach her younger brother and cousins what she was learning in school. She loved going to school. Then came eighth grade geometry.
"The teacher was tough, and I hated that," she said, admitting that, initially, she struggled in the class. "But I saw it as a challenge. It motivated me to keep challenging myself."
The class was also a revelation. "I discovered my passion for math," she said, adding that she likes "the numbers."
"I like that there is only one possible solution to a problem," she said. "I like the calculation of math, compared to doing mathematical proofs. I need to go straight to the point."
When it came to choosing a college, Ramirez selected Northridge, "because I knew I wanted to be a teacher, and I heard CSUN was the best school for teachers."
She enrolled in a integrated program in the Eisner College that allowed her to work on her teaching credential while also working on her bachelor's degree in mathematics.
Ramirez, the first in her family to go to college, admitted that juggling two high-demand course loads at the same time was not easy, particularly since she also worked. Early in her college career, she stumbled in math class, and a male colleague dismissively told her, "that's why women don't belong in math."
"I used those words as empowerment to prove to him what I am capable of, and to prove to myself that I was capable," she said.
Ramirez spent last semester teaching math at Alfred B. Nobel Charter Middle School in Northridge. This semester, she student taught at Northridge Academy High School. Then, the pandemic hit.
Ramirez' teaching mentor gave her free rein in determining how she would continue with her 10th grade math class once the safer-at-home orders were issued. She decided to continue holding virtual classes in real time and to relax homework deadlines. She knew some of her students did not have access to the necessary technology and were dealing with distractions, many not of their own making, at home.
She also shared personal details, including inviting her two dogs to join her class sessions on occasion, to remind her students that they were not alone.
On a personal level, Ramirez said she cried when she learned about the safer-at-home orders. As the first in her family to go to college, she was looking forward to marking the occasion with her parents at the university's commencement celebration, which has been postponed to a yet-to-be-determined date. Her mother reassured her that they were proud of what she's accomplished, and the "party" could happen at any time.
Ramirez said she has been struck by how strong the bonds grew among her cohort of student teachers during self-isolation. Not only did they work together to help each other learn new ways to teach online, they also formed such tight friendships that they were like "family."
"This pandemic helped us create a stronger community," she said. "We went from being classmates to something more, and it's provided us all an opportunity to grow."
Christian Cavalier, B.S. in Electrical Engineering, College of Engineering and Computer Science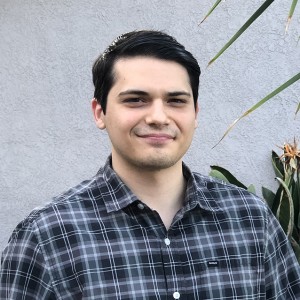 Christian Cavalier
Christian Cavalier, 23, of West Hills, admitted people thought he was "crazy" when he told them he planned to study electrical engineering at college.
"It's notorious for being challenging, and that's precisely why I chose it," Cavalier said Cavalier. "I think that when you challenge yourself and you make yourself work hard, you become a stronger and better individual. Studying electrical engineering was definitely the hardest thing I've ever done. It took me five years to complete this degree. I poured my heart and soul into it, and thoroughly enjoyed every minute of it."
Cavalier's parents didn't go to college, but he had a grandfather who was a civil engineer.
"He was one of the smartest persons I've ever known," Cavalier said. "He is one of the main reasons why I am an engineer. I really looked up to him."
When Cavalier started at CSUN in 2015, he worked part time at Petco to pay his tuition. He saved as much as he could so he didn't have to work his junior year, when his coursework became more demanding. This past year, he took jobs on campus as a lab assistant in the digital circuits lab and as a student grader for an electrical engineering course.
As for a social life, "electrical engineering doesn't really allow for free time," Cavalier said, adding that when he does have free time, he spends it with friends
Not that Cavalier is complaining. His voice gets animated and his enthusiasm is palpable as he starts talking about innovative and technological possibilities associated with electrical engineering.
"One of the things that I really love about engineering is that it's almost like magic," he said. "There's this stigma around engineering, especially the RF (radio-frequency) field that I am going into, because people don't understand how it works. But when you learn how it works, and you go into a lab and build something and that something works, it absolutely blows your mind. Just being a human being and realizing we've come so far and we can do so much with knowledge and applying that knowledge, it's absolutely amazing."
Cavalier said he was nonplussed by the stay-at-home orders that occurred midway through his last semester.
"When you're going full steam into the semester and you're in the zone and getting things done, then all of a sudden, 'Sorry, you can't come to campus anymore,' it was a little surprising," he said. "I was really happy to see how faculty and students handled the situation. Within a couple days, we got notified we're going to do Zoom meetings for classes and connect with fellow classmates and professors. It all went very smoothly. I would say the difference in the education I received was very minimal, though I do miss being in a real classroom and the labs."
Cavalier spent the past year as a systems engineering intern with Northrop Grumman, a position that has turned into a permanent job. He has been working on creating model-based engineering solutions for GPS and inertial navigation systems, specifically creating and testing external interface messages for fighter jets. This fall, he also plans to return to CSUN to begin work on a master's degree in electrical engineering.
"A big part of being an engineer is you really have to be a lifelong learner," he said. "With technology, everything moves so rapidly that you can't afford to stagnate."
Ashley Grace, B.A. in Child and Adolescent Development, College of Health and Human Development
Ashley Grace
Ashley Grace, 31, started working as an actor at age 16, and her career took off. Ten years later and a number of successful television shows and films, including the "The Arrangement," "StartUp," "True Detective," "Chronicle" and "True Blood," Grace was about to get married and was reflecting on the path her life had taken.
"I realized that I kind of bypassed what I had always felt my passion in life was — to work with children," she said. "My circumstances led me to film and TV and, because it was working out for me, I never really challenged myself as to whether or not that was what I wanted to do with my life. I realized that if I didn't go to college, I wasn't going to have the opportunity to explore options in the future because I wasn't, frankly, going to be qualified."
She worried she was going to be "so much older than my fellow students and it was going to take so long," she said. Her husband, actor Topher Grace, encouraged her to apply, saying the sooner she started, the sooner she would have her degree. He assured he supported her decision and would be there when she needed him.
She started at Santa Monica City College to get her general education requirements out of the way. Ready to transfer in 2017 to a four-year institution, Grace, then pregnant with her first child, weighed her options. She considered going to another university, but then thought "or should I go to the school that has the best program for my interests, child development, which was CSUN?"
Her major became clear when she learned a child in her extended family was suffering from abuse and neglect and needed to be removed from their home. Grace struggled to help from hundreds of miles away.
"I knew, from first-hand experience, how difficult the social welfare system and foster care system are because I was trying to navigate them for a child I loved very much," she said. "I realized that this is a place where I can get involved."
Just months after starting at CSUN, Grace had to take a break from school when her daughter was born with health complications.
"It really freaked me," she said. "I was thinking, 'Am I never going back to this?' But I quickly realized that if you are really passionate about something, and it's also playing out in your life, it's a priority to you."
She returned to school in 2018, and immersed herself in her classes. She also began volunteering with Court Appointed Special Advocates (CASA) of Los Angeles, a nonprofit that advocates for children who have experienced abuse and neglect. Grace combined what she learned in classes with her film and television experience for her senior honors project, a short film about CASA of Los Angeles' work.
Grace, now about to give birth to her second child, said that pandemic has given her time to think about the future.
"In the short term, we're living in a world where I'm not exactly sure what things are going to look like tomorrow, or what things are going to look like next year," she said. "I've realized that my passion really lies in helping children. It's fun to be in Hollywood, and it's exciting to be an actor. But if that's not what you're passionate about, it doesn't really matter what other people perceive your life success to be. For now, I am trying to utilize my success in both fields."
She has written a script loosely based on her experiences with CASA of LA and the situation of her extended family member. She said she is hoping to direct that film next year.
"In the long term, I plan on getting a master's and, potentially, a doctorate," Grace said. "I want to continue to research child trauma and the effects of it, and hopefully add something to the field because I think it's so incredibly important."
Danielle Snali, B.A. in Religious Studies, College of Humanities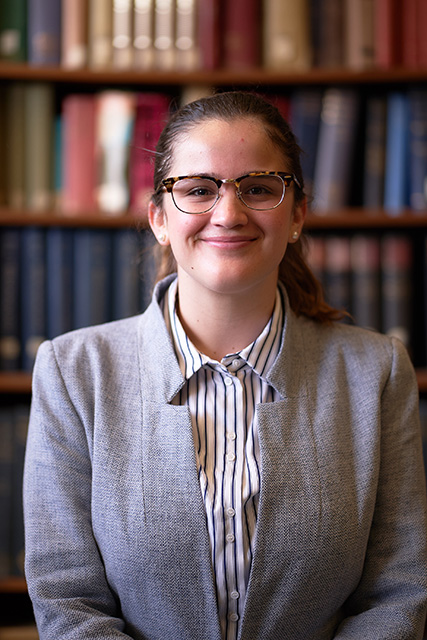 Danielle Snali
Danielle Snali, 22, of Woodland Hills, arrived at CSUN in 2016 with plans to study communication disorders, but then she took an introduction to religious studies course and "fell in love," she said.
Snali quickly changed majors, and the rest, at least for her, is history. She will be starting classes this fall at State University of New York at Binghamton, where will be pursuing a doctoral degree in history, with an emphasis on 20th century gender and women's history. She was awarded that university's highly competitive Clifford D. Clark Diversity Fellowship
"I love history," she said. "It's my favorite subject. I love learning about history, the history of religions, gender history, women's history, social history, oral history … History is very important. It helps us understand why our system is currently constructed the way it is. Learning history helps us become more open minded and understand what is going on in the world. As you can tell, it's my passion."
She said she chose a religious studies major, with minors in women's studies and history, because religion provided a foundation for exploring the history of such topics as gender and women's issues.
While at CSUN Snali, took advantage of any opportunity to build a community among students. She worked as a new student orientation leader, a student assistant in the College of Humanities' dean's office and archived materials in the special collections of CSUN's Delmar T. Oviatt Library. She even gave a lecture at CSUN's new faculty orientation on how to help students with learning disabilities succeed in higher education. She based her lecture on her experiences as someone on the autism spectrum.
She also was a HSI Pathways/Mellon Student Fellow, which paired her with a mentor, Chicana/Chicano studies professor Melisa Galván, who oversaw her independent research project, "Women's Clubs of the Greater San Fernando Valley, 1878 to the Present." She worked closely with the HSI Pathways Coordinator Heidi Schumacher on professional development skills, networking with graduate programs, learning different research methods and theory and getting more involved on campus. She said the support of both women, the HSI Pathways program and her experiences as a supplemental instructor for CSUN's Learning Resource Center cemented her decision to become a professor.
"Seeing my students' faces when they did well on a midterm or test or when they finally got a concept was really rewarding," Snali said. "I love teaching, and I love doing research."
Snali said CSUN's switch to virtual learning during the pandemic led to an even greater appreciation for all the roles the job of university professor entails.
"All of my professors did a really wonderful job transitioning from in-person teaching to online teaching," she said. "What I appreciated even more was, they were regularly checking in on us, making sure everyone had access to the internet and laptops, and making sure that everyone was okay. Everyone's situation was different, and they really tried to make sure that everyone had what they needed."
She said their examples have informed her vision of the ideal professor — the type she wants to be.
"I really want to help my students and be there for them when they need me," Snali said. "I want to incorporate so many of my experiences, so that they enjoy history and learning as much as I do."
Esteban Bautista, B.S. in Biochemistry, College of Science and Mathematics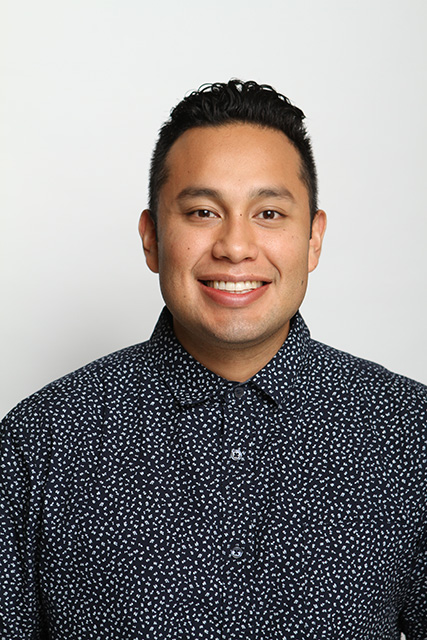 Esteban Bautista
Esteban Bautista's journey to CSUN was a long one filled with missteps and even failure. But it also provided lessons that are helping to pave his way to graduate school. Bautista, 28, of Pasadena, will be starting a doctoral program this fall at the University of California, Irvine, where he will be studying the nanotechnological applications of chemistry in biological systems.
"I went into community college after high school, but I really struggled," he said. "I went into community college underprepared. I didn't take education seriously for the first couple of years. When I got serious, there was still a learning curve I needed to overcome because the STEM (science, technology, engineering and math) courses were really difficult for me. I had to retake calculus a couple times. I actually had to retake general chemistry, as well as chemistry 102. But I did it because I wanted to challenge myself."
He also saw it as a way to push back against hateful stereotypes of Mexicans and Mexican-Americans that were being put forward by certain politicians, and as a way to blaze a trail in a field that does not traditionally attract people of color.
"I recognize that there are a lot of people out there who don't study this subject because of barriers that exist in our society, especially for people of color like myself," he said.
What attracted Bautista to the field of biochemistry was the ability to manipulate matter.
"That's basically what biochemistry is — manipulating matter in the world around you," he said. "I thought it was so cool. I wanted to become a scientist because of that. I still think it's the coolest thing ever, to study chemistry. I am really happy I am going to be doing it for the rest of my life."
Bautista said he was grateful for the opportunities CSUN gave him to prepare for his career, including those presented by CSUN's BUILD PODER (Building Infrastructure Leading to Diversity and Promoting Opportunities for Diversity in Education and Research) training program, the California Pre-Doctoral (Sally Casanova) Program and the ACS (American Chemical Society) Scholars program.
"During the academic year, I was pushed to my limit with studying and learning chemistry and understanding what is going on at the atomic level, and during the summer I had internships at research institutions where I was able to apply what I learned in the classroom," he said.
He spent one summer researching nuclear materials at Purdue University. He spent another summer at Drexel University doing behavioral studies on the relationship between post-traumatic stress disorders and mild traumatic brain injuries. He spent last summer researching on the fabrication of microfluidic devices, which move or analyze the tiny amount of liquid, smaller than a droplet, at UCLA.
Bautista said he realizes that as he moves forward in his career he will be serving as a role model.
"I did outreach with BUILD PODER as an undergraduate, going to middle and high schools, doing chemistry experiments," he said. "I could see it in the kids' faces — the 'Wow! You're going to be a scientist and you look like me!' I tell them 'it's hard, and you have to spend a lot of time and work at it, but you can do it. I come from exactly where you come from — a low-income family.' My parents didn't speak English for a very long time.
"It's unbelievable how far I have come," Bautista said. "I needed a lot of help and it did take a long time, but I did it."
Crystal Venegas, M.A. in Clinical Psychology, College of Social and Behavioral Sciences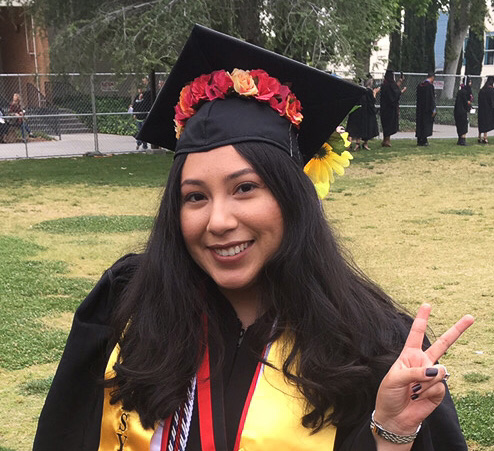 Crystal Venagas
Crystal Venegas' parents didn't have an opportunity to go to college but were determined to make sure their children had a chance at a college education.
"It was seen as a ticket to freedom or a better life, and that motivated me," said Venegas, 28, the eldest of three. "I had to get an education, not only for myself, but for my mom and dad, and my daughter and my brothers, who look up to me.
"Even though I was a teenage mom, I didn't let that deter me," she said. "I was doing this not only for my family, myself and my daughter, but also for other students who find themselves in similar situations — where they might have a child during their first semester of college and don't see themselves continuing. It was very important to be that person who is representative of the community of scholars who are also parents. When we think of diversity, we often think it's just racial or socioeconomic diversity, but there is also a diversity in the experiences that students bring to academia."
Venegas said her academic journey was never easy, but she never faltered. Pregnant at age 17, she enrolled at Los Angeles Valley College. She started out as a part-time student while she cared for her young daughter and worked a retail job.
When her daughter entered kindergarten, Venegas was ready to go to school full time, and transferred to CSUN in 2015. She tailored her academic schedule around her daughter's, and her family — including her daughter's father — stepped in whenever needed to ensure Venegas had time for her studies.
Venegas threw herself into her coursework. She gave up retail and got jobs on campus, as an undergraduate biomedical researcher in CSUN's BUILD PODER research training program. As a graduate student in CSUN's psychology department, she worked as a project coordinator and research assistant in the P.U.E.N.T.E. (Promoting the Use of Evidence-based practices: Narrowing the Treatment Engagement gap )Lab, and a lab coordinator and researcher assistant in the C.A.R.E. (Contextual Aspects of Race and Ethnicity) Lab, as well as a teaching assistant and graduate mentor for BUILD PODER. She was also awarded a National Science Foundation Graduate Research Fellowship.
She graduated with honors from CSUN in 2018 with bachelor's degrees in psychology and child and adolescent development in applied developmental science. Now graduating with her master's degree, Venegas has been awarded the 2020 Nathan O. Freedman Memorial Award for Outstanding Graduate Student, one of the university's top academic honors.
When she starts a Ph.D. program in clinical psychology at UCLA this fall, Venegas will continue research she started at CSUN. She is examining the influence of socio-cultural factors—such as acculturative stress, discrimination and familismo, a strong sense of identification with, and loyalty to, nuclear and extended family—on mental health outcomes in Latinx populations.
She said her experiences as a researcher and clinical psychology student during the pandemic underscored her desire to understand mental health issues in Latinx populations.
"While we are all experiencing the pandemic, it impacts us differently depending on our socioeconomic class, our race, our ethnicity," she said. "And that has an impact on mental health."