Editable Name Book for Kids: Name Recognition Activities
This Printable Editable Name Book for kids is an easy, customizable way to teach your kid early literacy and name recognition skills in a fun and engaging way.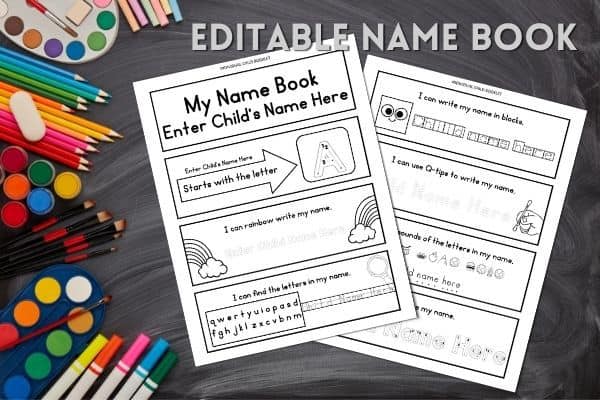 One of the most important things your preschool-aged kids must be introduced to are early literacy skills. What might surprise you is that something as simple as learning to write their own name teaches them several at one time. With this Printable Editable Name Book, you will set your kid up for early school success by teaching him or her to recognize his or her name.
 Teaching preschoolers how to recognize and spell their first names is also important for daily tasks. For example, they would be able to recognize their own names on their goodie bags at birthday parties or cubbies at school.
With the fun name recognition activities in this printable editable name book, your kids will learn the letter that their names start with, all the way to writing and spelling their first names. If you are a teacher at a preschool, there are pages made for the classroom where you can type in all the students' names for their name books.
What are Early Literacy Skills?
When you hear "early literacy skills" it may sound daunting, but I promise you that you're probably already working on them at home without even thinking about it. Kids who are offered activities that promote early literacy are more likely to be successful at school in all areas. That is right, even things like math and science!

Early literacy skills include print motivation, vocabulary, print awareness, narrative skills, knowledge of letters (upper and lower case), and awareness of phonics (letter sounds).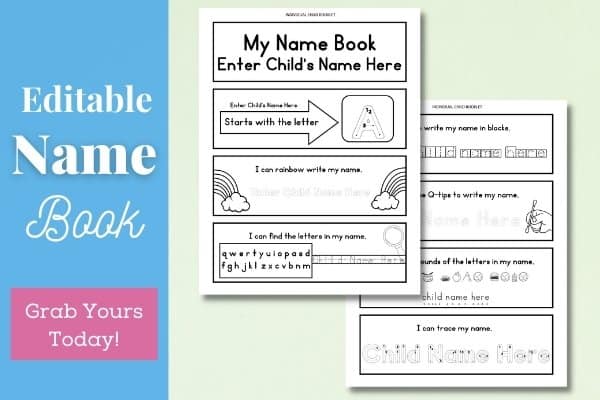 Examples of Early Literacy Skills?
Here are some examples of each of the skills your kid needs to start school on the right foot, and how you can apply them at home:
Print motivation – This is as simple as introducing your kid to books, reading with them, and pointing to words as you go. Make sure you or your kid has a library card and take advantage of their services and programs! Homes with books and print options like magazines and newspapers produce readers!
Vocabulary – Words, words, words. Whether you know it or not, your kid probably has an extensive vocabulary already. It is important to reinforce their verbal vocabulary with written words and corresponding pictures too. Games like Seek-a-boo are great for young learners. Muffin Tin Literacy games are great too.
Print awareness – Print awareness may sound complicated, but it's just how print moves in a book –  learning that we write (here in the US) left to right and top to bottom. Point to the words as you and your kid read together and you're done!
Narrative skills – Can your kid tell a story with a beginning, middle, and an end? They have narrative skills! Ask your kid questions as you read together. Have your kid retell the story in their own words at the end of the book. I bet you already do.
Knowledge of letters – This one is one that I know we all do at home. Practice matching upper and lower case letters to each other. Do activities together that explore a letter each week, like my Letter E craft. Hands-on manipulatives are great – no pencils or crayons required!

Awareness of Phonics – You have probably heard about phonics many times, but it is how letters and words sound and the skill of using those sounds when reading. If your kid loves rhyming games, they are playing with the concepts of phonics. It is also a great way to pass the time in the car or in line at a store. 
My Printable Editable Name Book
My Editable Name Book teaches early literacy skills in a fun and engaging way. You get to customize it with your kid's name (there's also a classroom option). They get to see their own name in print and play with how it looks and sounds in engaging bite-sized activities. You don't have to do the entire booklet in a day. And you can print as many copies as you want!
What Will I Get with the Editable Name Book?
This is a digital product. You get an editable PDF file that you can use to create your kid's personalized name activity book.
How Do You Use the Editable Name Book?
The editable name book is full of fun activities that involve your child's name. All you have to do is open up the PDF file with Adobe Acrobat (the free version works fine) and go through each activity to edit the name to your child's name.
After you print out all the pages, simply cut out the activities, stack them, and then staple the folded side together.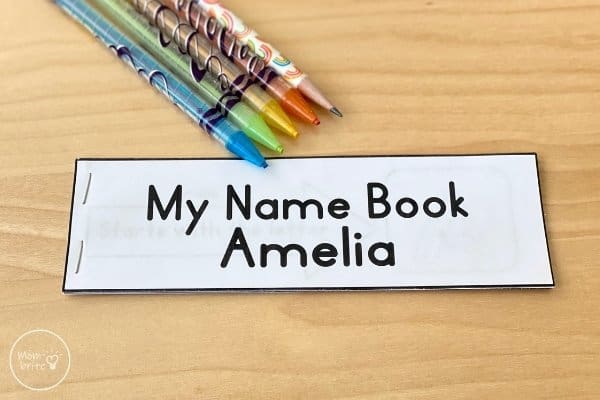 Here are examples of the name recognition activities that are included in the printable editable name book:
• "I can rainbow write my name"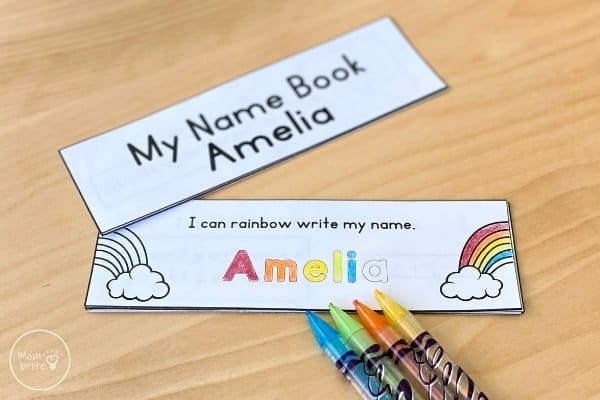 • "I can write my name in blocks"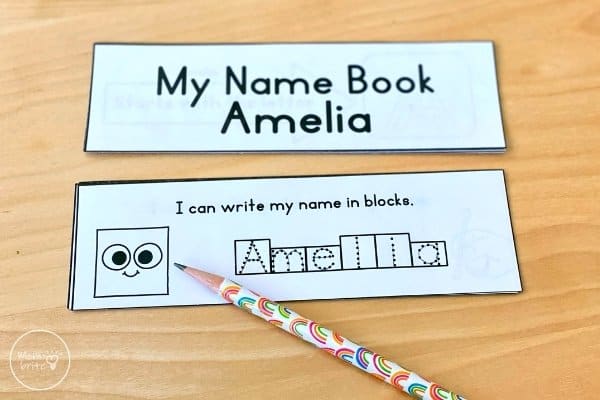 • "I can find the letters in my name"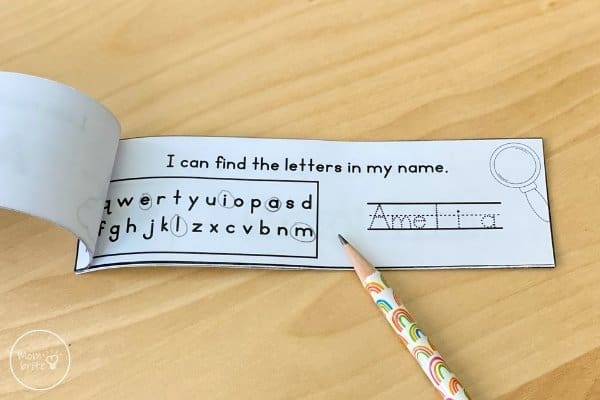 • And many more!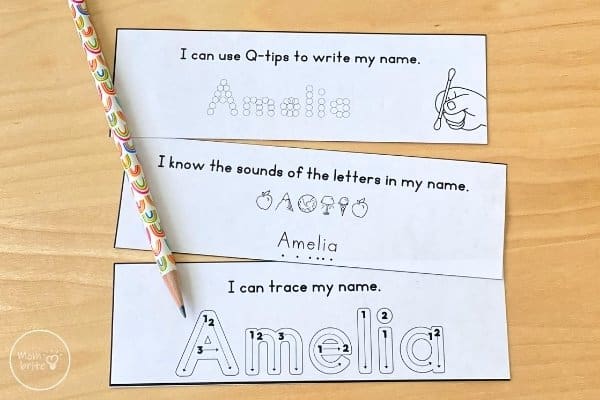 The classroom booklets allow you to input multiple names at once for the same activity. You can go through the student roster and enter the names in the book one by one for each activity.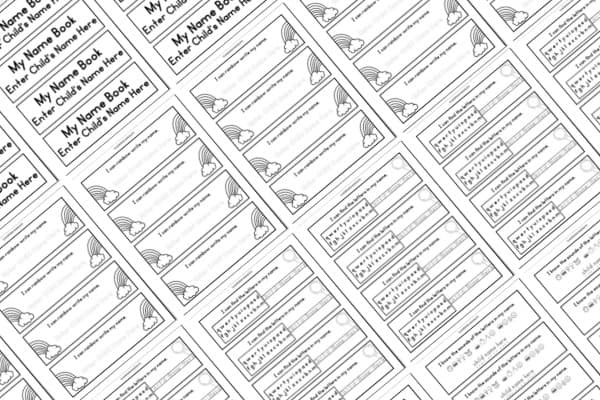 I've made a quick video that shows you how to edit the PDF with your kid's name. It is quick and easy and you can get started the same day you purchase!
What Supplies Will We Need?
Here are the suggested supplies:
Your computer
Colored pencils, crayons, or markers
Preschool-friendly pencils for little hands
Stapler
How Do I Get the Printable Editable Name Book?
Simply click on the button below to purchase the printable editable name book!
Want more activities that promote early literacy? 
Check out these posts for more:
Teaching early literacy skills is a simple, but powerful way to set your kids up for success from an early age. Let this Editable Name Book help you do it! I know your kids will love it.