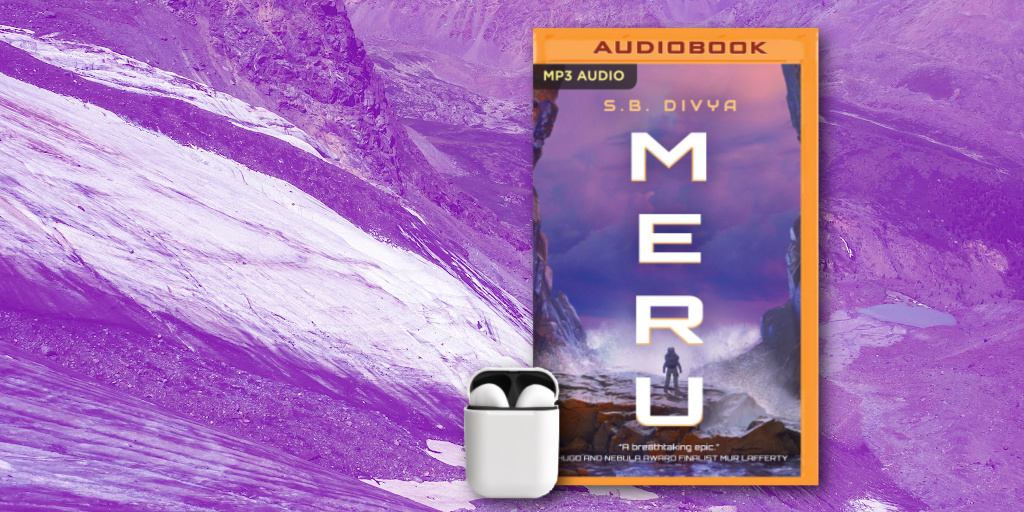 Hey sci-fi and space opera fans, Sophia Rose is here with a review of MERU by S.B. Divya. Come see what she has to say about this audiobook narrated by Deepa Samuel. Journey with a lone human determined to show we learn from our mistakes.
Meru
by
S.B. Divya
Series:
The Alloy Era #1
Narrator:
Deepa Samuel
Length: 17 hours 43 minutes
Genres:
Space Opera
Source:
Publisher
Purchase*:
Amazon
|
Audible
*affiliate
Narration: 4 cups Speed: 1.3x
One woman and her pilot are about to change the future of the species in an epic space opera about aspiration, compassion, and redemption by Hugo and Nebula Award finalist S. B. Divya.

For five centuries, human life has been restricted to Earth, while posthuman descendants called alloys freely explore the galaxy. But when the Earthlike planet of Meru is discovered, two unlikely companions venture forth to test the habitability of this unoccupied new world and the future of human-alloy relations.

For Jayanthi, the adopted human child of alloy parents, it's an opportunity to rectify the ancient reputation of her species as avaricious and destructive, and to give humanity a new place in the universe. For Vaha, Jayanthi's alloy pilot, it's a daunting yet irresistible adventure to find success as an individual.

As the journey challenges their resolve in unexpected ways, the two form a bond that only deepens with their time alone on Meru. But how can Jayanthi succeed at freeing humanity from its past when she and Vaha have been set up to fail?

Against all odds, hope is human, too.
Sophia Rose's Review
In the far future of earth and space after the Alloy race came along and cleaned up after the mess humans made of things, a lone human is determined to leave her comfortable world to show that humans can learn from their mistakes.  Only, someone doesn't want the human to succeed…
I was eager to snatch up my earbuds for this new to me author, narrator, and space opera world that proved to be as complex, innovative, and imaginative as I could hope for.
Humans mucked up earth and their colonizing of Mars by wasting and wearing out the resources. A race of AI-biological constructs come along and with their advanced knowledge and abilities, fix what humans broke and put the whole race of humans that are still left under sanction and re-educate them as to a better way.  Humans are only allowed to live on earth even though the Alloy have spread out through space.  Most accept and enjoy being cosseted and pampered by the Alloy, but a growing group of humans want their independence to do any career they wish and travel among the stars to other planets.
One human has the unique upbringing of being the child of Alloy parents who have chosen to live on earth and study humans- a career and living choice not understood or favored by most of their race. The human, Jayanthi, dreams of working in the human-closed career of genetics and traveling to and exploring the newly opened planet of Meru that has similar environmental conditions as earth. 
Intrigue abounds with some Alloy and humans backing Jayanthi's mission and others opposing it.  Jayanthi and her sentient ship pilot partner are not aware of the danger when they set out on an already complicated mission.
Meru was fascinating from the very beginning with an introduction to a backdrop and setting that truly felt like it could be the future and an advanced Alloy race that were jarringly alien in thought and action.  I love when an author can make their sci-fi world unsettle me and draw me in like this.  It took a while to get moving with the pace as there was time needed to paint enough in for listeners to get the picture.
The book is told from alternating narrator viewpoints. Jayanthi, the precocious human with a deliberate genetic anomaly causing the sickle cell trait, and Vaha, a sentient ship Alloy construct with her own need to prove her worth with the mission.  Some will find it an odd romantic relationship since these two are totally different in form and race, but this is sci-fi so I could definitely get on board with this working partners, to friends, to lovers and especially since it wasn't the big focus of the book.
I make it sound exciting and intriguing and it does get there, but this is a gentler space opera, thoughtful, and careful rather than fast blasting action.  My interest would wax and wane and there were times I waited for something to happen. There are some moments, when oh boy does the tension ratchet up, too.  It is hard science in ways with the genetics study and tech as well as AI-Biological constructs, but it is also a deft handling of people who are both foreign and familiar to us.
Meru wrapped up the main story arc and felt complete while also setting up for more.
Deepa Samuel had a soft almost hypnotic voice. I enjoyed how she made Vaha and other Alloy have alien voices through alternating the rhythm and emphasis of words while making Jayanthi and other humans have distinct voices that helped fill in my imagination about them and the scenes in the book.
All in all, Meru was a stellar sci-fi that left me vested in the series and wanting the next book. Hard sci-fi and space opera fans should definitely consider Meru.
*kindleunlimited
About S.B. Divya
S.B. Divya (she/any) is a lover of science, math, fiction, and the Oxford comma. She is the Hugo and Nebula nominated author of Meru (2023), Machinehood, Runtime, and Contingency Plans For the Apocalypse and Other Possible Situations. Her short stories have appeared in numerous magazines and anthologies, and she was the co-editor of Escape Pod, the weekly science fiction podcast, from 2017-2022. Divya holds degrees in Computational Neuroscience and Signal Processing, and she worked for twenty years as an electrical engineer before becoming an author. Born in Pondicherry, India, Divya now resides in Southern California. She enjoys subverting expectations and breaking stereotypes whenever she can.
About Deepa Samuel
A storyteller at heart, Deepa Samuel enjoys travel, ethnic cuisine, and delving into other cultures. At home, when she's not parked in her cozy chair with a cup of Earl Grey (naturally, with real sugar and milk) and a good book, Deepa is content spending time with her family and friends. What better way to spend time with people than to create memories over personal stories. Whether it's catching up at the latest new Mediterranean restaurant, or cooking up a feast at home with loved ones, laughter (and, perhaps a glass of wine) are simply all she really needs.

Stay Caffeinated!
Never miss a post by adding Caffeinated to your Inbox
About Sophia Rose
Sophia is a quiet though curious gal who dabbles in cooking, book reviewing, and gardening. Encouraged and supported by an incredible man and loving family. A Northern Californian transplant to the Great Lakes Region of the US. Lover of Jane Austen, Baseball, Cats, Scooby Doo, and Chocolate.