Tales From The Box Office: Knives Out Murdered The Mystery Of The Mid-Budget Movie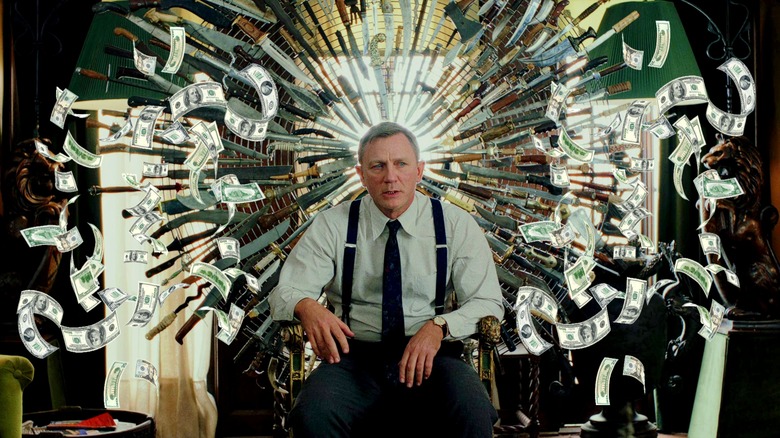 (Welcome to Tales from the Box Office, our column that examines box office miracles, disasters, and everything in between, as well as what we can learn from them.)
Rian Johnson probably could have done a great many things in the wake of "Star Wars: The Last Jedi." While I'm more aware than most as to the divisive nature of the filmmaker's entry into a galaxy far, far away, at more than $1.3 billion worldwide, it's one of the 20 highest-grossing movies of all time. In the wake of that blockbuster success, Johnson decided to take a step back and do something much smaller (but not too small) in the form of 2019's "Knives Out."
Not that a filmmaker making a smaller movie after a big success is anything new, as Joss Whedon made "Much Ado About Nothing" after making "The Avengers," for example. But rarely do those smaller films themselves go on to become gigantic, franchise-creating hits. Even if it was somewhat by accident, that's exactly what Johnson did, in no small part thanks to Daniel Craig and an A-list cast that deliver the goods in spades. What we ended up with was a golden template for what the mid-budget movie can be, even in a post-pandemic world.
In honor of the release of "Glass Onion: A Knives Out Mystery" in theaters and ahead of its Netflix debut, we're looking back at Johnson's whodunnit, how it came to be, how it blew past industry expectations, and what lessons we can learn from it now that the franchise has become a casualty of the streaming wars.
The Movie: Knives Out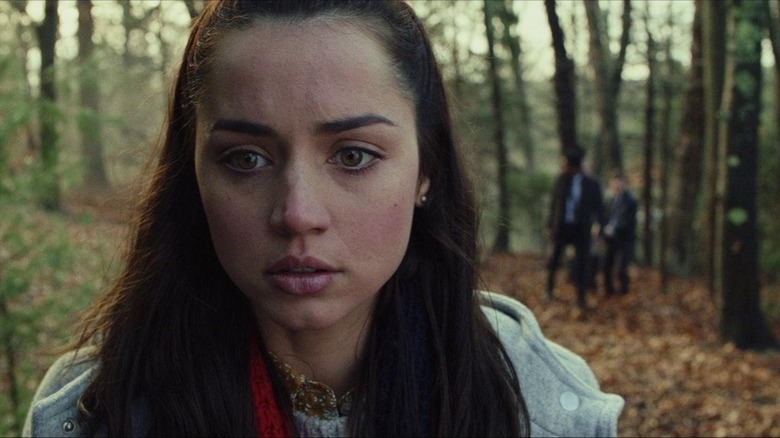 Rian Johnson had originally cooked up the basic idea for "Knives Out" after making his breakout film "Brick," which was released in 2005. But when his longtime producing partner Ram Bergman found an eight-week window between the release of "The Last Jedi" and Johnson's then-planned "Star Wars" trilogy he was supposed to helm, it gave the filmmaker a kick in the behind. "I'm a very slow writer, so that [timeline] seemed ridiculous to me, but I sat down and did it," Johnson said to The Hollywood Reporter in 2019.
The story Johnson came up with revolves around the death of crime novelist Harlan Thrombey, the head of a wealthy family who all lives under the umbrella of his publishing empire. The circumstances surrounding his death are called into question and the various members of the family all become suspects, with a twisty tale unfolding in the modern day. Things got interesting when the project was revealed to the world as a hot package during the 2018 Toronto International Film Festival. Not only was Johnson on board as the writer and director, but Daniel Craig, who was still waiting for "James Bond 25" to come together (eventually taking the form of "No Time to Die"), had agreed to star in the lead role as detective Benoit Blanc. That made the film instantly attractive.
What really sealed the deal is that the cast continued to grow impressively from there. On the strength of Johnson's script, Christopher Plummer, Lakeith Stanfield, Jamie Lee Curtis, Don Johnson, Chris Evans, Michael Shannon, Katherine Langford, Frank Oz, Ana de Armas, and Toni Collette all signed on as well. Not to mention his good luck charm, Noah Segan, taking on the role of Trooper Wagner. "Knives Out" boasted arguably one of the best ensemble casts in recent memory, if not ever.
Turning The Whodunnit On Its Head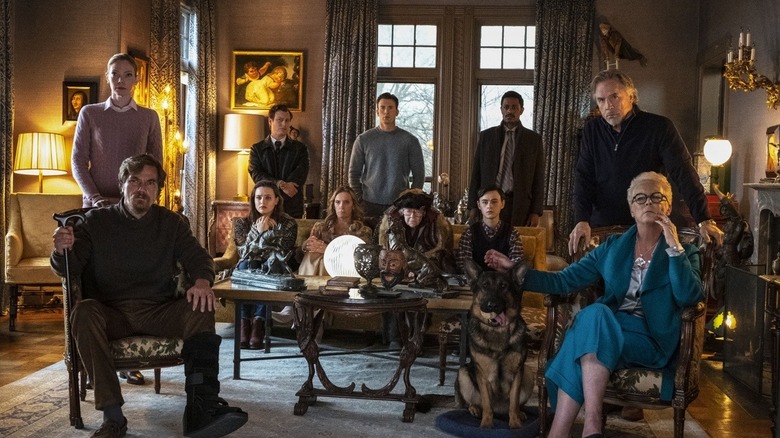 Rian Johnson has long since stated his love for Agatha Christie, which ultimately inspired his very own whodunnit. But the filmmaker wasn't content to just pay homage to the past. Speaking with The Atlantic shortly after the movie's initial release, he explained that giving the movie a modern setting helped set it apart:
"When you see a whodunit, you tend to see it as a period piece, because it's usually an Agatha Christie adaptation. So the idea of doing an original one and setting it in the America of 2019 — not just giving it a modern skin but really plugging into today — there was something about that that seemed genuinely exciting."
Anyone who has seen "Knives Out" knows that things get flipped on their head around halfway through the film when it's "revealed" that Ana de Armas' character seemingly killed Harlan, with things becoming even more complicated when it is revealed that she has been given a massive inheritance by the late writer. Johnson explained in the same interview that breaking the form helped get away from the potential shortcomings of the genre he was working in:
"With this movie, I was thinking about the form of the whodunit and the inherent weakness of that form, which is that it's just clue-gathering leading up to a surprise. So the initial idea was as simple and abstract as putting a Hitchcock thriller in the middle of a whodunit, but still turning it back into a whodunit at the end."
MRC and T-Street produced the movie, but it was Lionsgate, the studio behind "The Hunger Games" and "John Wick" franchises, that really benefited when it signed on to distribute the film worldwide. As we would come to find in the 2019 holiday season, Johnson had put together the precise ingredients needed to make a meal of a hit that, in some ways, would go on to surpass what he accomplished with "The Last Jedi."
The Financial Journey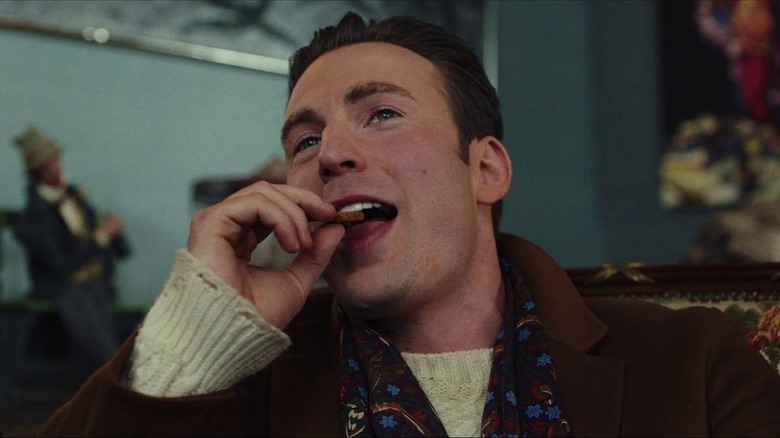 Lionsgate released "Knives Out" in theaters on November 27, 2019. It entered the theatrical fold with a $40 million budget, right in the mid-budget range that Hollywood simply doesn't play in all that often anymore. The movie entered theaters riding a wave of critical buzz just in time for the long Thanksgiving holiday weekend. It paid off pretty quickly. The movie debuted with $41.4 million across the full five-day holiday frame, second only to Disney's monster hit "Frozen II," which was in its second weekend. But not finishing first was not an issue in this case, as this was an example of counterprogramming done right.
"Knives Out" managed to stay in the number two spot the following week, dropping less than 50%, and adding another $14.2 million to its total. The strongholds would continue even as big hits such as "Jumanji: The Next Level'' and "Star Wars: The Rise of Skywalker'' entered theaters in the weeks that followed. All told, the movie earned a very impressive $165.3 million domestically and $147.5 million internationally for a grand total of $312.8 million. Or, for you lovers of math out there, just shy of eight times its production budget.
Returns like that don't go unnoticed, and plans for a sequel were hatched. The catch? Johnson had full rights to the screenplay and Lionsgate had a one-picture deal in place. So, when the sequel was coming together, Johnson and Daniel Craig were holding all of the cards. Netflix had the deepest pockets and paid an outlandishly high $450 million for not one, but two more sequels. The first of those sequels is "Glass Onion" which, like its predecessor, has garnered rave reviews. The difference though is that it's Netflix's gain this time around, and a big loss for the theatrical marketplace.
The Lessons Contained Within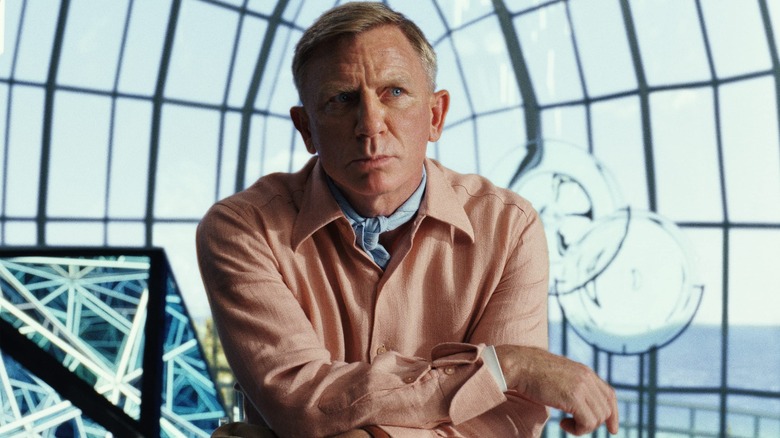 The first lesson as I see it is that this is yet another example of the mid-budget movie being something Hollywood can and should look to in the future. The film slate doesn't all have to be exclusively micro-budget, low-risk bets, or blockbusters. These mid-budget bets can pay off in a huge way and, as Rian Johnson proved, they can also bring together staggeringly great casts — and those casts don't have to cost hundreds of millions of dollars. But I won't belabor a point I've made several times in the past in this very column, I will merely hope this doesn't fall on deaf ears.
Mainly, I look at the Netflix deal. Do I blame Johnson, Daniel Craig, and Ram Bergman for taking the best deal on the table from a financial standpoint? I do not. Do I mourn the loss of a theatrically viable franchise in the process at a time when theaters truly need it? I most certainly do. That having been said, there is a lesson here for Netflix and the streaming sector of the movies business at large. In short? Not releasing big movies in theaters increasingly seems silly, and, in the case of "Glass Onion," Netflix really should change its tune.
Granted, the movie is getting a one-week theatrical engagement and, though it's early, the numbers look good. But just imagine what "Glass Onion" could have done with a wider release and a proper push for theatrical beyond a limited engagement. As the world continues to normalize in a post-pandemic world, it's clear that ticket sales can provide a big revenue stream. As Netflix looks towards the future, the box office may be an untapped gold mine. This "Knives Out" deal would look a whole lot smarter if they had two big theatrical hits to show for it as well as big streaming hits, now wouldn't it?
Read this next: The Best Movies Of 2022 So Far
The post Tales From The Box Office: Knives Out Murdered The Mystery Of The Mid-Budget Movie appeared first on /Film.