13 Ways to Use Your Garage in 2020 – From Functional to Fun
We often forget to use our imagination and see things outside the box. We see, for example, a garage, and assume it's the place to park our cars and/or store things. Those aren't wrong. However, there are so many possibilities many people never imagine.
Garages are interesting, versatile spaces. They can be transformed into whatever you want them to be. Let's take a look at these out-of-the-box garage uses, to discover what use works for your garage upgrades!
Related content >> Garage Flooring FAQ
Traditional Garage Uses
I suppose this is plenty self-explanatory. You typically use your garage to park your car(s) and, possibly, some extra storage.
That doesn't mean it has to be boring! Whether you're using your garage as a giant home theater or a traditional place to park your car, there are ways to deck it out.
To build a traditional garage, we recommend starting with a nice and simple garage flooring roll to keep your floor looking nice and clean. To take your traditional garage above and beyond, check out some other traditional garage uses. 
Car Garage
The most traditional garage is the type that holds your cars while you're not using it. Now you might be thinking, "What do I need to do to a garage that is doing its most basic function?" Well, if you are using your garage as some sort of car shop to work on your vehicle, there are few things you can add to help your garage be even more functional. 
For instance, if you're trying to work on your vehicle but not leave huge oil stains on your concrete garage floors, due to renting a space or just cleanliness in general, you can start by adding some garage flooring, so your vehicle can park on something different and look awesome. 
As for your garage or car tools, don't they deserve a nice home of their own? Of course! We have toolboxes to complement your new garage flooring. Now your "traditional garage" looks more like a professional garage for parking or for general maintenance. 
Ready to Upgrade Your Parking Space? 
Need some inspiration for your garage auto shop? Check out some customer favorite products to help take your garage from a parking lot to a luxurious car garage! 
Nitro Tiles
Nitro Tiles have been engineered to be one of the toughest garage tiles on the market today. Easy to install and maintain, these hard plastic tiles resist staining from oil, gas, and most household chemicals. Simply lock each interlocking tile together, then you're ready to park. While these tiles don't work with car jacks, they are easily maintained. 
SHOP NITRO TILES  SHOP ALL GARAGE TILES
Diamond Nitro Rolls
Maybe you need to be able to use a car jack and interlocking tiles aren't your style. That's cool! We have garage rolls ready to roll onto your garage floors. Diamond Nitro Rolls were designed from the ground up to provide the best value roll out garage floor covering on the market. Layout your diamond nitro roll, and watch your space transform into the professional garage you always wanted.
SHOP DIAMOND NITRO ROLLS  SHOP ALL GARAGE ROLLS
Homak Pro 4-Drawer Slide Top Service Cart
Who doesn't love a toolbox on wheels? The Homak Pro Service Cart with swivel casters has full-length aluminum drawer pulls, locking slide-top panels for secured storage, and a bottom shelf for additional storage space. So you just work away on your vehicle and slide your tools where you need them. 
SHOP HOMAK PRO SLIDE SERVICE CART  SHOP ALL TOOL STORAGE
Organized Storage Room
Are you a person who has a lot of stuff? Like, not the usual amount that fits nicely in your hall closet and bookshelf. But you've been collecting things since you were three years old and have yet to throw any of them away?
Then you are probably someone who could use a garage storage solution! 
Here's the thing – most people do the garage storage thing totally wrong. They shove everything they don't use on a daily basis in the garage and hope for the best. Items pile up and, before you know it, you can't even walk around in there, let alone find anything.
Traditionally, a garage is a home catch-all room for the stuff you don't use on a daily basis.
You are welcome to fill that baby up with your things. Let's just do it in an organized and civilized manner.
Start by grabbing some shelves, and garage storage closets, add some toolboxes if you have excess tools lying around, then voila, you have some organization in your garage. A little organization from the very beginning will save you loads of time (and regret) later on.
Get Organized! 
Are you ready to maintain the chaos and have a garage makeover? We are happy to help you out with some cool organization products you're sure to love!
Ulti-MATE Garage 2.0 11-PC Kit w/ Bamboo Worktop
Lots of organizing requires a lot of cabinets. Why not get a garage cabinet kit to take your garage from the catch-all room to a pristine showroom for all of your stuff? Be more organized and productive with Ulti-MATE Garage's 2.0 Series 11-PC Kit w/ Bamboo Worktop. Great for both workshops and large garages, this cabinet kit comes with nearly 24 feet of modular storage space. 
SHOP Ulti-MATE GARAGE KIT  SHOP ALL GARAGE CABINETS
Homak Pro II Roller Cabinet
Need storage that follows you? Grab a roller cabinet for some of your most needed tools. Homak's Pro II Series of roller cabinets are available in several sizes and colors, with all the bells and whistles included. Drawer pulls feature full-length aluminum construction for added durability.
SHOP HOMAK PRO ROLLER CABINET  SHOP ALL TOOL STORAGE
Homak Wood Top Steel Workbench
Perhaps you still need to get some work done in your super organized garage. Perfect! We have the workbench just for you. Homak's Wood Top Steel Workbench is constructed using high-quality steel with a 1.5″ thick laminated wood work surface. Great for any garage, mancave, office, or workshop, this quality workbench is durable and sure to look great.
SHOP HOMAK STEEL WORKBENCH  SHOP ALL WORKBENCES
Related content >> Garage Flooring Buyer's Guide: Tiles, Rolls, Epoxy & More
Entertainment Space
If you're someone who loves to entertain but just doesn't have the room or the resources inside your home, a garage entertainment room could be exactly what you need. There are multiple ways to entertain so think about if you want to add a couch and a big-screen TV, an arcade, a fancy dining area, etc. The possibilities are endless.
You can create a bonus room, a playroom, a man cave, or even a formal dining room in your garage if you have no intention of parking in it. But where do you start to build this entertainment center? Let's start with how you want to entertain. 
Den
A home's "den" is a room that is more private in which members of the household can relax or play. It can create extra space for activities, such as a game night, a TV room, or even a home theater. But where to start? With the flooring of course!
Depending on how you want to use your den, you can use in-home floorings such as vinyl or laminate flooring, then add some furniture, and call it a day. Maybe you want a warmer, cozier vibe, so you can go with some luxurious carpet tiles or rugs. Either way, you can have an awesome bonus room in the house to do whatever you want! 
Create Your Bonus Room!
To complete your garage den/bonus room, you might need a few of the essentials. Find your flooring and furniture solutions all right here! 
TritonCORE 7″ Waterproof Vinyl Planks
Looking for planks that lock together, and add warmth to your garage/den? TritonCORE waterproof vinyl plank flooring option is the newest waterproof plank option to hit the market. These attractive colors and classic wood-look patterns are sure to look great with any decor in any room of the home. 
SHOP TritonCORE VINYL PLANKS  SHOP ALL VINYL PLANKS
Weave Carpet Tiles
If you're looking for more coziness for your den, consider carpet tiles. Add a little uniqueness and pizzazz with our Weave Carpet Tiles. Great as a whole floor or custom rug, these carpet tile squares are the perfect alternative to standard carpet in your home. Installation of these peel and stick carpet tiles is simple, just peel the plastic backing and place the tile on the floor. 
SHOP WEAVE CARPET TILES  SHOP ALL CARPET TILES
Homak 3-Door 59″ Workstation
To add even more functionality to your bonus room, check out this awesome workstation. Featuring storage, a pegboard backsplash, and a wood top, this can transform your garage into a den that doubles as a study room. Plus, its dark color can add some contrast.
SHOP HOMAK 3-DOOR WORKSTATION  SHOP ALL GARAGE FURNITURE
Playroom
One thing I hear a lot from parents is the idea of going back to active play. There's no doubt that we live in an age dominated by technology. However, having a dedicated technology-free playroom with space to run around and play is something many parents still desire.
Not everyone has the space inside their home to create a playroom for the kiddos. Often forgotten, the garage just might be your place! Now, if I were to suggest your kids play on the hard, dirty concrete, you'd probably think I was nuts. I'd agree with you. Thankfully, we have some alternative flooring options for playrooms. 
If you don't plan to park your car in the garage, you can easily put down carpet with a cushy underlayment or soft foam tiles to keep the little ones safe and sound. Don't forget a little storage for all their toys.
1/2″ Eco-Soft +
For excellent soft flooring that your kids will love, check out our colorful, eco soft tiles! Eco-Soft + tiles are a premium version of our Eco-Soft Tiles. Thicker and more consistent, these foam tiles are the perfect lightweight foam flooring option for any room in your home. 
SHOP 1/2″ ECO-SOFT +  SHOP ALL SOFT FOAM TILES
Floorigami Stay Toned Carpet Tile
To add classic style to your playroom, carpet tiles can provide comfort and beauty. It has never been easier to unleash your DIY superpowers than with Shaw's Floorigami carpet line! Stay Toned peel and stick tiles are not only hypoallergenic making them safe for the whole family, but they are beautiful and comfortable underfoot. 
SHOP FLOORIGAMI STAY TONED CARPET TILE  SHOP ALL CARPET TILES
Homak Pro II 5-Drawer Side Locker
For a fun version of toy storage grab some awesome lockers! Available in multiple sizes and colors, Homak Side Lockers have the room you need for those small items and those bulkier plastic toys that never seem to belong anywhere. For kids with a lot of toys, start on the right foot with excellent storage. 
SHOP HOMAK PRO II SIDE LOCKER  SHOP ALL STORAGE
Man Cave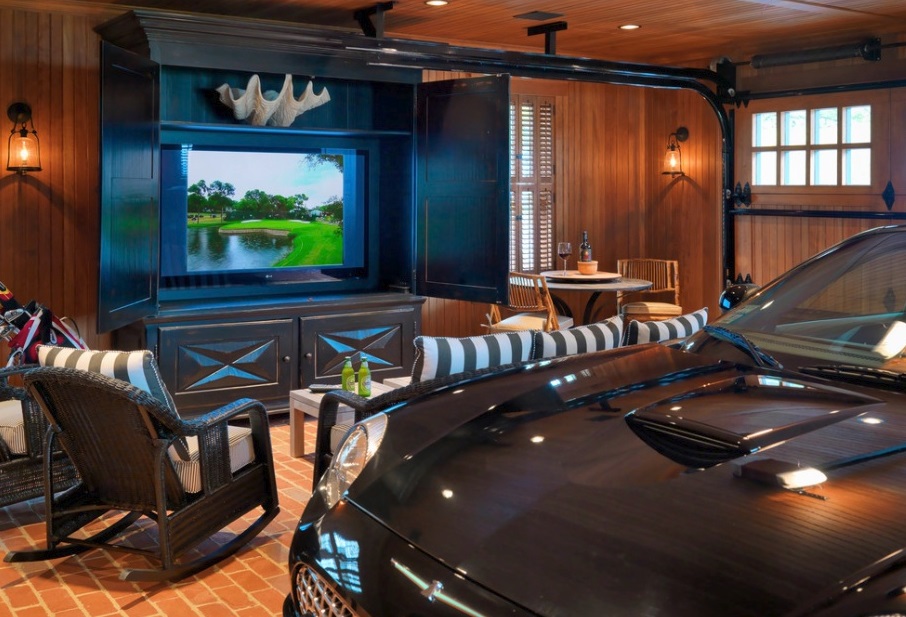 Photo credit: Dude Living
It seems like ever since I Love You Man came out, the man cave has had a surge in popularity. Garages are the perfect space to build your dream man cave for all your manly activities and hobbies. It's also a great place for you to get away and have your own space, which can be difficult, especially if you have kids at home.
Because every man is different, every man cave is different, too. Thankfully, a man cave is customizable by the owner. So be it a place to watch the game by yourself (or with some buddies), or a game room to play your favorite game, it's all based on the dude who lives there.
Related content >>The Best Garage Flooring
For Your Manly Garage
Is it time to get your own place… in your house? Find some inspiration for your man cave by checking out some of our favorite garage products. 
Smooth Flex Nitro Tiles
Smooth flex nitro tiles have you covered in every room of the home. These interlocking garage tiles offer all the great features that you have come to love with our Coin Flex Nitro Tiles but have a textured, smooth surface that is great for items with wheels or casters. With a hidden interlocking system, these tiles will prevent liquids from penetrating to the subfloor below and will give you a more finished tiled floor look.
SHOP SMOOTH FLEX NITRO TILES  SHOP ALL GARAGE TILES
Homak 59″ Collapsible 3-Door Workstation
In case you need to get some work done in your man cave: Homak's Collapsible 3-Door Workstation is an attractive, mobile addition to any garage space. This multi-functional workstation features a pegboard backsplash for tool storage as well as locking cabinet drawers for added security for your valuable tools.
SHOP HOMAK COLLAPSIBLE 3-DOOR WORKSTATION  SHOP ALL WORKBENCHES
PitStop GT Receiver Chair
Relax in this sleek automotive inspired chair. It's racing features include embossed tire tread armrests and a steel base. It is designed and assembled in the USA. All Pitstop furniture is backed by a lifetime warranty. 
SHOP PITSTOP GT RECEIVER CHAIR  SHOP ALL GARAGE FURNITURE
Related content >> Organized Garage Storage: A Space You Can Actually Use
Garage Workspace Uses
Sometimes you need a dedicated space to do your craft or hobby. The garage can be a great place to keep your projects, especially the messy ones.
It's easy to set up your garage to be a shared parking area and workspace. Or, if you have tons of stuff going on, you can make it an entirely dedicated work area. 
Let's chat about a few of your workspace options.
Home Office and Study
If you don't have the extra room inside the house and tend to do a lot of work at home, the garage can be a great place to create your home office and library. You can section off your garage to leave room to park your car or go all out and take up the entire thing.
Most people choose to go the inexpensive carpet route, but a nice vinyl sheet or some luxurious vinyl planks would also be great. If you still want to park in part of the garage or want to make a later transition more accessible, try out a garage flooring roll. It will still give a nice flooring surface for your office, but it's multi-use and less limited. Needing some office furniture? We have you covered there, too. 
If you're an avid reader, you've probably dreamed of creating a library. It can be yours! Deck out your garage with fancy bookshelves, your favorite books, and gorgeous in-home flooring. It will be a unique, show-stopping space that your guests will remember. 
Then all you need is your office furniture and some storage to keep your things.
Get Your Work Done in Style!
Find inspiration for your study and start off right with some beautiful furniture and flooring. 
Mannington Adura Max Waterproof Plank
Adura Max Waterproof Vinyl Planks by Mannington are designed with the utmost focus on quality and durability. The attractive wood looks are further complimented by True Detail Styling, for an even more realistic hardwood look and feel that is sure to fool your friends.
SHOP ADURA MAX WATERPROOF PLANK  SHOP ALL VINYL PLANKS
Mannington Benchmark 6′ Vinyl Sheet
For a more decorative, unconventional study room, consider a patterned vinyl sheet. Stylishly durable is what defines the Benchmark Vinyl Sheets by Mannington. These sheets are everything you've ever wished for. Classy, luxurious, and stunning. Give your floor a brand new look by choosing any of the beautiful patterns and see it shine like never before. 
SHOP MANNINGTON BENCHMARK VINYL SHEET  SHOP ALL VINYL SHEETS
PitStop Compact Desk
So you can get your work done in style, check out our unique garage desks. Available in a variety of colors, these compact desks will take your office or study to the next level. Made with a glass top and metal features, this desk gives an industrial vibe that you're looking for. 
SHOP PITSTOP COMPACT DESK  SHOP ALL GARAGE FURNITURE
Craft and Workshop
Photo credit: Houzz
No matter how much you love what you do, we all know inside the house is not the best place to be sawing through wood or leisurely crafting. These are messy jobs. Plus, sometimes we creators need to lay out our supplies for inspiration on what to create next!
You don't want to be outside in the dead of summer or winter, so that leaves you with the task of figuring out a dedicated workspace that's shielded from the elements. What a perfect use for your garage!
If you're not parking in there, easy-to-clean vinyl garage rolls are a great option for a woodworking shop. I'd also for sure take a look at the super-affordable peel and stick vinyl tiles. Your wallet will love you and they are so easy to install yourself.
Last, make sure you have all your tools and, of course, some storage and/or shelving for them to live in/on.
Get Crafty in Your Garage
To start creating your own works of art in your garage, find the tools you need to be productive and successful while having fun. 
Stone Flex Tiles 
You don't want easily stained floors in your workshop, do you? That's why we have Stone Flex Vinyl tiles that have your back when the crafts get messy! Our Stone Flex Tiles provide you with the look and feel of natural stone without the cold hard feeling natural stone can bring. Featuring several different stone patterns, these interlocking tiles are sure to add a level of sophistication to any room. 
SHOP STONE FLEX TILES  SHOP ALL VINYL TILES
WellnessMats Antique Collection
Sometimes, when you're in the crafting zone, you need to stand to get the job done. But what if you end up standing for hours on end? That can be hard on your body after a while. That's why we have WellnessMats, the stylish anti-fatigue mats that feature beautiful, classic "relief-style" patterns that add a refreshing, decorative element to each mat and your home without sacrificing comfort or performance. 
SHOP WELLNESSMATS  SHOP ALL ANTI-FATIGUE MATS
Homak Pro II Roller Cabinet Combo
Get your crafting tools in order with this awesome toolbox combo. Homak's Pro II Roller Cabinet Combo is available in several sizes and colors, with all the bells and whistles included. Drawer pulls feature a lift latch design with full-length aluminum handles for durability. Get immediate organization with Homak's tool storage combo.
SHOP HOMAK PRO ROLLER CABINET COMBO  SHOP ALL TOOL STORAGE  
Related content >> How to Design Your Dream Garage: Colors, Paint & More
Garage Gym or Fitness Studio
I have seen some sweet garage gyms in my day. When you think about it, it's really the perfect place to put your home gym if you're not set on parking your car there. Garages are generally moderately big and open with a concrete subfloor that you don't have to worry much about.
Working out and fitness mean different things for a lot of people. Here are just a few ideas of ways you can create your home garage gym.
Traditional Home Garage Gym
If you're looking to start a fitness regimen or ditch that Planet Fitness membership, but not super passionate about any specific type of fitness, a traditional home gym in your garage is a great place to start.
All you need are your rubber gym rolls or interlocking tiles and whatever equipment you'd like to use, such as a treadmill, elliptical, free weights, total home gym, etc. You can put up motivational fitness posters, mirrors, and/or anything else that motivates you.
Workout with Ease
To start your very own home gym in your garage, you'll need some essentials: flooring, equipment, and accessories. 
1/2″ Rubber Gym Tiles
Start your home gym off right. Our 1/2" thick Rubber Gym Tiles are ideal for use in heavy-duty commercial applications. These tiles are available in border, corner, and center cut tiles to help fit a variety of room sizes. The Rubber Gym Tiles also have an anti-skid diamond pattern surface for added safety and are non-porous and non-absorbent. This means that the tiles are slip-resistant in wet environments and easy to clean up since none of the moisture is absorbed.
SHOP 1/2″ RUBBER GYM TILES  SHOP ALL GYM FLOORING  
3/4″ Shock Mats
Are you one to throw down on some weights when you're working out? Well if you're lifting weights in your garage, it might get a little loud and damage your floors if they don't have the proper support. This gym flooring will provide any space with incredible sound and shock absorption. These interlocking gym mats are a massive 3/4" thick and are backed by a waffle pattern that consumes vibration and impact sound. 
SHOP 3/4″ Shock MATS  SHOP ALL WEIGHT LIFTING MATS 
TRX Pro 4
Get your sweat on in style with your very own gym set, the ultimate workout tool. The TRX Pro 4 is our most versatile Suspension Trainer and designed to let you fully personalize your workout. It has adjustable and padded foot cradles, upgraded webbing, and custom antimicrobial-treated textured rubber handles. It also features three types of anchoring solutions for different workout locations. 
SHOP TRX PRO 4  SHOP ALL FITNESS EQUIPMENT 
Related content >> 3 Options for Home Gym Flooring
CrossFit Home Garage Gym
This is my dream garage right here. The whole idea of CrossFit is kind of a no-frills garage gym vibe so putting your own CrossFit workout space in your garage makes a lot of sense.
You don't need any bells and whistles. All you need to do CrossFit is a good, thick rubber floor (⅜" is perfect) to handle all the heavy Olympic lifts, a barbell, and some weights. A rack, pull-up bar, kettlebell, and rowing machine are also great to have around, but you can get by with the bare essentials if you need to.
Hit Your Personal Record
In CrossFit, it's all about determination and well, fitness. Get in your CrossFit oasis in order with these must-have products. 
3/8″ Heavy Duty Rubber Rolls
Ready to hit the ground running? Our heavy-duty commercial rolled rubber flooring is the highest quality rubber gym flooring available. It is built for extreme durability and can be found in many commercial weight rooms today. The rolls are machine cut for exacting standards, are easy to install, and can be used indoors and out.
SHOP 3/8″ HEAVY DUTY RUBBER ROLLS  SHOP ALL RUBBER ROLLS 
TRX Slam Balls
Time to get noisy and get those muscles working. TRX Slam Balls were designed to survive your toughest workout. Featuring a textured surface to provide a secure grip, these sand-filled training tools are stress-tested and battle-ready. TRX Slam Balls are sold individually in weights from 6 LBs – 25 LBs to let you increase your workout load at your own pace.
SHOP TRX SLAM BALLS  SHOP ALL FITNESS EQUIPMENT 
Performance Turf Rolls
Get some green in your home gym with some gym turf! These turf rolls are perfect for pushing and pulling sleds, CrossFit, and high impact workouts, and come in cushioned and non-cushioned versions.
SHOP PERFORMANCE TURF ROLLS  SHOP ALL GYM TURF 
Related content >> Maintaining Garage Floor Tiles
Garage Yoga Studio
This can be as simple or as complicated as you want to make it. You can simply put down inexpensive flooring like a vinyl roll (if you're not planning to park in there) or peel and stick tiles then stock it with a few of your favorite yoga mats, blocks, straps, and towels. You probably already have most of that at home.
Alternatively, you could make a full floor yoga mat with soft tiles that you can use for all your yoga and stretching without ever having to get out your mat. This is great if you have multiple people practicing at once.
Once you have your floor situation figured out, add some calming lighting and decor to make this a relaxing and meditative space. The more zen, the better.
Start Stretching!
Let us help you find your zen in your garage yoga studio by providing some inspiration for all your yoga needs. 
3/8″ Soft Mats
Get your stretch on with a premium yoga mat. Soft mats offer an excellent foam matting solution for the home user or the commercial gym in search of portable foam matting. These mats are ideal for covering an area with a colorful and lightweight portable mat.
SHOP 3/8″ SOFT MATS  SHOP ALL YOGA MATS 
5/8″ Premium Soft Wood Tiles
A soft wood-look floor? Our new foam backed tiles offer the same modern and attractive appearance, but offer much more durability being more scratch-resistant and can withstand more abuse. These high-quality tiles are still easy to install, low cost, lightweight, and water-resistant which means they can be installed in a variety of situations. 
SHOP PREMIUM SOFT WOOD TILES  SHOP ALL SOFT FOAM FLOORING 
TRX Home Gym
After some stretches, why not strengthen your core while you're at it? Get our best-selling Suspension Trainer — and experience how TRX can help you reach your goals! The TRX Home Gym lets you personalize every workout so you see results quickly. 
SHOP TRX HOME GYM  SHOP ALL FITNESS EQUIPMENT
Garage Martial Arts Studio
For you martial arts enthusiasts, have you ever imagined having your own studio in your garage? Imagine the improvements you could make with a dedicated practice space just 20 steps from your living room.
Create your own dedicated practice space by covering your garage floor with martial arts mats. Up the ante by adding crash mats to the walls for extra safety.
From there, add any decor or signs you want to personalize your space. And don't forget some extra storage for your gi and any belts you may collect.
Start Your Own Martial Arts Studio
To get the essentials for your MMA career, find the products that keep you safe, and work well in your home gym.
1″ MMA Mats
Our MMA mats are very shock absorbent and are still water-resistant, mold and mildew resistant, and insulating. These properties make these tiles perfect for any basement, child's playroom, martial arts studio, MMA studio, or anywhere else a solid, shock-absorbing surface is desired.
SHOP 1″ MMA MATS  SHOP ALL MARTIAL ARTS MATS
2′ x 6′ Wall Pads
For those moves that go a little outside the mat, 2′ x 6′ Wall Pads are the perfect protective wall padding for your home or gym. Easy to install, this popular size of wall padding is available in several popular colors that are certain to go with any school colors or gym décor. 
SHOP 2′ X 6″ Wall Pads  SHOP ALL GYM FLOORING
Home Cheer Mats
Featuring a durable carpet top over foam, these portable Home Cheer mats allow you to create safe yet durable practice spaces virtually anywhere. Easy to install and use, these high-performance cheer mats are durable and versatile enough to be used as tumbling mats and gymnastics mats, providing fun and safety for virtually any multipurpose environment.
SHOP HOME CHEER MATS  SHOP ALL CHEER MATS
Related content >> 4 Ways to Beef Up Your Garage Decor
A Dancer's Practice Garage
I vividly remember practicing pirouettes on my kitchen floor because it was the biggest space that wasn't carpeted. The struggle is real for dancers who want to practice outside of the dance studio.
Good news! Your garage is a great place to set up your own personal dance studio. With plenty of open space, it's great for everything from the center to across the floor. You can install dance flooring, put in ballet bars, you name it. Don't forget to put in a little storage to store things like dance shoes, leg warmers, etc.
Practice Dance Tile Kits
If you're wanting a temporary dance floor that you can move when you're dancing on the go, consider a floor that can travel. Our Practice Dance Tile kits are designed to fit your practice space. Available in multiple sizes, complete with edging, this portable dance flooring can be easily assembled and disassembled for multiple uses.
SHOP PRACTICE DANCE KITS  SHOP ALL DANCE FLOORING
VersaStep Dance Rolls – Custom Cut
To start off on the right foot, find a dance floor that works for all the dancing you love. VersaStep Dance Rolls are suitable for all popular styles of dance. This roll-out flooring is very popular and can be used even with hard shoes, for tap and all styles of ballet. 
SHOP VERSASTEP DANCE ROLLS  SHOP ALL DANCE FLOORING
3/8″ Home Dance Subfloor Tiles
Sometimes concrete isn't the best subfloor, especially for dance. For maximum comfort, subfloor tiles will help those dancing feet! Home Dance Subfloor tiles are a lightweight yet durable subflooring option that is perfect for use in the home. These easy to install tiles can be put up anywhere in the home, providing the perfect cushion underfoot for any practicing dance. 
SHOP 3/8″ HOME DANCE SUBFLOOR TILES  SHOP ALL DANCE FLOORING
Related content >> How to Choose the Best Garage Door
Conclusion
Now that you have some garage inspiration, are you ready to upgrade your garage? Get started and enjoy these methods to use your garage in new, creative ways!
The post 13 Ways to Use Your Garage in 2020 – From Functional to Fun appeared first on Flooring Inc.