16 Clever Ways to Organize Cleaning Supplies
Cleaning supplies organization is very important if you are going to successfully declutter your house. With lots of cleaning supplies on hand, it's sometimes hard to find what you need, consequently, you'll knock over three cleaners just to find the one you need.
What a mess! Whether you have a cabinet, a closet, or some other space to store your cleaning supplies, we've found the best tips and tricks for getting them organized.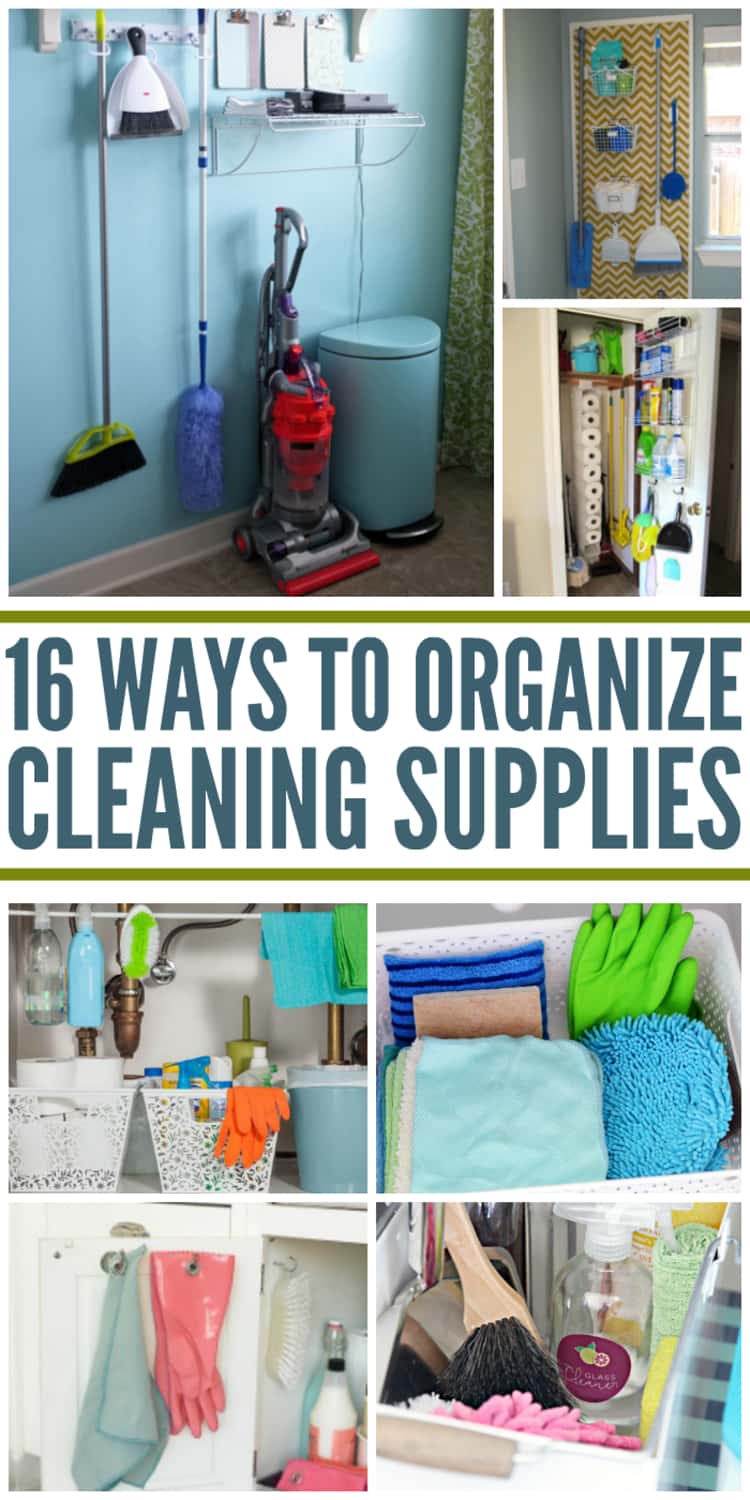 Cleaning Supplies Organization Ideas
If you are like me, you have way more cleaning supplies than you have energy to clean.  My first thought is to get rid of things that I don't use or could use something else that is dual purpose.  I like this list from Real Simple that states what supplies you actually need and here are a few of my favorite cleaning supplies:
microfiber cloths
toilet brush
scrub brush
spray bottle
rubber gloves
broom
mild abrasive
mop
duster
vacuum
all-purpose cleaner
Now that we have narrowed down what cleaning supplies we are storing, let's get organizing!
1. Supply Caddy for Everyday Cleaning Organization
Put the cleaning supplies that you use every day together in a caddy for easy access. The caddy should be large enough to hold these everyday cleaning supplies, from hand sweepers, rags, dusters, and cleaners while being easy to bring along as you work. I found a large plastic bin that fits nicely under the kitchen sink and made it our caddy.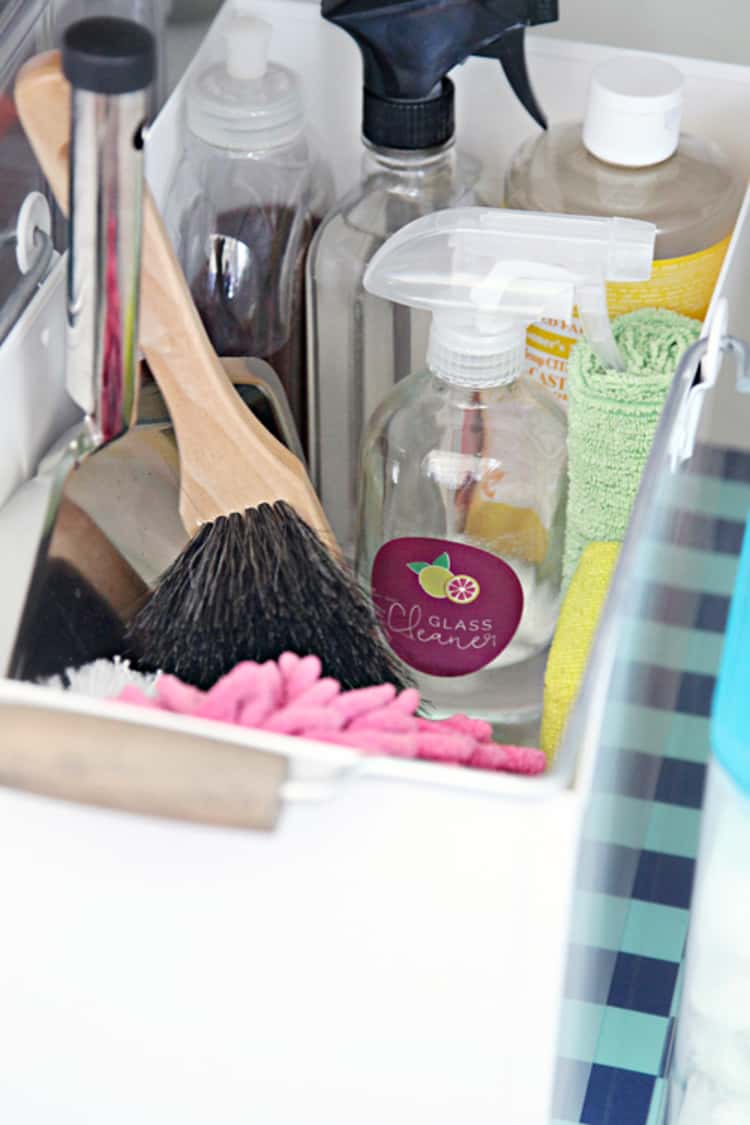 via I Heart Organizing
2. Shoe Holder to Hang Cleaning Supplies
An over-the-door shoe holder can be used to hold those cleaning supplies that come in small canisters such as sprays, dishwashers, and so on. Just tuck them in the different pockets and hang them on the back of your bathroom/kitchen door depending on where the supplies you are organizing are to be often used.
Use a shoe holder to hang your cleaning supplies on the back of a door. This keeps them away from little ones and gets them out of the way. Genius!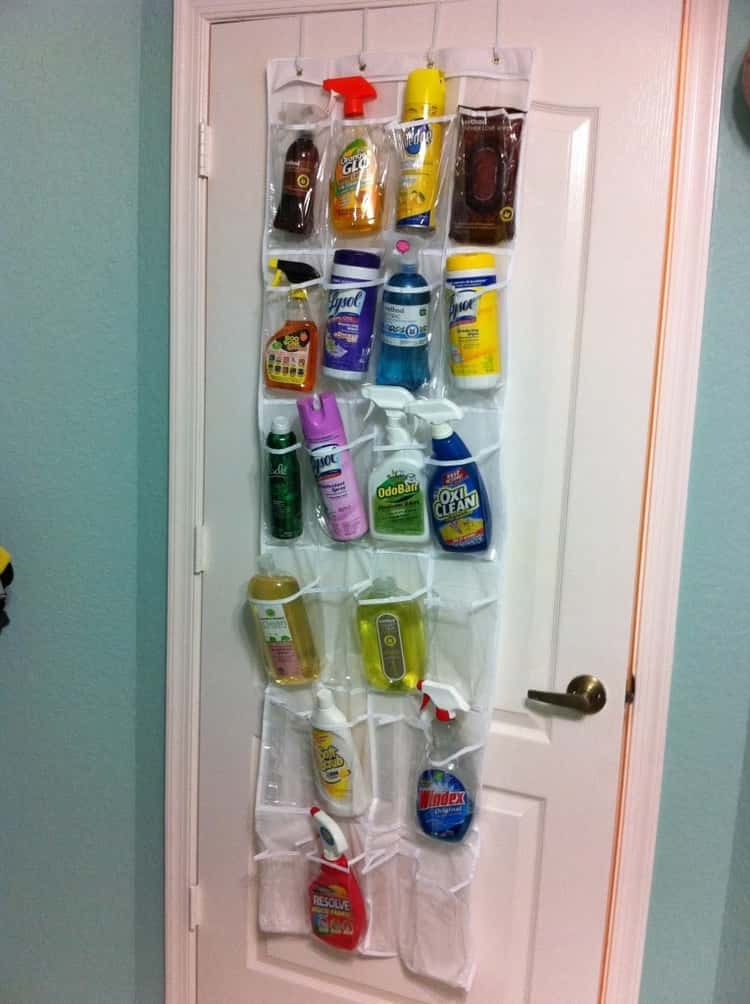 via A Pinterest Addict
3. Laundry Baskets
A small laundry basket or even a shopping basket if you can't find the properly sized laundry basket will is portable as you scrub around the house.
When cleaning the house, you need mobility as you move from corner to corner and from room to room, as such, your cleaning supplies for the day need to be organized in a small basket that you can move with. You do not want to have your brush on the other side of the room when you need it or you will tire easily.
Use inexpensive baskets to hold sponges, cloths, dusters, and other cleaning supplies that you wipe down surfaces with.
via A Bowl Full of Lemons
4. Hook Up Your Utility Closet
Isn't it annoying when you open your utility closet and the brooms come crashing down on you, and you have to re-arrange them before you can get whatever it is that brought you here in the first place?
Well, these brushes, brooms, dustpans, and any other supplies that come with a handle usually have a hooking point and you should take advantage of it. Hooking up the brooms will secure them so that they won't drop every time you open the door.
Attach hooks to the back of your utility closet for hanging cleaning rags, the dustpan, etc.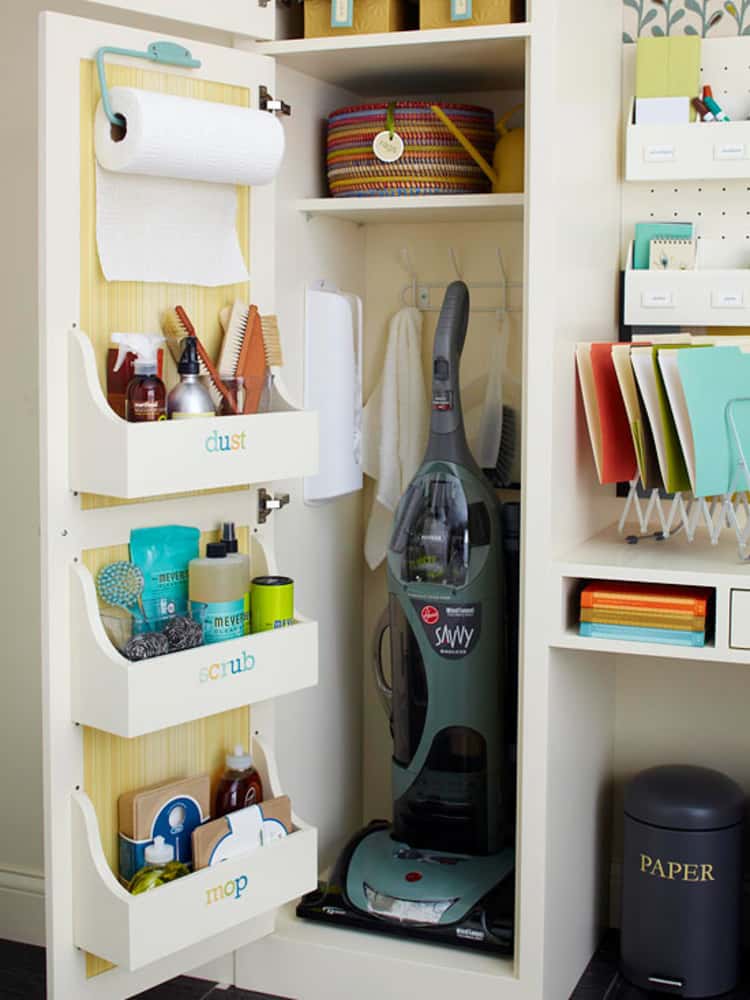 via BHG
5. Use a Pegboard to Organize Your Cleaning Supplies
Some apartments don't come with a designated utility closet, worry not, you can still hook up your cleaning supplies by installing a pegboard.
Pick a nice spot in the house out of the way of usual traffic and hang up a pegboard on which you will attach hooks on which you can hang those pestering brooms and dustpans.
Hang your cleaning supply items on a decorated pegboard. What a great idea if you don't have a designated cleaning closet. (More pegboard ideas here.)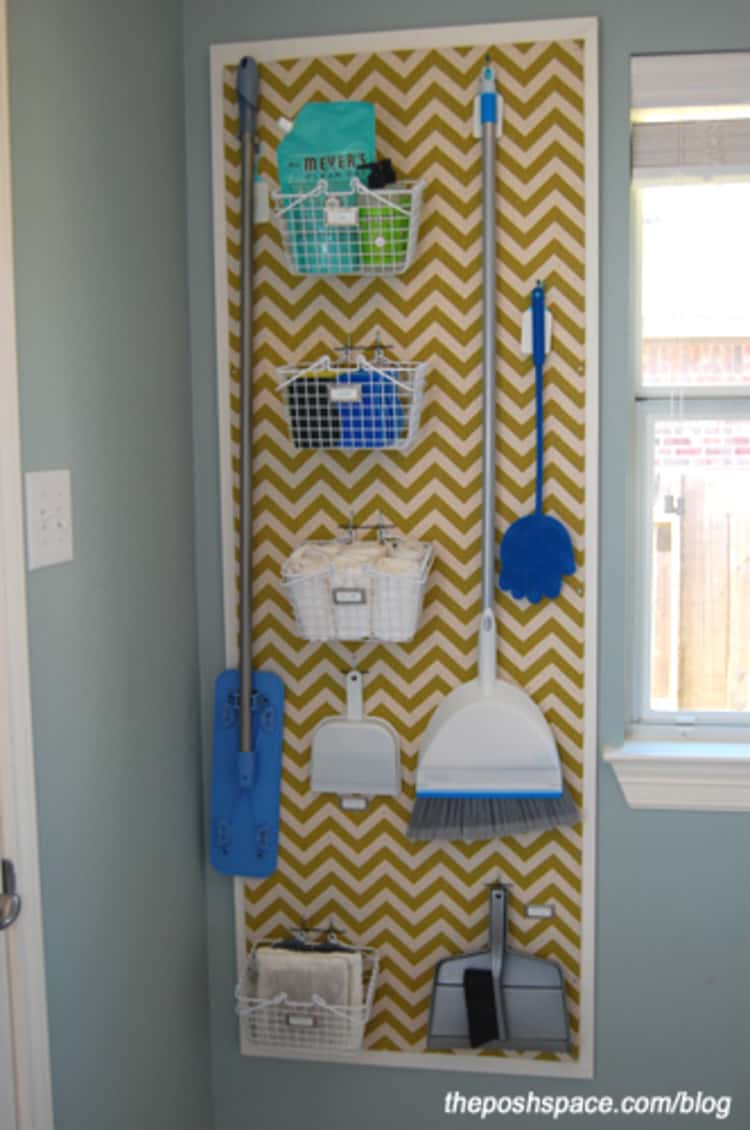 via The Posh Space
6. Cleaning Supplies Organization Tips Inside the Utility Closet
To convert that little space that is the utility closet into sufficient storage for most if not all of your cleaning supplies, you need to buy a few gizmos;
At least 2 over-the-door shoe holders
Closet hanging bar
Pegboard and hooks
Utility hanger shelves
Install these gizmos inside your closet and arrange your cleaning supplies remembering to place the often use within easy reach.
This entire cleaning closet is perfection.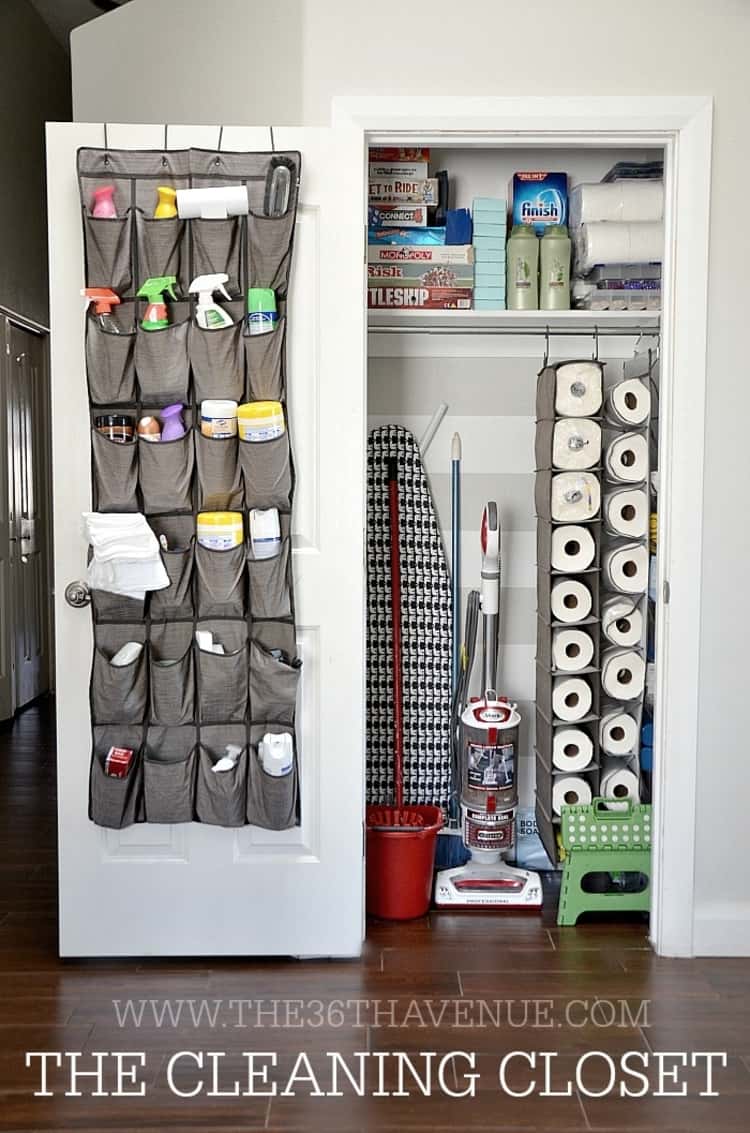 via The 36th Avenue
7. Organize Your Cleaning Supplies on Wire Shelves.
If you do not like the over-the-door shoe holder idea, how about making your closet look like the inside of your fridge door using these easy-to-install wire shelves.
You should get sturdy shelves and mount them securely to the inside of your utility closet door as they are going to hold quite some weight. Arrange them at different heights to accommodate even your tallest bottles of soap.
Wire shelving on the back of the door allows you to free up space in your closet for other things.
via Sew Many Ways
8. DIY Shelves For Cleaning Supplies Organization
Bring your carpentry skills to bear by designing shelves on which to store your cleaning supplies. You can also mount ready-made shelves. Make sure to choose a piece of the wall away from all the foot traffic in the house but easily accessible when the cleaning bug hits you.
Make sure to mount the shelves high enough that the toddler will not have easy access. You can also turn the shelves into a closet by adding some doors for added security against those inquisitive youngsters
No closet for your things? Use some wall space to create a cleaning command center like this one.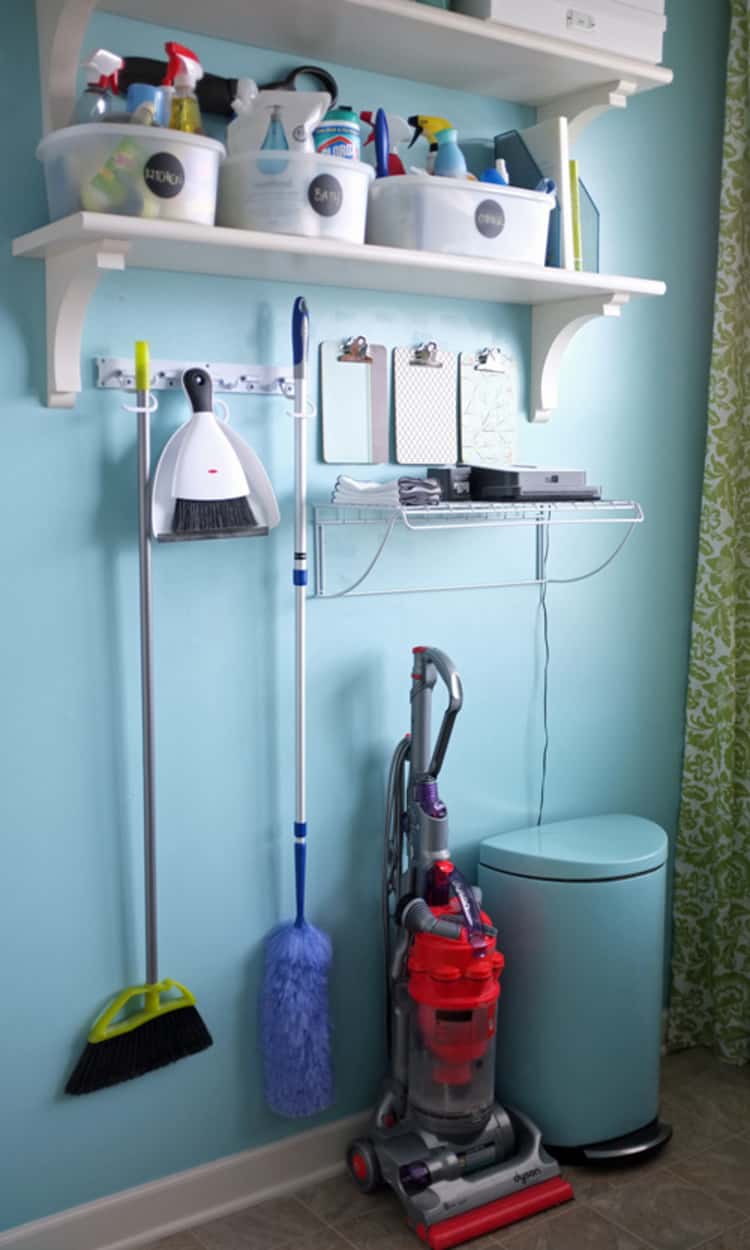 via Teal and Lime
9. Towel Rod to Organize Spray Bottles
Nowadays, it seems all soaps, perfumes, deodorants come in spray bottles. You just seem to have so many bottles lying around the house. Worry no more, pick an unused towel rod to hang the spray bottles. Just make sure they are adequately labeled so you do not use your poo-Pourri to rub down your kitchen sink.
You can have more fun and arrange your spray bottles according to color or sizes, right?
Suspend spray bottles from a towel rod installed under the sink or in a closet. Genius!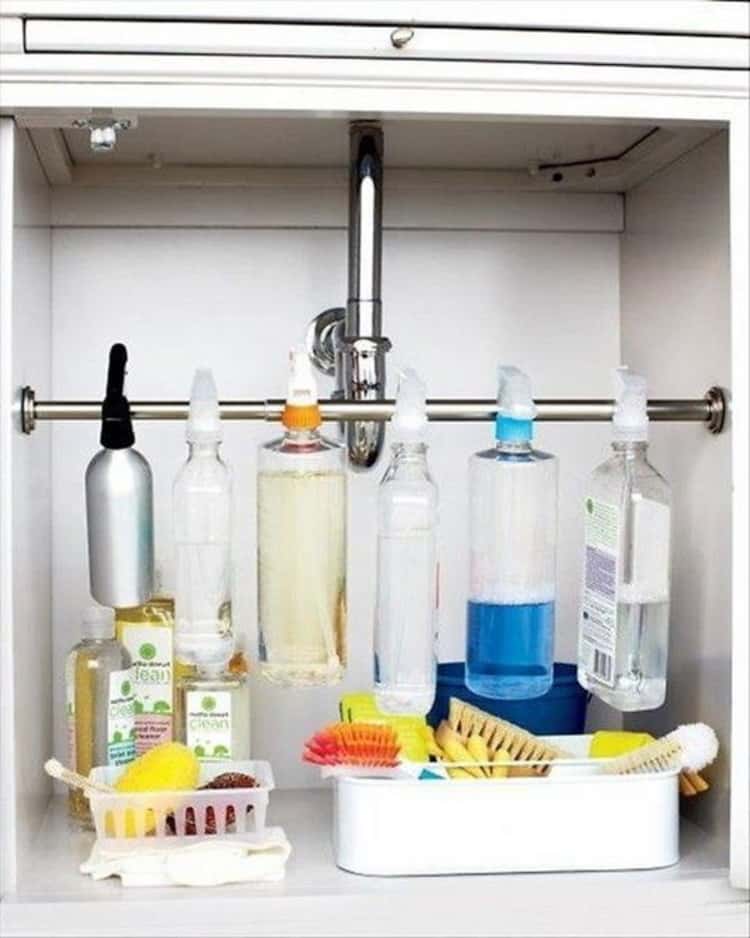 via Martha Stewart
10. Lazy Susan
That small cabinet under the kitchen sinks and the bathroom sinks are designated dumping grounds. We tend to throw our less used cleaning supplies in there with little regard for organization. When we actually need an item, the search becomes hectic, and sometimes when we can't find an item, assume it's lost and buy another. Don't worry, we are all guilty of it. However, this needs not to be the case.
A Lazy Susan organizer inside these cabinets will make sure you never have to struggle to look for anything under the sink.
Put a Lazy Susan under the sink so you can reach all of your cleaning supplies without digging through the entire cabinet. Don't have a Lazy Susan? Learn how to make one here!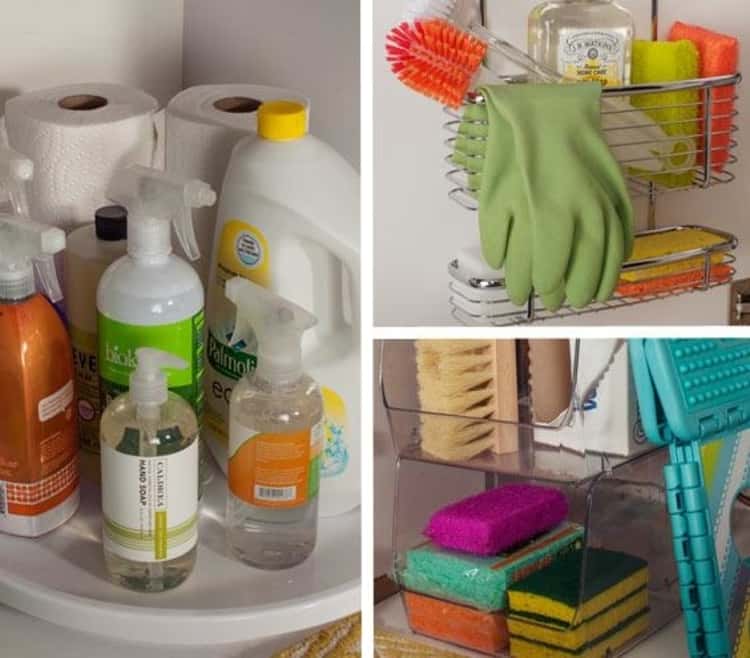 via Real Simple
11. Door mounted Baskets
Even easier than shelves to mount are baskets and caddies for your lighter items. You can find stick-on caddies at the store and they come in all colors. Measure the space you want to place it so you don't pick up one that's too lengthy for your door. The most important thing to remember is just don't put in anything too heavy, or the adhesive holding the basket up will fall.
These caddies are small enough to not be a nuisance when closing the door while being perfect for holding soap and sponges.
Install baskets and caddies on the back of your cabinet doors to hold sponges and cleaners.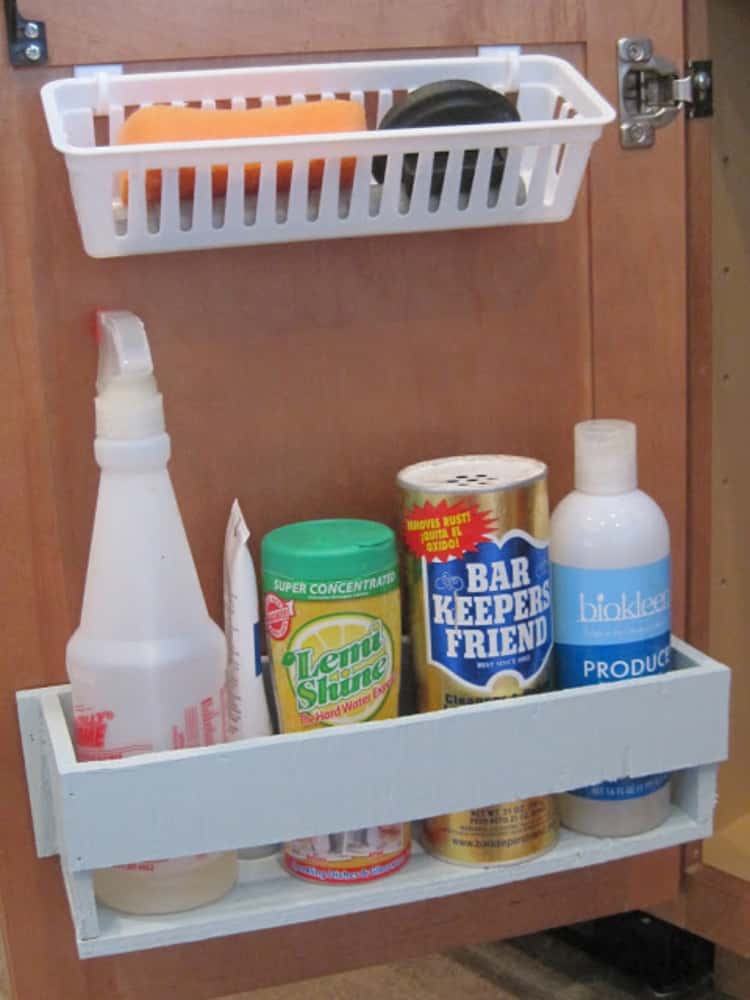 via Designed to Dwell
12. Portable Bins
Get small plastic bins in which you can store like cleaners. Have a bin for all your bathroom cleaners, kitchen cleaners, toilet cleaners and so on. Find a nice cabinet to stow away these bins and when you need to clean the bathroom, take the bathroom cleaners' bin and replace it after you are done.
Put like cleaners together in pretty bins that you can pull out and take to other rooms in a pinch.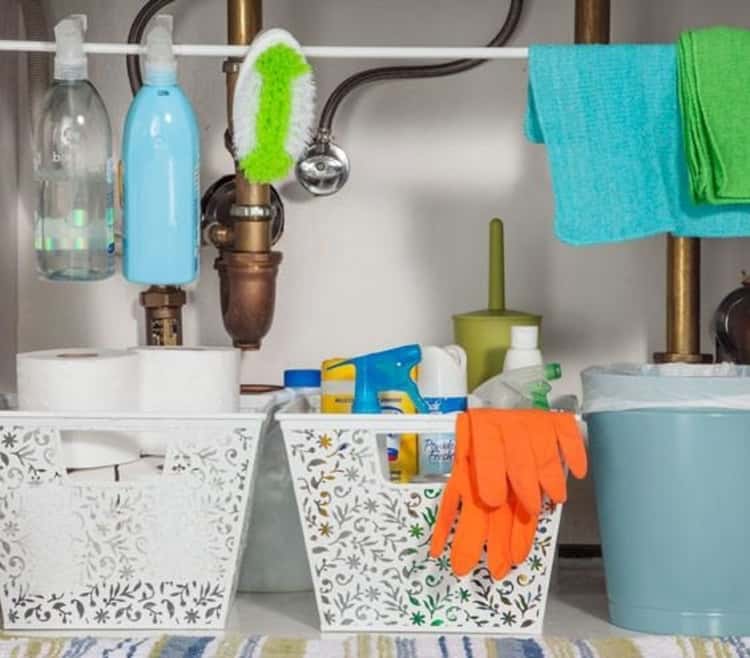 via Real Simple
13. Chore Baskets
When it's general cleaning day, assign everyone an area to wash down and give them a basket full of the cleaners they will require for their chore.
Want to involve your little ones too? Even better, put together some chore baskets so your kids can help with the cleaning. You can have the baskets in their favorite colors. We love this idea!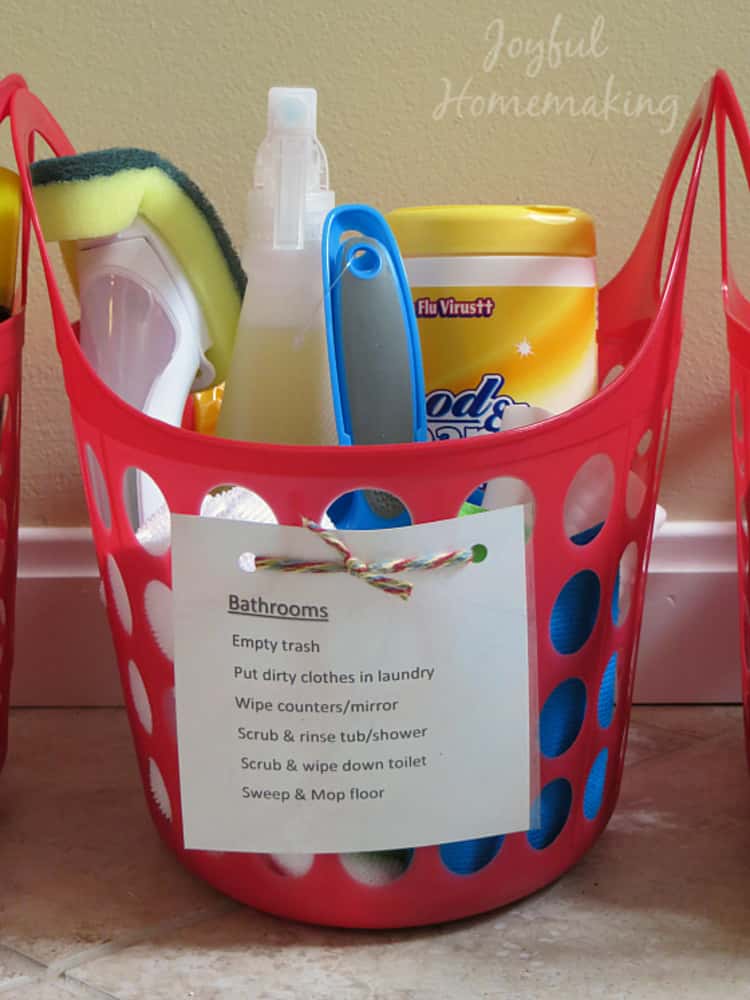 via Joyful Homemaking
Tips to Organize Cleaning Gloves
14. Store Rubber Gloves on Grommets And Hooks
Add grommets to your gloves so it's easier to hook them to the cabinet door to hang your cleaning gloves. Not only does this make it easier to find them, but they'll dry quickly, too.
via Martha Stewart
15. Store Rubber Gloves on a Small Towel Rod
Or hang them from a small towel rod which you can mount inside a cabinet door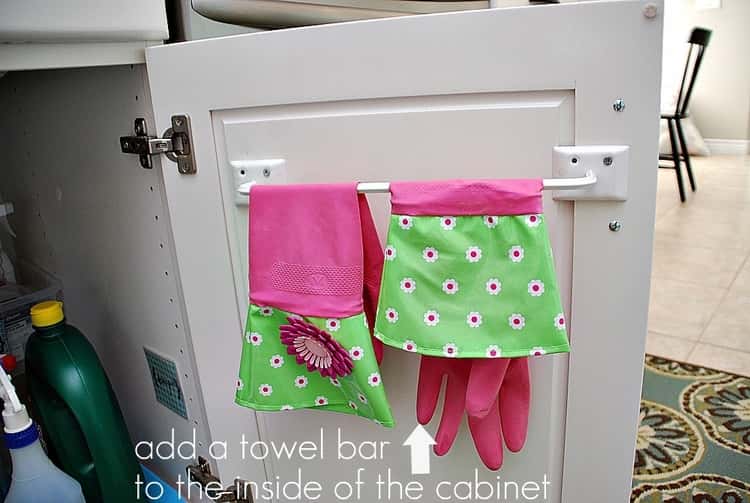 via Tatertots and Jello
16. Dowel Storage
Put trash bag rolls on dowels to get rid of those bulky boxes! They work like tissue paper hangers and you just need to unroll the trash bag you need.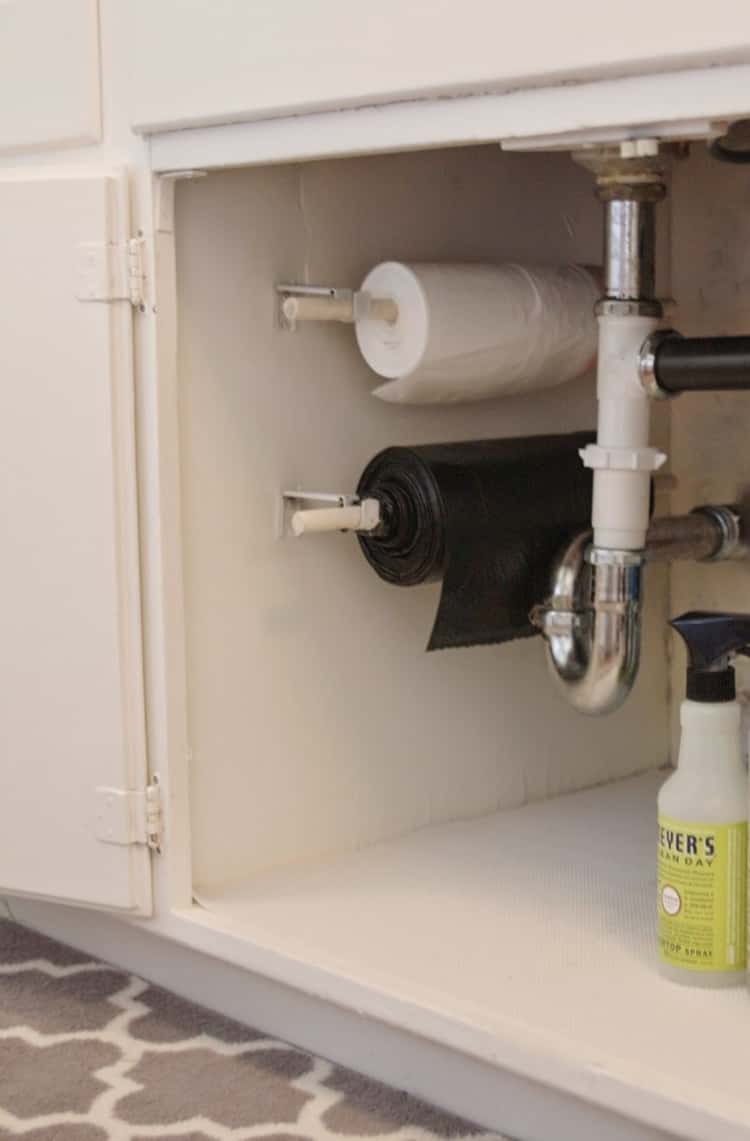 via Simply Organized
One Crazy House has many organizational tips around the house including;
Grab some inspired linen closet organization ideas from One Crazy House that include some additional cleaning supply storage ideas.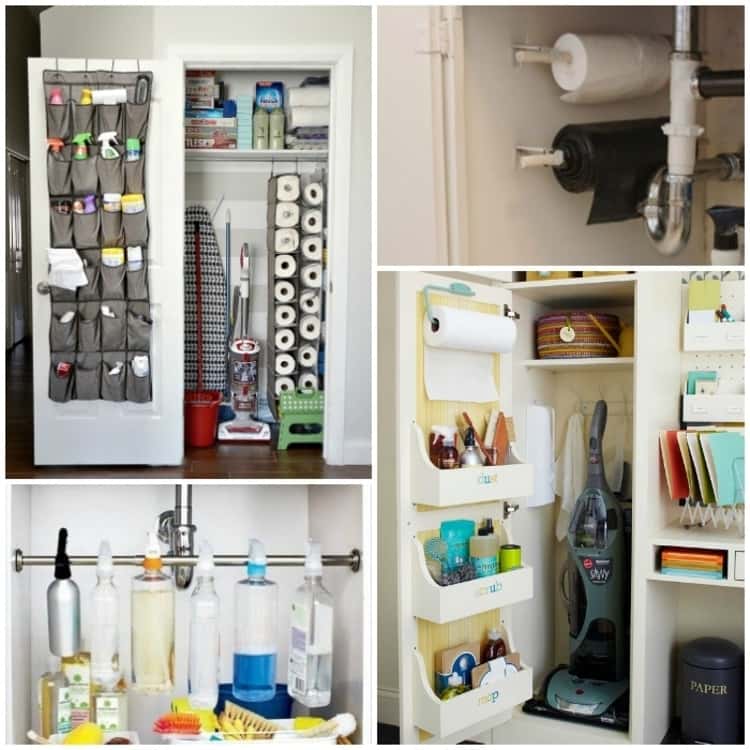 The post 16 Clever Ways to Organize Cleaning Supplies appeared first on DIY House Hacks - One Crazy House.