20 Best Gifts for Teens under $35 in 2019
Are you on the hunt for a great gift for a teenager on your shopping list this holiday season? I rounded up the best gifts for teens that theyll actually want and the best part is, theyre all under $35.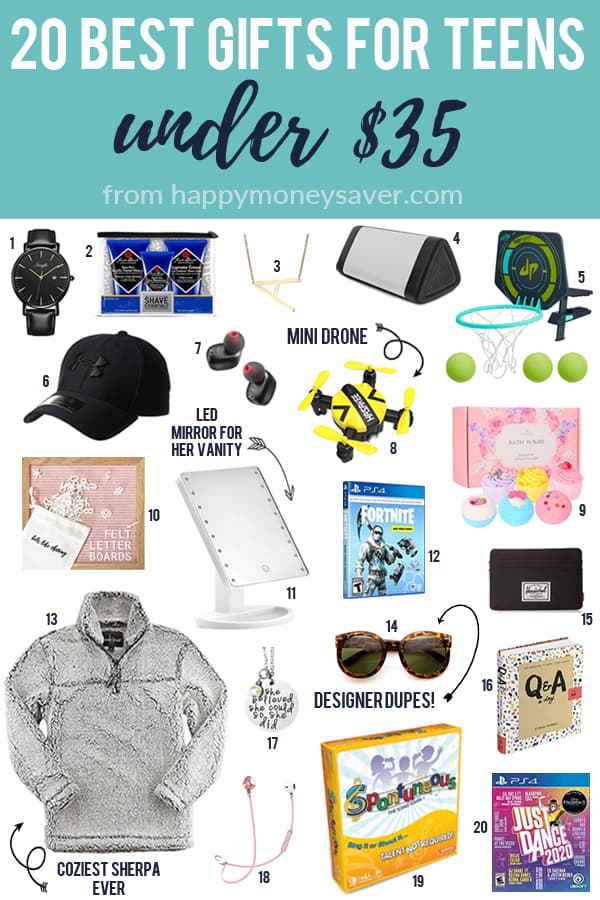 Teens can be hard to shop for. But lucky for you, I have two teens in my house right now and they gave the official thumbs up on all these ideas.
So if you cant or dont want to spend hundreds of dollars on Airpods (which is what they really all seem to really want) these are some other fun and affordable options they will still love. I hope these ideas help you out if youre stumped on what to buy a teen please share if you have any other great ideas too!
20 BEST GIFTS FOR TEENS
---
All of these items are pictured in the graphic above and numbered so you can quickly find them. All of these gifts for teens are under $35 on Amazon.com and make great gifts.
1. Ultra-Thin Quartz Analog Wrist Watch This is great for a teen as their first watch or even just to wear daily. Youd never guess that its under $35.
2. Jack Black Shave Essentials Set when he begins to shave, this essentials kit will keep him looking and feeling fresh!
3. Large Initial Necklace these initial necklaces are so popular. Theres no doubt that the teen girl on your shopping list would love to open this up!
4. Portable Bluetooth Speaker as one of the highest rated Bluetooth speakers on the market, EVERY teen will love this portable Bluetooth speaker. Its affordable and comes in a couple of fun colors to choose from!
5. Nerf Sports Mini Perfect-Shot Hoop with a rotating hoop that can be hung almost everywhere, this is sure to be something that every teen will love, use and play with for hours.
6. Under Armour Baseball Cap this classic fitting baseball cap is just that, a classic. Its simplistic enough that he can wear it with any outfit and lets be honest, every teen boy would agree that they couldnt ever have too many baseball caps in their closet.
7. Wireless Bluetooth Earbuds I cant believe that these are under $35. Its near impossible to find a good pair of earbuds like this! The wireless kinds have become extremely popular, and for good reason whats more convenient? Teens will love to receive these this holiday season!
8. Mini Nano Drone this is a great beginner drone, AKA for teens, especially for them to learn how to use these devices. Its portable, mini and a great gift! Imagine how excited theyll be when they open this up?
9. Bath Bomb Gift Set each of these shaped bath bombs is infused with a different essential oil, how cool is that? This is such a fun, already put together gift set to give this holiday season.
10. Light Pink Felt Letter Board this pretty, pink felt letter board is a perfect way for teens to express their creativity. It comes in a variety of colors, and is the customized decor peice for their room that theyll LOVE to update.
11. Lighted Vanity Makeup Mirror teen girls who are just getting into makeup will go crazy over this lighted vanity mirror! The coolest part is, the LED lights can be adjusted based on time of day, natural lighting, etc. The teen on your shopping list will love and use this so much!
12. Fortnite this has been one of the hottest video games and that still holds true this year. Theyll love opening this up and will be running to start playing!
13. Sherpa Quarter-Zip Pullover coolest part about this sherpa pullover? Its unisex! Perfect gifts for teens or for anyone on your list. These sherpa fleeces are the coziest things Youre going to want to order one for yourself, too.
14. Oversized Tortoise Shell Sunglasses every teen girl that opens these up will freak out in excitement Theyre a dupe of an expensive, designer pair of sunglasses that shes sure to know about! Either way, shell be so excited to wear these everyday. Theyre only $10 so theyd also be a great teen stocking stuffer.
15. Herschel Supply Co. Card Holder Wallet you can now trust your teen with money by gifting him this wallet, ha! It has ample spots for cards, cash and his I.D. Want to spruce it up? Add a gift card when you gift it!
16. Q&A a Day for Teens this one-sentence diary for teens is the ultimate way for them to keep their most loved memories all in one place. It has 365 questions, one for them to answer every day for a year, thatll quickly turn into a keepsake for them to always have.
17. Inspirational Charm Necklace how cute is this?? This sweet little necklace is something she can wear daily and a great way for a teen to remember just how great she really is.
18. Rose Gold Bluetooth Earbuds these pretty, rose gold earbuds are Bluetooth compatible AND are waterproof. Whats better? They also come in black.
19. Spontuneous one of the hottest gifts for teens games out there right now! Spontuneous is a fun game for all ages and is super family-friendly. Theyll have endless laughs with this one!
20. Just Dance 2020 these annual Just Dance games are the BEST. And Im not talking just for teens youll want to play this, too! It has all of the latest hit songs and is sure to bring hours of endless dancing, laughing and fun.
And if all else fails. get them an Apple iTunes gift card or straight up cash. Haha! Teens will never say no to cash!!!
---
The post 20 Best Gifts for Teens under $35 in 2019 appeared first on Happy Money Saver.