20 Tips For Traveling With Kids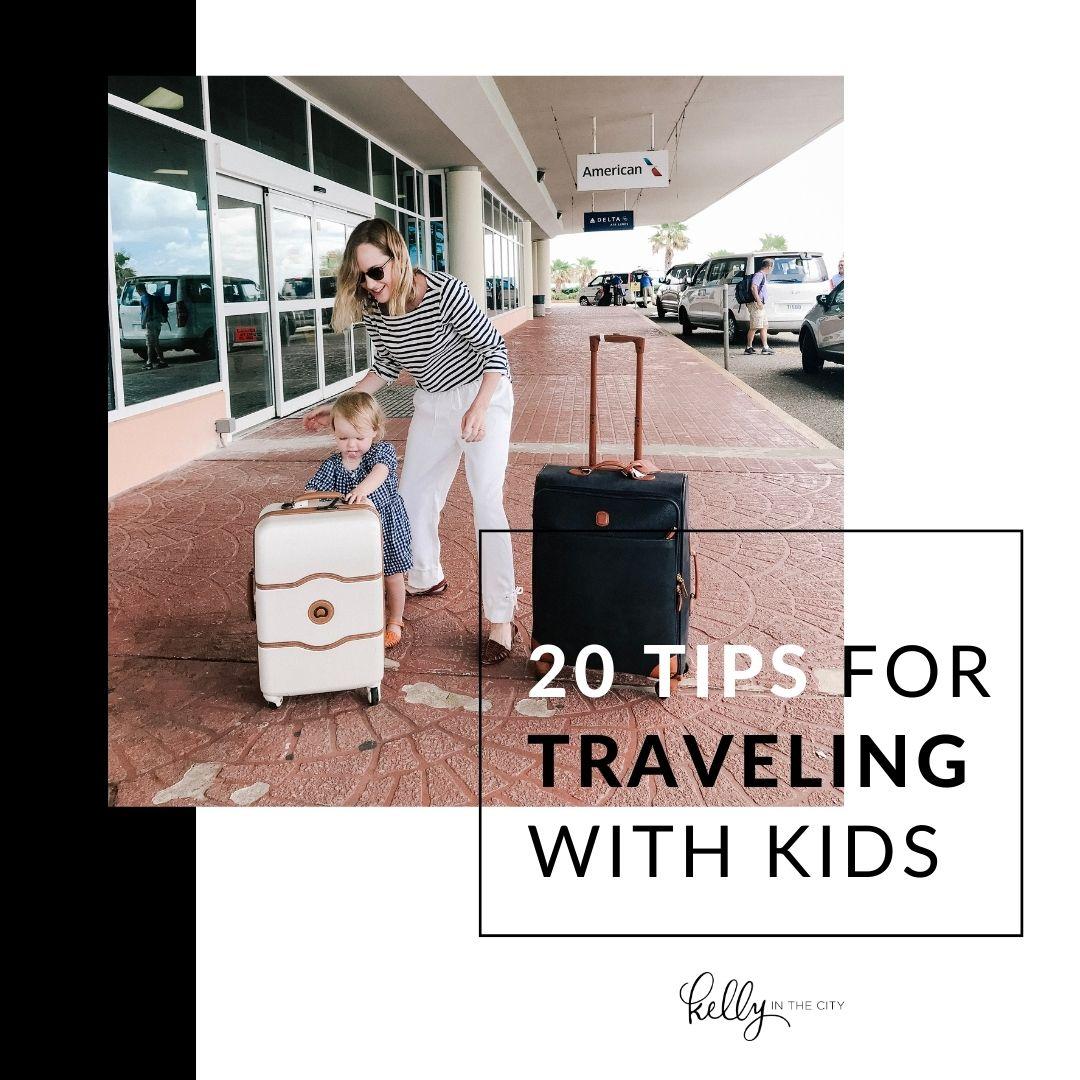 One of the many great things about living in Chicago is the never ending list of things to do. Still, it's nice to get away and go somewhere else every now and then, especially when we travel as a family. 
A family vacation is a great opportunity to make memories as a family. But I also know firsthand just how challenging it can be to travel with kids. Traveling with children can be so overwhelming for parents that many consider not traveling at all. 
I get it. It's hard not to feel anxious as you try to get from one place to another while also keeping everyone safe and happy. To help make your next trip easier, I'm sharing tried and tested tips that will help make family travel a fun, memorable, and stress-free experience. 
If you're gearing up for a family trip, be sure to check out my travel essentials, HERE. 
Now, on to the tips!
20 Tips For Traveling With Kids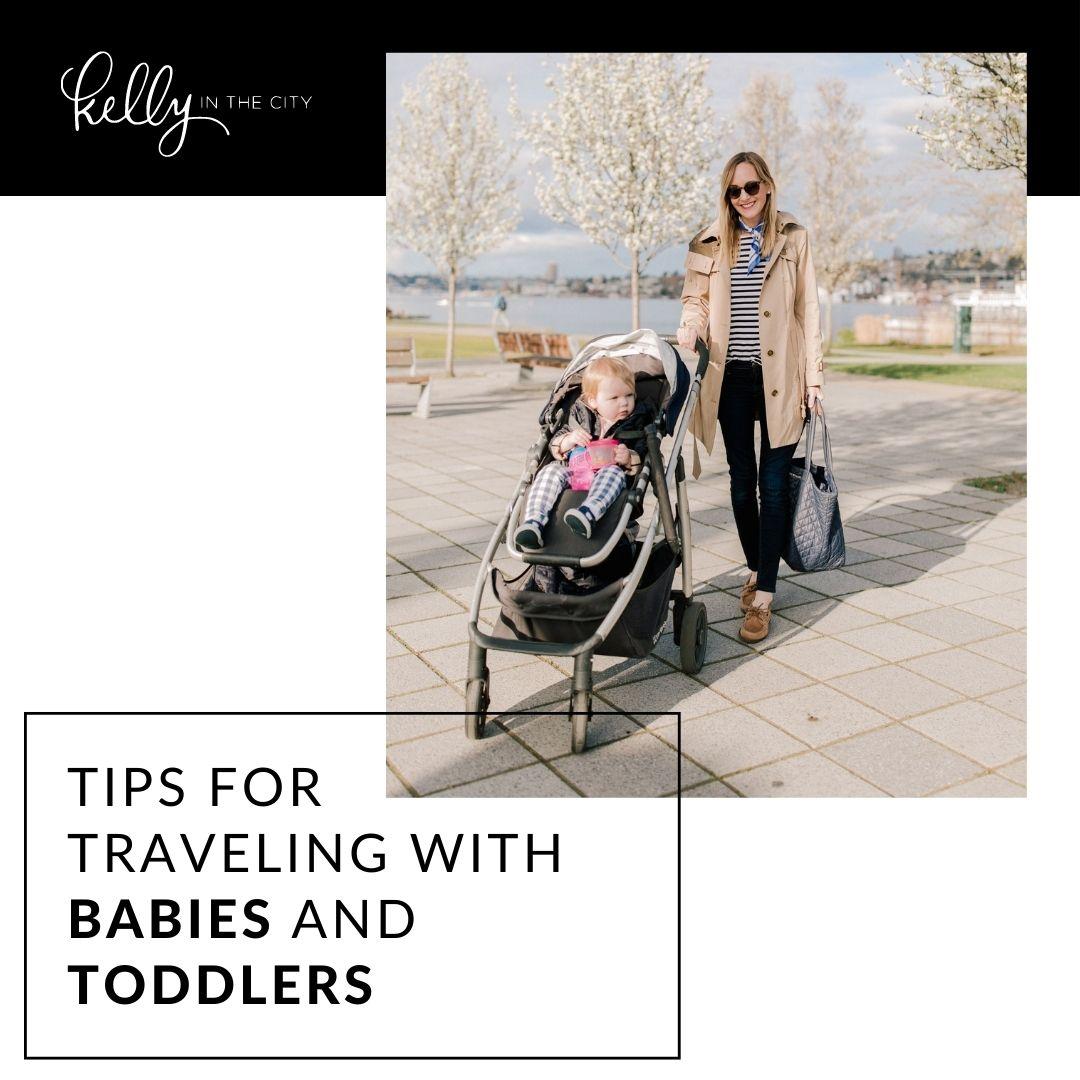 Tips For Traveling With Babies And Toddlers
Use a good travel stroller.
Traveling with a stroller is so much easier when you have a compact one meant for travel. A travel stroller is lightweight, easy to maneuver, and folds up small enough to fit in the overhead storage compartment on the plane.
Also, if you're flying and you have a layover (which I also suggest avoiding whenever possible), it's a good idea to ask to have your stroller brought to you during the layover, rather than having it sent to your final destination.
I also recommend using gate check bags for your stroller and your car seat. These bags make it so much easier to carry these items. Plus, they also help keep them clean and protected from all the dirt, grime, and germs lingering in the airport.
Use a car seat when flying. 
If there is even just a small part of you that is wondering whether you should pay for an extra seat on your flight or keep your little one on your lap, buy the extra seat. It's worth it. This is especially true if your child sleeps well in a car seat. Flight attendants also recommend that you seat your child away from the aisle. Sitting them in the middle or window seat means they won't be able to mess with things in the aisles, like the beverage cart. 
Bring a travel-friendly car seat and rest assured knowing your little one will be comfortable and secure during the flight. I personally recommend the Graco SlimFit 3 in 1 car seat. 
Bring your nursing pillow (Boppy) with you if you're traveling with an infant. 
You will want your Boppy if you're nursing. It also makes holding your baby on your lap more comfortable for both you and your infant. Slip it through the handles or stack it on top of your carry-on luggage so you can quickly and easily grab it whenever you need it. 
Board LAST.
This tip works best if you have assigned seats on your flight. Wait as long as possible to board, that way your little one is on the plane for as little time as possible.
If you don't have assigned seats, have one parent go ahead and board with as much gear as possible, then bring the kids onboard last.
Make sure your carry on bag includes every must-have item for your child.
You essentially want to pack everything in your carry-on bag that you would need for at least 24 hours, just in case your other luggage gets lost or you encounter another problem. 
I recommend packing plenty of diapers, wipes, snacks, formula, blankets, and extra outfits for your baby. I recommend packing a few things for you as well. Some easy travel outfits, snacks, and drinks are good to have in sticky situations. 
These Fjallraven backpacks make great carry-on bags for long haul flights. They're super cute and, more importantly, they have plenty of space for all your must-have items. See more of my favorite travel bags HERE. 
Create a space in your hotel room where the baby can sleep.
In the ideal scenario, you'll have an entirely separate bedroom in which your baby can sleep in peace. But that isn't always an option. Still, even in a small, one-roomed hotel, you can create a space that gives your baby a quiet and dark place to sleep undisturbed. It sounds silly, but you'd be surprised how effective the closet or bathroom can be in a pinch!
Pack anything that will help your baby sleep.
Whether it's a noise machine or this adorable Doxie swaddle sack, don't forget to pack items that will help your baby sleep. Something like a portable blackout curtain can make all the difference when nap time comes around. 
Tips For Traveling With Preschoolers
Pack travel-friendly toys.
When packing toys to bring with you, consider how much noise they will make and how much room they will take up. I recommend avoiding toys that will make a mess or ones with a lot of small pieces that can easily get lost.
Instead, opt for toys that are quiet but able to keep your kiddos entertained for a good amount of time. The Richgv LCD Writing Tablet for Kids offers plenty of mess-free entertainment for your preschooler, and you can shop tons of other kids toys on my Amazon Page, HERE.
Use a stroller.
Even if you don't usually use a stroller for your preschooler at home, I recommend bringing one on your trip. It'll make a long trip a lot easier on everyone. They're especially good to have when you visit a theme park. Your preschooler can get off their feet for a bit and you can use the stroller to carry some of your personal items. 
Include down-time and rest days in your travel plans.
You're going to want to include plenty of down-time and time for rest in your travel plans. Even if your preschooler doesn't usually take a nap during the day at home, there's a good chance they will need one during your vacation. 
I recommend planning a day where you can just hang around your hotel pool or scheduling afternoon breaks at your hotel. This will keep everyone much happier. All the activities will wear those kiddos out and you'll be thankful for some down time.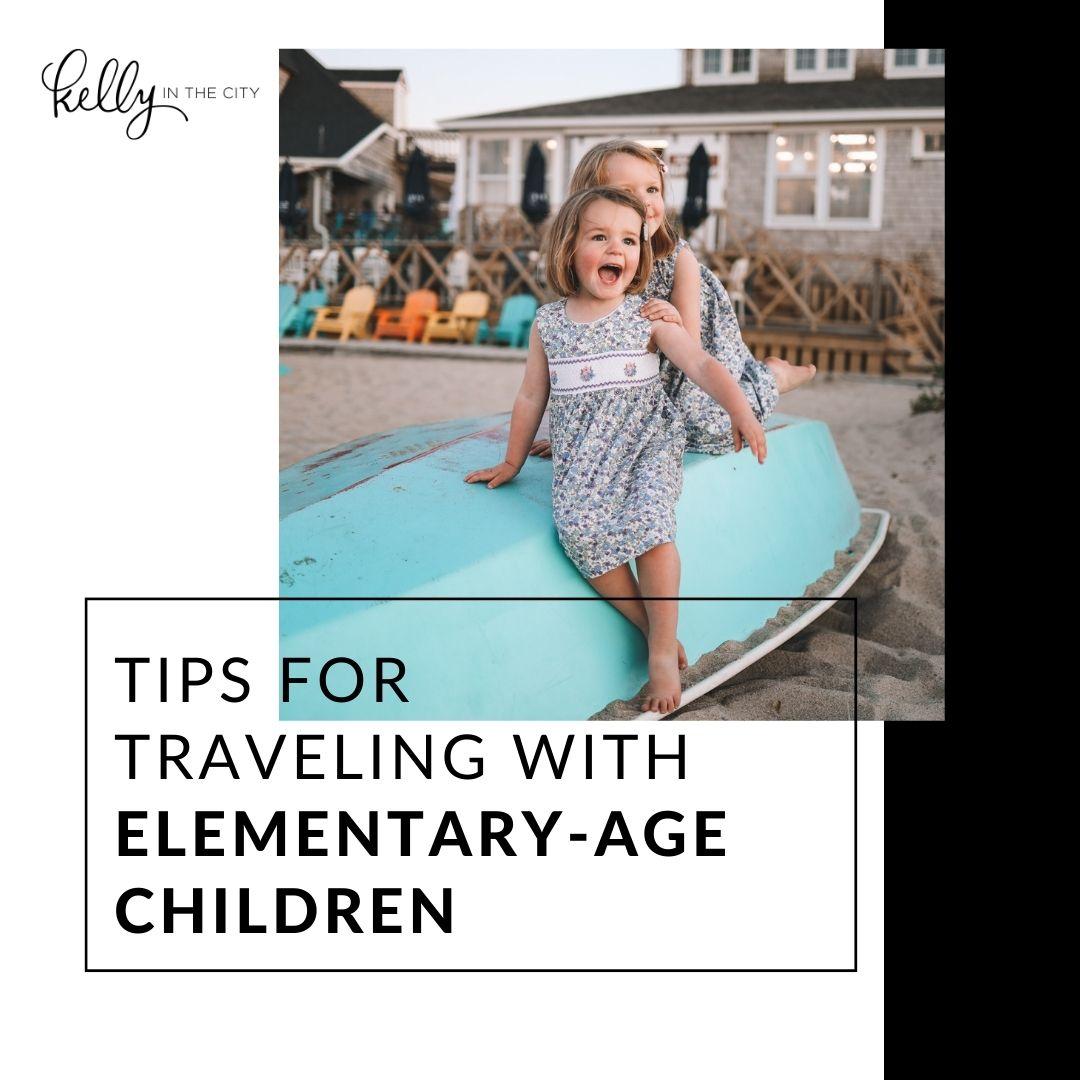 Tips For Traveling With Elementary-Age Children
Pack plenty of snacks.
Every parent knows that a hungry kid is an unhappy kid. Make sure you pack plenty of snacks so that you don't end up stuck somewhere with nothing to offer your grumpy little one. It'll also give you something to snack on. ;)
Create and pack an activity bag.
Customized activity bags are a fantastic way to keep kids busy on a long trip. A kid-friendly activity bag should include everything from snacks to quiet toys to keep them occupied. Consider your child's interests when putting together an activity bag, save them for the day of the trip, and you'll see just how thrilled your child is to receive it. 
You can create an activity bag with any bag of your choosing, but I recommend using a small bag that your child can carry on their own. This one, specifically, is a great option!
Go on vacation with another family.
Depending on where you're going for vacation, having other kids around can make a big difference for your own kids. I love the idea of going on a beach vacation with another family. Everyone can share a vacation home rental, the kids will have a great time together, and the adults can enjoy their vacation a little more.
Tips For Traveling With Tweens And Teenagers
Download content ahead of time.
You can't always count on wi-fi for your tween or teen's content. If they're traveling with a device, make sure you download plenty of content before your trip. You can download music, movies, games, and more ahead of time, so that you won't be scrambling for a hotspot or left having to pay for expensive in-flight wi-fi. 
Consider getting connecting rooms. 
This is a fantastic tip for families traveling with more than one teenager, especially if they are able to bring a friend along. Connecting rooms give your kids a little bit of space and privacy, without being too far from you. Plus, it means you'll have two bathrooms, double the space, and twice as many beds!
Include your kids in the planning process. 
Including your kids in the planning process is a great way to make sure your family friendly trip can be enjoyed by everyone. Find out which activities are worth checking out and get your child's opinion. Offer several options for things to do and places to go. Doing so ensures that your teen is far more likely to have a good time.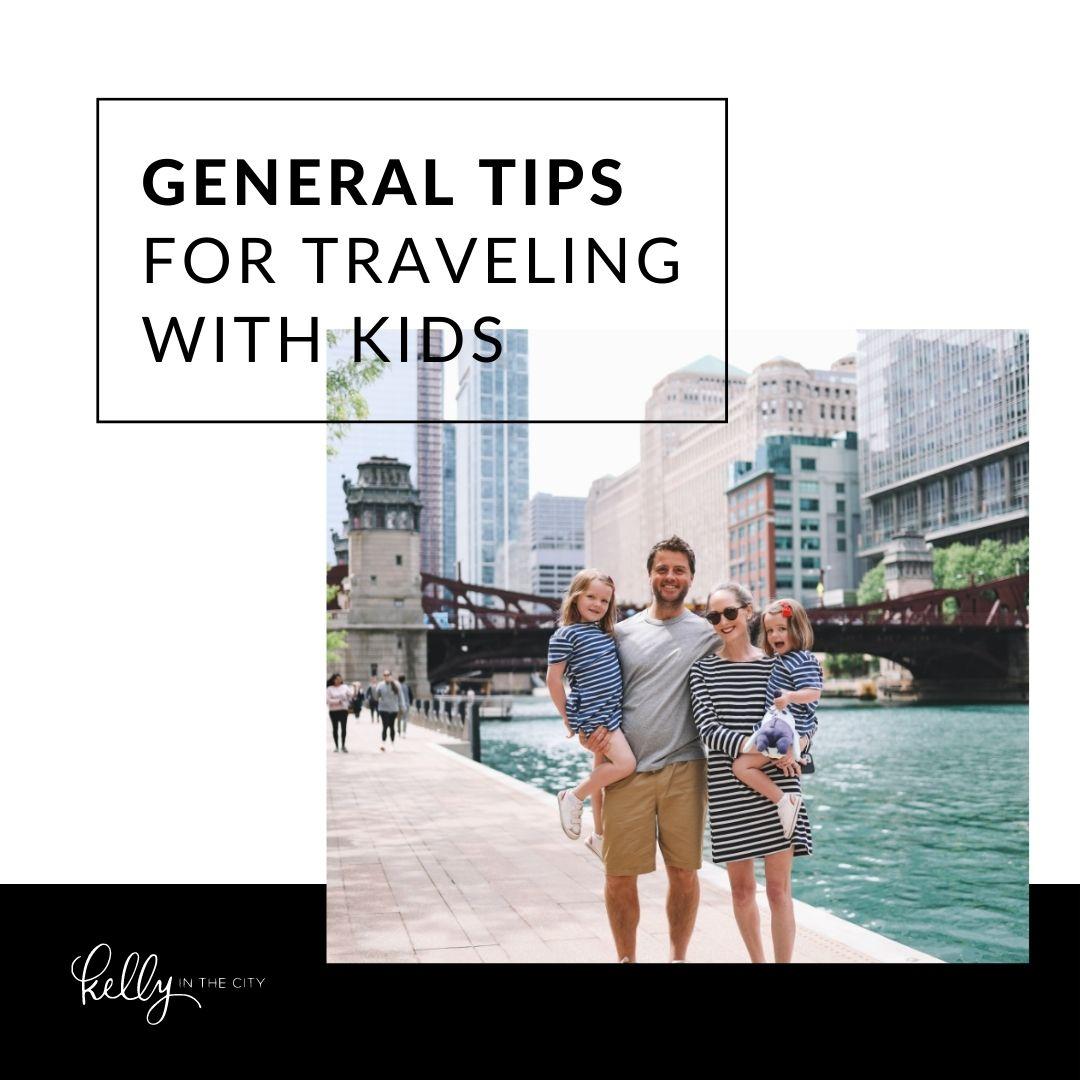 General Tips For Traveling With Kids
Use packing cubes.
Packing cubes are total game changers! If you've never used them before, I highly recommend getting some for your next trip. Traveling with kids often means having to pack a lot of different things. To avoid traveling overflowing, disorganized suitcases, use packing cubes to keep everything organized and in its place. 
Don't be in a hurry.
Slow down and enjoy the experience. It's no fun at all when you're rushing through everything and constantly thinking about what's next. Give yourself the ability to take things slow and really soak in each moment. It makes for a much more enjoyable family trip. 
Give yourself plenty of time.
To add on to the tip above, try to give yourself more than enough time for everything, especially if you're traveling with young kids. Giving yourself plenty of time allows you to slow down, like suggested above, and take part in every aspect of your vacation. You don't want to miss out on something important because you didn't allot enough time for it. 
For each thing you plan with your family, include the time it will take to get there, get tickets, etc., and account for traffic and long lines, too. Then, add a little more time ;)
Enjoy yourself. 
Family trips are unique opportunities to create life-long memories together. So, try to avoid focusing so much on the details that you forget to have fun. Easier said than done, I know, but try to let the little things go and focus on the big picture. 
Don't let the stress of traveling with kids keep you from making memories with your family.
I know there's a lot to think about when planning a trip. Whether you have young children or older teenagers, your travel day can be a lot less stressful if you're well prepared. I hope that these tips helped to give you the ability to focus on making memories with your family, rather than the stress of getting to and from your destination. 
You can find plenty more family and lifestyle tips and inspiration on the blog.
Shop the Post:

The post 20 Tips For Traveling With Kids appeared first on Kelly in the City.