25 Best Small Laundry Room Organization Ideas
If each time you pass along your washer and dryer, you think how much you hate doing laundry, we're from the same team! I figured out a few ways to make it more pleasant and way quicker, and I've prepared 25 clever small laundry room organization ideas for you. 
I remember the exact day I decided to take action about this issue. Because of a few unpleasant experiences I had with the never-ending piles of dirty clothes at our house, I decided it's time to act. There just had to be a way to make this annoying (and sometimes very icky) chore a more enjoyable experience. 
The hardest part is to make the best use of the limited space in your laundry room, so it turns out pretty and keeps everything you need within reach. When it comes to laundry rooms, they can be found in tiny places such as a closet, pantry, or even a hallway. Finding the most efficient way to put the laundry room in order could be challenging. Knowing the struggle I've been through with organizing mine, I decided it's time to share with you the list of 25 ideas I prepared, while I was planning my small laundry room makeover.
This post contains affiliate links.
25 Brilliant Storage and Organization Ideas for a Small Laundry Room
1. Add Hooks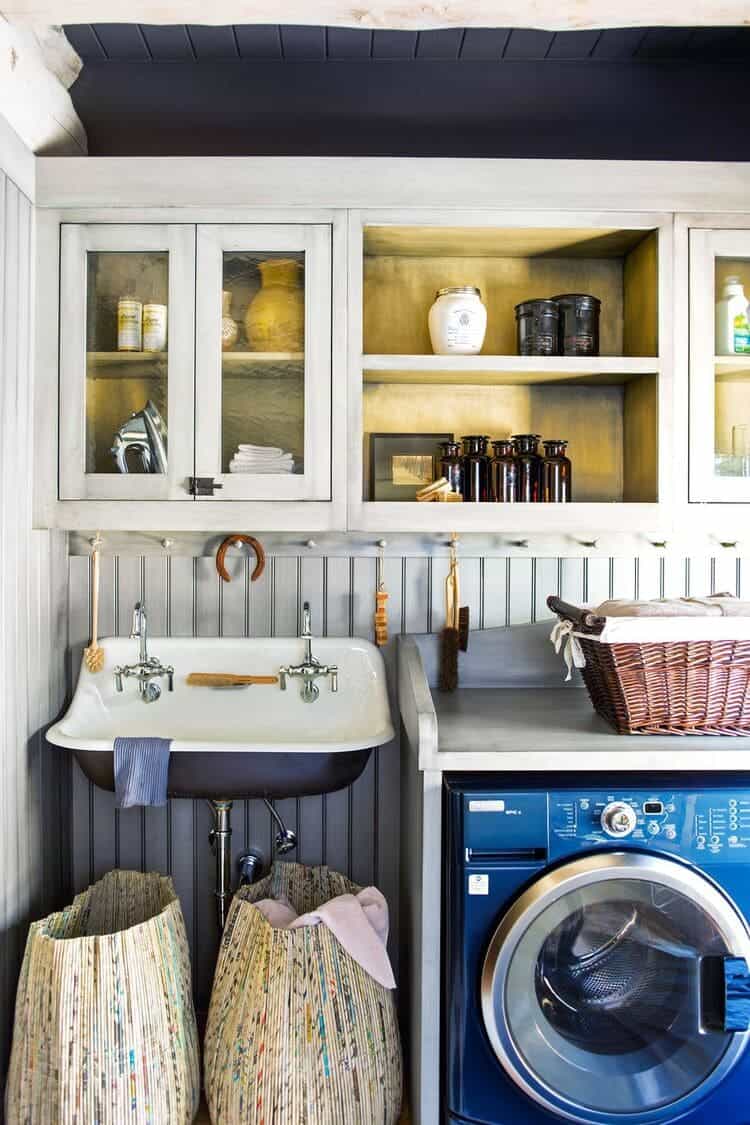 Using hooks in a small laundry room can significantly help you save space. A good idea is to use a wire or wooden coat rack and hang it on the side of your room. You can hang wet clothes on the lower rings while saving the higher ones for towels, robes, and any other laundry items that you have.
2. Install a Pull-Down Drying Rack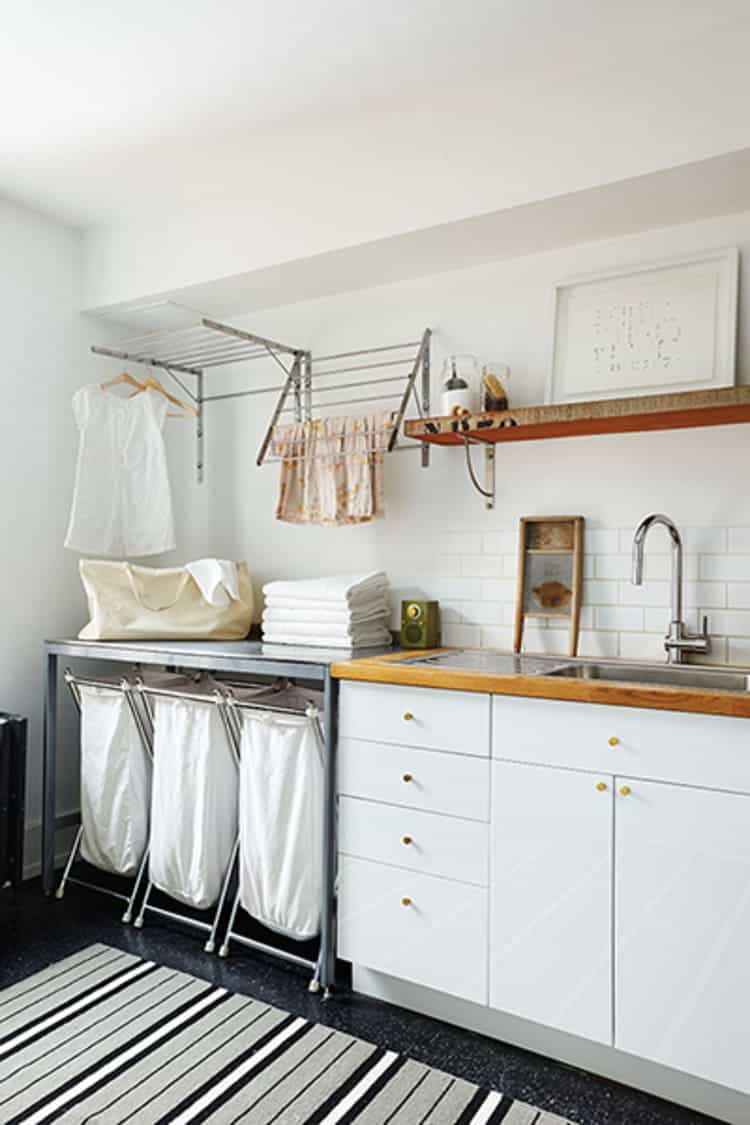 You can never go wrong with installing a pull-down drying rack. This is an excellent option for using the wall space that you have available in your room. You will simply need to attach the drying racks to the wall over your dryer.
I absolutely love this idea, and it's ideal for closets with windows. Due to the moisture from the wet clothes, there needs to be enough air circulation in your laundry room. Otherwise, you risk of getting bad and harmful mold.
3. Add a Folding Laundry Cart
A folding laundry cart can be a life-saver in many ways. You can fold it when you are not using it, thus saving space that would have otherwise been wasted. It's great that most of them come with a wood tabletop, so you can iron, fold or store your clean clothes on it. Brilliant!
4. Build Shelves for Storing Laundry Supplies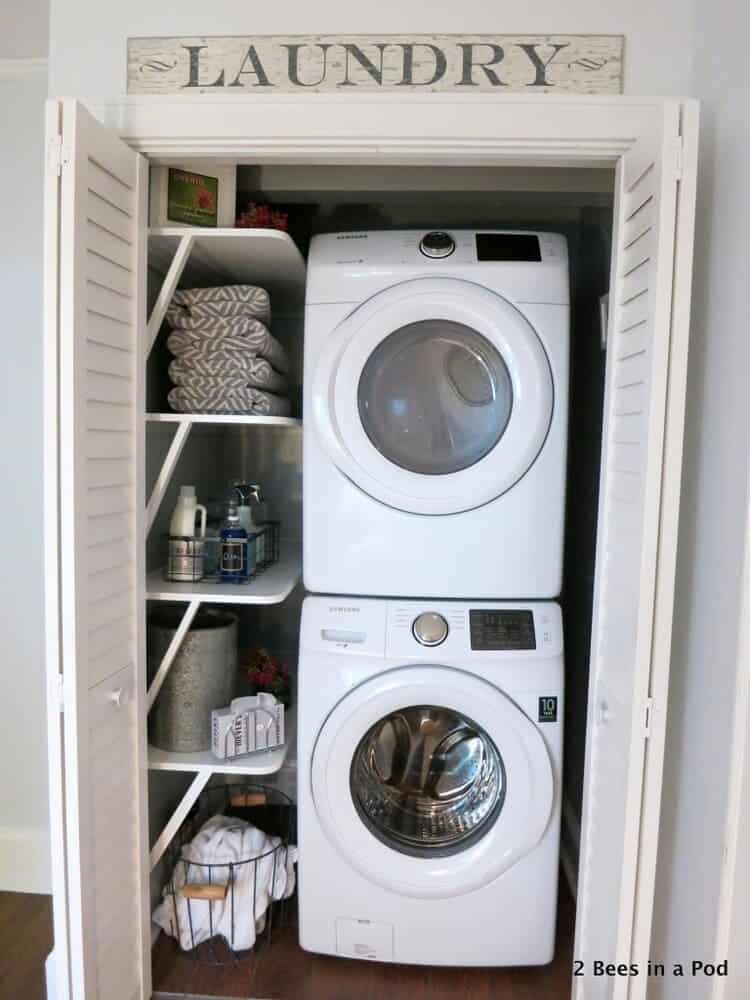 You can also build open shelves for your laundry detergent and supplies. These racks are very easy to install and will keep your laundry detergents from spilling all over the place. They help you to keep your small laundry room clean and tidy, too.
5. Farmhouse Inspired Small Laundry Room Organization Ideas – Use Baskets for Shelves
Another option for storing your laundry supplies is using baskets that you can arrange up against the wall. The advantage of using these is that you can always move them around if you need to place something else there.
Here are some of my absolute favorite baskets you can find online:
6. Install a Clothesline In Your Laundry Room
Another excellent idea for saving space in your beautiful but small laundry room is to install a clothesline. All you'll need are some strong rope and some hooks. You can find these in any hardware store or Dollar store. This is one of my favorite tips for small laundry areas.  
7. Command Center For Effortless Laundry Chores
A great way to keep track of everything in your small laundry room is to have a command center. It's a great addition to your small space. Add a dry-erase board or a calendar, wire baskets, a wooden board, and anything else you might consider useful.
In short, this is a great way to never miss your laundry day again. So long, never-ending piles of dirty clothes!
8. Genius Small Laundry Room Organization Ideas – A Pedestal Drawer Under Your Washing Machine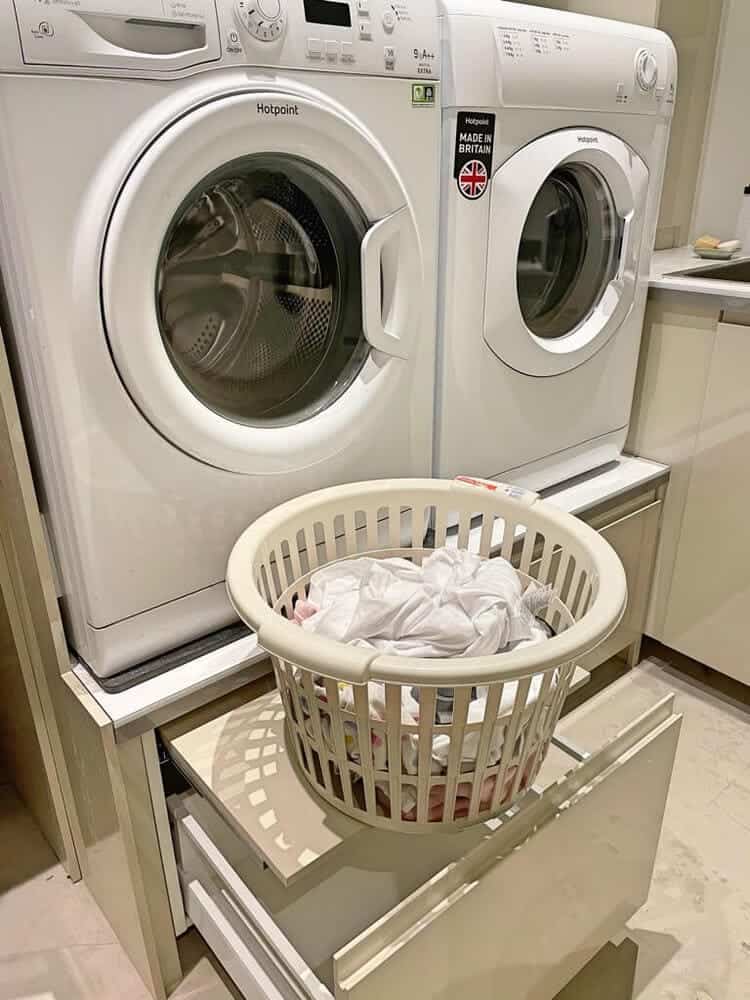 It is also possible to add a pedestal drawer under the washing machine and your dryer. This will allow you to store various items, such as detergents, stain removers, dryer sheets, dryer balls, etc. If you're into DIY, a great idea is to install a pull-out shelf in the drawer, too. It's a smart solution for every tiny laundry room.
9. Add a Stackable Washer and Dryer
A stackable washer and dryer can also save space in your small laundry room. When you have limited space in your house, you have to be creative. Stacking your appliances is one of my favorite space-saving solutions for small laundry rooms. Honestly, this is one of the best ways to utilize a small closet if you're revamping it into a laundry room (just like I did in my house).
10. Create An Ironing Station In Your Tiny Laundry Room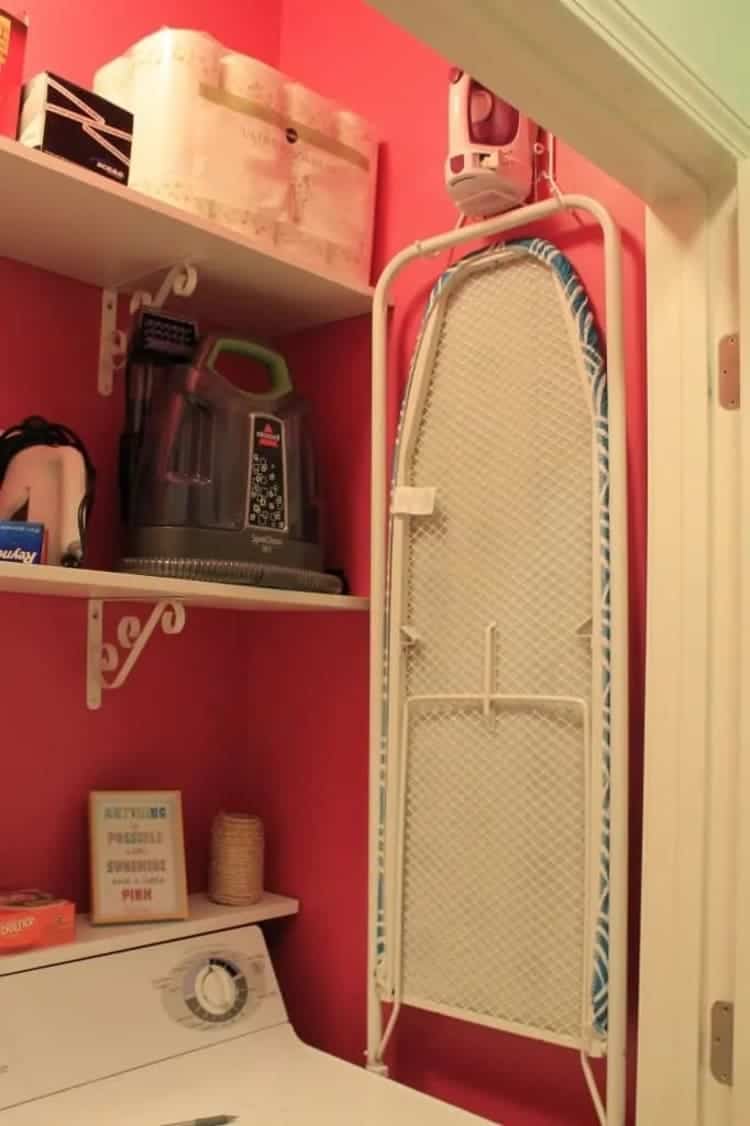 Having a designated place for your ironing board is crucial for good laundry room organization. An excellent idea is to choose an ironing board that has a countertop surface. It can easily be folded whenever you are not using it and utilize that space for something else.
You can even hang the ironing board to the wall, so you can easily fold it when you don't need to use it. 
11. Use The Backs Of Doors In Your Small Laundry Room
When you don't have much space in your laundry room, you need to be creative. I absolutely love this genius use of the back of the door to store your ironing board. Just add a few wall hooks, and you're all set!
This is the perfect place to hang a pegboard, too. It is another excellent way of putting the available door space in your laundry room to good use. You can use it to hang all kinds of things such as mops, wire baskets, hooks, small shelves, etc. Perfect!
12. Utilize the Space Over The Door
Another good idea is to install an over-the-door rack. You can use this area to store ironing supplies, such as an iron, ironing mat, clothes steamer, and other supplies you're not using often. As a result, you'll have more free space and less clutter.
13. Wood Pegs
You can use wooden pegs to hang things, including mops, baskets with supplies, jackets – pretty much everything that comes to mind. This is actually one of the best ways of saving space in your small laundry room. You can use the pegs to hang wet clothes and towels, too.
14. Small Laundry Room Organization Ideas – Add Hanging Clothing Rods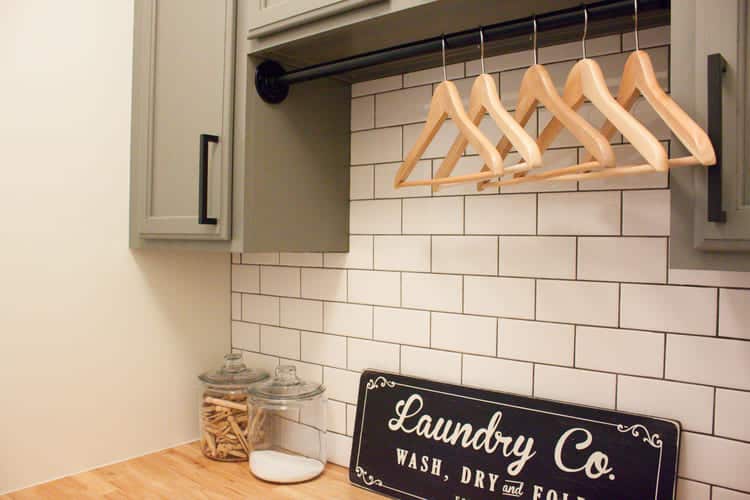 Need more space to hang your clean clothes? Install a clothing rod in your laundry room! This is a simple and effective way to store your clean clothes right out of the dryer. It helps save a lot of space and frees up a significant amount of room.
This is a great addition to any closet turned into a laundry room. 
You can also use a hanging shoe rack. This will enable you to utilize the vertical wall space available in your laundry room for storage purposes while freeing up some much-needed floor space.
15. Magnetic Bins For The Side Of Your Machine
One of the best inventions I stumbled upon while I was doing our laundry room renovation, is the magnetic lint bin. You can stick it to the side of your dryer and throw away the debris from clothes, used dryer sheets, or whatever other trash you need to dispose of. How smart is that?
16. Slim Storage Drawer for Between Your Appliances
If you have a gap between your washing machine and your dryer, a slim storage drawer could be a smart way to add some extra space to your laundry room. Depending on the gap you have available, you can a laundry caddy between your machines to store clothes pins, soaps, and detergents.
No more lost socks and dust bunnies in this area! 
17. Small Laundry Room Organization Ideas That Save Space – Stackable Storage Containers
Stackable plastic storage containers or laundry hampers will allow you to utilize the space in your laundry room way more efficiently. You can use them for pretty much everything – laundry soap or fabric softener, store dirty clothes, clothes iron, steamer, or anything else you need. 
I love that there are so many designs you can choose from to go with your overall laundry room style.
18. The "Lost Socks" Sign Every Laundry Room Needs
If you're not much into washing dirty clothes (who is??), then adding a pinch of good mood to your laundry room is a must. A sign that says Lost Socks  can make you smile while also helping you reduce the clutter. You can buy or make your own sign, you can even add it to your command center. Put an end to the mystery of the missing socks once and for all!
19. Narrow Shelves Behind the Door
You can also use narrow shelves behind the door for extra storage – brilliant small laundry room organization ideas. It's perfect for storing pretty much everything:
Laundry detergents

Cleaning supplies

Dryer sheets

Lint rollers

Bleach

Spray Bottles

Brushes

Sponges, etc.

 
This is actually the best idea for people with very little space available, and who want to utilize every inch in their laundry room.
20. Under Cabinet Mounts – Small Laundry Room Organization Ideas
Another excellent idea for installing accessories I stumbled upon, is to mount them under your cabinet. You can use different kinds of hooks and brackets to hang items, such as:
Clothes hangers

Short clothes

Plastic bins with sponges s

crub brushes, etc.
Or add a rod for baskets or hangers. This will help you keep your counter space clean and will allow you to have easy access to the items you're using the most in your laundry room. 
21. Small Laundry Room Organization Ideas With Labels and Mason Jars
Admit it – you have a thing for mason jars. At least, I have never met a person that doesn't love using mason jars for organizing. With this thought in mind, why not put them to good use in your laundry room? 
This is one of the most effective ideas you can implement for a more organized and decluttered space. 
Use mason jars and label them for their specific purpose. You can add labels for your detergent, soap, fabric freshener, Clorox, or another cleaning product you use.
Keeping them in glass jars will allow you to constantly keep an eye on the amount of washing supplies you have left, so you can put them on time on your shopping list. 
22. Containers for Laundry Detergents & Cleaning Supplies
Keeping detergents and supplies for your washing machine and dryer in plastic containers, like a caddy, inside the laundry room is another way to keep clutter away. Having a separate caddy for washing, cleaning, and ironing can help you save time and much-needed space in your small laundry room.
There are many types you can choose from. You can find anything to fit your laundry room design style and make it more beautiful. You can pick from plastic, glass, wood, wire – you name it. Here are some of my favorites:
23. Small Laundry Room Organization Ideas With Hampers & Baskets
Do you separate your dirty clothes by color? If you're like me – you do. But I honestly hated sorting the dirty clothes by color. So when I did my laundry room remodel, adding hampers and/or baskets for the different colored clothes was the first thing I thought about.
Having multiple laundry hampers or laundry baskets allow you to separate dirty clothes by color in advance. It saves you tons of time, and you don't have to touch all the yucky clothes (moms of boys will understand). Another great thing is that there are so many pretty hampers and baskets available on the market, that anyone can find the perfect addition to their tiny space. Check out my favorites:
24. Customizable Peg Board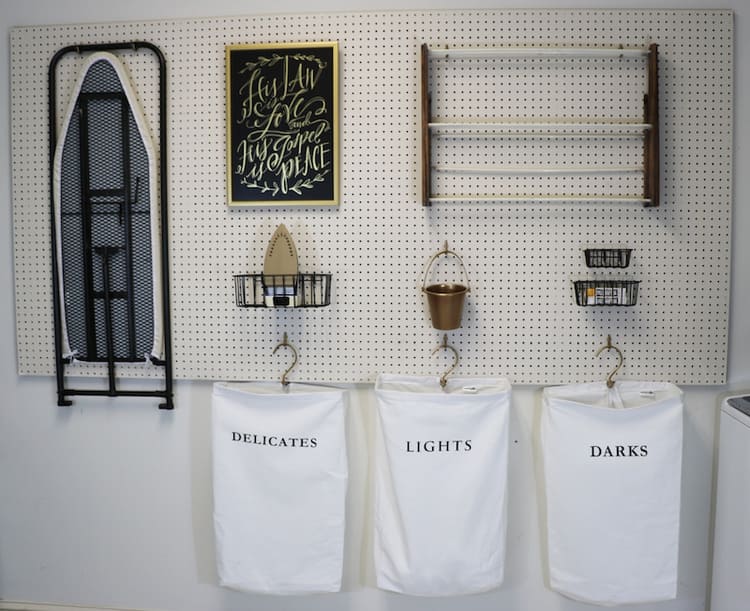 Pegboards are a great addition for every small laundry room or for your garage organization. Depending on your available wall space, you can hang pretty much everything on it – from your ironing board and your dirty laundry bags to a few wire baskets or an inspiring quote sign. It's an easy project you can do over the weekend and get the beautiful and organized laundry room you always wanted.
25. An All-in-One Washer & Dryer Combo Machine – Small Laundry Room Organization Ideas For The Tiniest Spaces
Can't fit a washer and a dryer in your small living space? Then, consider getting an all-in-one washer & dryer combo machine. This type of washing machine will allow you to do both laundry and drying in a single unit, which is really convenient and useful for people living in very tiny spaces.
However, you should have in mind that the drying capacity of the combo machine is less than the washing capacity. You might need to dry the clothes from a fully-loaded washer in 2 drying cycles, but I promise you – it's worth it.
FAQs
How do you sort laundry in a small laundry room?
It is relatively easy to sort your clean clothes in a small laundry room if you've organized your space well.
You can do this by making use of baskets, hampers, and bins. Presorting your clothes before washing will allow you to easily keep an eye on the growing amount of dirty clothes, so you can empty them as soon as you have enough for a full load.
Do you have any small laundry room organization ideas to keep away the mess?
Organizing a messy laundry room does not have to be hard! Depending on how much floor space or wall space you have available, there are many ways to make the best use of it.
The first thing you have to do is to go through some of the helpful ideas in this blog post and select a couple of them. Pick the ones you think will work best in your laundry room. 
Don't overwhelm yourself! Start small. Make a plan first and then execute it step-by-step. 
How can I make my laundry room more efficient?
There are many ways you can make your laundry room more efficient. You can:
Use shelves

Add hooks

Install rods under the cabinets

to keep different types of cleaning supplies.
You can never go wrong with these small laundry room organization ideas.
In addition, different types of baskets and hampers can also be used to make it even more pleasant and quicker to do your washing in.
How do I add storage to a small laundry room?
If you have a really tiny laundry room, you have to get creative about utilizing every available inch. Organizing it in a way so you'd have easy access to everything is the most important part. 
Think of your floor space. What can you move around? Is stacking your washer and dryer an option? Can you add pedestal drawers?
Then, consider your walls. You should definitely opt for shelves and laundry room cabinets. This will allow you to keep your laundry essentials, such as detergents, softeners, dryer sheets, etc., out of the way, while still giving easy access whenever they are needed.
How do I organize my small laundry?
Organizing your laundry room doesn't have to be a challenge. The 25 small laundry room organization ideas in this article could be helpful for pretty much every situation. 
Efficiency is key. It's more important to think about how to make your tiny space more functional, than pretty. 
For instance, you can add a couple of open shelving units and cabinets with glass panels in different colors. This will give your laundry room a posh look while allowing you to keep all of your laundry supplies organized.
Having an organized laundry room, especially when it's small, requires a lot of imagination and a bit of work. Don't know where to start? Check out the ideas above. It's guaranteed, you'll find easy, affordable, and working solutions for even the smallest laundry room.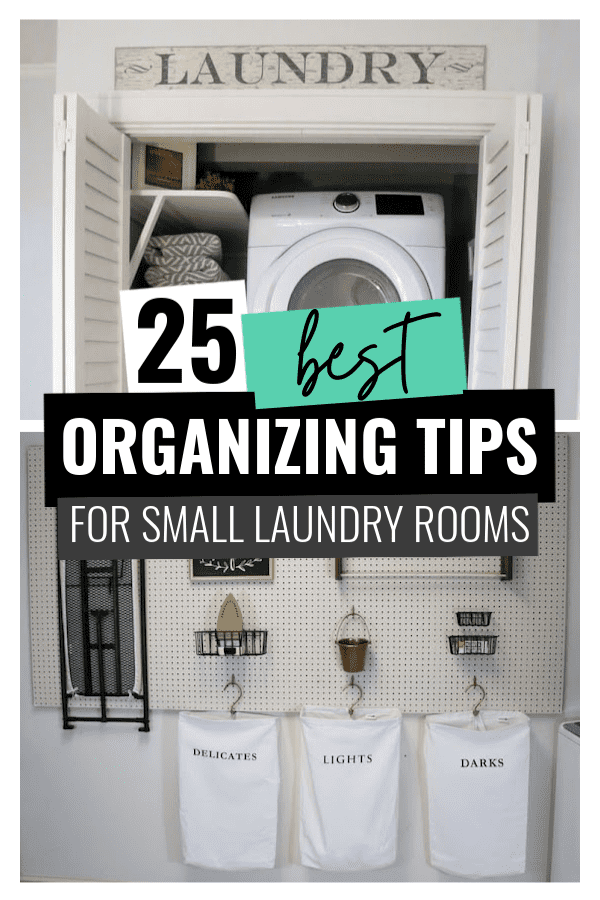 Did you like these small laundry room organization ideas? Don't miss out on these posts, too:
The post 25 Best Small Laundry Room Organization Ideas appeared first on Happy Organized Life.