25 Brilliant Ways To Organize Under The Bathroom Sink
Don't let the clutter in the bathroom get you down! Here are 25 awesome under-bathroom sink storage ideas you'll love!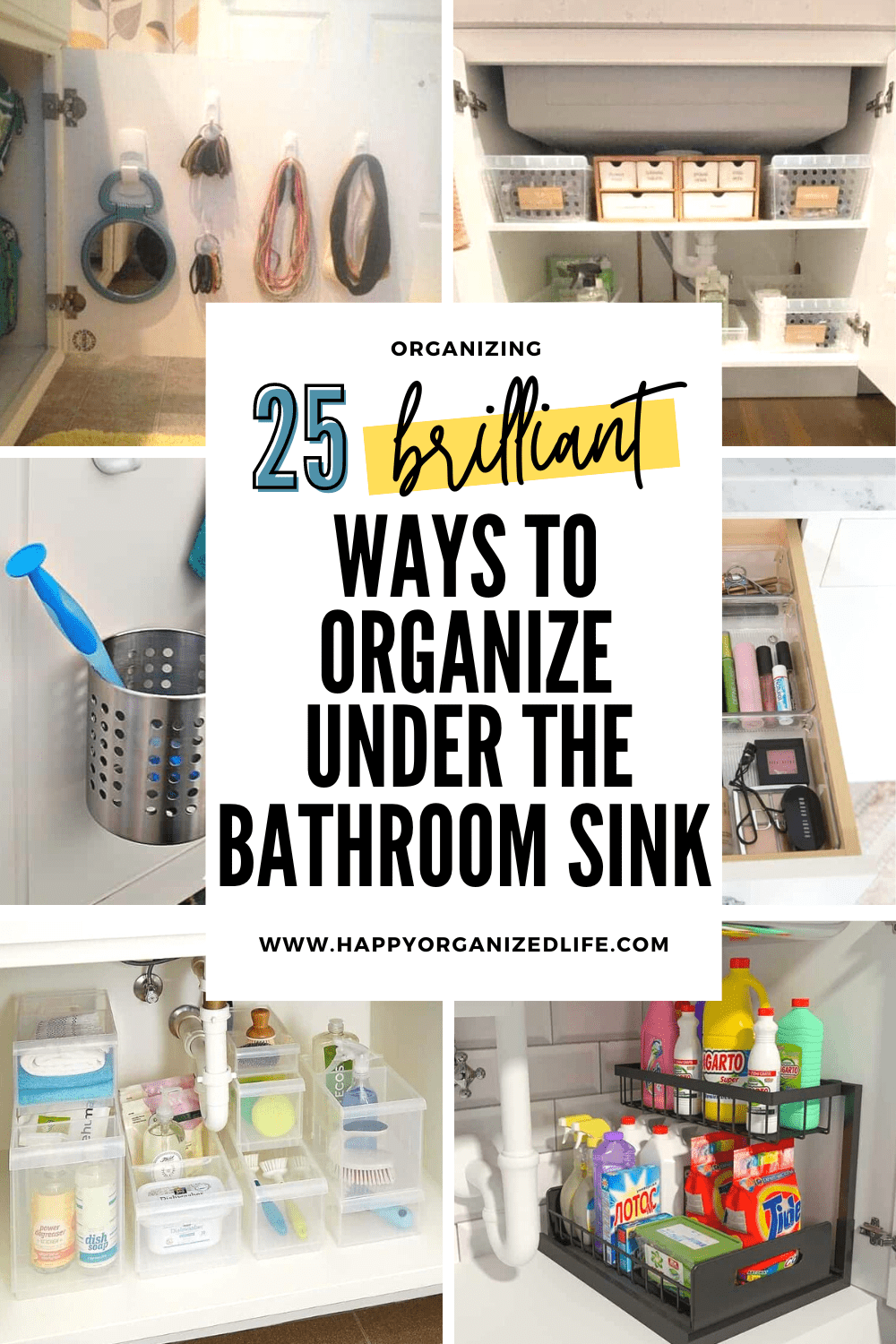 Are you tired of digging through a cluttered mess whenever you need to grab a tube of toothpaste or a washcloth from under your bathroom sink? Or maybe you have a small bathroom with limited storage space, and you're struggling to find a way to keep everything organized and accessible. Well, fear not! In this article, we've compiled a list of 25 brilliant under-bathroom-sink storage ideas to help you maximize the space under your bathroom sink.
From clever baskets and hooks to creative uses of your drawer and cabinet space, these tips and tricks will transform your under-sink area from chaotic to orderly so you can start your day with a clear mind and a clutter-free routine. So let's dive in and discover the secrets of efficient and stylish bathroom sink organization!
This post contains affiliate links.
Genius Ways to Organize Under the Bathroom Sink
I know what it feels like to have a cluttered mess in your bathroom cabinet. Do not fear, my fellow decluttering friends! I have compiled 25 under-bathroom sink storage ideas to bring some order to your life.
1. Utilize Baskets
With this simple addition to your under-bathroom sink storage, you'll be amazed at how much more space you have and how much more efficient your routine becomes. A beautiful basket is a great way to store extra towels, washcloths, and toilet paper rolls. Plus, it looks stylish and can be easily moved around.
When choosing baskets, opt for the right size and shape to fit under your sink cabinet. Wicker baskets are a classic choice and can add a natural touch to your bathroom décor. Alternatively, a wire basket can provide a modern and sleek look.
2. Under Bathroom Sink Storage Ideas: Add Shelves
Adding shelves can be a game-changer if you have a lot of vertical space under your sink. Shelves can be an efficient and stylish solution to maximize your under-bathroom sink storage space. Consider using wire or acrylic shelves, which are durable and lightweight, or opt for wooden shelves for a rustic look.
Before you spend even a dime, make sure you've taken the time to measure your bathroom cabinet well (both the depth and the height) and the items you plan to store. Without a perfect fit, you're inviting clutter under your sink again.
Once you've got your measurements, consider the endless possibilities! You can stash cleaning supplies, toiletries, or even small baskets to keep things tidy.
3. Install a Drawer with Drawer Organizers
If your sink has a drawer, take advantage of it! Use it to store items that tend to clutter up your countertop like:
Hair tools
Makeup
Toothbrush & Toothpaste
Not only does a drawer help to keep your bathroom organized, but it also keeps your items out of sight, giving your bathroom a neat and polished look.
Consider using drawer dividers to organize your items further and make them easier to find. Grab your set! Below are a few of our favorite drawer dividers found on Amazon.
4. Install Small Buckets as Cabinet Door Organizers
Use the back of your cabinet doors by adding small bucket organizers for your cleaning supplies or hair brushes. This is a great way to utilize unused space and keep your frequently-used items within easy reach. Plus, it helps to keep your sink cabinet clutter-free and organized.
5. Invest in Bins
Organizing under your bathroom sink is like navigating a rough sea, where the currents of clutter and chaos constantly drag you under. Fear not; you can conquer this tempestuous terrain with the right tools.
Investing in a set of clear bins is like having a compass that guides you toward organizational bliss. Separating and categorizing your small items like cotton balls, hair ties, and makeup brushes will create a sense of order that will make you feel like the captain of your ship.
You can't deny the satisfaction of knowing where everything is supposed to be. Let me tell you, labels are the answer to all your problems! Mark the contents of each bin, and voila! Easy access in no time!
As for clear bins, they're a real lifesaver! You can find all sorts of colors and sizes on Amazon. Here are some of my favorites:
6. Under Bathroom Sink Storage Ideas: Use a Shower Caddy
A shower caddie (Available on Amazon) can be hung on the inside of your bathroom cabinet door and used to store lotions, shampoo, and soap, for example. Or it can be a convenient way to keep your cleaning supplies and other small items. You can use a caddy with handles to move your items around the bathroom easily. This is particularly helpful if you need to clean multiple areas.
7. Brilliant Under Bathroom Sink Ideas: Tiered Sliding Shelves
I found a great double-decker pull-out organizer that is perfect for under the sink. It stores items like:
Gloves
Extra sponges
Mop pads on the bottom
8. Vertical Divider Shelves For Your Bathroom Under Sink Storage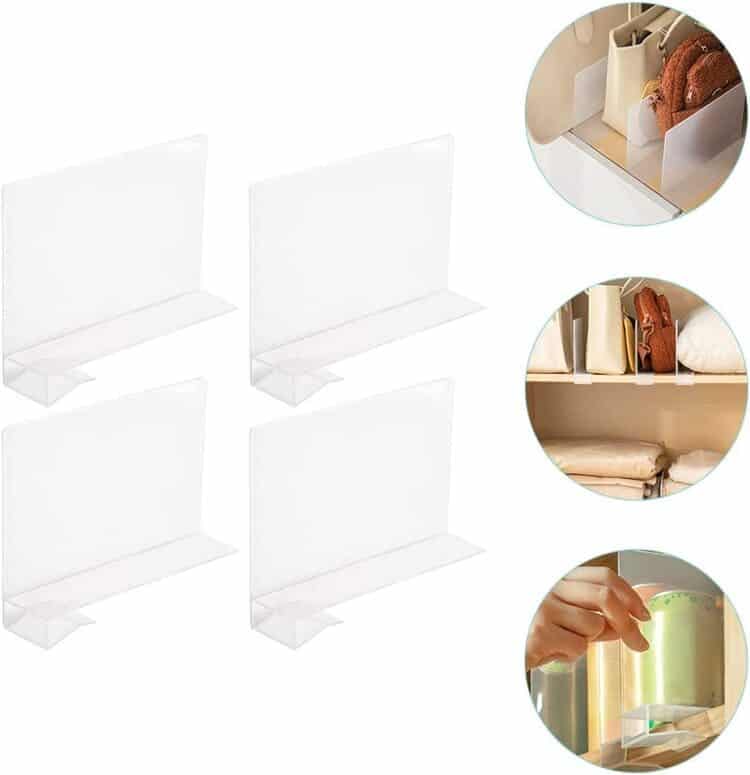 Vertical divider shelves are a wise investment for your bathroom under-sink storage; found on Amazon, they help maximize available space. These shelves come with multiple compartments, enabling you to store everything – from cleaning supplies and toiletries to small towels.
Their upright configuration allows for an effortless search and retrieval of your belongings, and the compartments ensure that your items remain sorted and uncluttered. Installing these shelves is as simple as sliding them in place, providing a practical and effective under-sink storage system.
Check these out on Amazon, and have your 12 vertical dividers delivered to your door!
9. Stackable Plastic Bins
I love stacking bins! They're so versatile in sizes, shapes, and colors that everyone can find the perfect option for their bathroom!
10. Pedestal Sink Storage Organizer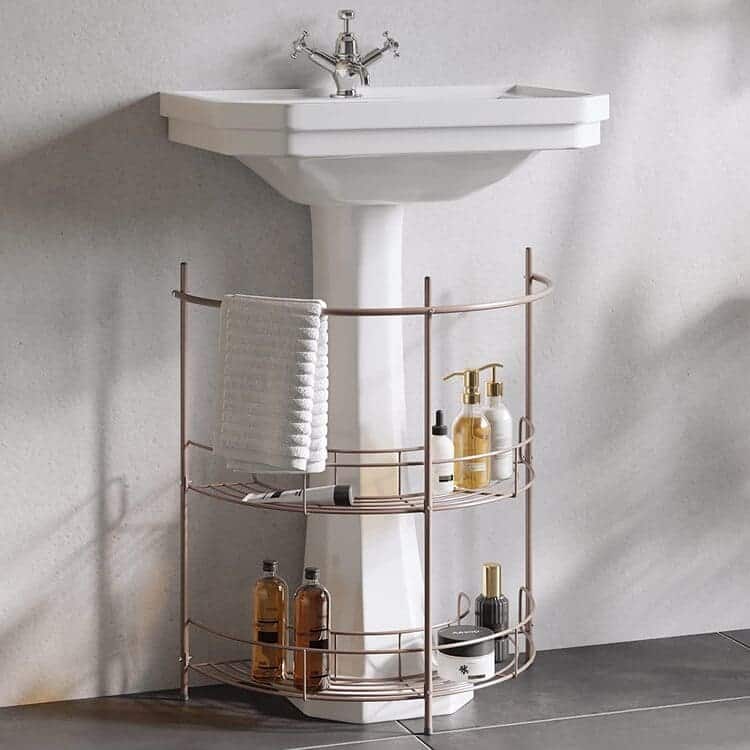 A pedestal sink storage organizer is an excellent solution for those with a pedestal sink and no cabinet or storage space underneath. This organizer, found on Amazon, fits around the base of the pedestal sink and provides shelves for storing toiletries, towels, and other bathroom essentials.
It helps keep the area around the sink clutter-free and allows easy access to items. The compact design also makes it a great space-saving solution for small bathrooms or rentals.
11. Under Bathroom Sink Storage Ideas With Lazy Susans
Everyone needs a lazy Susan in the bathroom!
12. Magazine Racks
Magazine holders can be a surprisingly valuable tool for organizing the clutter under your bathroom sink. These holders are typically designed to hold magazines. However, they're also the perfect size to install on the bathroom cabinet door and to store items like your hair dryer, curling iron, and spray bottles.
13. Use Trays to Organize Under Your Bathroom Sink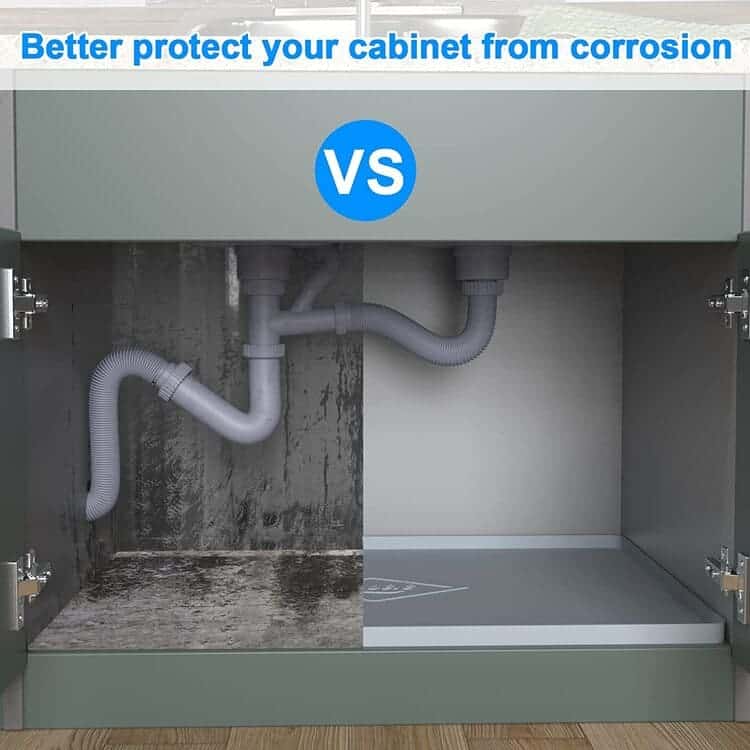 Trays, in all shapes and sizes, can be an optimal choice for those seeking to organize the chaotic space under the bathroom sink.
Strategically placing trays underneath the sink makes them simple to maintain, protecting your precious cabinets from messy spills and leaks. A variety of trays with different shapes and sizes are available on the market to suit your specific storage requirements.
You can find one here!
14. Store Toiletries in a Caddy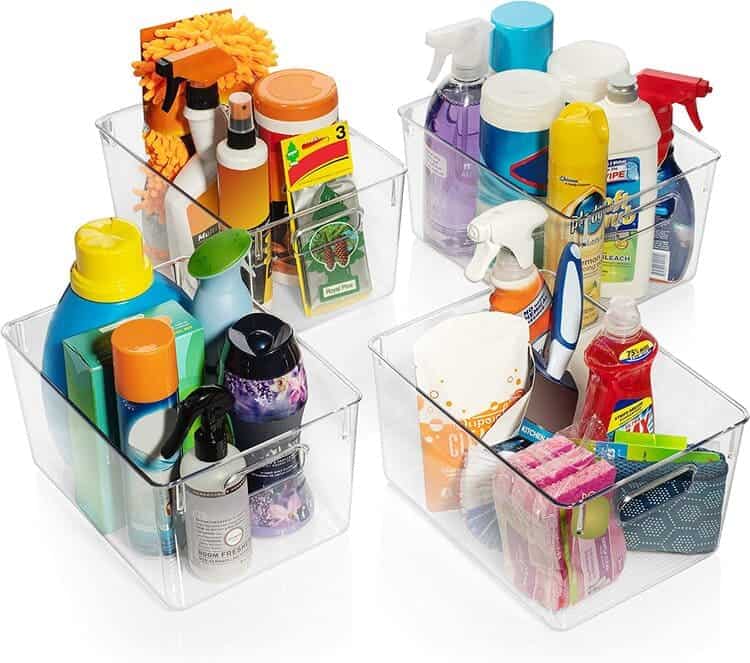 Are you tired of looking for your toothbrush on a cluttered bathroom counter with soaps, shampoo bottles, and lotions on a busy morning? Then allow me to introduce you to the versatile caddy! With its handy ability to store all your toiletries, a caddy is both practical and portable. Wait, there's more!
Not only does a caddy fulfill its utilitarian function, it can also add an air of sophistication to your bathroom décor. So why not choose a stylish caddy that perfectly complements your bathroom's aesthetic and place it on your countertop or under your sink for a clean, organized look?
I love this clear caddy available on Amazon! It's a wonderful way to keep everything stored and visible.
15. Under Bathroom Sink Storage Ideas: Hang Hooks
Hooks are used to hang towels and could also be an excellent way to utilize the back of your cabinet doors. You can install them and hang your hair ties, headbands, brushes, and other items that you use regularly. This will keep everything organized and easily accessible. Just like in this photo!
16. Store Makeup In a Drawer
A well-organized drawer can be a real savior for storing makeup. Add clear dividers or organizers to keep everything sorted, and you'll have a smooth morning routine. No more time wasted searching for your favorite lipstick or eye shadow.
17. Under Bathroom Sink Storage Ideas to Keep Cleaning Supplies Separate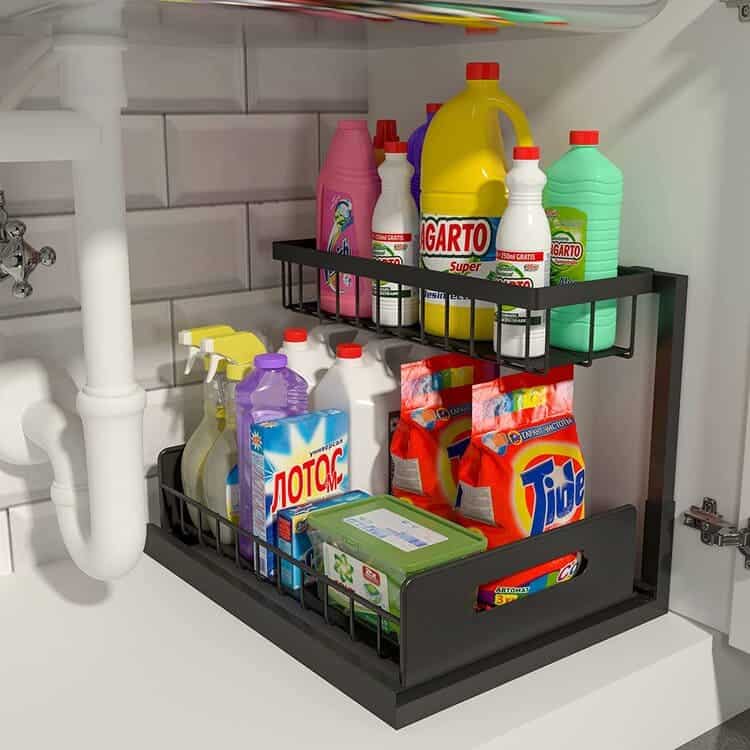 This is the perfect organizer to store your cleaning supplies and keep them separate from your other items found on Amazon. This will help you stay organized and ensure that no cleaning chemicals accidentally spill onto your items. It's a simple solution that can make a big difference in tidying your under-bathroom sink.
Order one from Amazon today!
18. Use Tension Rods Under Your Bathroom Sink
Tension rods are another wise bathroom storage solution for under your bathroom sink. By installing a tension rod (or a curtain rod), you can hang your cleaning supplies, spray bottles, and other items you use frequently. This will help you free up cabinet space and find what you need.
19. Hang Command Hooks
You can also use command hooks to hang everything – from hair brushes and storage baskets to an extra toilet paper roll or washcloth. These hooks can be easily installed without damaging your bathroom cabinets, making them a versatile and convenient storage solution.
Command hooks can hang a hair dryer or curling iron, keeping them off your bathroom counter and freeing up counter space. This will free up space in your bathroom and make it easier to access them on a busy morning.
20. Genius Under Bathroom Sink Storage Ideas: Install an Expandable Shelf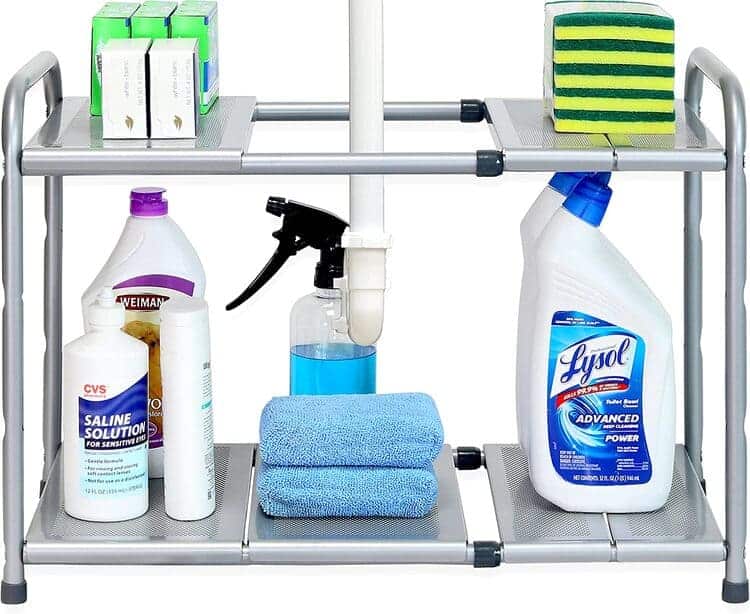 Having an adjustable under-bathroom sink storage is simply amazing! You can also use it to store everything and easily take it out to clean it when needed.
21. Adjustable Under Bathroom Sink Storage Organizer
Need a simple solution to organize under your bathroom sink? Well, this brilliant storage idea will help you put in order your cleaning and washing supplies in no time!
22. Wire Undershelves For Under Bathroom Sink Storage
If you need to declutter under your bathroom sink, wire undershelves might do the trick. These multipurpose shelves can effortlessly corral all those smaller toiletries that are scattered around without sacrificing convenience or accessibility.
Besides, they're not just limited to the bathroom! With a set of 4 shelves, you can expand your organizational repertoire to other parts of your home (the pantry, closet, or even the garage). Don't hesitate – order your wire undershelves today from Amazon and kick your clutter to the curb!
23. Under Bathroom Sink Storage Ideas: Use The Back of Your Cabinet Door
If you have a cabinet in your bathroom, store small items at the back of its door. You can add additional hooks or a shower caddy. This is a great space-saving solution that uses space you normally don't use the full capacity of. Also, it's easy to move around!
Get one from Amazon now!
24. Under Bathroom Sink Storage Ideas: Mesh Two-Tier Drawers
Use mesh two-tier drawers to store your hair and skin products and keep them separate from your other items. It looks so pretty, too!
25. Organize Under Your Bathroom Sink With Labeled Bins
Do you want a pretty and functional setup for your bathroom under-sink storage? Grab some bins and labels, and beat the chaos in your bathroom once and for all!
How to Organize Under a Small Bathroom Sink?
When it comes to organizing under your bathroom sink, if you have a small bathroom sink, the key is to maximize your limited space. With some planning and smart storage solutions, you can turn this often-overlooked storage space into a tidy and functional area.
If you're looking for storage solutions for small living spaces, you might want to check my other posts with brilliant bathroom organization ideas or creative laundry room ideas. 
Master the Art of Organizing Your Bathroom Sink Cabinet
Are you tired of your bathroom sink cabinet being in constant chaos? If so, look no further than these expert tips for organizing your space!
Step 1: Empty the Space
To kickstart your organizational journey, empty the contents of your bathroom sink cabinet completely. Yes, you read that right – take everything out and pile it up. This may seem overwhelming, but trust me, it's an essential first step.
Step 2: Clean it Out
Next, give your bathroom sink cabinet a thorough cleaning. Wipe down the cabinet's interior and pipes, removing any unwanted debris or dust. After all, a fresh start is what we all need from time to time!
Step 3: Determine What to Store
Before you begin organizing, determine what you actually need to store under your sink. Don't mindlessly put items back into the cabinet – be strategic about it. Consider your list of must-have items, and plan your storage solutions accordingly. This will allow you to determine the most suitable storage options for your needs.
Common Items to Store Under the Sink
Need some inspiration for what to store under the sink? Here are some common items that can benefit from being stored within easy reach:
Cleaning supplies
Extra towels
Toiletries
Hair products
Lotions
Makeup & Cosmetics
Washcloths
Extra toilet paper
Step 4. Measure Space & Any Obstructions
Before you start organizing, measure the depth and height of your cabinet to ensure that your storage solutions will fit. Under-sink storage space can be tight, so make sure you measure well and plan a few inches of spacing. It is also necessary to account for obstructions, such as pipes or any other hardware, that you can't move around.
Step 5. Plan & Shop for Your Under Bathroom Sink Storage Ideas
Once you know what you want to store and the dimensions of your space, it's time to plan and shop for storage solutions. Look for items that fit the space, such as baskets, shelves, and drawers. If your cabinet has a door, consider using the back of the door for added storage space with hooks, caddies, or trays.
Step 6. Organize With Your Favorite Under Bathroom Sink Storage Ideas!
Congratulations on making it this far! Now that you have all the necessary tools to organize your bathroom sink cabinet, it's time to get to work.
Keep these tips in mind:
Make things easy to get to and put away. You don't want to dig through a pile of toiletries every time you need something.
Organize items in a way that makes sense for you. You may want to group similar items together or keep frequently used items within easy reach.
Take advantage of under-bathroom sink storage ideas. There are plenty of creative and functional storage solutions in the post above.
With the 25 tips and ideas from this blog post, you can turn the often-neglected space under your bathroom sink into a functional and organized storage area. Happy organizing!
Get To It
There you have it, ladies – 25 brilliant under-bathroom sink organization ideas to simplify your daily routine! With these clever storage solutions and organization tips, you can transform even the most cluttered and cramped under-sink spaces into functional and stylish storage zones. From baskets and bins to drawer dividers and tension rods, there's a solution for every need and preference.
So don't let the chaos and clutter under your bathroom sink bring you down – take control of your space and enjoy the benefits of a tidy and efficient bathroom. I hope you've found some inspiration and ideas to try out, and I  wish you all the best in your decluttering and organizing journey. Happy tidying!
Do you know another under-bathroom sink storage idea I missed on this list? I would also love to hear if you've found exactly what you need to organize your bathroom! Tell me about it in the comment section!
Did you like these clever under-bathroom sink storage ideas? Then, you're going to love these other posts we have:
The post 25 Brilliant Ways To Organize Under The Bathroom Sink appeared first on Happy Organized Life.