4 Amazing DIY Ideas for Unused Candles
Do you have plain white candles that are just stuck in the closet? Now is the time to bring them out. Here are 4 amazing DIY ideas for unused candles by SULTANIN OYUNCAK ATOLYESi on Youtube. These crafts are truly creative and beautiful. Watch the video below for detailed instructions.
1. Flower box candle
Materials:
candles
crayons
small pot
tongs
empty milk carton
blade
candle thread
dried fragrant flower
stick
portable iron
Instructions:
Melt the candles and take the strings out. Separate them into 3 containers.
On the first container, crush a little bit of crayon into the melted candle and mix well. Cut the empty carton in half. Add some dried fragrant flowers on the bottom and arrange them nicely. on the sides. Once you are satisfied with the arrangement, pour a little bit of the melted candle. Tie the candle thread on a stick. With the heat of the portable iron, melt the candles on the rim of the carton.
On the second container, use a different color of crayon. Pour it on top of the frozen candle. Then let it harden. For the last layer, use the plain melted candle. Wait for 6 hours for the candles to completely freeze. Once done, scrape the part of the candles where the flowers are so that the flowers on the edges are visible. Add flowers on top. Place the candle on a plate and fill the sides with more dried flowers.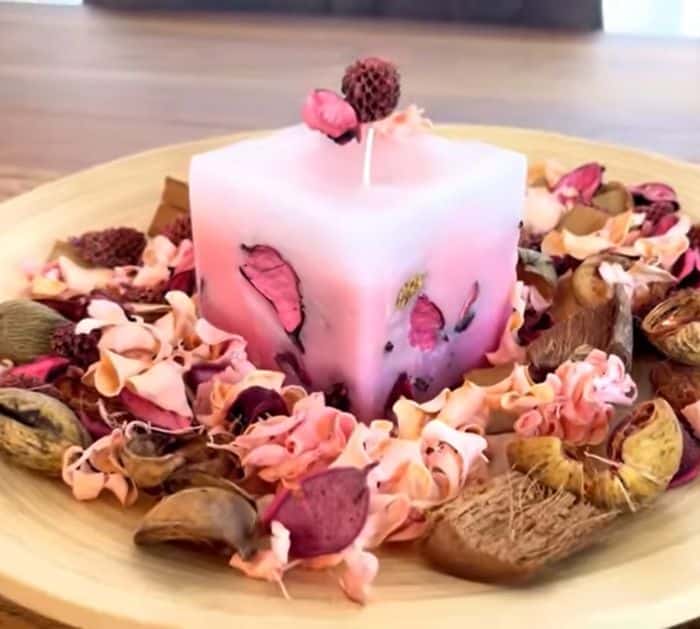 2. Glass candle
Materials:
candles
glass
stick
candle thread
jute rope
hot glue
Instructions:
Crush some crayons into the melted candles. Wrap the end of the candle thread around the stick and let it hang inside the glass. Pour the colored melted candle. Wrap jute rope around the glass and tie it into a ribbon. Glue some shells on the ribbon. Place on a plate and add more shells on the sides.
3. Flower made from candles
Materials:
boiled water
heat resistant bowl
pot
crayon
white candle
stick
dry branch
Instructions:
Boil water in a pot and place the bowl inside. Add crushed crayons and a candle to the bowl. Mix until melted. Once combined, let them cool a little bit. Prepare cold water in a different bowl. Close your three fingers together, dip into the melted candle, then into the cold water. Do it several times, then place it into the end of a branch. Repeat until you fill the branches.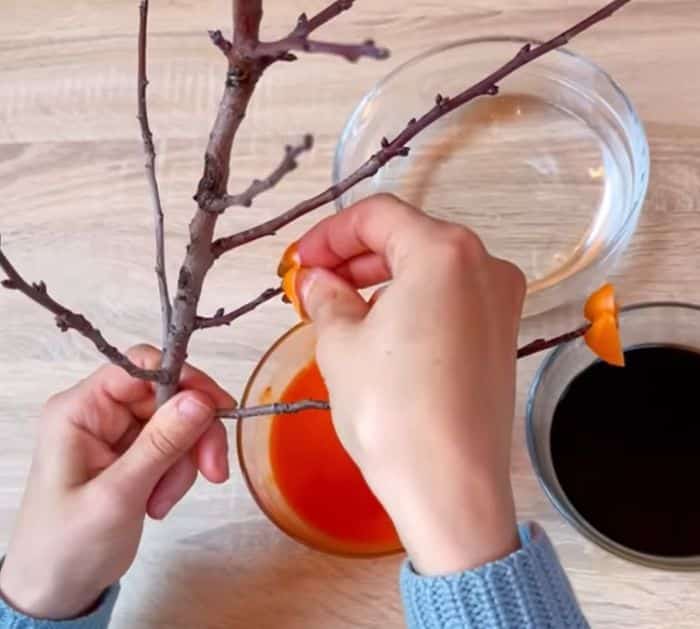 4. Napkin candle
Materials:
napkin
candle
portable iron
Instructions:
Measure the surface of the candle then cut the napkin with that measurement. Place the end on the candle and heat it with a portable iron. Heat it all the way around.
4 Amazing DIY Ideas for Unused Candles at Home
The post 4 Amazing DIY Ideas for Unused Candles appeared first on DIY Joy.