9 Small Campers You Can Pull with Almost Any Car
Picture this: you're gazing up at the stars, miles from the nearest town. When you wake up in the morning, snug and warm, everything you need is within reach—stowed away in its own little spot. And when you finally rise to hit the road, all you have to do is step outside, walk around to the driver's seat, and put the keys into the ignition. It's not a tent— it's a small trailer. And it makes life a lot simpler knowing that you can tow your home away from home almost anywhere, not to mention maneuver your trailer by hand if you find yourself in a tight spot. Small campers have several advantages over full-size RVs.  If you ever need to change plans mid trip, a combination of a small camper and the offline maps of the Dyrt PRO will be able to get you out of any pinch.
Small campers cost less to buy and fill up with gas along the way. And they can fit in a standard garage with an 8-foot high door. Teardrop trailers, which have a curved profile usually tapering toward the rear, are popular for their lightness and the aerodynamic shape makes them efficient to tow.
One of the few downsides to small trailers is that they often (but not always!) lack a bathroom and the kitchen is usually on the outside (if there is one), so rustling up breakfast can be a chilly affair. If that doesn't scare you off, here's a list of lightweight campers that sleep two or more adults and are still light enough to trail behind a sturdy car or SUV.
These Small Campers Are Easy to Tow
Before buying any of these small campers, it's important to make sure your vehicle's towing capability is rated at least 1,000 lbs above the dry weight. You'll also want to get a hitch installed if one wasn't included when your car rolled off the lot.
Once those details are taken care of, you can start shopping for the right small camper for the outdoor adventures you have in mind. From teardrop trailers to camp trailers, there's as much variety with small campers as there are classes of bigger types of RVs. These nine show off some of the features and amenities you can expect from towable, small travel trailers:
1. Pika by Timberleaf Trailers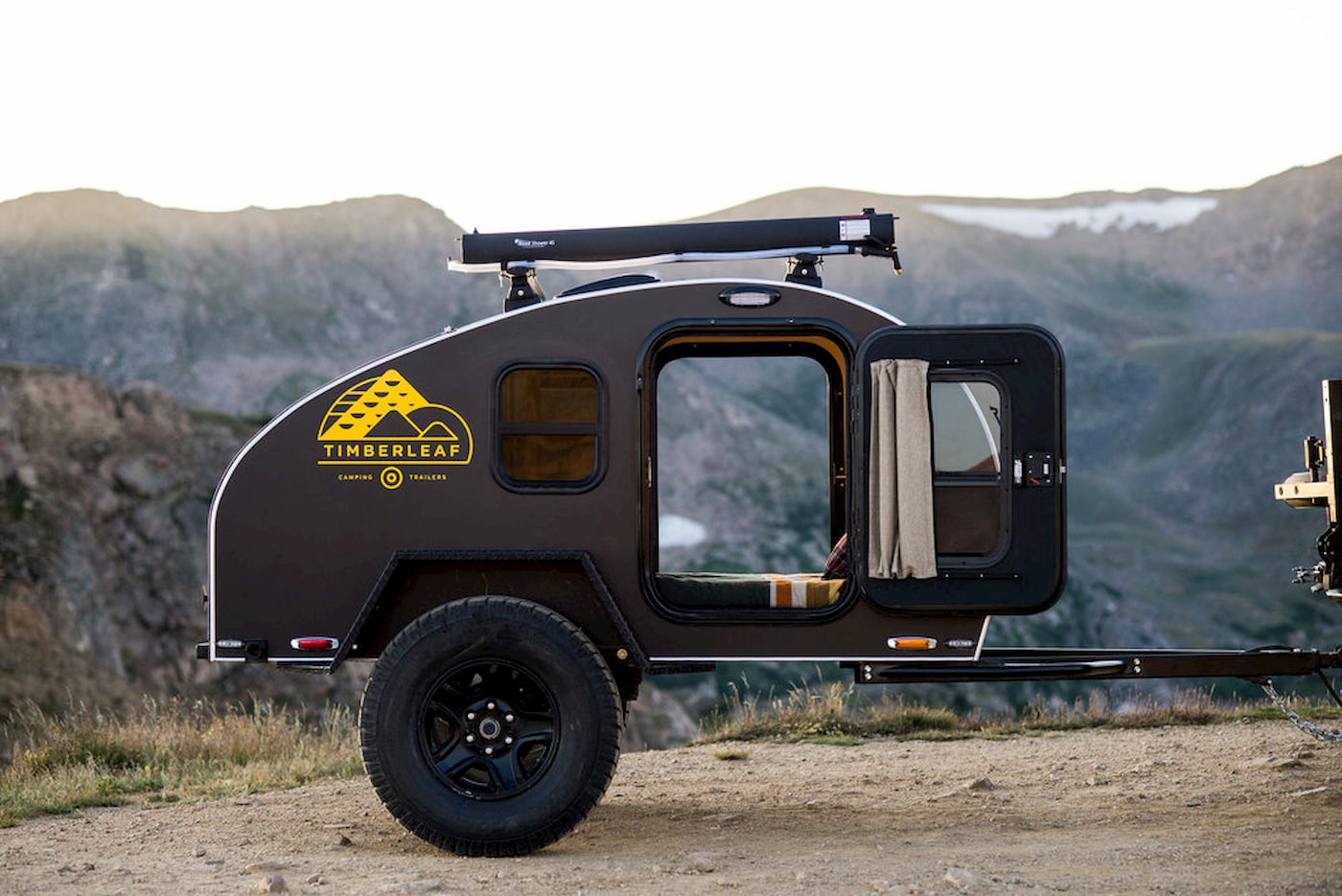 Dry weight: 970 lbs
Overall Length: 11 feet 10 inches
Width: 5 feet 6 inches
Interior height: 36 inches
Available from: Timberleaf Trailers
Phone: 970-778-3744
Aptly named for a small, alpine mammal native to the Rocky Mountains, the Pika is a third smaller than Timberleaf's Classic small trailer. Timberleaf is known for its lightweight teardrop shaped trailers which can be pulled by most passenger vehicles, and the Pika takes that legacy even further at just eight feet by five and a half feet.
Timberleaf's smallest trailer comes with a 4-inch double size mattress that is suitable for one or two people. Despite just 36 inches of headroom, a skylight and side windows make it feel roomier than its tiny size would indicate. An exterior kitchen at the rear with two hydraulic gas props does a lot to make this small trailer feel spacious, too.
---
The best way to save money while camping with a small camper? The Dyrt PRO lets you find campsites from your camper without cell service. "My alternative to using pro would be to drive back out to cell service."
---
The Pika is available with an all-road package ready for towing behind all-wheel-drive crossover SUVs. There is also an Offroad Package, which features a Timbren Axleless suspension with a 4″ lift, 33″ BFG All-Terrain tires, electric brakes, rock armor, and Max Coupler articulating hitch. Both packages include six USB ports to help you stay charged and connected no matter where you go.
If the Pika seems a little smaller than what you're looking for, Timberleaf's Classic teardrop offers slightly more space at 10 feet long by 5 feet wide. It has a 57 inch by 80 inch Queen size mattress, a sink with cold water faucet. Add-on options include a custom-fit solar panel, roof-rack and awning.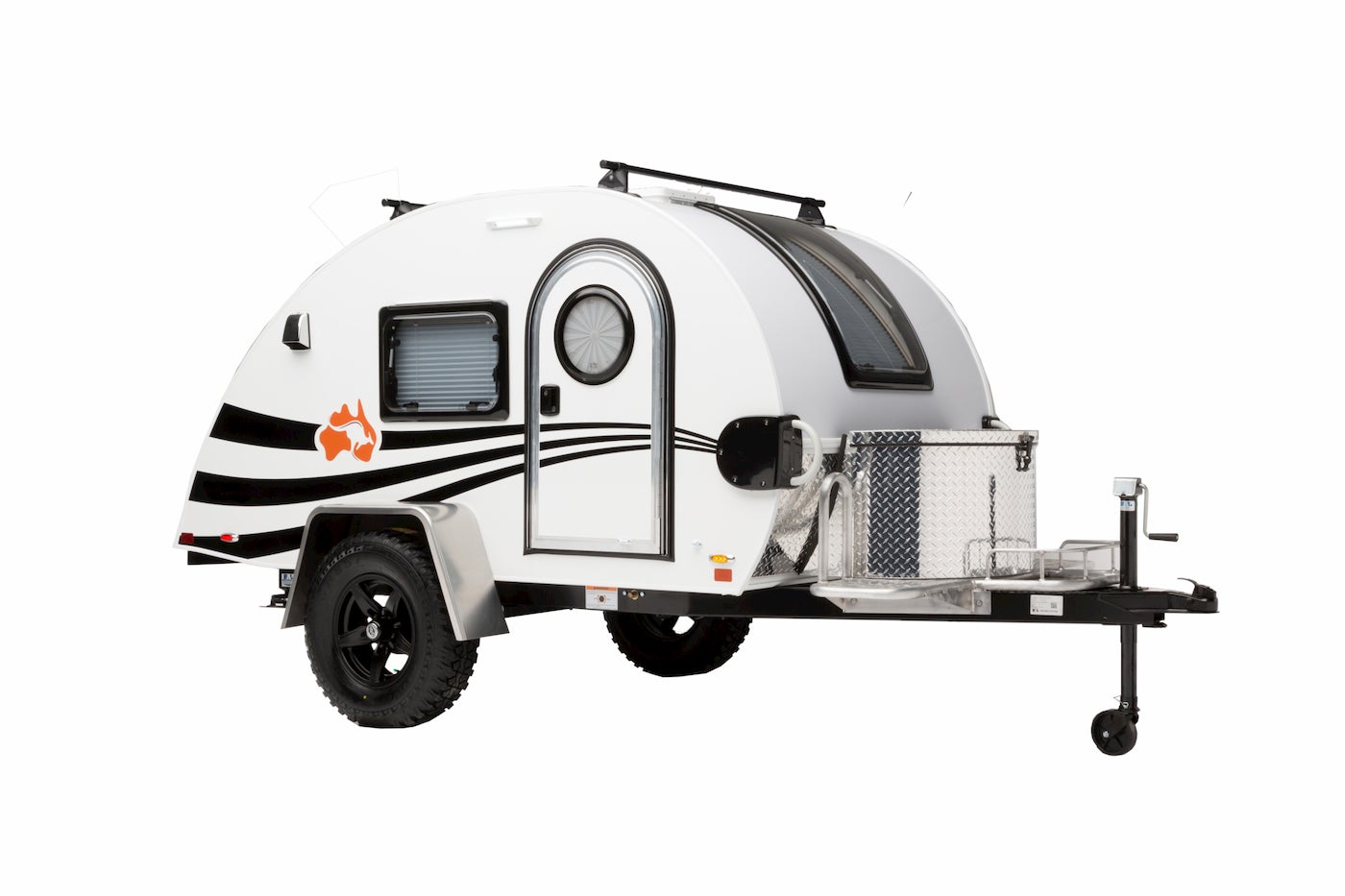 Dry weight: 1,046 lbs
Overall length: 13 feet 7 inches
Width: 4 feet 10 inches
Interior height: 47 inches
Available from: Find a dealer at nucamprv.com
This lightweight travel trailer can be towed behind a 4-cylinder small SUV, Honda CR-V, even up and over mountains and other steep obstacles. The interior has nicely finished wood cabinet covers and comes equipped with TV and sound system. The back opens up to reveal the kitchen, which includes a two-burner stove, cooler box, and storage shelving. The curved window at the front of the trailer opens to provide ventilation, and a view of the great outdoors.
NuCamp also offers an TAG Boondock package that's ideal for overlanding trails. This beefier version of the TAG has the same kitchen and comfort amenities you'll want from small campers on long excursions, but with extra features like tough off road tires, a heavy duty pitched axle, and higher ground clearance that are designed for off-road adventure.
3. TerraDrop by Oregon Trailer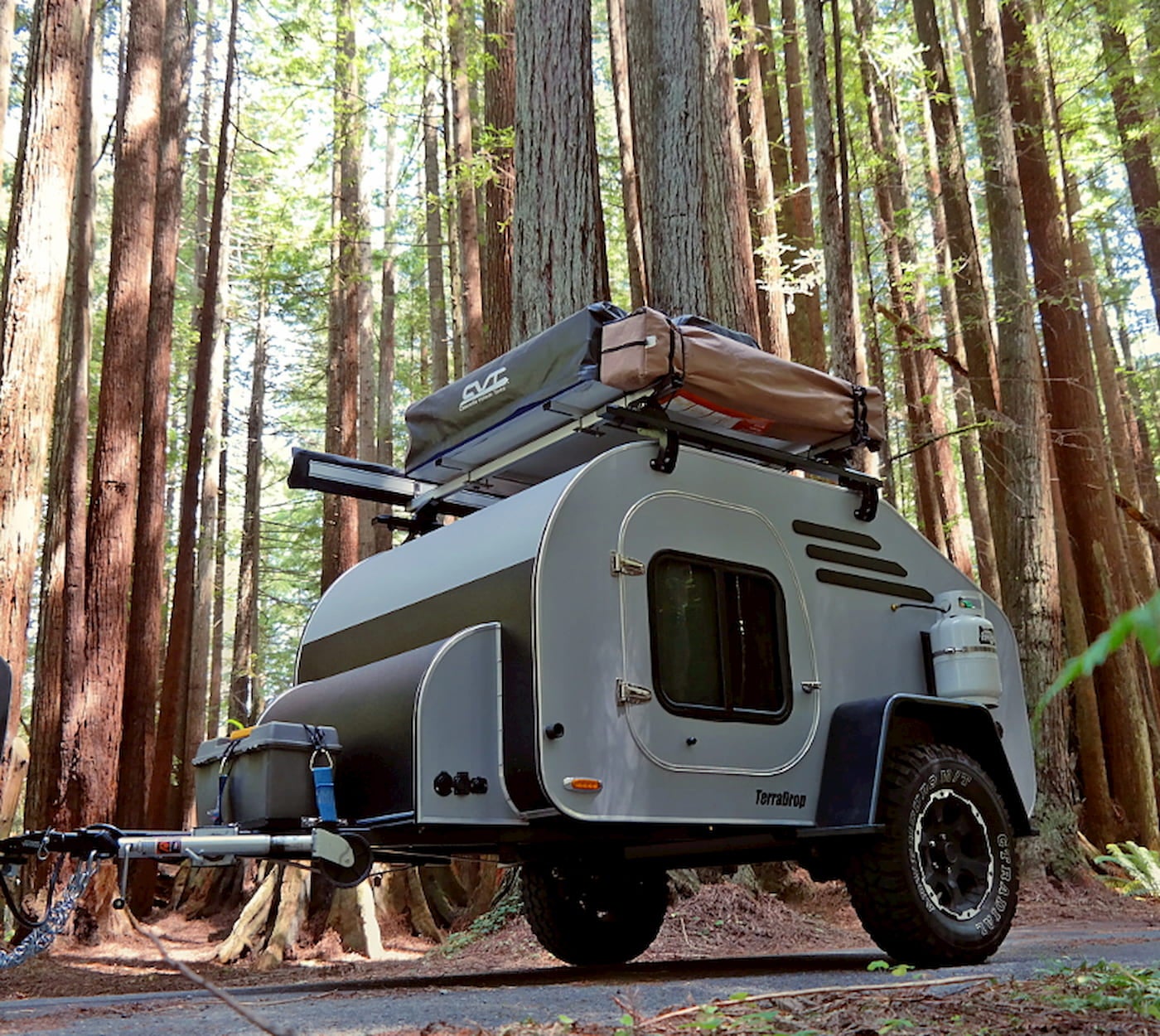 Looking for a teardrop that won't slow you down on your off-road adventures?  Look no further than the TerraDrop.  Designed and built by Oregon Trailer, a company known for their off-road options, this trailer comes with all the perks of an overlanding vehicle but is still lightweight enough to be towed by a small 4-cylinder sUV.
Some of the perks include: color changing lights below the trailer, lights installed within the wood paneling interior, magnetic cabinets, usb ports, reading lights, thermostat controlled fan, built in rack system, color changing overhead led strips in the galley, 1 ton suspension axel system, electric brakes, all terrain tires, front rack and a rear leveling system.  Since these small camper trailers are customizable, you have the ability to make this teardrop specific to your desires and adventures.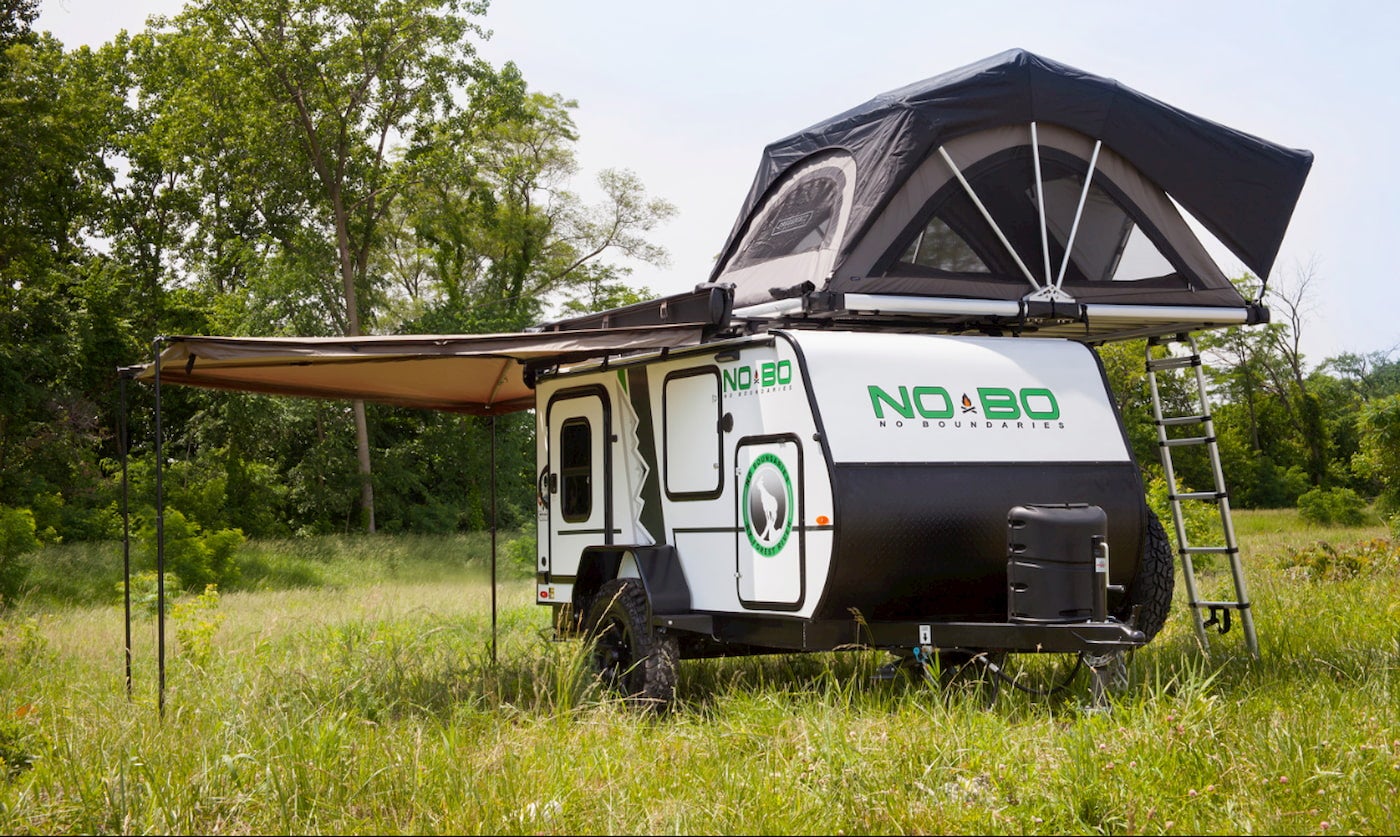 Dry weight: 1,570 lbs
Overall Length: 13 ft 10 inches
Exterior Width: 7 feet 4 inches
Exterior Height: 6 feet 11 inches
Available from: Camping World or find a dealer through Forest River
This small camper has a clever design that makes it easy to customize, but it's still ready to tackle outdoor sporting activities straight out of the gate with tires and suspension that give ample ground clearance and can handle rugged terrain.
The NoBo is designed to be towed by both 4 and 6 cylinder vehicles, too, giving even more consumer flexibility. And there are several different styles with slightly different features and floorplans, like the NB16.8 style that's equipped with a plastic toilet and both grey and black water holding tanks.
Overlanders will be excited to see that the NoBo has optional packages that let you roll your own overlanding experience. Those overlander packages include not just crossbars, but also RTV tracks that give you more control over the weight and positioning of other aftermarket add-ons, like a roof-mounted kayak rack or rooftop tent to add extra sleeping space. That's great news if you like to swap out your accessories depending on the season, or if you sometimes like to travel with friends.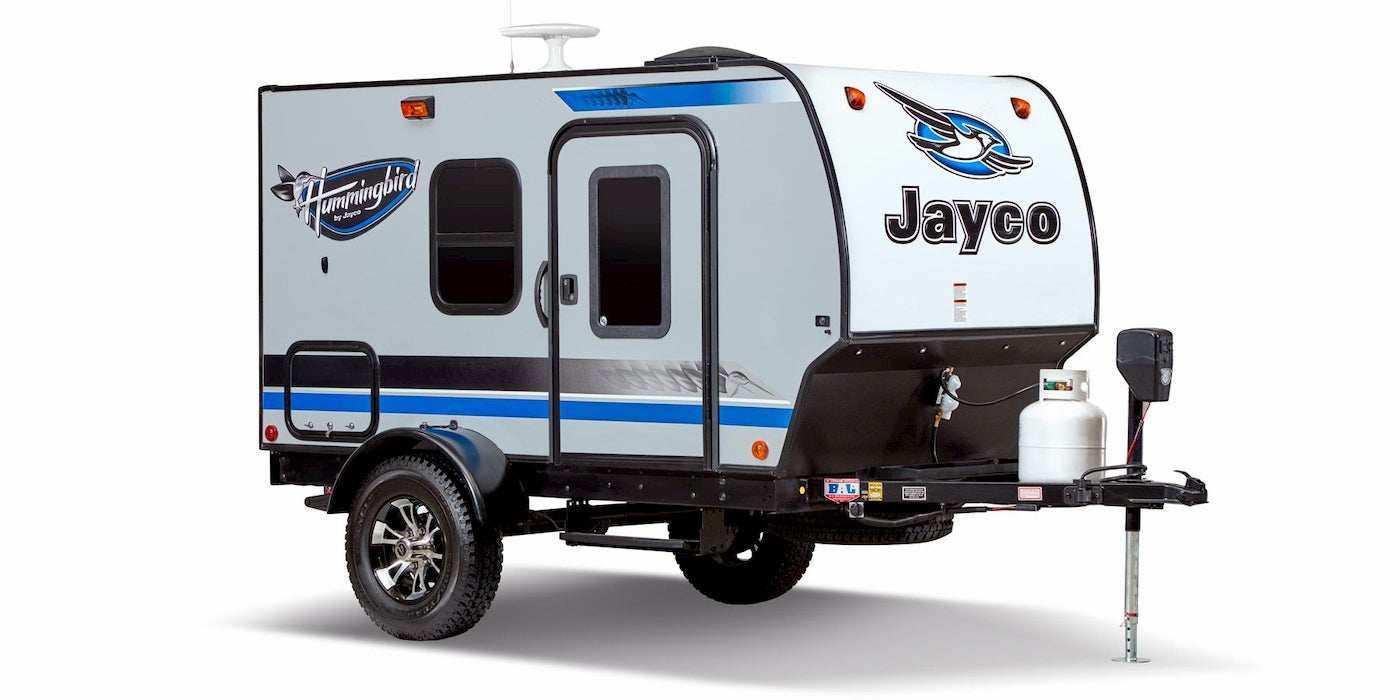 Dry weight: 1,545 lbs
Overall Length: 13 feet
Exterior Width: 6 feet 8 inches
Interior Height: 4 feet 5 inches
Available from: Camping World
You might know Jayco from cruising past the company's bigger rigs on the highway, but this legacy RV maker is just as good at making small campers, too. The design borrows the curved edges of a teardrop trailer with the ceiling height and longer profile of a full-size RV. And although it's compact, the Hummingbird has several features that add a sense of luxury.
The kitchen includes a 2-way 12V/110V LED TV and refrigerator, while the fan-powered roof vent helps keep you cool. When you're ready to depart for your next destination, a power tongue jack makes hitching a breeze, and a portable Bluetooth speaker mounted inside allows you to stream music inside or outside. The insulated underbelly keeps you comfortable year-round, too, in case you want to chase powder or the northern lights.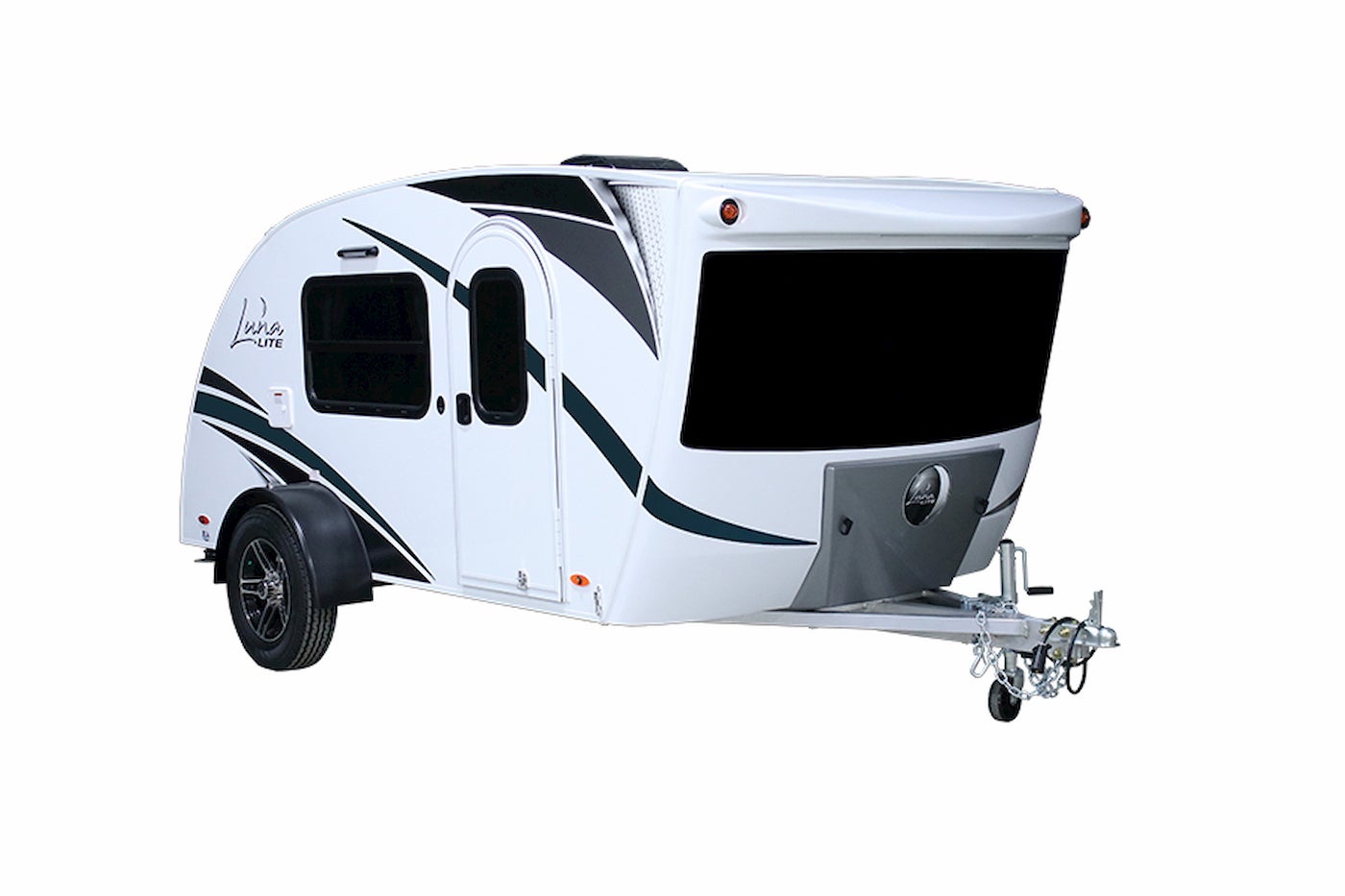 Dry Weight: 1,450 lbs
Overall Length: 15 feet 6 inches
Exterior width: 7 feet 10 inches
Interior Height: 4 feet 6 inches
Available from: Aloha RV, Albuquerque, NM. 505-797-8444.
* For other dealers check www.intechRV.com.
The Luna Lite combines the best of teardrop trailers and travel trailers in one sturdy unit. The curved rear and a square profile at the front, complete with a large picture window, gives a spacious feeling and connection to the outdoors. The aluminum shell is, true to the name, lightweight yet sturdy. It also comes in a light color pallet that will reflect the sun nicely in sun belt RV meccas like Palm Springs.
Inside, twin futons convert into a bed and serve as seating during the day. The kitchen, accessed by via a hatch at the back, has a two-burner stove, sink, ample workspace, and a Coleman 12-volt fridge. The Luna Lite is also stocked with an 8000 BTU air conditioner, a power-operated roof vent, and a 32-inch LED TV.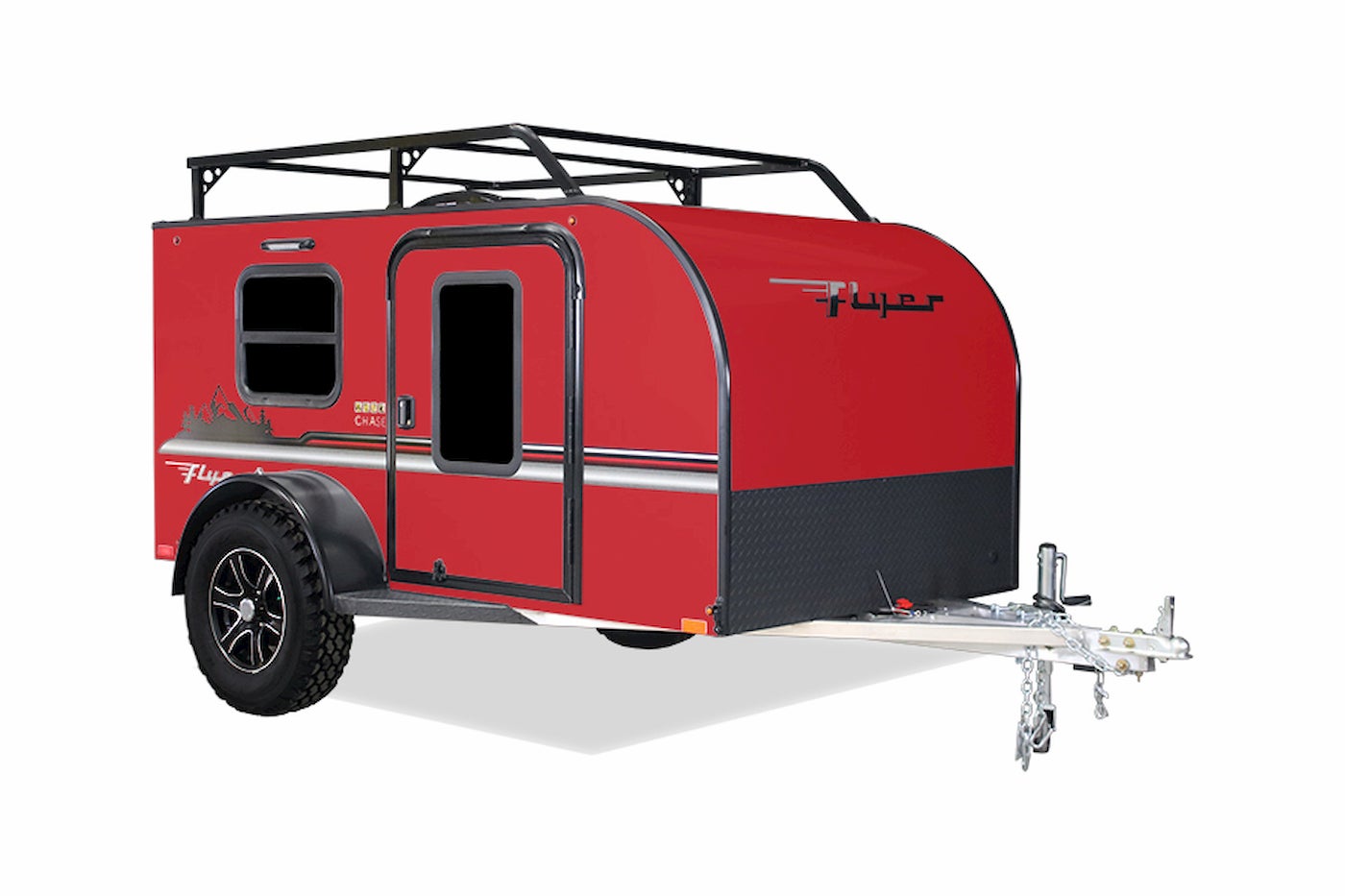 Dry weight: 850-1,000 lbs
Overall length: 12 feet 4 inches
Exterior Width:6 feet 10 inches (Interior: 4 feet 11 inches)
Interior Height: 3 feet 9 inches
Available: Aloha RV, Albuquerque, NM
* For other dealers check www.intechRV.com.
On the other end of the amenities spectrum for small campers, inTech offers the Chase Flyer, a super-minimalist, ultra-customizable small trailer that leaves off the bells and whistles so you can add in only the features you want.
It's solar-panel and battery ready, too, if you want to build out an off-grid electrical system. Other options include the choice of three interior finishes including interior carpet, twin foam mattresses, a lift kit, electric brakes, AC, a Maxx air vent, roof rack, awnings, and off-road tires.
You can even purchase an add-a-room tent that expands The Flyer beyond its standard 7'5″ interior length and 4'11" interior width— roughly the size of a queen mattress. If you aren't planning on living in your small camper full-time, or you simply want a blank canvas to customize, The Flyer keeps it simple, lightweight, and low-fuss. It's a great starter camper for families, or a project for someone eager to design their own dream trailer from the ground up.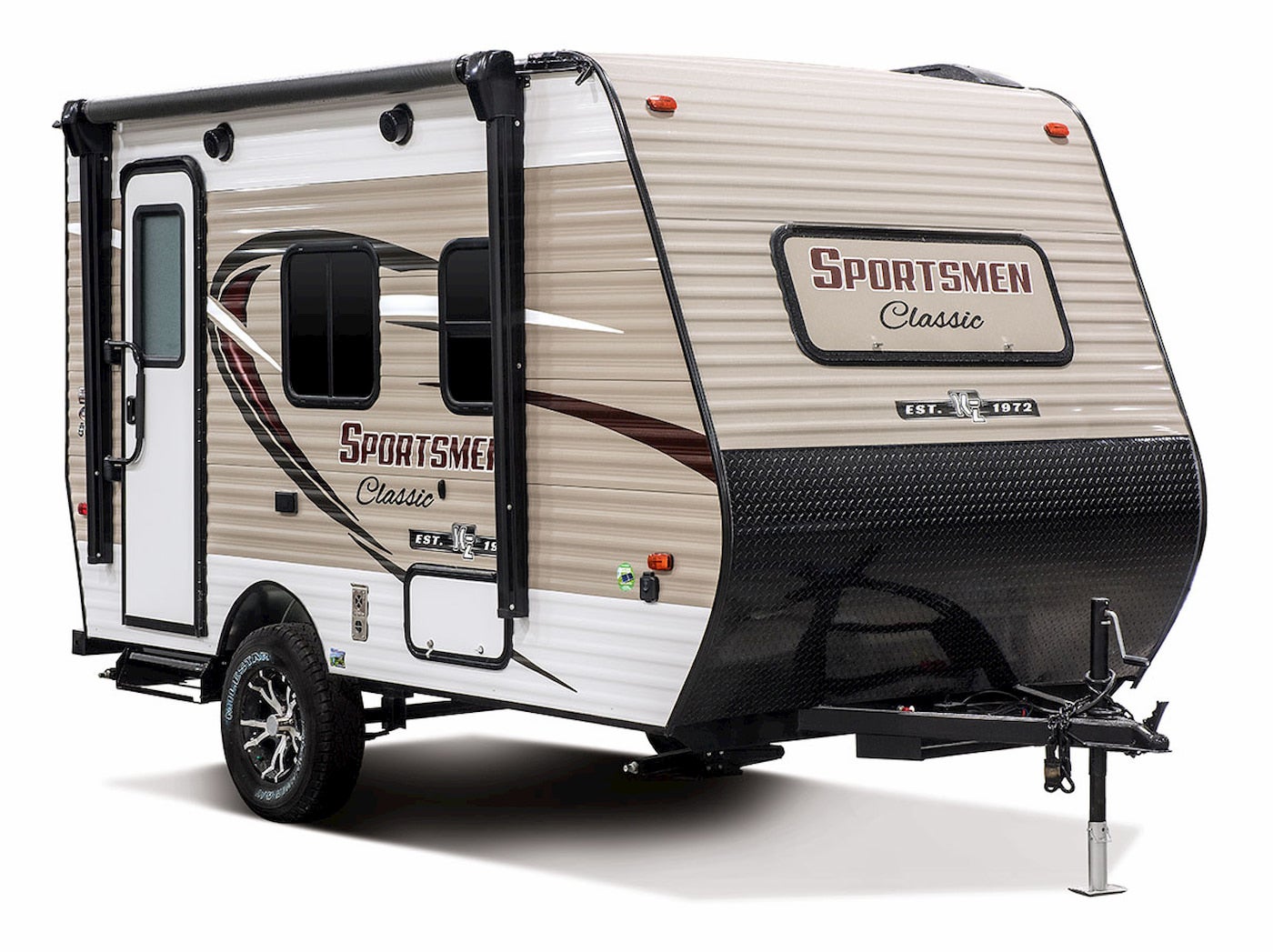 Dry Weight: 1,803 lbs
Overall Length: 15 feet 10 inches
Exterior Width: 7 feet
Interior Height: 6 feet 6 inches
Available: Find a dealer through KZ RV
This small trailer feels (and looks!) like a much roomier RV inside and out. Unlike some small trailers, the profile of the Sportsmen Classic is only rounded on the hitch end, maximizing interior space. That gives ample room at the rear for an RV toilet and shower.
The stubby tub will have you feeling like Loretta Lynn, who famously insisted on a bathtub in her touring rig. At the opposite end, the cozy dinette is equipped with thick high-density foam cushions that double as sleeping quarters.
That's not the only smart use of space. The Sportsmen Classic features lots of storage space under the seats to make the most of the trailer's square footage, as well as a small closet. You can even add in a tiny refrigerator to the kitchen and awning to the exterior to complete the RV vibes in a package that clocks in at just 15 x 7 feet. That's small enough for even a mid-size SUV to tow, not to mention larger trucks.
9. Vintage Trailers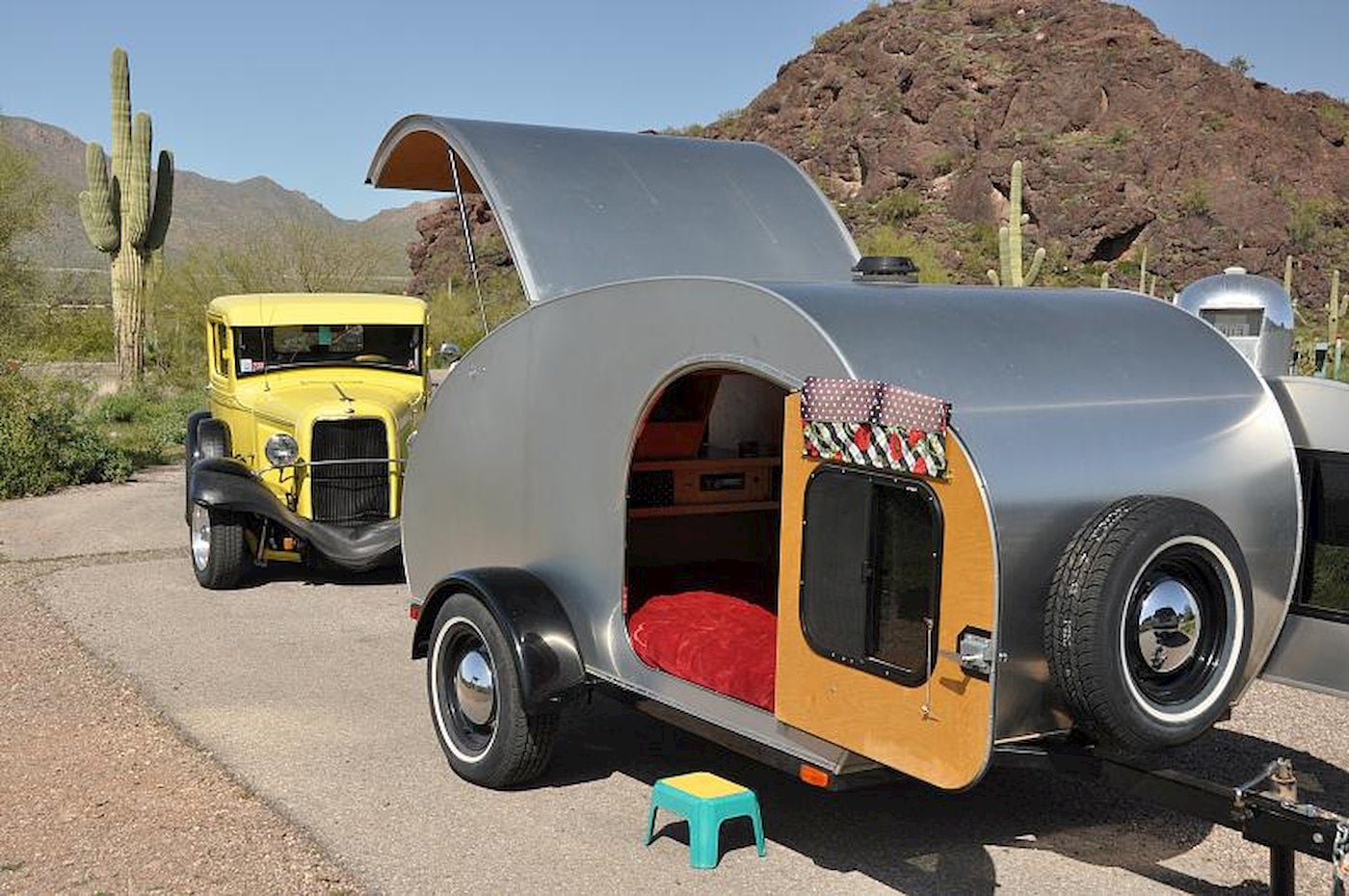 Many camping enthusiasts love vintage trailers— just ask Shari and Hutch who have been camping full-time in their canned ham trailer for over five years. There are many different types of vintage small campers, though, with a whole cornucopia of amenities. Depending on what you're looking for, you can choose an antique, vintage, or classic camper based on the aesthetic, the original amenities, or the rig's potential for contemporary upgrades.
The 1954 Cardinal by Adams Trailer Manufacturing Company, for example, is similar to many modern small campers in that it has full size bed with pull down bunk and dinette that converts into an additional sleeping area. The kitchen in the Cardinal is surprisingly spacious, too, with a three-burner gas stove and oven. Others, like the Ruby Red 1956 Platt Camper, stand out from modern travel trailers with a strong retro aesthetic that calls to mind the diners that once dotted famous highways like Route 66.
If you're shopping for vintage small campers, you can find everything from fixer-uppers ready to customize to fully restored luxury trailers full of antique charm. If you love Air Streams, for example, but don't want the long length and size, you can find vintage small trailers with similar space-age silver exteriors, too, or even the classic wood paneling you might recognize from old school station wagons.
The important thing to remember about vintage trailers is to shop as carefully as you would for a used car or a home. Make sure there's no water damage, no gaps that vermin could squeeze into, and that the structure of the trailer is still sound. You will want to look into the safety of the electrical and plumbing systems, if any, as well as the insulation.
Consider how you'll want to power your rig— whether through a solar system, hookups, or an occasional generator. Also decide how important kitchen or bathroom features are and shop or renovate accordingly. Don't forget to factor in the additional weight of any cabinetry or features you add when calculating your towing capacity, too.
---
Related Articles:
The post 9 Small Campers You Can Pull with Almost Any Car appeared first on The Dyrt Magazine.