Best Ultraviolet Ozone Light Bulb (Lamp) for Sterilization
These days, sterilization and sanitation are on everybody's mind. Given the current global situation, that's understandable. But sterilization is about more than just COVID-19. In fact, it's something we should all be more mindful about, even when things get back to normal. Bacteria and viruses are all around us, and we're all at risk. Obviously, you can't maintain a 100 percent sterile environment everywhere at all times. But keeping high-contact areas clean and sterile is easier than you think. For example, an ultraviolet ozone bulb is a great way to sterilize your bathroom or kitchen counter.
Today, we're going to be looking at three different UV bulbs that can be used for sterilization. First up is the Coospider UV Lamp With 5ft Cord and Plug. This is a standalone UV lamp that's designed primarily for sterilizing surfaces. Next up, we'll examine the XBOCMY UV Germicidal Ozone Light Bulb. This is a modified light bulb that produces not just UV light, but also ozone. Finally, we'll look at the Coospider UV Germicidal Lamp With Ozone Bulb. This is a complete lamp that's designed to sterilize larger rooms. Which one is the best? Let's take a closer look, and see what each one of these sterilization tools has to offer.
UV Light Safety
Before we get into our reviews, it's important to understand how UV bulbs work. UV light is a form of light that's more energetic than visual light. It's found everywhere in nature. Step outside into the sun, and you'll immediately get exposed to a small amount of UV light. Stay in the sun for longer, and you'll develop a tan. Stay out even longer, and you'll end up with sunburn.
This is because UV light actually causes physical damage to living cells. It breaks down DNA and RNA, which can cause some severe negative effects, such as cancer. This is why doctors recommend wearing sunscreen when you're outdoors for a long period of time. So, what does this mean when you're using a UV light?
Simply put, it means you have to use proper safety protocols when you're using your light. Don't turn the light on when you might actually be exposed to the rays. If you need to sanitize your skin, do the sane thing and just use soap. For smaller applications like cleaning your keyboard or pillow, you might not even need a full-blown UV bulb. Instead, consider a portable UV wand that you carry in your hand.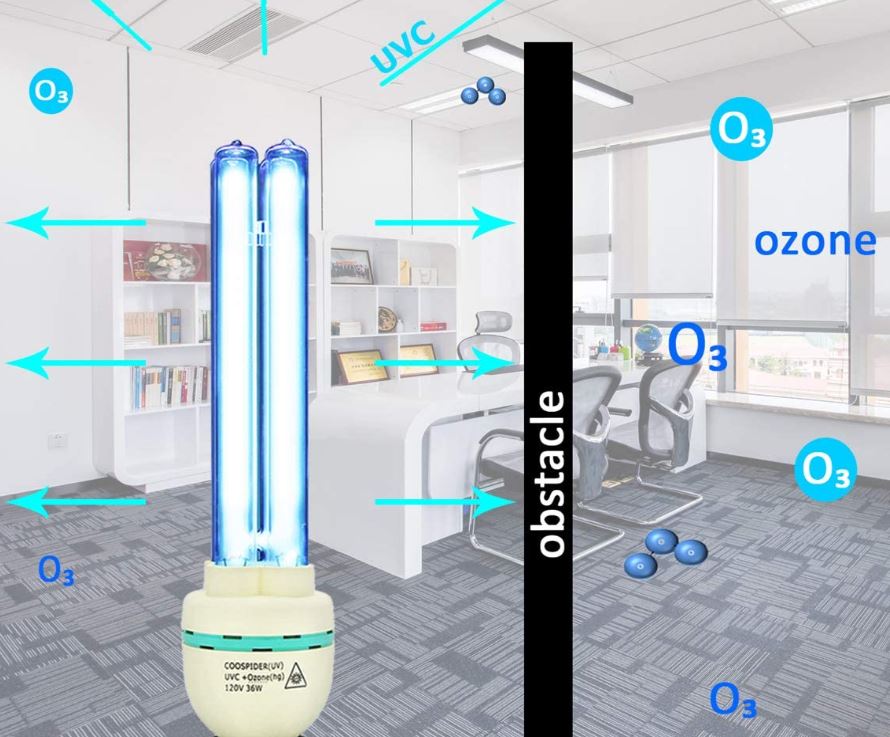 Ozone Safety
Like UV light, ozone is also found naturally in the world. On Earth, most ozone is located high up in the atmosphere, in the well-known "ozone layer". This layer of the atmosphere protects us from harmful radiation such as gamma rays. Without it, life on Earth would literally be impossible. However, when you breathe ozone, it causes damage to your lungs. For this reason, the EPA will actually put out alerts when the ozone concentration at ground level is unusually high. On the other hand, ozone will also cause damage to bacteria, and kills it very efficiently.
To use ozone safely, the key is to expose the bacteria to it without exposing yourself. Fortunately, ozone breaks down fairly quickly when exposed to sunlight. It can also be vented out of a room fairly easily. The rule of thumb when using an ozone bulb is to air out the room for 30 minutes before going back inside. So when your bulb is done running, go in the room, open a window, then leave again. After half an hour, the ozone level will be perfectly safe. If you need to clean a larger area such as a whole house, an ozone bulb isn't going to cut the mustard. Get yourself a proper ozone generator, and it will get the job done just fine.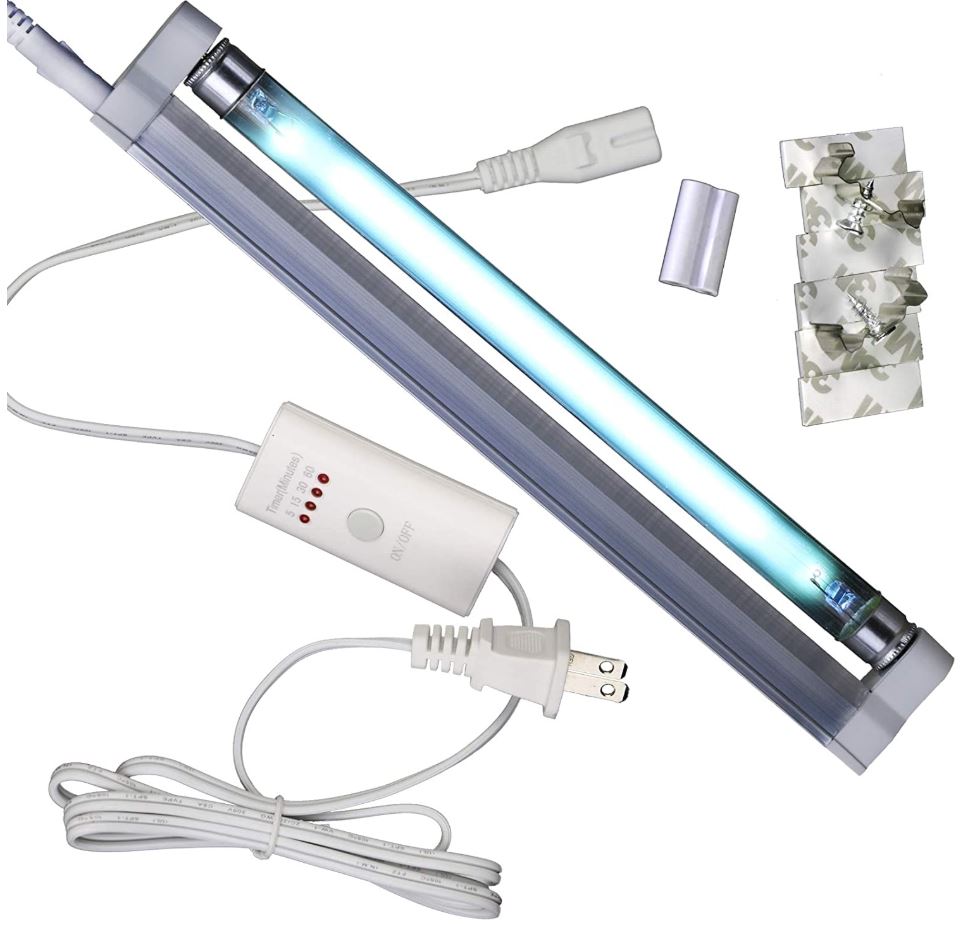 Coospider UV Lamp With 5ft Cord and Plug
The Coospider UV Lamp looks like a normal fluorescent light at first glance. It measures just over 9 inches long, and it's 1.4 inches thick. This makes it well suited for stationary use. For example, you can mount it on the bottom of a cabinet over your kitchen counter. After you slice up a chicken, you can turn it on for a few minutes to sanitize the area. As the name implies, this Coospider lamp has a 5-foot cord. This makes it easy to access a power outlet.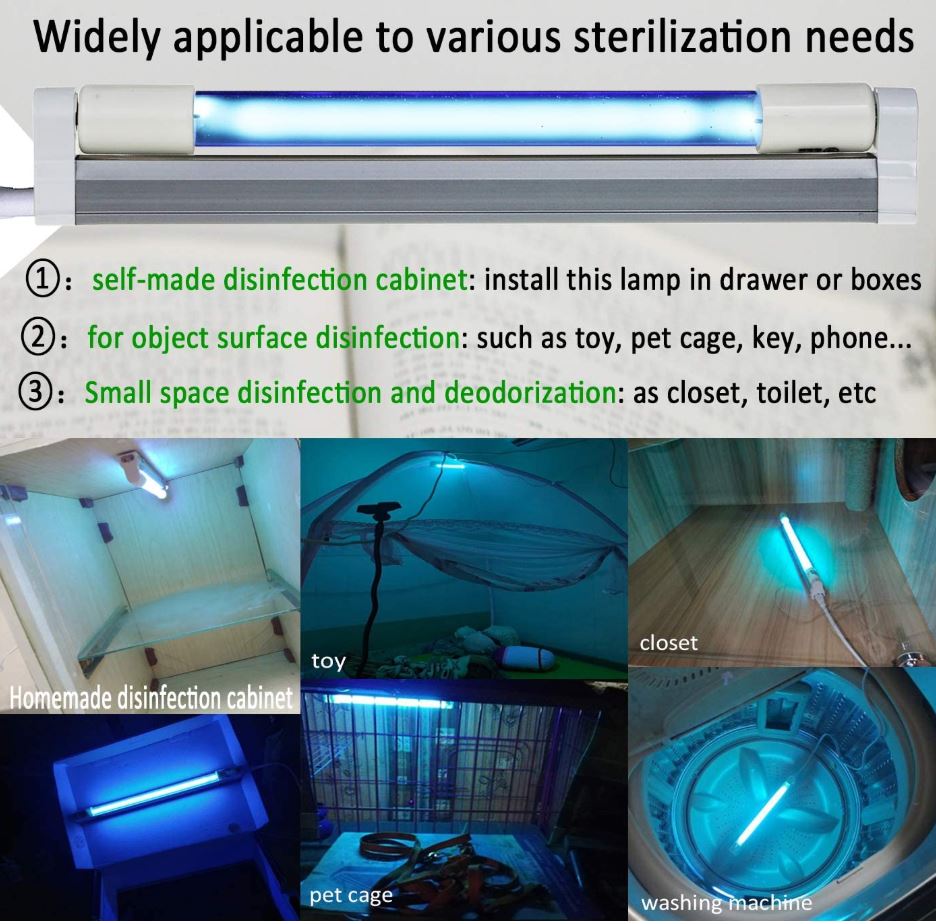 This lamp doesn't actually produce any ozone. As a result, it's not well-suited for treating an entire room. Instead, it's primarily meant for disinfecting a single surface. The lamp itself draws a standard 110-volt wattage, so it puts out more light than a handheld unit. This makes it suitable for use on larger surfaces, since you won't have to take your time with a wand. The light wavelength is 253.7 nanometers. If this sounds a bit technical, just be aware that it's right in the sweet spot for sterilization. The bulb is rated for 8,000 hours of use, and can easily be replaced with a new bulb after that. It also comes with a 12-month warranty. Since most electronics fail in the first year or not at all, this should be more than sufficient.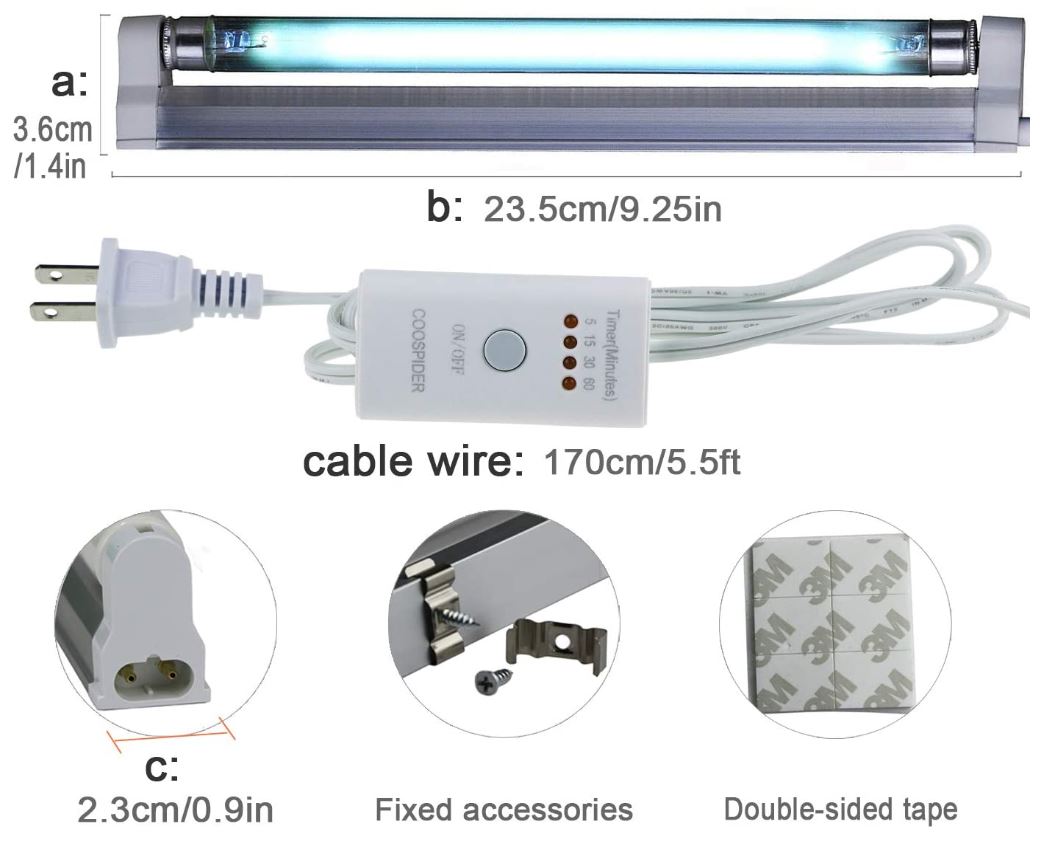 Ease of Use
The Coospider UV Lamp With 5ft Cord and Plug comes with all the mounting hardware you need. For a more permanent installation, there's a pair of brackets that can be screwed in. Alternatively, you can use the 3M adhesive strips that are included with the kit. These allow for a more temporary installation. They're also great for renters, since you won't have to put holes in the bottom of your cabinet.
On the cord, you'll find a small fob that lets you switch between different timer modes. Press the button once, and the timer will start at five minutes. Press it again, and you can cycle through 15, 30, and 60-minute timers. For smaller surfaces, 5 minutes should be fine. The larger the surface – and the further the light is from the surface – the longer timer you'll need to set. The button is set to a 5-second delay. This means you can easily set the timer and clear the area before the bulb activates. It's an important safety feature that you should look for on any full-sized UV lamp.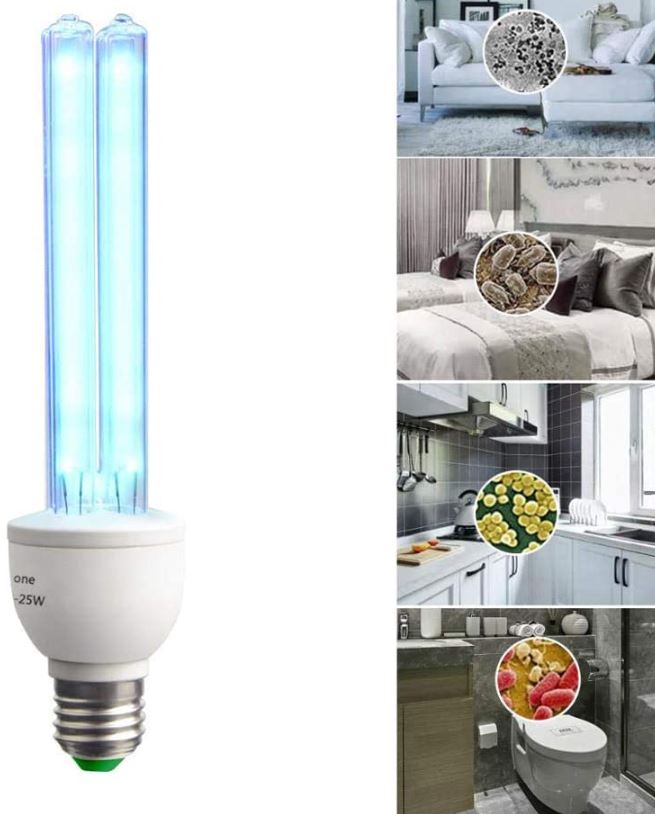 XBOCMY UV Germicidal Ozone Light Bulb
Unlike the last lamp we looked at, the XBOCMY UV Germicidal Ozone Light Bulb isn't a complete lamp. Instead, it's a standard E26/E27 screw-in bulb. This is the standard light bulb socket that you'll find in most American and Canadian light fixtures. As a result, you can put it in a ceiling socket or a standard-sized lamp. It's designed to treat an entire room, and it's particularly well-suited for bathrooms. Screw it into the ceiling socket, flip the light on as you walk out the door, and you're good to go. Just make sure to shut the door behind you; this bulb produces ozone as well as UV light.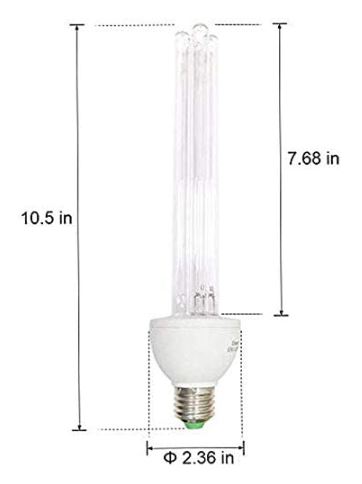 The XBOCMY bulb is rated for 8,000 hours of use. This is enough for 333 days of continuous use, or almost an entire year. In other words, you're not going to need a new bulb for quite some time. It has a total length of 10 ½ inches, including a mid-sized ballast that allows for power conversion. It also comes with a 90-day satisfaction guarantee. If it doesn't meet your expectations, simply send it back for a full refund.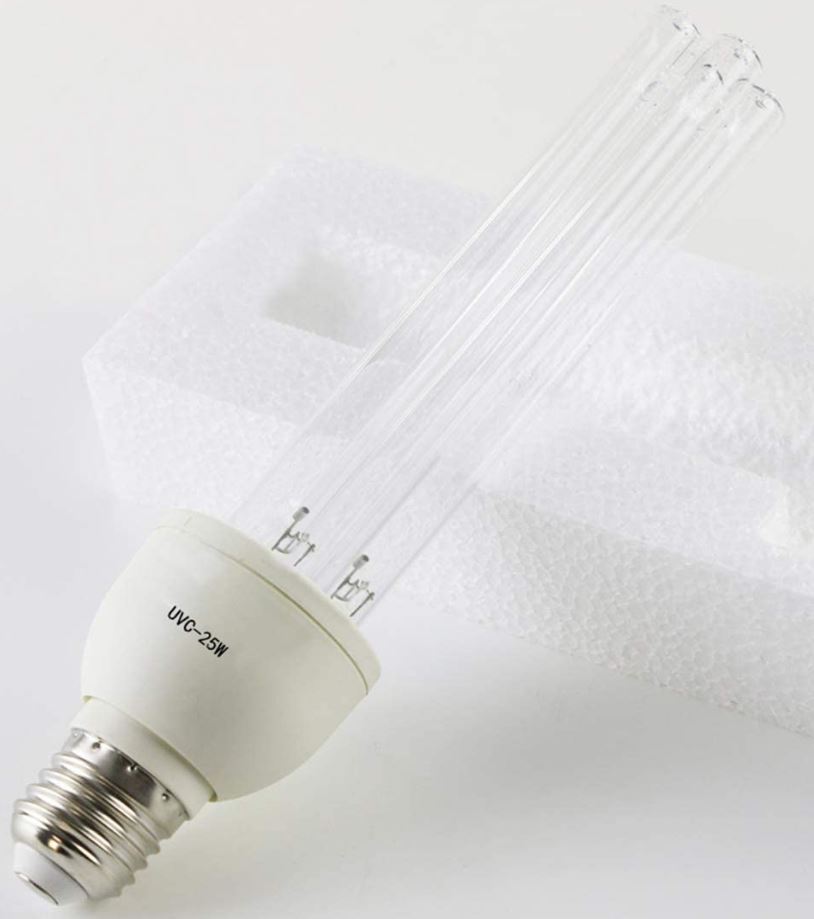 Ease of Use
Because it's not a complete lamp, the XBOCMY UV Germicidal Ozone Light Bulb needs a socket to function. If you want to use it in a single room, a ceiling fixture will get the job done. If you'd rather not get up on a ladder to change out the bulb, any standard-sized lamp will also work. The advantage of a lamp is that you can use it with an outlet timer. This way, you can safely leave the room before the bulb turns on. That said, flipping the switch on your way out will also work. It's not like one second of exposure is going to instantly give you skin cancer.
XBOCMY provides a convenient guide on how long you should run the light for effectiveness. If you're sanitizing materials like cups or toothbrushes, five minutes will do it. Put the materials within four feet of the bulb, and you'll be good to go. For small spaces like a cabinet or small closet, five minutes is also sufficient. A mid-sized space such as a bathroom, 15 minutes is recommended. For larger spaces like a kitchen or living room, XBOCMY recommends a full hour of treatment. This is because surfaces will be correspondingly further from the bulb.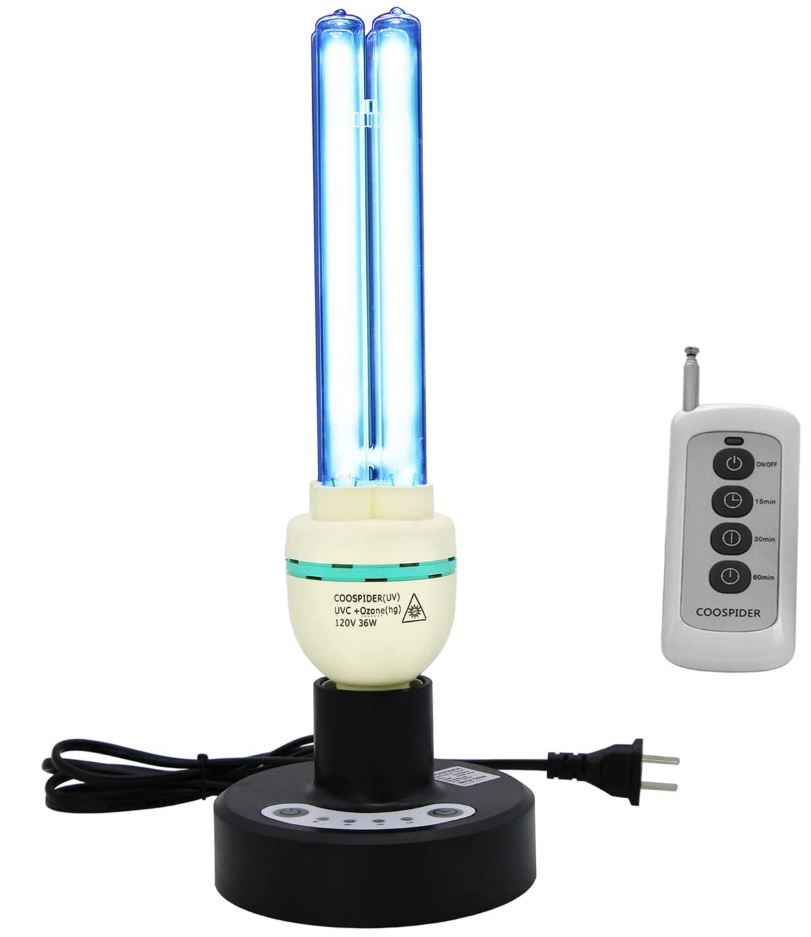 Coospider UV Germicidal Lamp With Ozone Bulb
The Coospider UV Germicidal Lamp With Ozone Bulb is a complete unit. It's a tall UV/ozone bulb, along with a base and a remote control. Like the other Coospider lamp we looked at, it also has a five-foot cord, so placement is relatively easy. On the base of the lamp, you'll find a set of manual controls, along with LED indicator lights. That said, since you have the remote, it's ideal to use it. After all, you don't want to be close to the bulb when it turns on. There's also a safety child lock, that requires both the base and the remote to deactivate. This is a great way to keep your kids protected from activating the bulb on their own.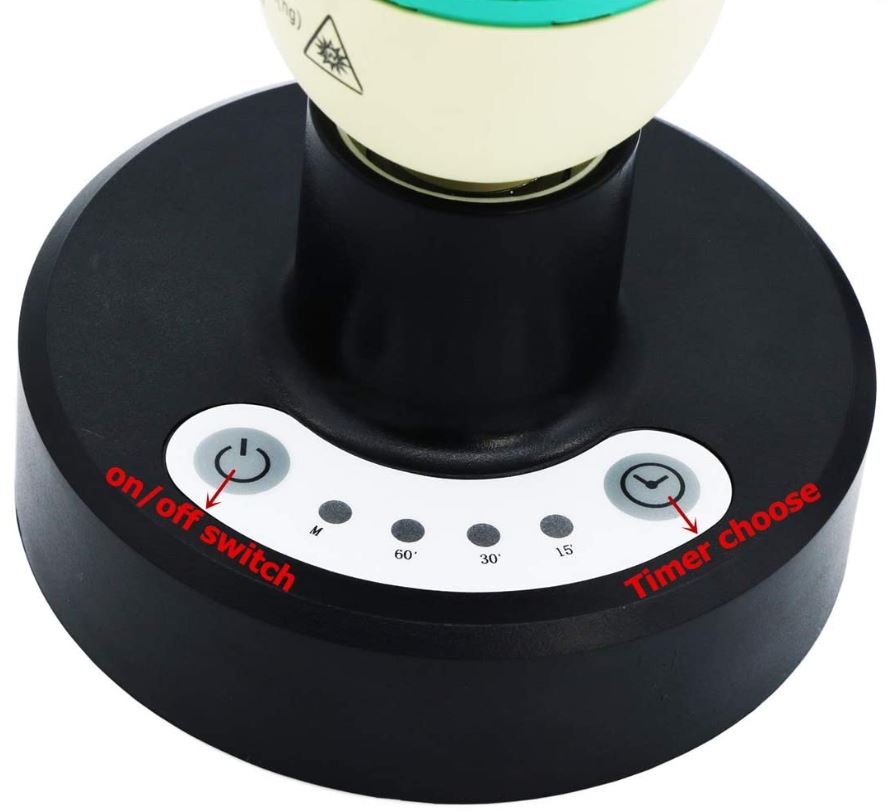 The lamp comes with a one-year manufacturer's warranty against defects in materials or workmanship. It also has an impressive three-month free return window. If you're not satisfied with the lamp, simply return it in this time period. No harm, no foul.
Ease of Use
Like the other Coospider lamp, this one comes with a timer mode with automatic shutoff. You can set the timer for 15, 30, or 60 minutes depending on the size of your space. There's no time delay, but none is really required. Since the remote has a range of 200 feet, you won't have to be in the room when the bulb is activated.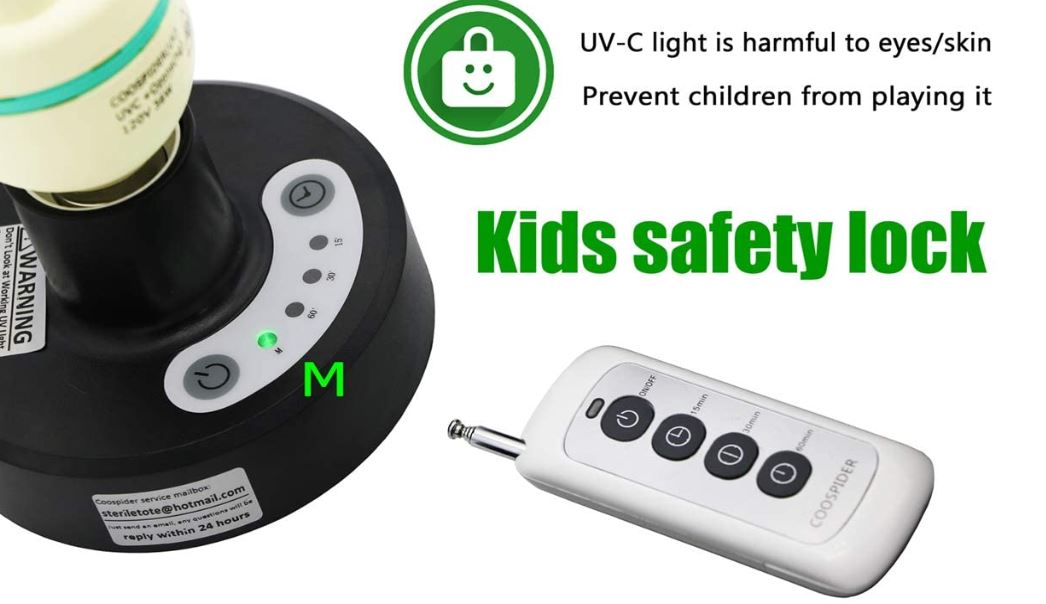 The Coospider UV Germicidal Lamp With Ozone Bulb is rated to treat up to 600 square feet of space. So even if you have a very, very large room, you'll be able to sanitize the entire area. Keep in mind, though, that the larger the space, the longer you'll need to run the bulb. For a small room like a bathroom, 15 minutes will be just fine. Conversely, for a large living room, you'll want to run the bulb for a full hour. Remember, when you're done, you'll still need to air out the room to clear out any remaining ozone.
Final Verdict
As you can see, each one of these UV bulbs has something to bring to the table. Which one is the best is going to depend on exactly what you're using it for. Let's start with the Coospider UV Lamp With 5ft Cord and Plug. It doesn't produce ozone, so you'll want to move on if that's what you need. That said, it's great for stationary use. It's especially well-suited for a kitchen counter, or for a vanity where you change your baby's diapers. Simply turn it on every time you're done with a change, and your vanity will be squeaky clean.
Next, we looked at the XBOCMY UV Germicidal Ozone Light Bulb. It's very powerful, but you'll need an existing socket to use it. That said, if you're looking for the most affordable, functional option, it's a solid choice.
Finally, we reviewed the Coospider UV Germicidal Lamp With Ozone Bulb. It's a complete package, with both a base and a bulb. The remote is also a convenient touch, since it makes safe operation very easy. If you need to sanitize a very large area, it's an excellent choice.
The post Best Ultraviolet Ozone Light Bulb (Lamp) for Sterilization appeared first on Nerd Techy.