Holiday Activities to Do With Young Adult Kids + Gift Ideas Just for Them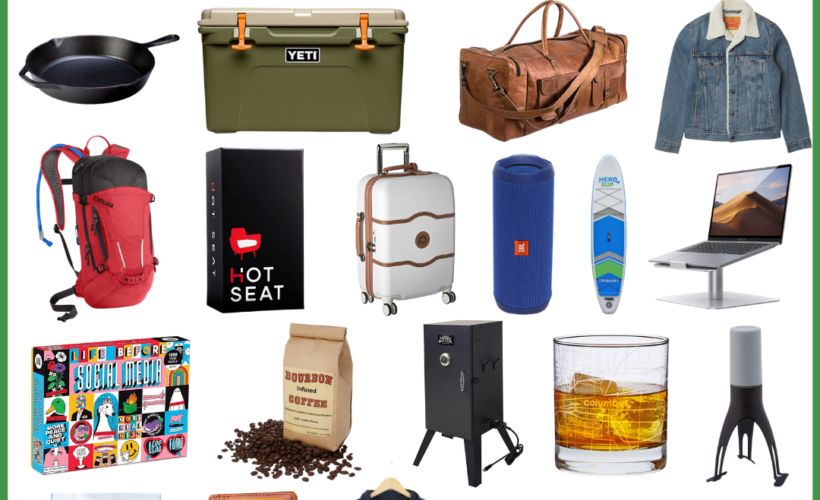 I got a text the other day from my long-time friend, Shannon. (She's a fellow empty nester, a certified Disney Travel Advisor, and the owner of Vacations by Shannon.) Tell me if you can relate to what she says: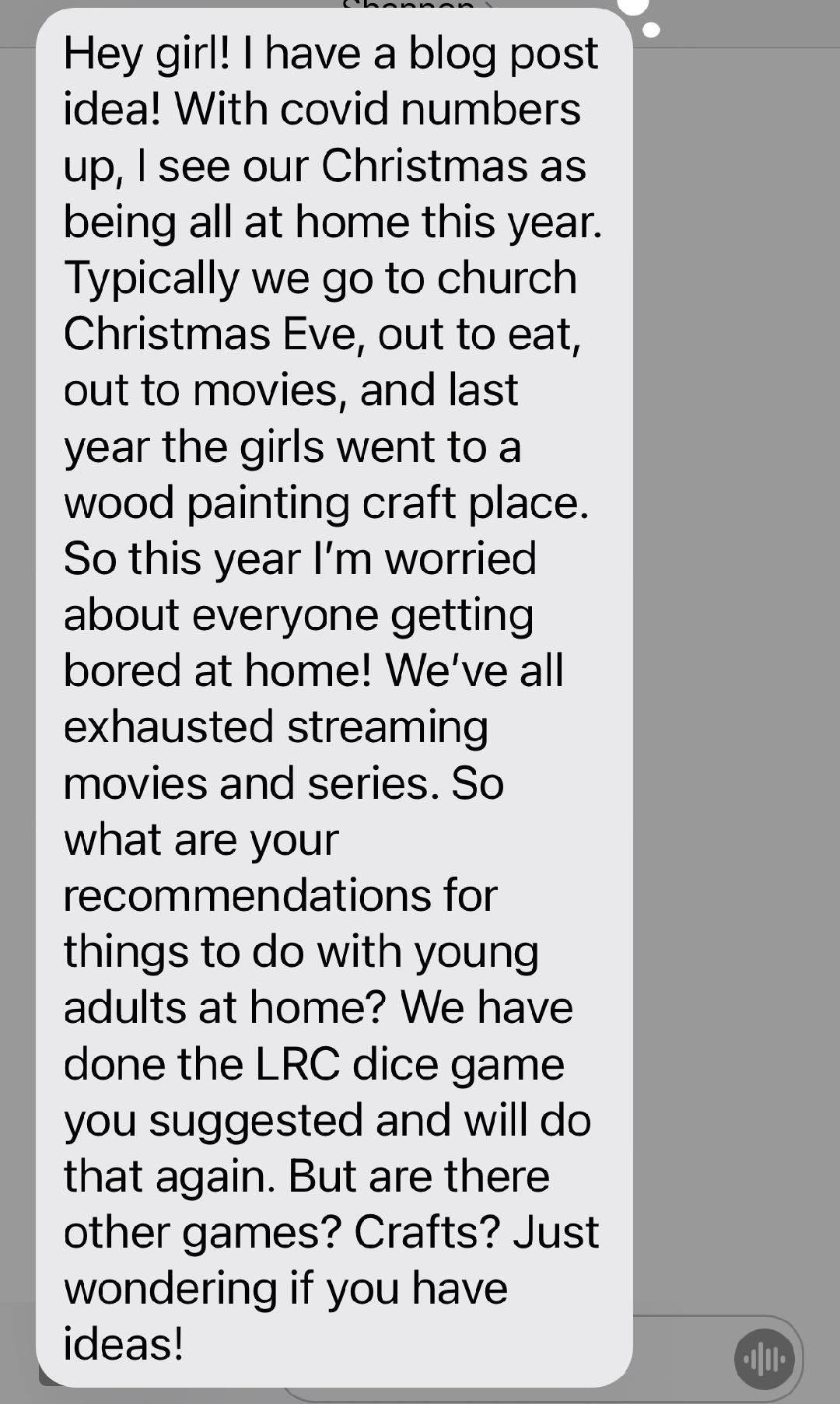 She put the dilemma so well. We've picked the low-hanging fruit, and it's time to get creative, Mamas! I've got you. Today, I'm sharing my best ideas for holiday activities to do with young adult kids.
I'm also letting you in on some of my favorite picks from the Empty Nest Blessed Empty Nester's Holiday Gift Guide for teens & college kids and young adults. Those categories are my most-searched-for every single year! I get it! It can be hard to be creative when it comes to gift-giving for kids at that age.
As usual, click any pink text link or any image (including the collages) in this post for more information or to shop.
Holiday Activities to Do With Young Adult Kids
Holiday Activities to Do With Young Adult Kids: Fun New Games
If you've been hanging around here for a while now, you've heard me talk about our family's favorite holiday game: LCR (stands for left, center, right). The best thing about this game is that it's a game of chance. (That means there's no arguing. YAY!) Each player starts the game with three poker chips and takes turns rolling the three dice. For each "L" rolled, they give a chip to the player on their left. For each "R" rolled, they give a chip to the player on their right. For each "C" rolled, they put a chip in the middle of the table. For each dot rolled, nothing occurs. The dice are then passed to the next player. When one player has all of the chips, that player wins the game. When we play it, though, we give everyone three one-dollar bills instead of poker chips. Everyone gets so into it; you'd think we're playing for hundreds of dollars! It's such a hit, one year I bought a set of four LCR games, which I broke up and put into each of my kids' stockings.
Every year, new games come along that are such a hit, they earn a spot on my gift guide. Here are the tops for this year:
5 Second Rule – Pick a card, read the seemingly easy topic, then start the timer! With just 5 seconds to name 3 things that fit the topic, it's not so easy!
Headbanz ("Adulting" version) – Each player wears a headband with a card and ask as many "yes" or "no" questions as they can in 90 seconds to try to figure out what's on their head!
We're Not Really Strangers – This card game is meant to enhance connections and create meaningful moments—Level 1: Perceptions, Level 2: Connection, Level 3: Reflection. Be prepared to feel all the feelings.
Hot Seat – Discover who knows you best – All players answer, pretending to be the person in the Hot Seat. (Click through and check out the video.) This is the game we added to our family collection this year!

Want a few more ideas?
Holiday Activities to Do With Young Adult Kids: Puzzle-Palooza
Lots of families do puzzles at the holidays, and I found a few that I think your family will love:
Life Before Social Media (1000 pieces) – Remind everyone what life was like before we were all glued to our phones! This could be a great discussion starter! In my post What Your 20-Something Wants to Tell You (and Needs to Hear From You), the pressure kids feel from social media was a really hot topic.
The Eighties (1000 pieces) – Put on your 80s playlist (You know you have one!😂), and educate your kids about the good old days before computers, cell phones, and texting.
Sweet Tooth (1000 pieces) – Pick up the candy in the puzzle on your next grocery store run, and let the puzzle-doers have the candy when they've put together the corresponding puzzle pieces.
Areaware's Little Puzzle Thing Puzzles – Snag everyone the puzzle of their favorite food, and do them together! Click HERE for more info!

Holiday Activities to Do With Young
Adult Kids: Get Gambling 😂
One of my followers told me they started betting on everything in their family! Will Mom ask one of the kids for tech help? Will Grandma post something embarrassing on Facebook this week? Will it snow before Christmas? Tailor this to your family and put one person in charge!
Holiday Activities to Do With Young Adult Kids: Think Like a Tourist
Google "drive-in movie theater in my area" and see what comes up! We found one in the Dallas area that we didn't even know existed!
Is there an arboretum or a nature preserve in your area? We have a drive-through wildlife center about an hour outside of Dallas where you can feed giraffes and zebras right from your car!
Depending on where you live, golf might be an option. The sport has enjoyed a resurgence in popularity during the pandemic.
Google "drive-through holiday light displays near me" and see what comes up! When I did this, I found three that were close to us!
Holiday Activities to Do With Young Adult Kids: Theme Nights
It's silly but it could be fun! Everyone has to dress in theme as best they can:
Backward Night – Everyone wears their clothes backward, and you have breakfast for dinner. Prizes at dinner for the person who can say the alphabet backward the fastest!
Mexican Night – Taco Tuesday, anyone?
90s Night – Serve what you fixed for your young kids on those nights when a sitter was coming, or you were just too tired to get creative! (Think fish sticks, chicken nuggets, or pizza delivery!)
Holiday Activities to Do With Young Adult Kids: Get Yummy & Crafty
Check out the selection of "Gingerbread Houses" on Amazon! I guarantee you'll be surprised!

Favorite Holiday Gift Ideas For Teens, College Kids, and Young Adults
When I launched the Empty Nest Blessed Holiday Gift Guide this year, I lumped all young adults (teen, college students, young adults) into one gift guide. 🤷‍♀️ I'm not sure what I was thinking! It soon became clear that there was too much of a difference between those groups! While teens & college students are all about things like DIY Mochi Ice Cream Kits and pajama pants that look like jeans 😂, young adults who are launching into the working world of adulthood want things like leather laptop sleeves and customized Nikes.
Now they're two different sections completely. Because all kids in that age range are unique individuals, I would highly recommend checking both the Gifts for Teens & College Kids Guide and the Gifts for Young Adults Guide for ideas that might work.
Holiday Gift Ideas for Teens & College Students
Older teens who are thinking about college and your college students straddle the world of kids and adults. It can be a challenging couple of years! When I put together the Gifts for Teens & College Kids Guide, I included gifts for your teenagers, your soon-to-be high school graduates, and your kids in college.
Because your kids will always be your kids, no matter what their age, in this gift guide, you'll also find some fun (and silly) gifts that only a mom and dad would give! Here are some faves:
Got One With Wanderlust? This Jetsetter Map will help them keep track of all the states they've visited. (It's one of the most popular items on the gift guide every year!)
Inspire Her! This spiral notebook says, "Dream Big, Work Hard." Use code emptynest10 for 10% off your entire order at this Etsy shop!
Comfort Lover? These men's PJ pants look just like a pair of jeans! 😂
Movie Buff? This Scratch-Off 100 Movies Bucket List poster is perfect.
Studious Student? This portable white noise machine is a must for drowning out ambient noise in the dorm or apartment.
Got A Guy with a Great Sense of Humor? Upload Mom & Dad's photo (or maybe Fido's 🐶) and get these custom photo socks!

Check out everything on the Empty Nest Blessed Teens & College Kids Gift Guide HERE or at the bottom of this post!
Holiday Gift Ideas for Young Adults
The Gift Guide for Young Adults is perfect for college and grad school grads, those getting their first apartment, and those just entering the workforce. Because your kids will always be your kids, you want to help set them up for success as they learn to navigate the adult world. I've got ideas that can help!
Coffee Connoisseur? Give this pack of 100% Arabica beans infused with just a touch of Bourbon. Pair it with this customized Starbucks insulated cup for a thoughtful gift.
Sneaker Lover? (Aren't they all?!) These classic Nikes will never go out of style. (I think I had a pair in high school! 🤣) Or let your sneaker lover design a custom pair!
Classic Fashionista? These affordable Tory Burch logo earrings will go with everything in her closet. (Silver, gold, or rose gold available.)
WFH #Boss or #BossBabe? Thanks to COVID, so many of our kids now WFH (work from home). This sleek swivel laptop stand protects their posture by elevating their laptop to eye level. (I think I need this too! 😆) Want to take it a step further? This adjustable standing desk riser is the one that I own! I've been amazed at how working standing up gives me so much energy and makes my mind sharper. 😲
Weekend Road Tripper? Your guy will love this manly leather duffle, and your girl will have plenty of room in this classy hard side carry-on.

Check out everything on the Empty Nest Blessed Young Adults Gift Guide HERE or at the bottom of this post!
Got any go-to gift ideas for teens, college kids, or young adults that I need to know about and share? Leave me a comment or email me and fill me in, okay?
Blessings,
Pin this post on Pinterest for future reference using the image below! And to share this post with others, use the social media icons at the bottom of the post.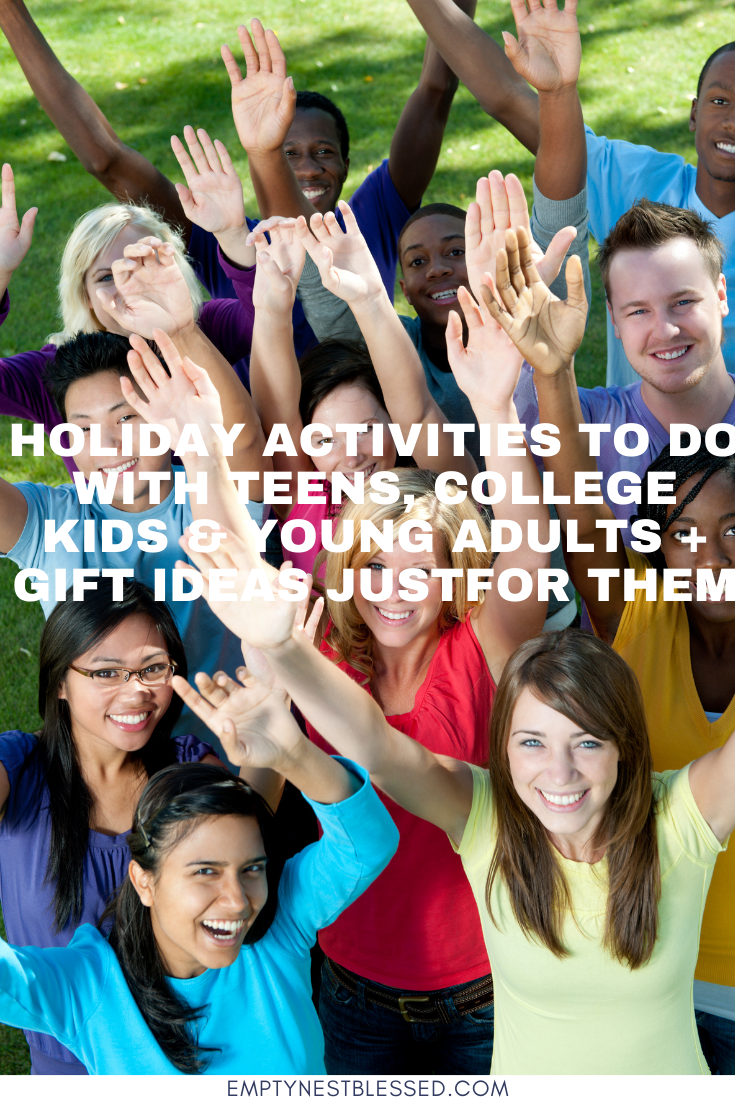 Gift Ideas for Teens & College Kids

Gift Ideas for Young Adults

The post Holiday Activities to Do With Young Adult Kids + Gift Ideas Just for Them appeared first on Empty Nest Blessed.