How To Clean Your Laundry After A Disaster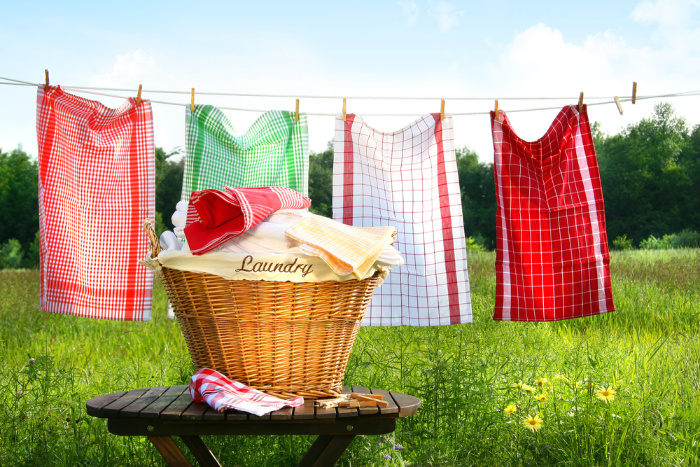 Have you thought about how to clean your laundry after a disaster? We all feel better if we have clean underwear, right? Cleanliness is so important! Mark and I started making our own dry laundry detergent about ten years ago when my friend, Kendra, showed me how easy and inexpensive it is to make. I decided not to make a liquid detergent because of how much storage space it would take up in my small home.
Kendra and I actually got the giggles a few times because we had laundry soap/detergent everywhere. I never do anything small, I make three five-gallon buckets worth of laundry soap at a time. We had to let the equipment we used to mix up the materials cool down from time to time, and then go back to making more.
We made it as Christmas gifts for all of my daughters. They love the homemade laundry soap because it saves them lots of money, takes up a small amount of space, and keeps their clothes really clean.
We all still use the product "Gain" fabric softener because we love the smell of it. Keep in mind that this recipe for laundry detergent or soap has very few "bubbles" when it's in the washing machine. It has zero fillers like the commercial detergent products we buy at the store.
I use it in my HE washer because I only use 1 teaspoon per load. That's it, one teaspoon. Be sure and verify your HE washer can use it. We have been using it for ten years now, first with our Maytag front loader and now my Electrolux front loader.
I'm sharing several ways to do laundry today, not just inside the house with our washers and dryers, but by using other options available. This is an update of a post I did a few years ago so I can provide the most current info I have to share.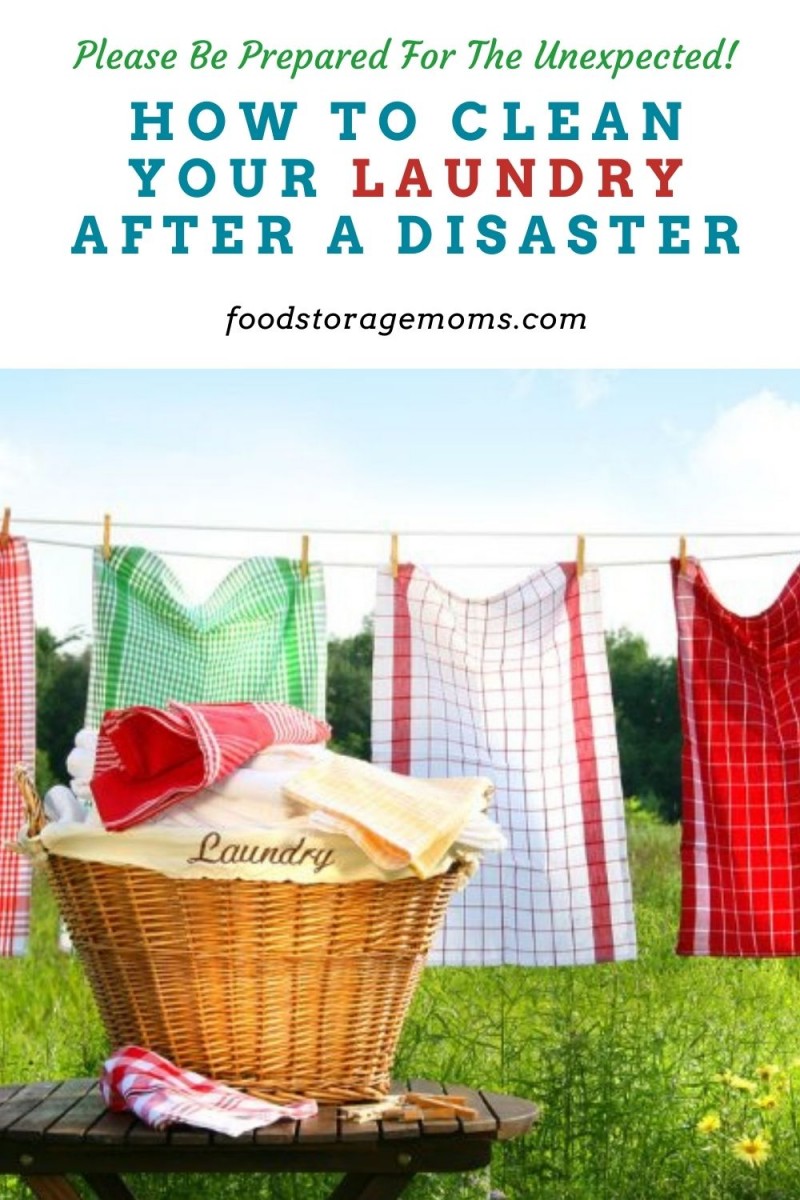 How To Clean Your Laundry
Before we talk about the actual cleaning "machines," I want to share my homemade laundry detergent/soap. I didn't realize how many "fillers" regular soaps you buy at the store have. It not only wastes storage space in your laundry area, but doesn't provide any additional benefits from a cleaning standpoint.
This homemade "recipe" is all cleaning product-oriented, and I think you'll find it very cost-effective and efficient. Be adventurous, give making it a try!
Laundry Detergent/Soap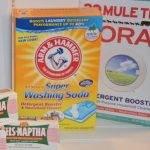 Print
Laundry Detergent/Soap by Food Storage Moms
Ingredients
1

Fels-Naptha Bar-grated either by hand, food processor, or salad shooter

1

cup

Borax Detergent Booster

1

cup

Arm and Hammer Super Washing Soda (not regular baking soda)
Instructions
Instructions:

Put these 3 ingredients in a blender to blend and grate the Fels-Naptha even more. After doing this, it will look just like the store-purchased detergent, but will not include all the "fillers." You will use less product per load and will have fewer "bubbles." Remember, just having bubbles doesn't mean clean. I use 1/2 to 1 teaspoon per load. I have a HE-High Efficiency washer, and it works great in regular washing machines as well. ***Please note: I now use only 1/2- 1 teaspoon per load in my large capacity HE washer.
Laundry Soap Kit – Fels Naptha-3 bars, Borax & Washing Soda
Here's the deal, I could go for a few days and not wash my shirt or pants. It's the underwear I feel is critical to keep clean. Yep, let's just say it how it is. We all want to wear clean underwear. It's no secret. I remember growing up and my grandmother would always shout "be sure and wear clean underwear" if we were getting ready to go somewhere.
Heaven forbid if you're in a car accident and you end up in the hospital wearing dirty underwear. Enough said. This little washer bucket set can wash clothes very well. Oh, we could only wash clothes a little at a time, but that beats bending over the bathtub.
No Laundromats To Wash Clothes
If we had an unforeseen emergency, the local laundromats will more than likely not be working, unless the power outage is confined to a very small area of our city. Another reason we need to keep up with our laundry is that we don't know when the disaster might happen, and it's hard when life gets hectic and we are running kids to ball games or lessons.
If we keep up with it and don't let the laundry build-up, we will be much better prepared. I did learn something from one of my daughters about our washing machines. She tried washing her clothes in a short cycle. It's like 15 minutes and the clothes come out just as clean, in most cases.
Why didn't I think of that? I would use less water and my clothes would be done in half the time. Keep in mind we don't have anyone in our family at the moment that has very much grease on the clothes when they come home from work.
Therefore, the 15 minutes works great. Now I have a washer that washes my clothes in 15 minutes, this will certainly save me money on my expensive city utility bills and detergent usage.
Emergency Washing Machine YouTube
I want to share my  YouTube Food Storage Moms I did a couple of years ago showing how to use this homemade washing machine shown below. Remember, it now has two buckets instead of one, but you'll get the idea.
Two Six Gallon Buckets
You will need two six-gallon buckets, the five-gallon buckets are just not big enough. I use Gamma Lids for the top because it holds the plunger in place better Yes, I am color-coded with my Gamma Lids. The color green is for the laundry. I had my friend, Wally, drill 2-inch holes in the top of all the green Gamma lids. I have several sets of these since I often give them as gifts.
Drill Four Holes
Here, my husband is drilling the four holes in the bottom of the top bucket. This is my new technique to give the emergency washing machine a little more friction with the water going up and down with the plunger. There is about a three-inch area to give the water to swish around a little more when we wash clothes.
Plus, this added feature will be great when we need to rinse clothes as well. I have two sets of these, one for washing and one for rinsing.
The four holes drilled inside the inner bucket will let the soapy water drain from the clothes after washing them. You'll then put the soapy clothes into the second set of my washing machine design and "plunge" the soapy clothes in the freshwater to "plunge" and rinse the soapy water out of the clothes.
Now the clothes are ready to hang on a clothesline, clothes rack, or a fence.

The Blue Washer Plunger To Wash Clothes
Here is the washer plunger. It is totally different than the usual toilet plunger. It has four parts as shown and can really move the water around in the buckets. Please note, when I purchased my mobile washer plungers they each came with a handle. Blue Mobile Washer Tool. The BLUE mobile washer is currently out of stock so I inserted another brand.

Easy To Store & Ready To Use
Here I'm assembling the washing machine for storage until needed. I place paper towels between the buckets because they are so hard to get apart when they have been sitting in the heat in my garage for an extended period of time.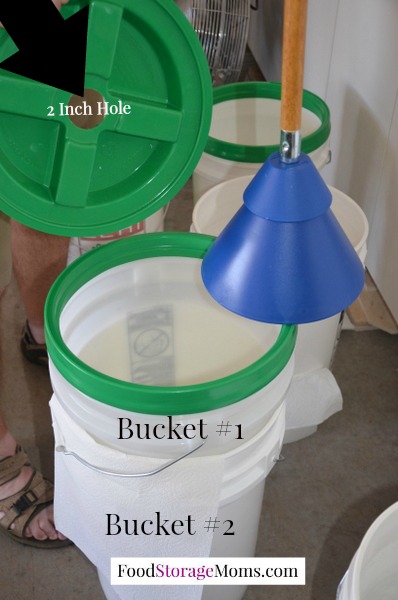 If you have this ready to use you'll be ready for the unexpected emergency or disaster. All you need is water and about 1/4 teaspoon or less of my homemade laundry detergent to wash and rinse clothes. I hope I never have to use this, but I'm at peace knowing I have this ready to go. Just add water, detergent, and clothes. Woohoo!
One bucket is for washing and another bucket is for rinsing the laundry. Gamma Seal Lid – Green – For 3.5 to 7 Gallon Buckets or Pails Gamma2 and Six Gallons Buckets. If you buy wheat like I do, my wheat comes in six-gallon buckets. I save all of them for future use.
I know you can buy Gamma lids at Walmart here in Utah, but I couldn't find them in Arizona at the local stores when we visited family recently. You can also order sets and split them with family and friends.
Galvanized Tubs to Clean Your Laundry
Growing up, I don't remember our clothes being stiff, but I am thinking they must have been. We used good old detergent in a wringer washer and we hung the clothes and sheets outside to dry.
We didn't have a laundry room or closet with a washer and dryer inside like most people do today. As I think back, we had very few sets of clothes, and now that makes me realize why. I'm sure it was the cost, but I'm also thinking we wore our clothes for more than one day.
I can't imagine that today, but I am just thinking that was the case years ago. I did grow up with a washer and dryer by the time I was eleven. We only had a washer before that and hung our clothes to dry. Wow, I am starting to feel really old right now. LOL!
Clean Your Laundry W/ 17-Gallon Wash Tub
By now you probably know I want to be prepared for the unexpected. This means I need to know how to do my laundry if the power goes out and know that I CAN do it. I'm happy to report that I found one new option, and I really enjoyed just filling with a hose the 17-gallon high-grade steel Behrens multi-purpose steel utility tub made right here in the USA!  It's rust-free, odor-free, rodent-free. It's galvanized and ready for me to do laundry outside!
You might be thinking, why don't you just use the bathtub to do your laundry? Well, if we had water lines or sewer lines severed I don't want to waste any water. If I use two washtubs or buckets, I can use my detergent and use one for washing and I can use the other one for rinsing.

Clean Your Laundry Outside
Do you want to know why I think you will love doing your laundry outside, weather permitting? You can go outside to wash your clothes and put your feet in the grass or earth and feel the air around you. Just think, we can teach our kids what our grandparents used to do. They may have had a wringer washer years ago, or they had a washtub very similar to the ones above. Clothes like blue jeans are more difficult in these tubs, but hopefully, you won't be washing them too often.
Just get away from the electronics, your cell phone, and other stuff for just an hour or less. Go outside and have everyone in the family take a turn scrubbing their own clothes in a bucket of water. You can have them rinse them and hang them over patio or lounge chairs outside. If you have a clothesline, that's even better.
You can hang a braided rope and secure it to two walls in the garage, or wherever. Just wash with the washboard, can't you just picture the kids doing this with their own hands. Please be careful with babies or toddlers around the filled washtubs. I wouldn't leave the tubs unsupervised until emptied.
Kids Can Clean Your Laundry Outside
Trust me, the kids will learn to work and love it at the same time. Have them wash their own clothes and hang them up for a week. They will quickly learn what it would be like to live without electricity, at least, when it comes to washing their own clothes. I remember when my girls started doing their own laundry they were about 10 years old. They soon learned that all the clothes on the floor were now their responsibility. They actually enjoyed doing their own laundry, once they caught the knack of it.
You can buy galvanized buckets at your local stores, but they were actually cheaper right there on Amazon: Behrens 2, 15-Gallon Round Steel Tub (I think the 15-gallon is a better size than the one I purchased.)
Here's my YouTube showing how to use my clothesline from Eartheasy.com: Earth Easy Breeze Catcher Clothesline. I love this one because I live in an HOA (Home Owners Association), and they are a little fussy what we have in our yards. This one folds up easily to store out of view when the clothes are dry. It also twirls gently in the wind to dry my clothes, I love it! Thank goodness we have lots of sunshine here in Southern Utah!
I also bought a foldable dryer I could use as well: Lehman's Foldable Clothes Dryer. I love items made by the Amish people because they are typically handmade and very sturdy. I still remember my mom having one of these!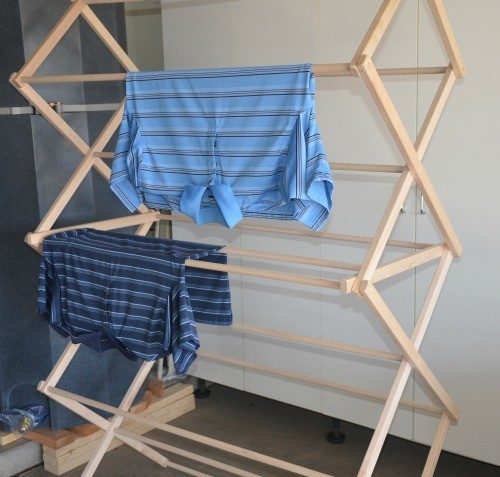 My New Washer
I got this Lavario Portable Clothes Washer a few years ago, now it's my favorite way to wash clothes in an emergency. You can clean your laundry in so many ways!! Check out the link to learn about this product and why I like it so much.
Lavario Portable Clothes Washer
Final Word
It's all about practicing cleaning your laundry by hand before you have to do it! We can do this if we are prepared before we need to be. Thanks for being prepared for the unexpected. May God bless this world, Linda
The post How To Clean Your Laundry After A Disaster appeared first on Food Storage Moms.