ORFELD Dehumidifier and Wireless Mini Dehumidifier Combo review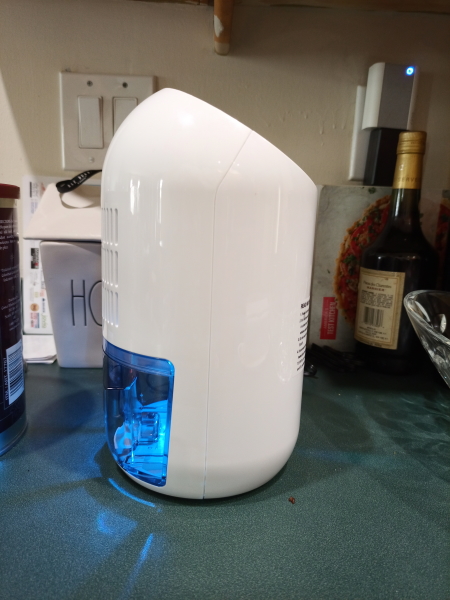 REVIEW – A few months ago, I installed a Honeywell WiFi thermostat in my home. Shortly after summer started, I began to get alerts on my phone from the thermostat about the high humidity in my house. I quickly decided that I needed a dehumidifier. Before I could purchase one, I got the opportunity to test and review this ORFELD Dehumidifier and Wireless Mini Dehumidifier Combo set.
What is it?
The ORFELD Dehumidifier and Wireless Mini Dehumidifier Combo set is capable of covering 2200 Cubic Feet(50-240sq ft). It features a 7 Color LED Light. It is portable and works well for the home including in a basement, bedroom, or wardrobe.
What's in the box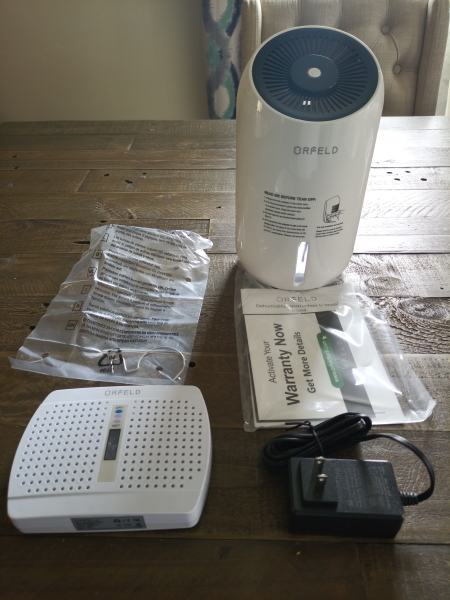 1 x ORFELD Dehumidifier and Wireless Mini Dehumidifier Combo
1 x AC Adapter
1 x User Manual
1 x Hanging Hook
Design and features
Features
Double Effective Dehumidification – Get two dehumidifiers at one time to achieve double dehumidification. The 30oz(860ml) dehumidifier can absorb up to 10oz(300ml) per day at 86°F and 80% RH, reducing the humidity to the maximum extent.
Wireless Mini Dehumidifier – This rechargeable mini dehumidifier can absorb humidity until the blue color turns fully pink, lasting about 20-30 days. You can put it in your bags, closets, car, cabinets, and other small spaces.
Super Quiet Technology – Our small dehumidifier uses Ultra-Quiet Peltier Technology to keep quiet when working. The noise level is below 39dB, which allows you to run 24/7 without annoying noises, creating a comfortable and quiet environment.
Colorful LED Lights & Auto Shut-off – This electric dehumidifier features 7 colors of LED Light for a romantic sleeping atmosphere. You can keep the color changing or lock your favorite color. The dehumidifier will turn off automatically when the tank is full. Also, the light will turn red to warn.
Portable & Energy Saving – Our two dehumidifiers all have a portable and mini size, you can easily move them to any space in 50-240 sq. ft. ORFELD dehumidifiers are energy-saving with only 22.5W power consumption. We offer 1-year Quality Promise and 7 x 24h customer service.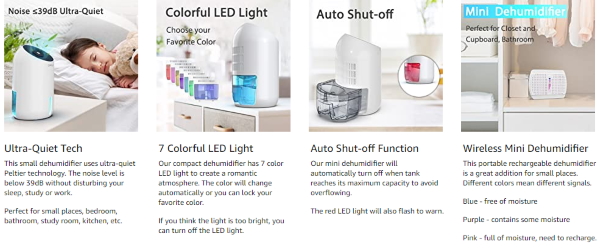 Specifications
Weight: 1.96lbs
Size: 5.7*5.7*10.05inch
Noise: Below 39dB
Water Tank Capacity: 30oz(860ml)
Working Area: 50sq ft -240sq ft
For wireless dehumidifier:
Weight: 1.05lbs
Size: 5.8*1.3*4.3inch
Both dehumidifiers are made of plastic. On the top of the main unit, there is the multifunction button and a large surrounding vent. The AC plug is on one side. The water reservoir is on the bottom back of the unit, and opposite there is a window to view the water level.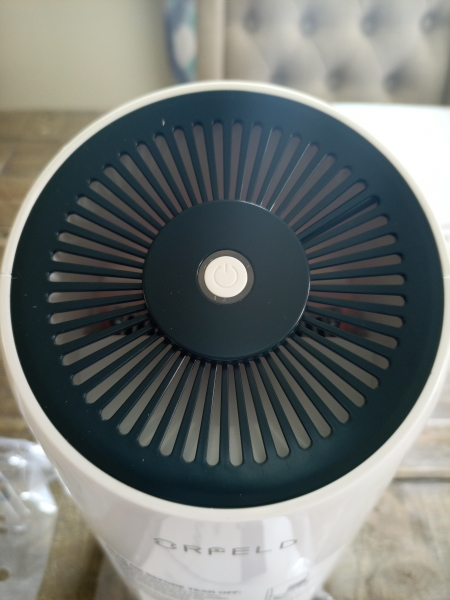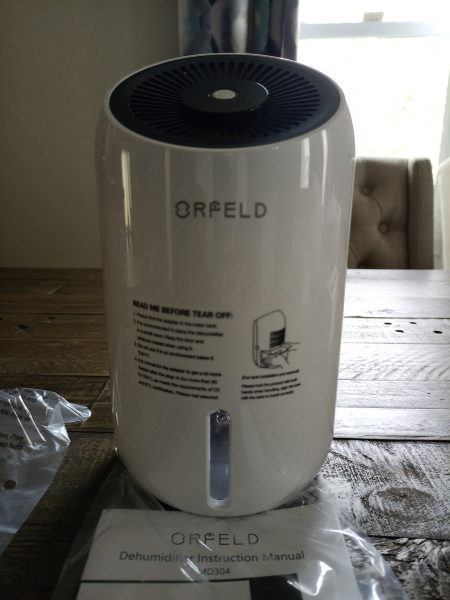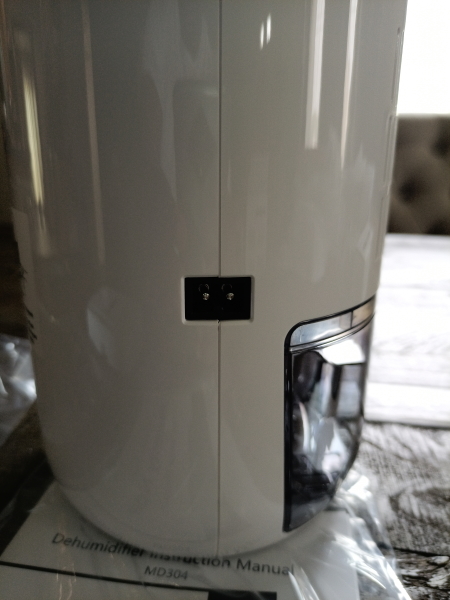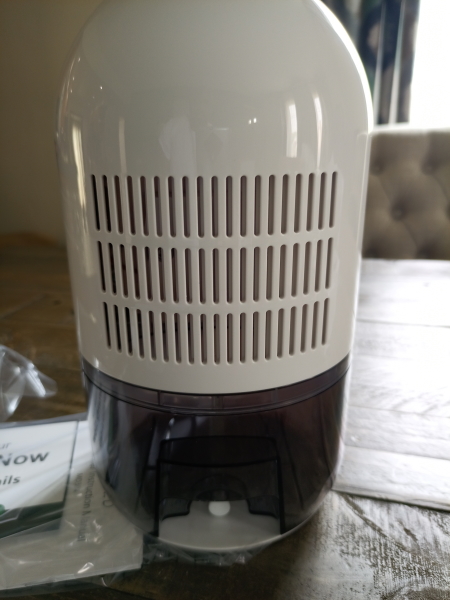 This mini-unit is sealed with the color-coded indicators on the front along with the vents. The built-in AC plug is on the back.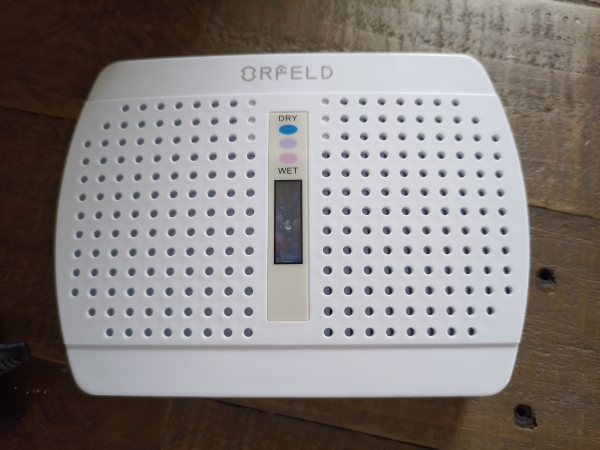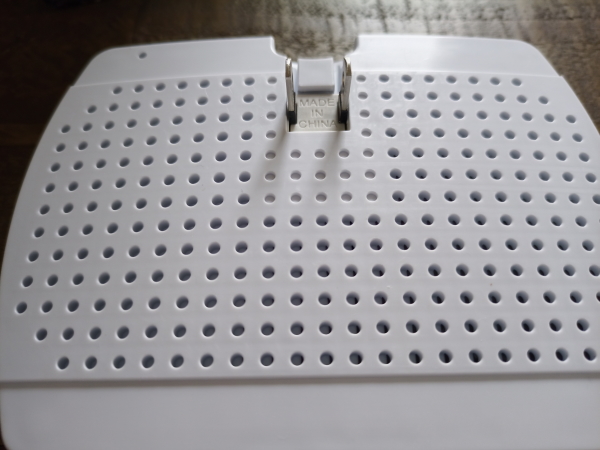 Performance
The setup to get going is very easy. Simply insert the water reservoir and plug it in. Press the multifunction and select LED color (optional).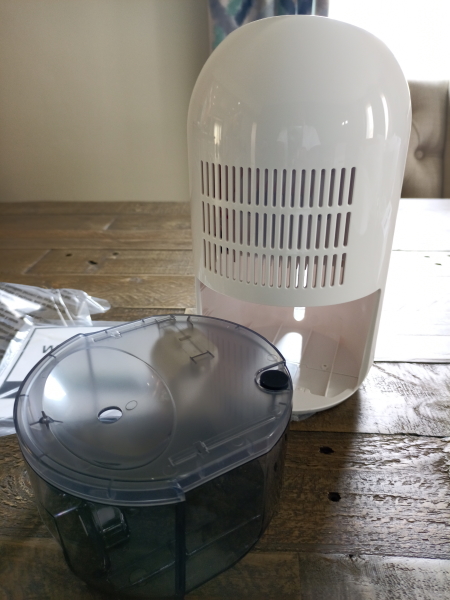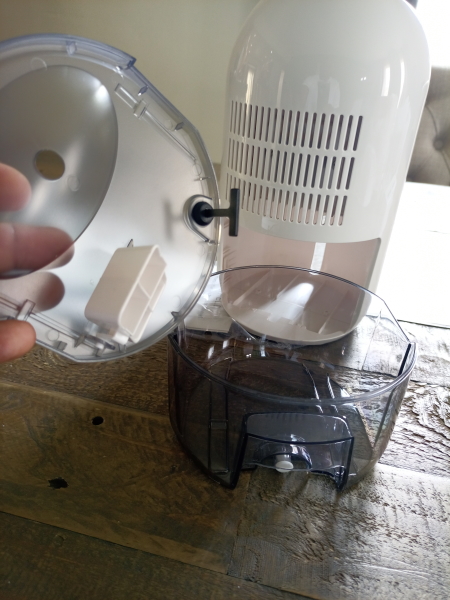 The AC plug does stick out a bit.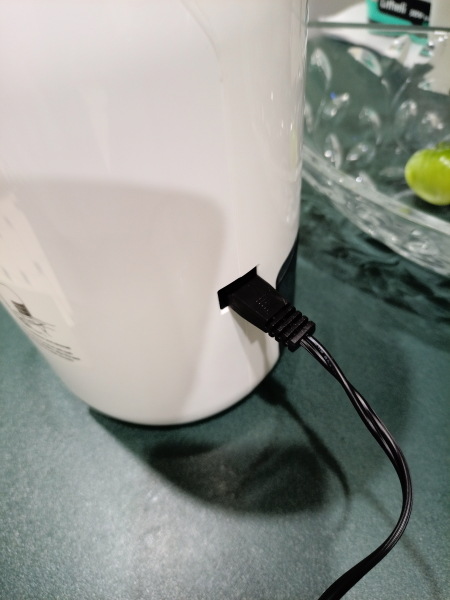 The photo below shows the water level after about 3 hours.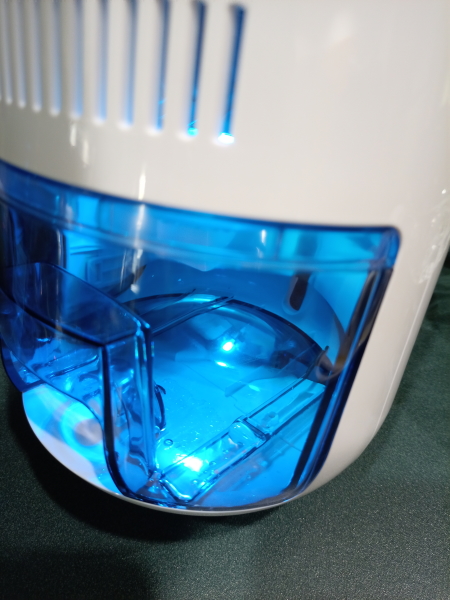 The next photo shows the water level after about 3 days. (I have it installed in a much larger area than recommended)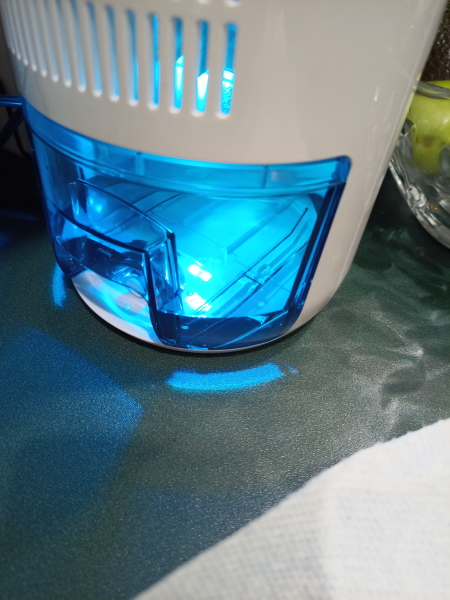 This device offers a choice of 7 colors of LED light but there are also shades in between as the light changes. The  LED color selection is made by holding down the multifunction button on top once the unit is on. When you see the color that you like, you release the button. It also works well as a night light.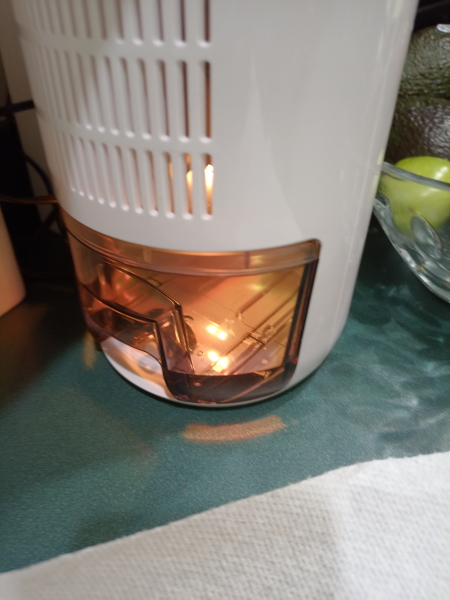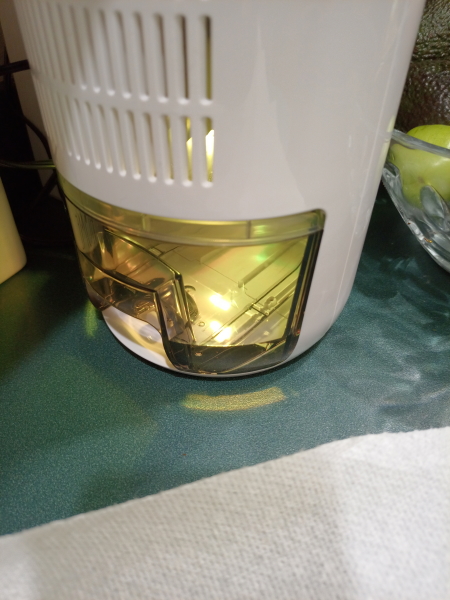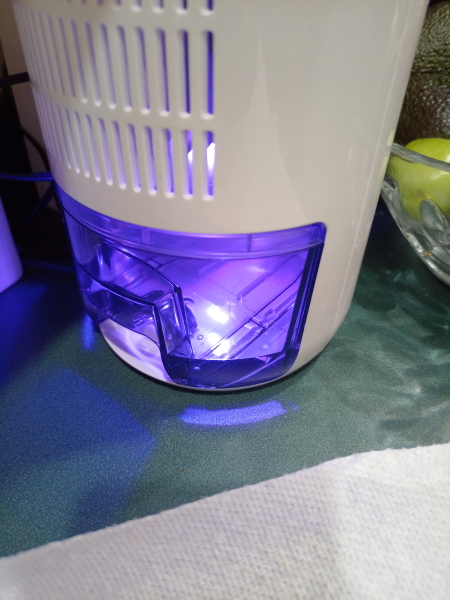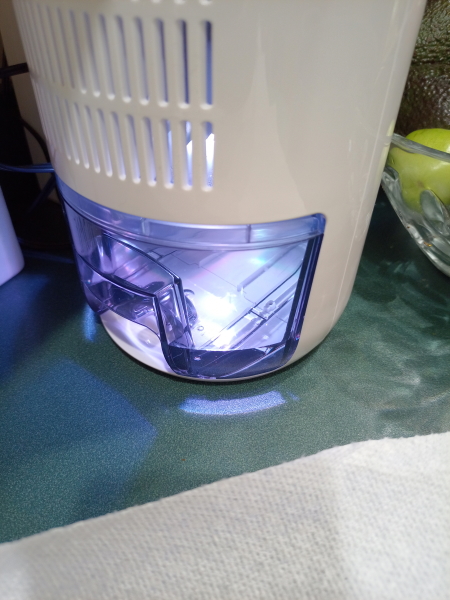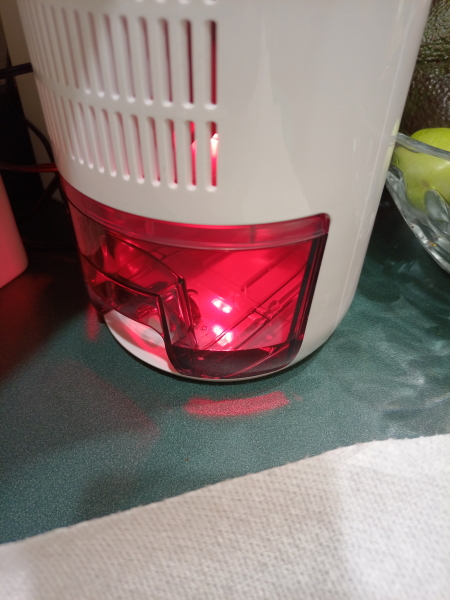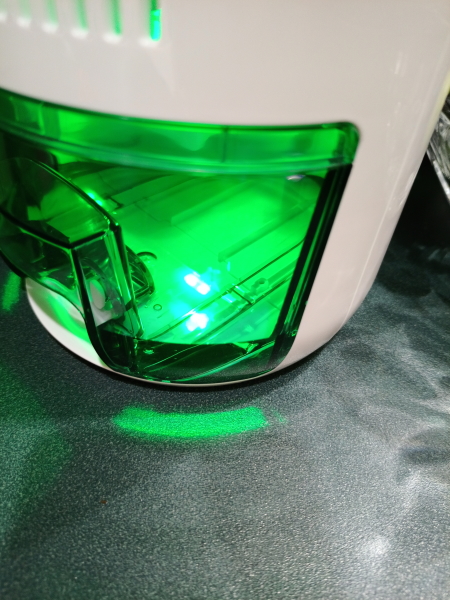 The rechargeable mini dehumidifier simply works by plugging it in and charging it for 10 to 15 hours.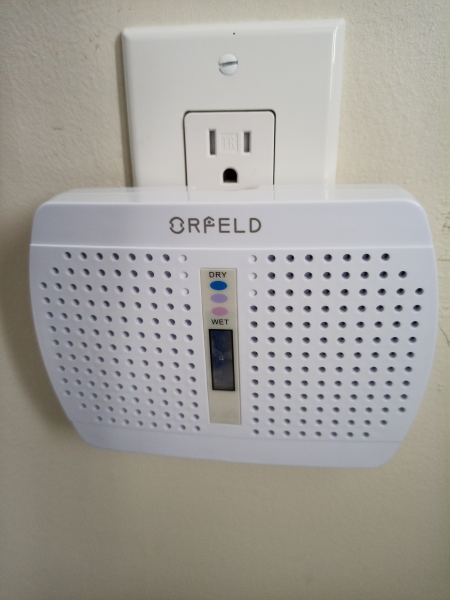 Once the device is charged, the window on the front should show that the crystals have turned blue and is ready for use by simply placing it wherever you need to like in a closet or safe, etc. When the crystals turn pink, it is time to recharge again.
What I like
The lightweight but good built quality
The nice design
The color options for ambiance
What I'd change
Nothing that I can think of at this moment
Final thoughts
Before I installed this device, I was constantly receiving high humidity alerts from my wireless thermostat. Since I installed this device, I have not. While this result may not be 100% attributed to adding this dehumidifier to the environment, the water in the reservoir suggests that it is playing an integral role.
Price: $50.99
Where to buy: Amazon
Source: The sample for this review was provided by ORFELD
Filed in categories: Reviews
Tagged: Home and Kitchen
ORFELD Dehumidifier and Wireless Mini Dehumidifier Combo review originally appeared on The Gadgeteer on August 5, 2021 at 9:00 am.
Note: If you are subscribed to this feed through FeedBurner, please switch to our native feed URL http://the-gadgeteer.com/feed/ in order to ensure continuous delivery.