Our Team's Favorite Bags Under $100
The carry world is full of expensive bags. But that doesn't mean you need to splurge a lot to get a durable, functional, and stylish bag. However, finding those pieces can be tricky. So we've turned to our expert team to give their top picks for excellent bags under $100…
---
Picking a favorite bag under $100 is harder than you think. A benjamin is not a small amount of money for a pack but there are not a large number of quality options. Luckily, one of my favorite carry brands, Osprey, has it covered with their Daylite Cinch. I tested out the Ash Mamba Black colorway, which I think is both subtle but also fun with the little hits of accented color.
The Daylite Cinch is a 15L pack measuring about 16 inches tall, 9.5 inches wide, and 7.5 inches deep. It weighs about 0.75 lbs which is not noticeable at all on your back. The entire pack, from the main, accents, and bottom is made of bluesign approved recycled polyester and all areas are treated with PFC-free DWR which means you're afforded some water resistance.
My favorite part about the pack is how it carries. It's a few inches shorter than typical daypacks but this is expected since it's meant to be a lightweight bag for quick errands or a picnic at the park. At 15L it holds a surprising amount of gear; I packed mine with a mirrorless camera, camera cube, puffy jacket, small water bottle, keys, wallet, phone, and mask. The straps are ventilated and thin but I had no issues with comfort, given my load. A ventilated Airscape back panel provided comfort and airflow during an unusually warm day. There is also an adjustable sternum strap and removable webbing hip belt. I found the latter to be unnecessary given typical loadout weights, but if you use it, make sure you loosen the shoulder straps so the bag can ride low enough to benefit.
In addition, I am a big fan of the small details that really turn the bag from a simple pouch to a fully-featured carry solution. There is an internal reservoir sleeve with a pass-through for your hydration needs. The front has a pair of daisy chain loops, perfect for hanging some hand sanitizer, gloves, or light. And the top grab handle doubles as a luggage pass-through.
Lastly, let's talk about the namesake – the Cinch. It's a system we've seen before but somehow Osprey seems to have perfected it. Just grab the outside loop and pull to open. To close, grab the end of the string and give it a tug. The icing on the cake is a little metal hook you can use to secure the opening, for that extra bit of peace of mind. I was surprised to find the loop has a small degree of movement (rather than being rigidly attached), allowing for a nicer user experience.
As you can tell, I am a big fan of the Osprey Daylite Cinch. As of this review, it retails for $50 which is well under $100 and worth every penny. This is living permanently in my travel closet, ready for the next adventure.
---
The Topo Designs Rover Pack is an epic, straightforward bag. It's simple, but in the best ways. It's playful, but also grown-up. And it's durable, but it doesn't sacrifice looks. In use this bag is surprisingly slim while being 20 liters. A lot of the storage is vertical so to really maximize the space, you may have to stack things on top of each other.
The 1000D nylon makes this bag rugged, but light and flexible. I don't worry about this pack getting ripped or punctured. I absolutely love the yellow lining on the inside making the main compartment visible. This is even better when you consider the fact that this is a top-loading bag, so it makes it easier to see all the way to the bottom. I like how Topo made the top flap into a pocket; it feels like a really effective use of space. The large, burly zippers are super smooth and add some character.
---
When asked to recommend a solid choice for an under-$100 bag that's still worthwhile, my mind immediately turns to Topo Designs. They have long produced quality bags in fun colorways at attainable price points. I want to specifically talk about their Daypack Classic, which is a slightly revised take on one of their earliest silhouettes and now comes in at $99. The Daypack has long been a personal favorite of mine, having had one for multiple years as its simplicity just "works". This newly revised version has a couple of notable changes from the original. The bag is now produced with 100% recycled nylon, and I really appreciate that more brands are looking into ways to produce more sustainable products by turning waste into viable material. 
The Daypack Classic also now features an external laptop sleeve which makes it totally viable for daily carry needs that may revolve around work or school. Personally, I also appreciate that the laptop sleeve doesn't make the bag cumbersome to use if it remains empty, which allows it to still succeed as a small daypack as well (I should hope so, given its name). Another detail I have always liked about the Daypack is that it is both tall and slim. This bullet shape is ideal for staying nimble in your daily carry as it never gets too bulky. Additionally, the updated bottle pockets are now actually usable when you have things loaded in the bag as they have an expandable gusseted area which lets you fit something larger than a single-use plastic bottle from the gas station. 
The longer you're in the carry world, the more you'll find price rationalization becomes the norm and as your tastes evolve. So in my world, where $3-500+ bags are suddenly "normal", I find it wholly refreshing to find a $99 backpack with a lifetime warranty that has a timeless aesthetic, is available in a variety of regularly updated colors, can serve as a work or school bag just as well as your weekend kick-around bag and have it be made sustainably from recycled materials all trying to reduce the amount of waste we generate on this planet. Topo Designs continues to evolve, and though not all of their products are made in Colorado anymore, I'm happy to report that they're still of high quality and made to last. Nice work, Topo.
---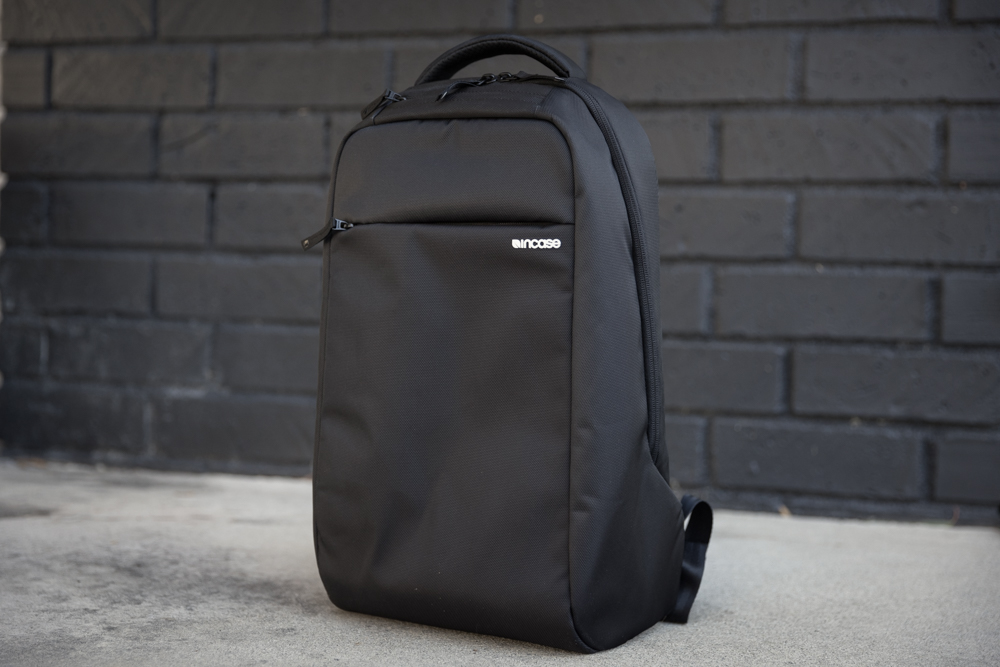 A budget-friendly backpack doesn't always equate to poor quality, short-lasting, and cheap materials. At right under the $100 mark, the Incase ICON Lite Pack is solid value. Constructed from a durable 840D nylon, the pack is built to endure daily use. Storage and organization are kept to a minimum with just enough options for most situations. The main compartment can hold items such as a book or magazines, a light jacket or sweater, and a water bottle. The interior laptop sleeve fits up to a 16″ MacBook and features Incase's signature faux-fur padding, which is literally a nice touch. 
The top quick-access pocket is convenient for items such as wallets, keys, and lip balm. The front pocket can hold slightly larger items such as a passport, phone, or a portable hard drive.
The pack is comfortable due to its lightweight design, padded back, and shoulder straps. Simply put, the pack gets the work done. With its streamlined and sleek styling, this pack is versatile for school, work, and travel.
While there may be other packs within the budget, this is one of my favorites for its overall value. The backpack takes a no-frills approach and offers just what is needed. This is one of my favorite packs to suggest to friends and family when they may be in need of a daily carry solution.
---
The Foldsack No.3 is one of the least expensive items in Fjällräven's line of carry gear. I've been using my personal No.3 for almost a year now (all seasons including winter) and I find it not just fully usable, but also absolutely worth the money. It's sized just right for a day walk in a forest or afternoon city cruising. It easily keeps all my essentials close at hand, and that includes: 16oz pilot's water flask, lightweight emergency shell, first aid kit, Swiss army knife, compact puukko fixed blade, snacks for me and my puppy, wooden kuksa and even more. It's really a well sized bag, much bigger than its look may suggest. You can easily fit an iPad Pro 12.9″ into this satchel or even a small notebook like the MacBook Air 13″.
Fjällräven is known for its impeccable quality and the Foldsack No.3 is no exception. With perfectly stitched G-1000 heavy-duty canvas and all-metal hardware, the touch and feel are both nice and solid. It is not overly complicated of course, but the devil is in the details. Like the metal side snaps, which make it considerably safer for gear carry and prevent items from falling or rolling out the sack when laid on a bench or the ground. The shoulder strap is adjustable and generously cut, so I've had no problem wearing it on my heavy winter clothes (I'm about 6'1 and 190 lbs). 
The overall construction is pretty simple, which I like actually – just a sack without any internal pockets. There is however a zipper pocket on the front – perfect for smaller items and even additionally protected with the flap. The back wall is double-layered G-1000 with slight padding to protect the body from sharp-cornered objects inside. But despite that padding, you can still roll it into a small package and bring it as a backup to any trip. Try that with overbuilt and heavily padded (or leather) satchels.
Just in case you didn't know – the "numbered" items are considered to be the essence of the Fjällräven brand and they take really special care to design and make them perfect. Such items have all the features you may need but are still simple, functional and you can clearly see Fjällräven's heritage in them. The 'small satchel category is very crowded these days. But the Fjällräven Foldsack No.3 is one of the coolest classic personal carry bags you can buy – and at the MSRP of $80 (or even lower if you find a good promotion online) it's a quite good deal. It's exceptionally well made, functional, lightweight and (agree or not) that small leather arctic fox emblem makes it even cooler. Wax it with Fjällräven's own Greenland wax, wait a season or two, and Indiana Jones will envy you!
---
For me the sub $100 price point is an area for complementing your main carry systems. The best complements are those that can be essential occasionally, so an item that you may or may not totally 100% absolutely need.
I often like the idea of ultralight daypacks but rarely find them satisfying. They can be too focused on reduction over form and give a backpacker-lost-in-the-metro vibe. You're over-specialized for the general task you are performing.
Matador are solid. I've loved their latest travel set and the Freefly16 captures a sweet spot for me that is hard to find. The bag is packable, but it looks like a good backpack. The bag is lightweight, but all of the hardware and fabrics are balanced. They sit nicely just inside lightweight. The result is an unpack-at-destination bag that works as a daily explorer, travel companion, emergency car pack and is totally essential during those occasional scenarios.
---
JanSport Right Pack | Taylor Welden
You want a backpack that gets the job done? You want a backpack that's hassle free? You want a backpack that literally no one will ever compliment you on? Well look no further.
The JanSport Right Pack ($65).
Let's talk about features.
XPac or Dyneema fabric: nope
Fidlock or Cobra buckles: nope
Air suspension harness: nope… but it's got two padded shoulder straps and you have two shoulders that you can put it on.
Let me tell you a story. One day it felt like there maybe was an issue with my JanSport Right Pack backpack. I didn't give a damn and ignored it. The problem went away. The End.
The backpack will outlive you, it will outlive your children.
This backpack's got history. It's seen some stuff. People have done awesome things in this backpack. People have done boring things in this backpack. It's not going to judge you like a damn Gucci backpack.
Interesting facts:
The backpack's color has been available in every color that has ever existed.
In the owner's manual… just kidding, there is no owner's manual. It's a backpack. Wear it and use it.
You wanna know more? Great, I had my backpack fill out a Facebook survey.
Favorite car: 1999 Toyota Corolla.
Favorite tv show: Stranger Things.
Favorite artwork: that weird geometric "S" thing, hand drawn in permanent marker
Favorite band: tie between Dave Matthews Band and Motörhead
When I had this backpack independently appraised by a professional Carryologist, I got back a single email response: "It's a JanSport Right Pack. It's fine."
Let's face the facts, this backpack isn't going to win any beauty contests, but neither are you. Stop lying to yourself. This isn't the backpack you want, it's the backpack you deserve. One of the best affordable backpacks ever made in the history of backpacks: The JanSport Right Pack.
The post Our Team's Favorite Bags Under $100 appeared first on Carryology - Exploring better ways to carry.