The Best Dorm Room Essentials From Amazon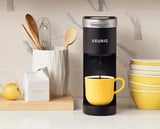 Whether it's your first year of college or moving back to campus, it's time to start stocking up on your dorm room essentials. If you're feeling overwhelmed by the sheer number of options available, don't worry, we're here to help.Amazon has a whole section dedicated to college must-haves, and we rounded up our favorite finds we think you'll actually use. From storage and organizational needs for that small space to dorm-friendly appliances, we got you covered with the best dorm necessities on Amazon.
Create quick meals with microwavable containers that will cook instant noodles, a small Crockpot that's portable and perfect for keeping soups and mac and cheese warm, and an air fryer for leftovers. Keep your room clean with a lightweight cordless hand vacuum from Shark that can clean floors and bedding. Need a side table for all your bedtime essentials? The BedShelfie is a bedside shelf that attaches to the base of your bed so you can have your phone, water bottle, and other necessities right next to you. Get yourself a Keurig coffee machine for those late-night study sessions. Plus, we found several rolling carts and closet organizers to keep your stuff neat and tidy. Shop our top picks ahead.
- Additional reporting by Krista Jones