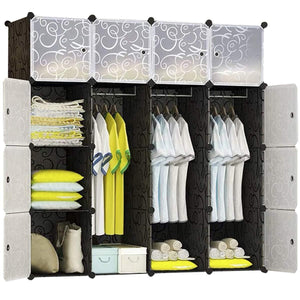 Features
SPACIOUS STORAGE CLOSET - Cubes are deeper than normal (14inch vs18inch ),2 hanging sections and 6 storage cubes offer you extra space for all kinds of outfits and toys.
STURDY STRUCTURE - Eco-friendly, harmless . High quality resin composite materials with steel frame ensure each cube to support up to 22 lbs.
Easy to lock - The shelves have magnets within the interlocks, which make it easy to lock them. This is an extra gift.
CREATIVE DESIGN - Cubes can be used separately, or be stacked and combined to meet your various needs of organization.
FREE ASSEMBLY - Free DIY, Easy assemble and disassemble in a brief time with detailed installation manual provided.
Note
Make sure all panels reach deep into the slot of the connectors during assembly,until you hear the ?¡ãclick?¡À sound and can find no gap between them.
In order to prevent you in the installation process damaged ABS connectors, to ensure that the product can be installed smoothly, we have more than a few ABS connectors.
Main Parts(Packing List available in Pictures):
34 pcs?x Rectangular Panels (13.8" x 17.7" / 35cm x 45cm)
16 pcs?x Square Panels (13.8" x 13.8" / 35cm x 35cm)
16 pcs?x Square Doors (13.8" x 13.8" / 35cm x 35cm)
3 pcs?x Hanging Rods
50 pcs?x ABS Connectors
Exclusive Gift: 16 pcs?* Magnet Lock(making the door better fit)
Exclusive Gift: 1 set?* STicker