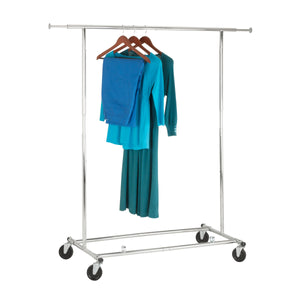 Expandable garment rack bar opens up to 74-inches long for added clothes storage
Easy mobility with four wheels and two casters that lock in place for stability
Collapsible for easy storage when not in use
Sleek chrome design good for any aesthetic
Dimensions: 22'' W x 67'' H x 74.5'' L
GAR-01304
Your closet is officially overflowed so you need a clothes rack to keep your stylish self on the fashion map. This versatile garment rack's hanging pole can expand up to 74 inches, providing ample room for clothes storage. And with its wheels offering maximum mobility, you can use your portable closet as a clothes hanger rack in a bedroom or roll it into the entryway to use as a coat rack.