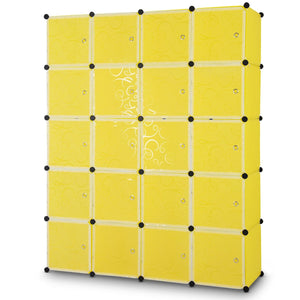 This high quality wardrobe cabinet will meet all your needs of storage.
?
Featuring a large open space,? it offers you enough room for you to arrange clothes. Made from iron and resin, it is light in weight and easy to clean. In addition, unlike canvas wardrobes, it will not degrade over time or collapse, nor will it get moldy or otherwise damaged by humidity, keeping your clothes fresh. With door, it can protect your cloth from dirty.
?
Are you looking for additional storage space Don't hesitate to choose this DIY cube storage organizer.
Real DIY storage cube and can be assembled as you wish
Can store shoes, clothes, books, kids toys and so on
Easy to assemble, carry, and store away
With door to protect your cloth from dirty
Waterproof, dustproof and easy clean

Yellow:
Material: Iron and resin
Weight capacity for each cube: 10 lbs
Overall dimensions: 57" x 18" x 71" (L x W x H)
Single cube size: 14.0" x 14.0" x 18.0" (L x W x H)
Package include:
1 x 20 Cubes clothes wardrobe cabinet
1 x Manual
1 x Gavel
Beige:
Material: Iron and resin
Weight capacity for each cube: 10 lbs
Overall dimensions: 44" x 18.5" x 58" (L x W x H)
Single cube size: 14.0" x 14.0" x 18.0" (L x W x H)
Product weight: 21 lbs
Package include:
1 x12 Cubes clothes wardrobe cabinet
1 x Manual
1 x Gavel