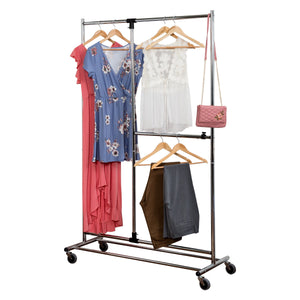 Adjustable height to accommodate needs
Double hanging bar for additional hanging space
Smooth rolling wheels for easy mobility
Sturdy and rust-resistant stainless steel frame
Stylish chrome finish
Dimensions: 46'' L x 19'' W x 74'' H 
GAR-01702
Your in-laws are coming in for two weeks. If that's not enough to get your heart beating a bit, you can just hear your father-in-law's voice saying over and over that there's nowhere to unpack his suitcase. In rolls the answer to your prayers in the form of this 2-tier garment rack. This clothes rack is height-adjustable, so no matter the special needs, it can accommodate. The smooth rolling wheels make it easy to move around the guest bedroom, essentially making it a portable closet. Give him nothing to complain about with the hanging clothes rack of his dreams… nothing, that is, until someone brings up his golf game.