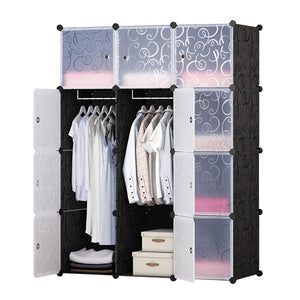 TITLE: Brian & Dany 
Portable Clothes Closet - Plastic Wardrobe - Closet Storage Organizer with Doors & 
2 Hangers
(
Elegant Black & White
)
Spacious: it is large enough to fit folded clothes as well as heavy outfits. The cubes vary in size with the deeper ones having the capacity of between16 and 20 shirts. You leave enough space for other things such as handbags, shoes, and toys.
Strong structure: the frames are made of steel making the portable closet both strong and durable. The cubes can hold a maximum of 22 lbs of weight. The ABS connectors make strong joints hence you do not have to worry about wobbles.
Easy to lock; the shelves have magnets within the interlocks, which make it easy to lock them. They are so tiny such that they do not interfere with the space of the cabinets, but are efficient in holding the iron frame firmly upon closing the door.
Material: The portable clothes closet is made of resin panels, an environmentally friendly material –free of methanol or any other chemicals.
Ease of maintenance: The panels are waterproof, dirt resistant, and cleanable. Your clothes remain clean always and smelling fresh since the door features a hole that enhances air circulation.
Easy to set up: You require no technical expertise to assemble the closet. Besides, it comes with a detailed installation manual.
The organiser is made of PP plastic (sheets) and ABS plastic (connectors),Eco-friendly and chemical-free, zero methanol guaranteed,it is light in weight and easy to clean,unlike fabric wardrobes, it won't degrade over time or collapse, nor will it get moldy or otherwise damaged by humidity, keeping your clothes fresh.
Specification: 12 Cube Closet :
•
Dimensions:
44''(W)*19''(D)*58''(H)/111*47*148cm
(connectors counted)
•Material: PP plastic (sheet) + ABS plastic (connector)
•Color: elegant black & white
Components :
12 Cube Closet 
:
•Rectangular Panels (14"" x 18" / 35cm x 45cm): 27 pcs
•Square Panels (14"" x 14" / 35cm x 35cm): 12 pcs
•Square Doors (14" x 14" / 35cm x 35cm): 12 pcs
•Installation manual: 1 pc
•Make sure all panels reach deep into the slot of the connectors during assembly, until you hear the "click" sound and can find no gap between them.
•Each panel is made of stainless steel frame and flexible resin sheet. It may slightly bend when heavily loaded but it is a normal phenomenon.
KEY WORDS:
1、portable closet
2、portable closet organizer
4、portable wardrobe
3、plastic closet organizer