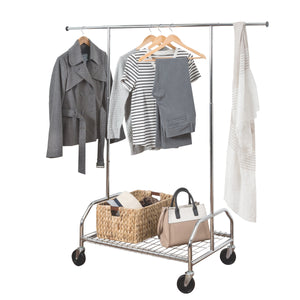 Adjustable height and width to accommodate needs
Bottom shelf for additional storage
Smooth rolling wheels for easy mobility
Sturdy and rust-resistant steel frame
Stylish chrome finish
Dimensions: 21" L x 51-67"W x 35-60''H
GAR-01506
Your clothes are pouring out of your closet. There's nowhere to hang anything… until now. In rolls the answer to your prayers in the form of a garment rack with an added shelf for storage. This clothes rack is adjustable in both height and width, so next time you blow that bonus at your favorite little clothing boutique, the rack will grow with your wardrobe. The shelf on the bottom is ideal for shoes or folded sweaters and jeans, and the smooth rolling wheels make it a portable closet. There are garment racks, and then there are garment racks! This is the italicized version.